Look for a symbol at the bottom of the container. The typical microwave safety sign has wavy lines on it. #5 indicates that the container is made of polypropylene, which makes it suitable for microwave use.
If you've been shocked by how hot a plate or dish may become after being taken from a microwave, you'll understand that not all sturdy containers conduct heat the same way.
Reading this step-by-step product guide will be easy to learn how to successfully choose your microwave-safe, non-toxic food storage containers for meal prep.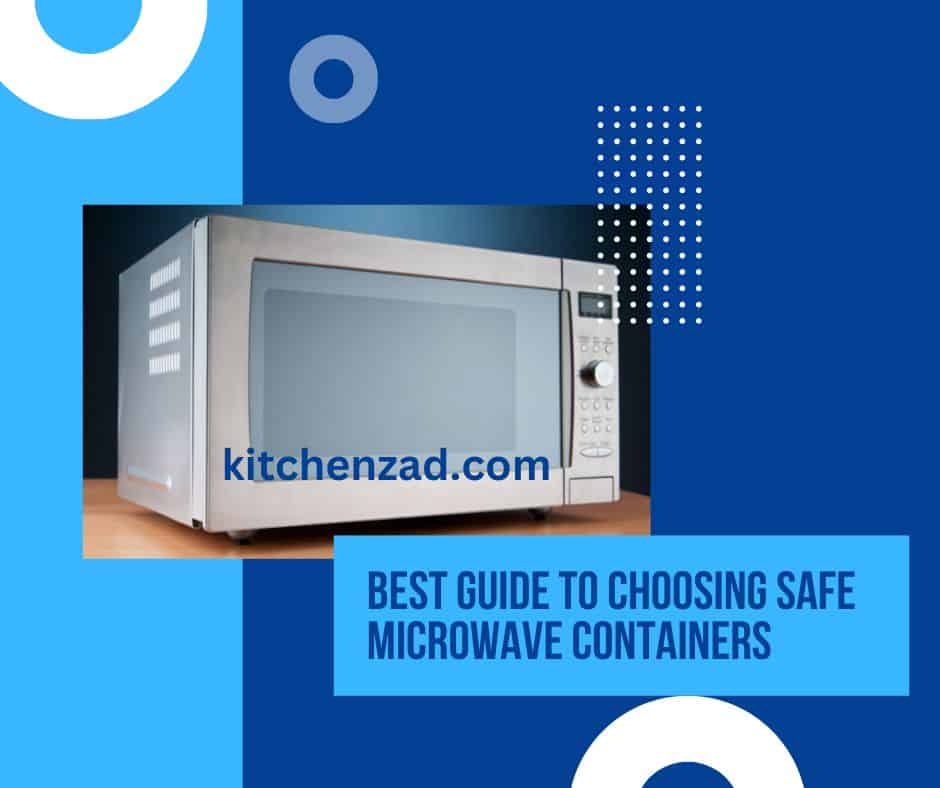 1.Recognize any chemical hazard
In recent years, there has been increasing fear regarding possibly dangerous compounds leeching into meals from microwave dishes.
Some microwavable containers, particularly plastic ones, may be hazardous to your health. Others, such as glass, are healthier.
Knowing the potential dangers of specific microwave-safe containers will help you make a more informed decision.
Endocrine disruption, which simulates human hormones, is one of the potential health risks. This can alter chemical signals that regulate metabolism and reproduction.
Malformations and abortion, Reduced fertility, Early adolescence, Cancer, Diabetes, and overweight can also happen due to chemical hazards in microwave cooking containers.
2.Check Materials should be avoided
Some materials can be microwaved, whereas others cannot. Then there's the plastic. Some experts believe that plastic containers should never be used in the microwave. When heated, the material includes chemicals that may leak into entire meals.
Plastic or plasticizers used to make microwave containers containing BPA, phthalates, polyvinyl chloride, and polycarbonate may be hazardous to your health.

The Food and Drug Administration (FDA) strictly monitors plastic containers, non-plastic storage containers, and materials that come into contact with meals. You may want to read about them to prevent potentially harmful substances.
Following containers may be hazardous to your fresh food when microwaved, lunch boxes made of plastic and styrofoam, plastic shopping bags, plastic wrap, and soft plastic containers.
Consumers should always follow safe microwave reheating instructions to preserve adequate internal temperatures and avoid "cold spots" in their food, which serve as a breeding ground for hazardous germs.
If you must use plastics, use ones labeled "microwave-safe" (make the plastic wrap with minimal food contact while it is heating). If you're concerned, choose non-plastic, microwavable food containers such as glass or sturdy ceramic labeled "heatproof" or "microwave-safe."
Read More: https://kitchenzad.com/test-best-guide-to-choosing-safe-microwave-containers-for-2022/
3.Check Microwavable plastic containers
Each type of plastic has a temperature tolerance that determines whether or not it may be used in the microwave. Microwavable plastic food versatile containers include:
Plastic #2 High-Density Polyethylene (HDPE)
Plastic #5 Polypropylene (PP)
Molded Fiber & Bagasse
Plastic #2 High-Density Polyethylene (HDPE)
It can withstand rapid temperatures ranging from -40 to 266 degrees Fahrenheit before deformation.
Containers in the food service industry are often made of high-density polyethylene. Other advantages of High-Density Polyethylene (HDPE) include:
Long-lasting, exceedingly durable, and degradation resistant
There is little chance of leaching
It is safe to reuse
Plastic #5 Polypropylene (PP)
Microwaveable polypropylene Temperature tolerance before deformation is 0 to 250 degrees.
Containers, plates, bowls, silverware, and catering trays are the most prevalent uses.
Other advantages of Polypropylene (PP) include:
Lightweight and long-lasting
It is safe to reuse
Molded Fiber & Bagasse
These materials are safe to use in the microwave and can withstand temperatures up to 250 degrees.
Molded fiber and bagasse are typically used for plates, bowls, and containers.
Advantages of molded fiber and bagasse include:
They are both manufactured in environmentally friendly ways.
Bagasse is a product manufactured from sugar or wheat extraction methods leftovers.
Molded fiber is created by combining recycled paperboard, newspaper, and corrugated cardboard.
4. Check the Best microwave-safe containers

· Glass containers

· Ceramic containers

· Silicone containers
Glass containers
Consider glass when you choose the best food storage container. We may appreciate their non-porous, non-toxic surface for this. You'll be difficult-pressed to discover a substance that preserves food flavor greater than glass.
Glass is considered one of the Safest Cooking Utensils because it is comprised of sand and hence free of toxins and plastic.
It also offers other advantages, including being refrigerator and freezer-safe, dishwasher-safe, and having a non-porous surface that is easy to clean and does not absorb or hide bacteria. Recyclable and environmentally friendly.
Glass containers are also unaffected by acidic meals (no metallic tastes of food).
The problem with glass is only the weight because it is heavier than plastic and Fragile, which must be handled with care, especially when traveling.
Ceramic containers
For thousands of years, people have used porcelain to cook and store dry food.
It's a non-toxic, all-natural material manufactured from baked clay. Ceramic storage containers can endure extreme temperatures and not react to acidic foods; ceramics usually offer a 6-month warranty.
Silicone containers
Non-toxic silicone food storage containers are another excellent alternative.
This rubber hybrid is soft, indestructible, and moldable into various charming designs. (Like plastic) but without the drawbacks of BPA, phthalates, and other toxins!
Read Also: https://kitchenzad.com/what-is-microwave-vent-fan-for/
5. Learn How to buy your microwave-safe container
Most stores have microwave-safe choices even if you require microwave-safe containers and wish to buy new ones. Please read the package labeling and the item for information and symbols indicating microwave safety.
Remember that glass & borosilicate glass containers and ceramic food containers are the safest separate dishes to heat in the microwave. Check to see if they have the "microwave-safe" label. Just be aware that these items could be more costly than plastic, but they may also have a lifetime warranty.
6. Check Container safety test
You may use a method to check the safety of a container that you are unclear of or that has a microwave-safe label. Performing this material quality check may help you determine whether or not to use the container.
If you need to know more about the container safety test, check Can you microwave glass :

Collapse-it Collapsible Silicone Food Storage Containers
Le Creuset Stoneware Ceramic Containers with Wood Lid
Anchor Hocking's Non-Toxic Storage Containers
Pyrex Simply Store Non-Toxic Glass Storage Containers
Prep Naturals Glass Meal Prep Containers 3-Compartment
Homelux Reusable Silicone Food Storage Bags
Bovado USA – Glass Food Storage Containers with Bamboo Lids
Collapse-it Collapsible Silicone Food Storage Containers | larger capacities
These non-toxic food storage tanks will double the capacity on your shelf! Collapse containers and their lids are made of soft, food-grade silicone. So, no worries about plastic.
You may take these out of the fridge or freezer and instantly heat them in the microwave or convection oven to 350°F (176.6°C). Cookware made of silicone will not fracture, leach, or melt.
Furthermore, steam vents allow you to heat cold meals splatter-free when the tops are on. The easy-closing lids offer an airtight, leak-proof seal, and leak-proof lids, making them ideal for on-the-go use.
Round containers make it simple to stack and nest them. Conversely, rectangular containers are simpler to push into small spaces.
Consider these collapsible containers if your space is limited.
Disadvantages: Darker-colored containers appear to have hard water spots
Le Creuset Stoneware Ceramic Storage Containers with Wood Lid
Le Creuset's non-toxic food storage containers, like their cookware, are handcrafted with 97 years of experience. And these adaptable stoneware canisters demonstrate it.
You can use them in the microwave, freezer, refrigerator, dishwasher, oven, and broiler.
Furthermore, the strong enamel is resistant to scratching, stains, odor from fish, and moisture/flavor absorption.
In other words, these containers preserve the flavor and scent of food. As a result, they're ideal for storing ground coffee, almonds, oats, sugar, and other dry items.
Anchor Hocking Non-Toxic Glass Storage Containers
Anchor Hocking is one of the most fantastic glassware food storage boxes for complete work lunches. And because they're made of thick, tempered soda-lime glass, they won't crack in the fridge.
To reheat, use a microwave or an oven set to 425°F (218°C). Healthier storage containers from Anchor Hocking are a trustworthy option that can even be used to bake in!
The revolutionary TrueSeal lids latch on securely to create air & water-tight seal locks for business meals. As a result, food remains fresh and secure while on the move.
In contrast to competitors, Anchor's healthy food storage containers created lids with soft silicone edges rather than plastic. The silicone prevents damaged and leaking coverings. Of course, it reduces your exposure to plastic.
Just the center of the lid is plastic (the transparent section of the top), resulting in minimum food contact. Check out these tempered glass containers with 100% silicone closures.
The lids are only dishwashing safe on the top rack dishwasher. Also, when microwaving, remove the covers and replace them with a paper towel. Also, the soda-lime glass may fracture if you go from hot to cold too quickly.
Anchor Hocking Non-Toxic Glass Storage Containers offer you a 5-year warranty.
Pyrex Simply Store Non-Toxic Glass Storage Containers
Pyrex, with a 2-year warranty, has been a favorite glass container of non-toxic food storage for 107 years in entire kitchens.
They've refined their glass tempering method throughout the years. And it is a good choice In case you need a microwavable container with portion control to separate food& portioned meals.
This package is ideal for pre-portion meals as well as pre-measured baking ingredients. The volume marks on each lid make things simple!
With the same canister, you may freeze, refrigerate, bake, microwave, reheat in the oven (up to 425°F), and serve. Then, to save time on cleanup, toss everything into the dishwasher.
Both the soda-lime glass and the multi-colored lids are stain and smelly odor resistant. Be careful don't use abrasive cleaners and sharp utensils.
Cons: The lids can leak. Also, because these lids are made of plastic, they should not be microwaved.
Prep Naturals Glass Meal Prep Containers 3-Compartment
The food storage set from Prep Natural is similarly made of thick borosilicate glass. So it's safe to use in the refrigerator, freezer, microwave, and oven up to 500°F (260°C).
Prep Naturals Glass Meal containers are a homefavor Leak-Proof Stainless Steel Food Storage Container.
When reheating, the glass will not break due to sudden temperature variations.
Cons: There is a tiny space between the bottom of the lid and the divider's borders. Food juices can combine, but nothing will seep out of the containers.
Homelux Reusable Silicone Food Storage Bags
Leftovers can go from fridge to oven and reheat in the microwave or even in a boiling pot of water.
You may prepare and cook whole meals in a single bag. One user marinated her chicken overnight before tossing the bag into a saucepan of boiling water to fry without getting her cookware dirty!
Each bag is also a completely leak-proof food storage container, thanks to the removable plastic sliders that form a watertight seal- and airtight seal. These zippers are also simpler to both open and close than others.
Additionally, a few users complain that the hand-washed bags with soapy water are drying too slowly. The drying rack provides a solution.
Homelux Reusable Silicone Food Storage Bags will be your best choice if you are looking for flexible containers.
Read More: https://kitchenzad.com/what-is-microwave-vent-fan-for/
8. Bovado USA – Glass Food Storage Containers with Bamboo Lids
Bovado's lids with glass, in contrast to the previous, are made of solid bamboo and have a leak-proof silicone seal. So, no plastic at all for sustainable food storage!
These lids also absorb fewer microbes than plastic since bamboo has antibacterial properties.
One holds 51.4 oz of food, one 35 oz, one 21.6 oz, and a little 12.5 oz container for wet food and sauces are included in each set. Each has a lid.
Therefore, they come in a variety of sizes to suit every demand, from complete meals to leftover side dishes.
The best part is this, though:
Instead of soda lime, Bovado employs thick, durable borosilicate glass. The same laboratory-grade shockproof glass!
You may reheat cold foods using borosilicate without worrying about glass breaking or exploding! Food doesn't need to thaw out anyway.
Each container is not only sturdy and helpful, but its design also makes a lovely serving piece. The flat-top lids stack without wobbling in storage, saving horizontal shelf cabinet space.
And tight silicone seals stop leaks in the fridge, car, or bag while on the go.
Cons: Some clients lament the splintering of the bamboo. To avoid this, periodically wipe the covers with food-grade mineral oil.
Despite being shock-resistant, any glass can still shatter when dropped. A silicone sleeve and cover on Frego's sturdy borosilicate glass containers help to avoid breaks.
In conclusion, these consider the favorite glass food containers. Unlike many sets like this, they are US-made and come with a solid 1-year warranty.
The most effective technique to microwave food in a container
It may be easy to place the glass container in the microwave and relax until the food is hot when reheating food stored in a glass container. Nevertheless, doing so might not have the desired effects. To reheat food like an expert, follow these steps:
Take off the lid.
Cookware for microwave ovens typically comes with lids. The stove is not the proper place for these covers, however. Before reheating your food, remove the top so that the microwaves may heat the food directly.
2. Break down your food
Reheat each item separately if you wish to reheat a large meal that includes a variety of foods. It would help if you did this to avoid overcooking any of them or eating food that is only partially heated.
3. The food should be distributed in an even layer
To avoid hot areas and overcooking, this step is essential.
4. Heat repeatedly
To achieve the best results while reheating, heat your meal progressively. Decide whether to reheat for 30 or 60 seconds. Then, if additional time is required, check the feed.
What container should never be used in a microwave?
Polyethylene Terephthalate (PETE), paper, aluminum, and polystyrene (PS) should never be microwaved. In contrast, high-density polyethylene (HDPE), polypropylene (PP), and molded fiber & bagasse are often microwave safe.
Read More: https://kitchenzad.com/best-cut-resistant-gloves-for-kitchen/
What happens if you put stainless steel in a microwave?
 You better not because most metals are not microwave-safe; it is not safe to microwave any stainless steel food container. Stainless steel container such as  Bento Stainless Steel Food Storage Containers typically reflects microwaves rather than absorbs them, resulting in sparks and a potential fire hazard.
What happens if you put a non-microwave-safe bowl in the microwave?
It would be best if you stopped using a lunch container that doesn't microwave safe for many reasons:
Fire risk: When subjected to high temperatures, non-microwave materials like plastic and paper (cardboard) may catch fire. The risk increases the longer you leave the bowl in the oven.
Risk of contamination: Some materials not intended for use at high temperatures may emit harmful compounds when heated to high temperatures. The most famous are plastics, but glass and ceramics—especially painted bowls—can also leak toxic materials.
When used in the microwave, dishes that are not microwave-safe may break or crack. They might also cause sparking and harm your microwave if they contain metallic elements.