Are you in the market for new nonstick cookware? If so, you may wonder whether Blue Diamond pans are worth the investment. We can provide a comprehensive review after extensively testing these popular ceramic pans.
Discover if Blue Diamond's diamond-infused coating lives up to the hype regarding nonstick performance, durability, and ease of use. You'll also get the inside scoop on what sizes and styles are available, how they compare to top competitors, and tips for getting the most out of them in your kitchen.
By the end, you'll know whether Blue Diamond pans should be your next go-to cookware for frying eggs, searing meats, or much more. But first, what exactly are Blue Diamond pans, and what makes them unique?
What Are Blue Diamond Pans?
Blue Diamond pans are made of aluminium and coated with a ceramic nonstick surface with bits of real diamond. This diamond coating makes the pans scratch-resistant and gives excellent nonstick ability. The aluminium base conducts heat quickly and evenly.
The most common Blue Diamond pans are frying from 8 to 12 inches. But they also make sauce pots, stock pots, grill pans and more. The diamond coating comes in a few colours, like black, grey or burgundy.
The diamond bits in the ceramic coating give Blue Diamond pans their signature durability and nonstick power. This technology makes them stand out from typical aluminium pans.
Types Of Blue Diamond Pans Available (Fry Pans, Saucepans, Etc.)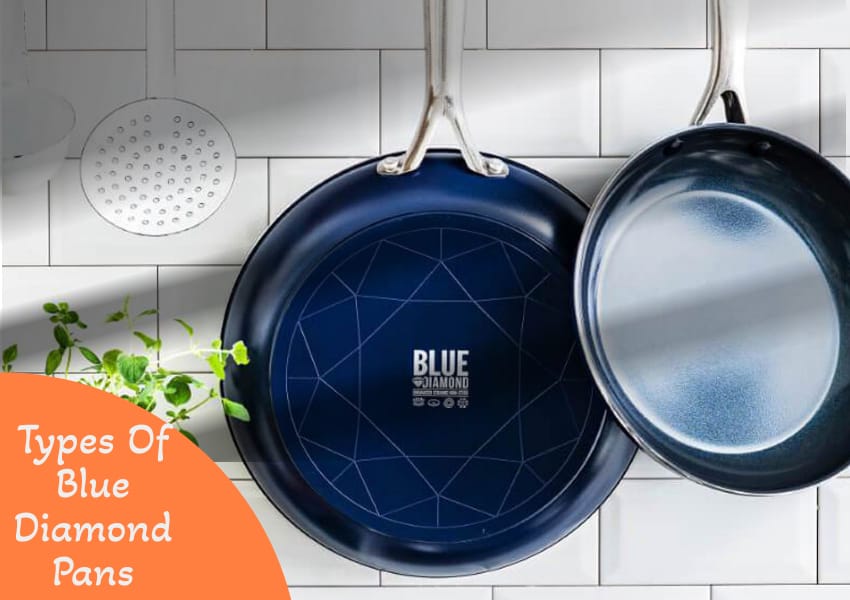 Frying Pans
Round frying pans in 8, 10, and 12 inches.
Grill pans with ridged cooking surface.
Available with or without lids
Saucepans
1, 2, and 3-quart saucepans with lids
Ideal for making sauces, boiling, steaming
Stockpots
4, 6, 8-quart stockpots with lids
Great for soups, stews, pasta, and more
Also read: Best Pots and Pans for Gas Stove
Blue Diamond Pans Sizes and Colour Options
Diverse range from small to large pans
Most have a black ceramic coating
Some colours, like red, grey, or blue
No matter your cooking needs, a Blue Diamond pan is likely available. The range of pans and sizes makes them suitable for any home chef.
Blue Diamond Pans -Materials and Design
We appreciate cookware made from quality materials with intelligent design. Here's an inside look at how Blue Diamond pans are constructed:
Aluminum Core
Blue Diamond pans have an aluminium core on the bottom and sides. Aluminium is lightweight yet conducts heat quickly and evenly. This allows for proper searing and browning without hot spots.
Diamond-Infused Ceramic Coating
The cooking surface is coated with a nonstick ceramic that has real diamond particles infused in it. This gives the pans their signature scratch resistance and natural nonstick ability. The diamond reinforcement makes the coating ultra-durable.
Reinforced Steel Rivets
The handles are made from brushed stainless steel and riveted on with steel for stability. This ensures a secure grip even when pans are full. The rivets reinforce the overall construction.
Helper Handle
Larger pans have an extra helper handle opposite the main handle. This makes lifting and manoeuvring the pans easier with better control and balance.
Unique Diamond Pattern
A diamond pattern is etched into the cooking surface. This not only looks cool but helps enhance the natural nonstick properties.
The materials and design make Blue Diamond pans high-performing yet affordable cookware for home chefs. The diamond-infused coating sets them apart from typical nonstick pans.
Also read: Best Granite Stone Pan
Blue Diamond Pan-Cooking Performance
We tested the cooking performance of Blue Diamond pans across various tasks. Here is how they delivered:
Even Heating
The aluminium core distributes heat evenly across the entire cooking surface. There are no hot or cold spots that lead to uneven cooking.
Searing and Browning
The pans sear meat and brown foods nicely. You can get a crisp crust on steak chops without overcooking the interior.
Nonstick Ability
The diamond-infused ceramic coating releases foods effortlessly. Eggs, fish, pancakes and more slide right out without sticking. You can cook with little to no added oil or butter.
Durability
The diamond reinforcement makes the nonstick coating extraordinarily durable and scratch-resistant. It maintains its nonstick power even after regular use.
Versatility
You can use Blue Diamond pans on all stovetops, including induction. And they go from stovetop to oven up to 850°F.
Overall, we found the cooking performance of Blue Diamond pans very impressive. The even heating, nonstick release, and durability make cooking a breeze for home chefs.
Key Features and Benefits of Blue Diamond Pans
Cookware that offers innovative features is always appreciated. It makes cooking easier and delivers outstanding results. Here are the standout features of Blue Diamond pans and what they offer:
Diamond-Infused Ceramic Coating
The coating is reinforced with real diamond fragments
It gives the pans incredible durability and scratch resistance
It provides an entirely natural, nonstick ability
It lets you cook with little to no oil or butter
Aluminum Core
The aluminium core makes the pans lightweight yet durable
Conducts heat quickly and evenly for perfect cooking
Suitable for all cooktops, including induction
Riveted Stainless Steel Handles
Rivets create a secure grip even when pans are full
Steel construction stays cool on the stovetop
Comfortable grip even with oven mitts
Sturdy enough to handle heavy pans
Oven Safe Up To 850°F
Can safely go from stovetop to oven cooking
Allows you to finish cooking meals in the oven
Expands what you can cook in one pan
These valuable features provide great cooking convenience and performance. The diamond coating, aluminium core, riveted handles, and oven safety make Blue Diamond pans stand out.
Also read: The Best 3 Oyster Grilling Pans
Unique Extra Features of Blue Diamond Pans
You will always be impressed with cookware with innovative extra features that increase convenience. Here are some of the unique bonus features found in Blue Diamond pans:
Ergonomic Handles
Handles are curved and angled for a comfortable grip
It fits the natural hold of your hand
Textured finish prevents slipping
Helper Handles
Large pans have an extra helper handle
It makes lifting and manoeuvring pans easier
It provides additional control and balance
Pour Spouts
Pans like saucepans have integrated pour spouts
It allows you to pour out liquids neatly.
Minimizes spills and messes
Built-In Spoons
Some pans include measuring spoons in the handle.
It allows easy measuring without dirtying more dishes
Glass Lids
Lids are made of tempered glass instead of metal
It lets you view food while cooking without removing the lid
These bonus features add great convenience when cooking with Blue Diamond pans. The ergonomic handles, built-in spoons, and glass lids make them a pleasure to use.

Blue Diamond Pan Pricing
Here is how Blue Diamond cookware compares price-wise:
Vs. Budget Nonstick Brands
More expensive than basic nonstick pans
But higher quality materials and construction
Vs. Premium Brands
Less expensive than the top brands like All-Clad
But offers similar nonstick performance
Vs. Midrange Options
Similar pricing to brands like Anolon and Tramontina
Competitive for the features and quality
Pricing Factors
Prices range from $20 for an 8″ pan up to $60+ for sets
Size, pieces, and accessories impact the price
Sales can reduce costs by up to 25%
Value for Money
It provides excellent nonstick for a moderate price
It is not the cheapest but a good value for money
It is worth investing in this quality at the prices
Overall, Blue Diamond pans offer impressive quality and performance for the price. The diamond-infused coating warrants a moderate investment for most home cooks.
Are Blue Diamond Pans Safe?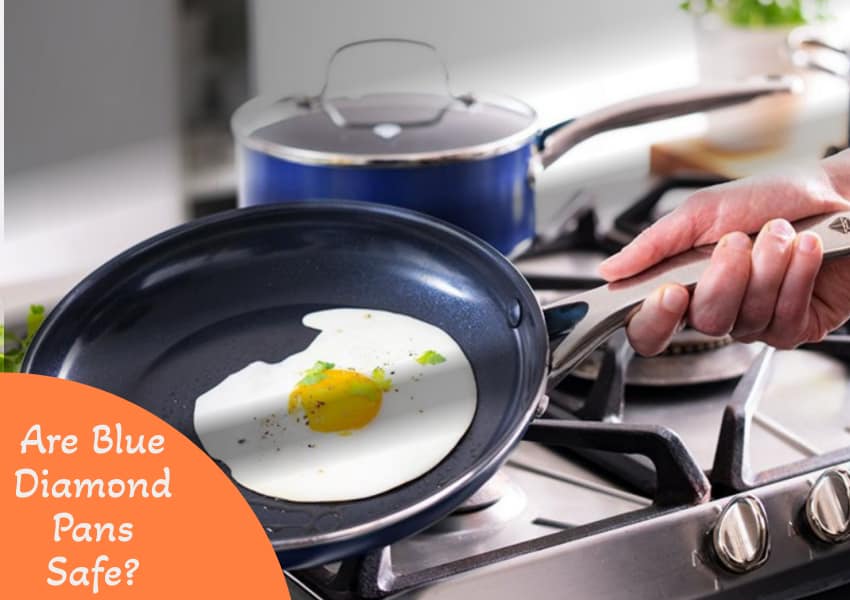 As a chef and consumer, I care deeply about using cookware that is safe and free of harmful chemicals. Here is the safety information on Blue Diamond pans:
Materials
Blue Diamond pans are made of aluminium, stainless steel, ceramic, and glass. These materials are all considered food-safe.
Nonstick Coating
The nonstick coating is a PFOA-free ceramic that is reinforced with diamond particles. It does not contain any PTFE, PFOA, lead, or cadmium.
Manufacturing
These pans are produced in facilities that follow FDA food safety standards. Testing ensures they are free from hazardous chemicals.
Third-Party Testing
Independent labs certify that Blue Diamond pans exceed safety limits for lead and other toxic metals. They are commercial-grade cookware.
High Heat Safety
The materials maintain their integrity even under high heat up to 850°F. There are no safety concerns when used correctly.
FDA Approved
The Food and Drug Administration has approved these pans for safe household cooking use based on stringent testing.
With the available safety data, we are confident that Blue Diamond pans are 100% safe for daily cooking. The materials, manufacturing, and third-party testing give me peace of mind.
Cooking Versatility of Blue Diamond Pans
After testing how well Blue Diamond pans work for cooking various foods. Here is what we found:
Eggs
The nonstick surface cooked eggs perfectly every time.
Over-easy, scrambled omelettes all slid right out of the pan.
Pancakes and Crepes
Pancakes browned nicely and flipped easily without tearing.
Crepes slid out smoothly, thanks to the great nonstick release.
Fish and Seafood
Fillets cooked up tender and flaky without sticking at all.
Shrimp sauteed quickly without overcooking.
Meats
These pans Provide excellent browning and caramelization on steaks and chops.
Chicken breasts seared up, juicy and evenly cooked.
Sauteing Vegetables
The diamond coating lets veggies cook crisp-tender without burning.
Onions, peppers, mushrooms, etc., all sauteed perfectly.
Simmering Sauces
The sauces came out smooth and rich without scorching on the bottom.
Easy to stir and incorporate ingredients.
Based on our testing, Blue Diamond pans can handle various cooking tasks. The nonstick performance and even heating allow you to cook nearly any food well. They are incredibly versatile pans.
How Blue Diamond Pans Compare to Other Nonstick Brands
1. Blue Diamond vs. Calphalon:
Blue Diamond provides similar slick, nonstick cooking as Calphalon.
Calphalon costs a bit more but offers more pan-size options.
Blue Diamond's diamond coating is a unique feature.
2. Blue Diamond vs. GreenPan:
Both Blue Diamond and GreenPan deliver excellent nonstick release and ease of cooking.
Blue Diamond pans have higher oven safety up to 850°F.
GreenPan uses a ceramic coating that may be more eco-friendly.
3. Blue Diamond vs. All-Clad:
All-Clad is much pricier but offers exceptional heating conductivity.
Blue Diamond performs just as well for basic nonstick cooking at a lower cost.
All-Clad provides top-tier construction quality.
4. Blue Diamond vs. T-fal:
Blue Diamond uses a more durable diamond-infused ceramic coating.
T-fal costs less but won't last as long with regular use.
Both are good options for beginner cooks.
Blue Diamond pans provide high-quality nonstick cooking for a reasonable price point.
The diamond coating gives great release and durability to rival the leading brands.
Tips for Using and Caring for Blue Diamond Pans
To extend the lifespan of your Blue Diamond pan, here are some tips on how to use and care for it properly.
Cooking Tips
Use low-medium heat to prevent damaging the ceramic coating.
Don't cook on high heat – the coating can't withstand high temperatures.
Let the pan preheat before adding oil or food.
Don't use metal utensils that could scratch the coating.
Cleaning Tips
Wash by hand only using mild dish soap and a soft sponge. Avoid abrasive scrubbers.
Ensure to fully dry the pan after washing to prevent mineral deposits from forming.
Don't clean in the dishwasher or use harsh detergents, which can ruin the coating.
Storage Tips
Avoid stacking or crowding pans to prevent scratching the surfaces.
Store cookware carefully in a cabinet to prevent any impacts or drops.
Rub the pan with a small amount of vegetable oil if stored for long periods to maintain the coating.
Follow these tips when cooking, cleaning, and storing to get the most life out of your Blue Diamond pans!
Troubleshooting Blue Diamond Pans
Even quality pans can have some problems. Here are troubleshooting tips if your Blue Diamond pan has food sticking or the coating seems damaged:
Food Sticking?
Make sure to fully preheat the pan before adding oil or food.
Use a touch more oil or butter to help with nonstick release.
Soak the pan to loosen stuck-on food, then use a non-abrasive sponge or brush.
Coating Chipping or Flaking?
Avoid using metal utensils or abrasive scrubbers that can damage the coating.
Don't overheat the pan while empty, which can chip the ceramic.
Lightly season the pan after washing to fill in any small flaws.
Discoloured Cooking Surface?
Pigmented foods like tomato sauce or turmeric can stain the coating, but it's cosmetic only.
Try baking soda or non-abrasive cleaner to reduce staining.
Handle Loosening?
Ensure the rivets are still fully tightened. Tighten them more if needed.
Contact the manufacturer if the handle won't stay tight; it may need replacement.
Your Blue Diamond pan should provide excellent performance with proper use and care. But if issues arise, these troubleshooting tips should help get things back on track.
Blue Diamond Pan Warranty
When buying quality cookware, always check the warranty coverage. Here is the warranty that Blue Diamond offers:
It provides a limited lifetime warranty on all pans.
It covers any defects in materials or workmanship.
The warranty protects against cracking, warping, and broken handles/rivets.
Valid only with normal household use following instructions.
It does not cover normal wear-and-tear over time or misuse.
The customer pays to ship the pan to Blue Diamond for assessment.
Blue Diamond will repair or replace the pan if covered under warranty.
Offers a 60-day money-back return policy if not satisfied.
The lifetime limited warranty provides decent protection in case manufacturing flaws appear. Just be sure to follow the safe use and care guidelines.
We always advise customers to register their warranty online with Blue Diamond if they need to make a claim later on.
Where to Buy Blue Diamond Pans
Blue Diamond cookware is sold through various retailers online and in stores. Here are some of the major places to buy:
Online
Amazon – all sizes and sets available
BlueDiamondCookware.com – full range, often with discounts
Walmart.com – more limited selection but free shipping
Stores
Bed Bath and Beyond – broad availability in-store and online
Target – typically has the most common sizes in stock.
Costco – usually sells sets for a discounted bundle price
Other Retailers
Macy's, JCPenney, and Kohl's – may have options seasonally
QVC, HSN – often feature on cooking shows
Overseas
International shipping from BlueDiamondCookware.com
Check local online retailers in your country
The best selection and prices are typically online through Amazon or Blue Diamond's website. But you can often find choices at national retail chains.
FAQs
What types of stovetops are Blue Diamond pans compatible with?
Blue Diamond pans are compatible with all stovetops, including gas, electric, induction, and glass top ranges. Their aluminium core allows them to heat quickly and evenly on any cooktop surface.
Can you put Blue Diamond pans in the oven?
Yes, Blue Diamond pans are oven-safe up to 850°F. Their handles are designed to remain cool on the stovetop and safe in a hot oven. You can start cooking something on the stove and finish in the oven.
How should you clean Blue Diamond pans?
Hand-washing Blue Diamond pans is best to preserve the nonstick coating. Use mild dish soap, warm water, and a soft sponge or cloth. Avoid abrasive scouring pads. Also, make sure to dry the pans after washing fully.
Can you use cooking spray with Blue Diamond pans?
You can use a light cooking spray or oil coating before cooking. This will further enhance the nonstick properties. Avoid over-spraying, as oil residue may bake on high heat.
What utensils can be used with Blue Diamond pans?
Only use silicone, wood, or plastic utensils to avoid scratching the ceramic coating. Never use metal utensils or harsh abrasive scrubbers.
Do Blue Diamond pans work on induction cooktops?
Yes, the aluminium core construction makes Blue Diamond pans compatible with all cooktops, including induction. They will quickly heat up, just like on gas or electric ranges.
Conclusion
Are Blue Diamond Pans Worth Buying?
Blue Diamond pans are a decent option for home cooks for everyday cooking. The nonstick performance and lightweight build make them easy to use. However, the staining, utensil limitations, and heat constraints are negatives.
We advise using Blue Diamond for simple meals, but choose sturdier cookware for high heat needs. Proper care makes these pans a worthwhile addition to your kitchen! Always make sure to use the proper utensils and cook on medium heat.
**Comment below and tell us what you think about Blue Diamond pans! Do you have any personal experiences with them?
**Click the link below to purchase a Blue Diamond pan and experience the difference!