A wok burner is a specialized stove burner explicitly designed for wok cooking. It provides intense all-around heat that perfectly matches the shape of a round-bottomed wok. Wok burners allow you to create sizzling, restaurant-quality stir fries and other Asian dishes at home.
But not all wok burners are created equal. Choosing the wrong one can leave your wok cooled on the sides, your food unevenly cooked, and your stir-fry dreams dashed. Selecting the best wok burner for your kitchen is essential to summoning the elusive wok hay that makes Asian food crave-worthy.
In this definitive guide, we'll walk you through everything you need to know to find your perfect wok burner match. You'll learn to unleash the fire-breathing dragon in your kitchen and stir-fry like a pro with the right wok stove. So turn up the heat and read on to discover what separates the scrap metal from the high-powered wok weapons.
Why Do You Need A Special Burner For A Wok?
A wok needs intense heat. The shape spreads the flame up the curved sides. This lets you stir-fry fast at very high temps. It helps make food crispy and tender.
Regular burners can't do this. Their weak flames scorch food. And they take forever to heat a wok. This makes stir-frying impossible.
So it would be best if you had a burner made for work. It focuses lots of heat on the bottom and up the sides. This gives even, super-hot heating to cook authentic stir-fry dishes. With a good wok burner, you'll make restaurant-quality meals.
Benefits Of Using A Wok Burner
A wok burner has lots of pros for cooking:
Quick heating – Reach very high temps fast to sear and stir-fry.
Even heating – Flame wraps around sides to heat wok evenly.
Control – Adjustable flame lets you fine-tune the heat as you cook.
Authenticity – It Makes real restaurant work hay, like tossing food.
Versatility – Use a wok for steaming, deep frying, and braising.
Healthy – Cooking with less oil and at high heat is good for you.
Flavor – Fast hot wok cooking seals in juices and taste.
With an excellent wok burner, you'll make healthier, tastier Asian food at home. It lets you cook like a pro chef.
Different Types Of Wok Burners
There are a few main kinds of stovetop wok burners:
A round cast iron burner is made of cast iron with jets around the rim. Sits over the flame to hold the wok. It gets very hot but heavy.
Ring burner – Open circle shape lets flame come up through the middle. It's lightweight and gets hot fast.
Flat burner grate – Turns a normal round burner into a wok burner. Let the wok sit low over a flame.
Oval or rectangle burner – Flame in an oval shape hugs more of the wok. Suitable for basic stoves.
Built-in wok stove – It is a special stove just for woks. It has powerful jet burners and other wok features.
The best type for you depends on your kitchen and cooking style. Make sure to get a burner that fits your wok size too.
Also read: Sauté Pan vs. Skillet
Factors To Consider When Choosing A Wok Burner:
1. BTU Rating
The BTU rating matters most for a wok burner. BTU stands for British Thermal Unit. It tells how much heat the burner makes.
Regular stove burners are from 5,000 to 12,000 BTUs. But wok cooking needs more power – at least 12,000 BTUs. Commercial wok stove tops can be 18,000 BTUs or more.
More BTUs let the flame heat the wok faster and hotter. This is key for stir-frying and searing. Low BTU burners won't work well with woks.
So always check the BTU rating when you shop for a wok burner. Get the highest BTU you can for your home kitchen. It makes the biggest difference in cooking.
2. Material
Wok burners are made from a few different materials. The most common are:
Cast iron – Heavy but durable. It distributes heat well but can rust if not seasoned.
Enameled steel – Coated steel doesn't rust. It heats evenly. Chip-prone enamel can be replaced.
Chrome plated – Durable chrome over steel. It won't rust, easy to clean, and heats fast.
Stainless steel – Shiny steel resists rust and stains. It heats evenly but slower than iron.
Brass – Polished brass looks nice but scratches easily. Great heat conduction.
Cast iron is traditional, but enameled steel is less rust-prone. Chrome and stainless steel are also good easy-care options. Avoid aluminum – it's too soft for the high wok heat.
Also read: The Ultimate Guide to Tefal Pans
3. Size and Shape
The size and shape of the wok burner matter, too. You want one that fits the bottom of your wok.
If the burner is smaller, it will only heat the center of the wok, leaving the sides cooler. Bigger burners heat more surface area.
Look for a burner at least 10 inches wide for home woks that are 12 to 14 inches across. Pro wok ranges have 15-inch wide burners.
Shape-wise. Round burners work for rounded wok bottoms. Ring burners let the flame come up through the center. Oval burners hug more of the wok sides.
Make sure to check your wok dimensions before buying a burner. Get the biggest, widest one made for your wok size.
4. Helpful Features
Some useful features to look for in a wok burner are:
Adjustable heat – Settings for low, medium, and high let you control the flame.
Sturdy base – A heavy, stable base keeps the wok steady during tossing.
Portability – Some wok burners can be moved easily for storage.
Easy installation – Pick a simple design you can install yourself if needed.
Built-in ignition – Push the button or twist the ignition lights on the burner without matches.
Warranty – A good warranty ensures it will last for years of use.
Safety certification – Check for independent safety testing certification.
Flame failure – Shut off the gas if the flame goes out. It prevents gas leaks.
The more features, the better, but adjustable heat and solid construction are vital for good wok cooking.
Also read: Infrared Grills: Everything You Need to Know from A-Z
Types Of Wok Burners:
1. Indoor Wok Burners
Indoor wok burners are made to use inside your kitchen. They hook up to your existing gas or electric stove top.
Common Types Of Indoor Wok Burners
Freestanding – Sits on top of stove grate. Many are cast iron or enameled steel.
Drop-in – Fits down into the stove top hole where a normal burner was.
Portable – Smaller burner hooks to the gas line but can be stored away.
Stovetop grate – Turns regular round burner into a wok burner surface.
Built-in range – High-powered burner installed into a custom wok stove.
Indoor wok burners are suitable for home cooks. They give you a wok heating power without remodeling your kitchen. Just pick the right style for your stove.
2. Outdoor Wok Burners
You can also get wok burners made for outdoor cooking. These are good for patio and backyard wok cooking.
Outdoor Wok Burner Types
Tabletop – Sits on top of a patio table or outdoor kitchen. Portable to move around.
Freestanding – Sturdy base with a burner that hooks to the LP tank.
Built-in – Install into an outdoor kitchen grill and connect to the gas line.
Charcoal – Special grates to hold wok over hot charcoal.
Outdoor wok burners give high heat for restaurant-style stir-fry. No indoor ventilation is needed. Propane fuel also gives adjustable flame control.
Cook outside with a powerful wok burner. Pick one made to handle the weather and designed for your patio space.
Best Wok Burners For Different Budgets And Needs
1. Iwatani 35FW Single-Burner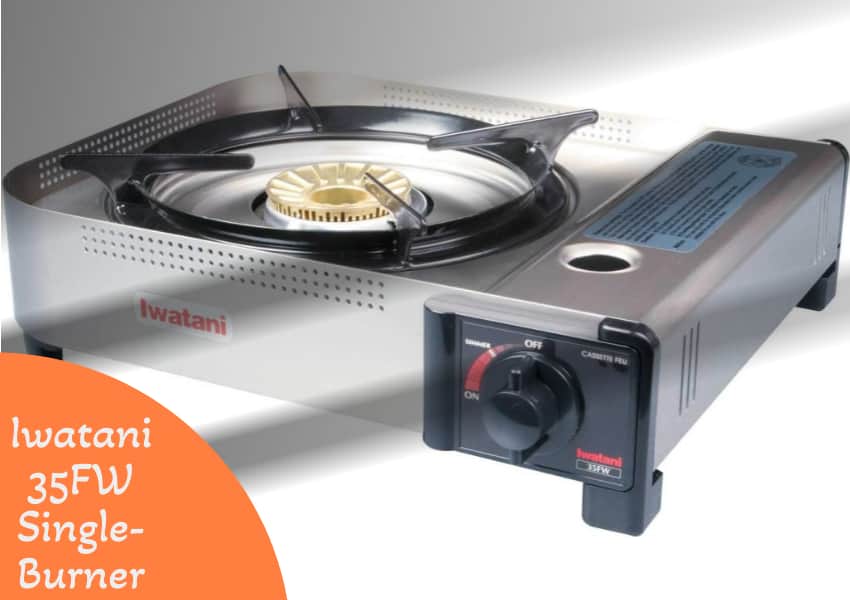 The Iwatani 35FW Single-Burner Butane Portable Cooktop is perfect for indoor and outdoor cooking. This high-quality cooktop offers a reliable and efficient solution for your stir fry needs.
Its medium-sized burner provides the ideal heat output range for smoky, crispy, and flavorful stir-fry dishes. The Iwatani 35FW has essential safety features, including automatic shut-off and windbreakers, ensuring your cooking experience is safe and worry-free. The Iwatani 35FW is lightweight and easy to transport, allowing you to take it anywhere. Its sturdy construction ensures durability, while its compact size makes it easy to store in your kitchen or take on camping trips.
Pros
15,000 BTU output

Provides the ideal heat output for stir-fried dishes

Offers essential safety features for worry-free cooking

Lightweight and portable for easy transportation

Sturdy construction ensures durability

Compact size for easy storage
Cons
Limited heat output compared to higher BTU burners

Requires butane fuel canisters for operation

It may not be suitable for large-scale cooking needs
2. Chef Master 90019 Portable Butane Stove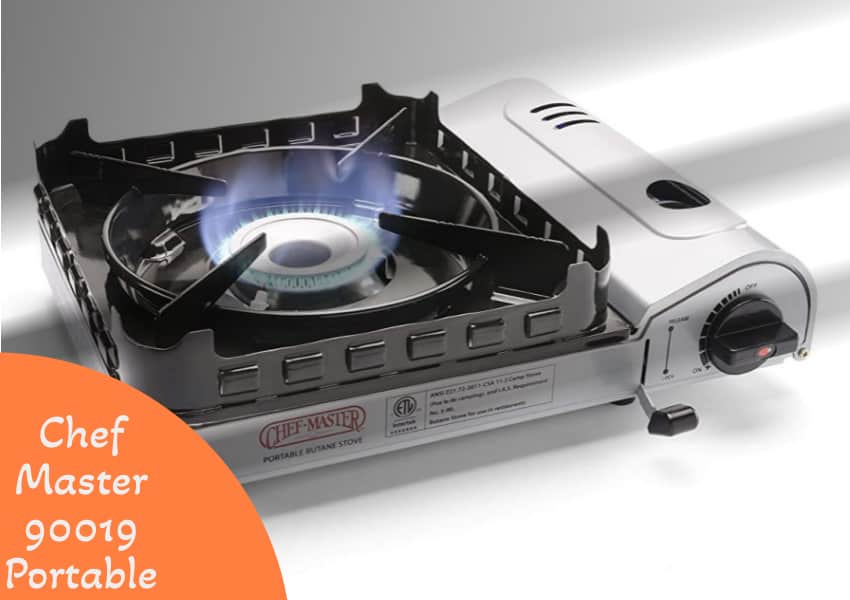 One popular option for camping and backpacking is the Chef Master 90019 Portable Butane Stove. It offers a 15,000 BTU single burner and a hard carrying case for easy transportation and protects your stove during outdoor adventures.
This stove is a must-have for outdoor enthusiasts who want to enjoy hot meals while on the go. The 15,000 BTU burner provides enough heat to boil water or cook your favorite camping meals quickly.
The stove also features a piezo click ignition, making it easy to start up with just the push of a button. The double wind guard burner ensures that your flame stays strong even in windy conditions, allowing for consistent cooking performance.
Pros
Compact and portable design

High heat output for quick cooking

Easy to start with piezo click ignition

Double wind guard burner for consistent performance

Hard carrying case for transportation and protection
Cons
Relies on butane fuel canisters, which may need to be replaced frequently

Limited cooking space with only one burner

Not suitable for large-group cooking

Requires butane canisters, which may need to be replaced frequently during longer trips.
3. Eastman Outdoors 90411 Portable Kahuna Burner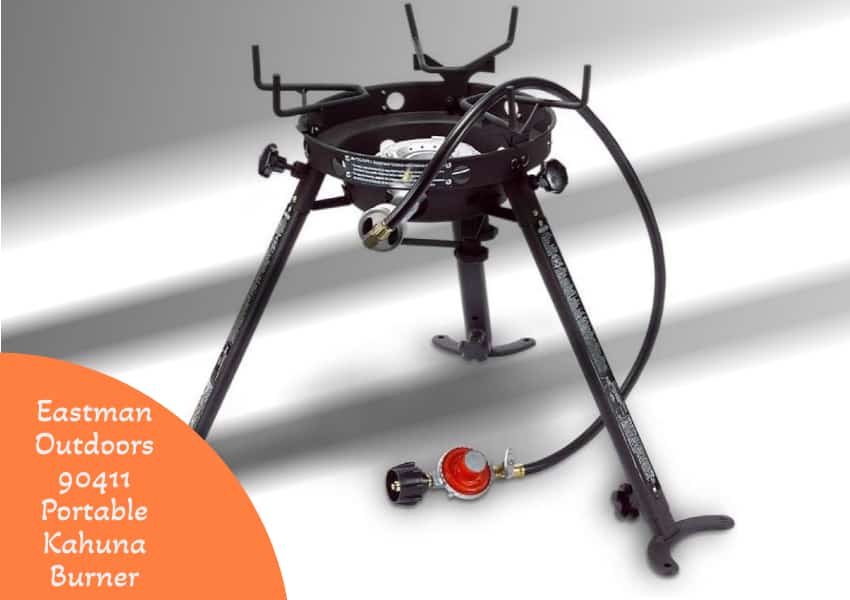 If you want a portable cooking solution for your outdoor adventures, consider the Eastman Outdoors 90411 Portable Kahuna Burner with XL Pot and Wok Brackets. This versatile burner is perfect for backyard cooking, camping, tailgating, and more.
With a powerful 65,000 BTU clean-burning Revolution Burner, you can expect high-performance heat for all your cooking needs. The adjustable legs allow you to accommodate different pot sizes, and the XL pot and wok brackets can handle pots up to 36 quarts and woks up to 18′ in diameter.
The Eastman Outdoors 90411 Portable Kahuna Burner offers sturdy and heavy-duty construction, ensuring durability and stability. The precision-cut holes in the burner provide efficient heat distribution, exceeding industry standards for heat, cleanliness, and propane usage. This burner has been tested and approved by the Canadian Standards Authority (CSA), giving you peace of mind regarding safety and quality.
Pros
65,000 BTU clean-burning Revolution Burner

Powerful heat output for efficient cooking

Sturdy construction for stability and durability

Adjustable legs for versatile use

Precision-cut holes in the burner for optimal heat distribution

CSA approved for safety and quality
Cons
Some users have reported issues with the fuel control valve

The height of the burner may be too high for some users' preferences

Recommended wok size may limit cooking options for larger gatherings.

Suitable for outdoor use only
4. GasOne Propane Burner with Cover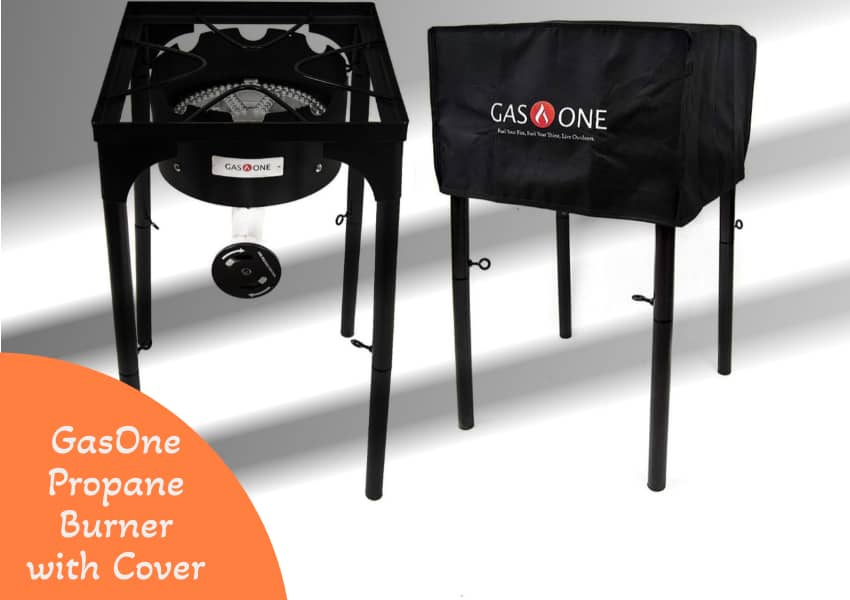 The GasOne Propane Burner is a versatile and powerful camp stove for outdoor cooking with its adjustable height and high-pressure output. Whether camping, tailgating, or hosting a backyard cookout, this burner is designed to meet your cooking needs.
The adjustable height feature allows you to customize the burner to your preferred cooking level, while the high-pressure output of 200,000 BTU ensures quick and efficient cooking.
The fully adjustable heat-control knob gives you precise control over the flame, allowing you to simmer, boil, or fry easily. The removable and height-adjustable legs make it easy to set up and use on any surface.
The air valve is controllable for a consistent, clean blue flame, ensuring even heat distribution. With its heavy-duty design, this burner is built to withstand various outdoor activities. It comes with a weatherproof cover to protect against outdoor elements, making it a durable and reliable choice for outdoor cooking.
Pros
Versatile and robust for outdoor cooking

High-pressure output for quick and efficient cooking

Fully adjustable heat-control knob for precise flame control

Removable and height-adjustable legs for easy setup on any surface

Weatherproof cover for protection against outdoor elements

It comes with a high-pressure regulator and hose for propane tank connection

Heavy-duty design

Air valve controllable for consistent, clean blue flame
Cons
Some complaints about the cover being low quality and not durable

Suggestions for improvements, such as adding a shelf and casters

Potential issues with receiving used or defective units

Problems with broken hose connector stem and mangled air inlet cover

Issues with pot/wok support bars not properly welded
5. Bayou Classic SP10 High-Pressure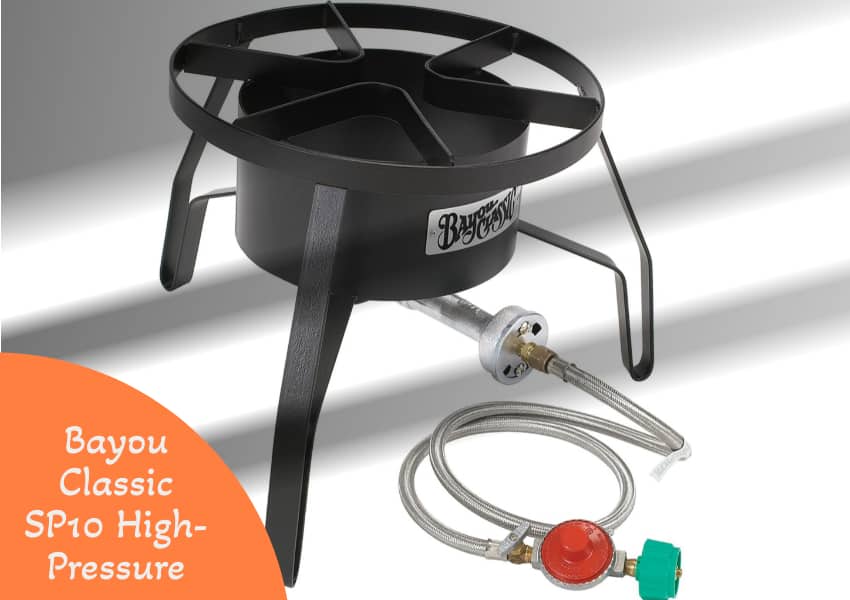 When using the Bayou Classic SP10 High-Pressure Cooker, you'll experience powerful heat and efficient propane usage for outdoor cooking. This versatile propane burner is perfect for boiling crawfish, shrimp, crab, lobster, and vegetables. It can also be used as an outdoor fryer for fish and seafood.
The SP10 produces 59,000 BTUs and quickly brings water to a boil, making it ideal for camping, fishing, tailgating, and hunting trips. It features a sturdy welded steel frame and a stable base, ensuring durability and safety.
The 14-inch wide cooking surface supports stock pots up to 62 quarts, providing ample space for large batches of food.
Its compact and portable design, the SP10 is easy to assemble and use in emergencies or as a backup propane stove. It also has a 10-psi pre-set regulator, brass control, and a stainless braided LPG hose for safe and convenient operation.
The SP10's heat-resistant paint and no-rust cast aluminum burner ensure maximum longevity. Its 360° windscreen allows for safe use in windy conditions.
While the SP10 offers powerful heating capabilities, some users may find its height uncomfortable for cooking while standing or seated. However, placing the cooker on a higher surface can efficiently resolve this issue.
The Bayou Classic SP10 High-Pressure Cooker is a reliable and efficient outdoor cooking solution to enhance culinary adventures.
Pros
Powerful heat output

Efficient propane usage

Sturdy and durable construction

Compact and portable design

Safe to use in windy conditions

Produces 59,000 BTUs

14-inch wide cooking surface

Supports stock pots up to 62 quarts

10-psi pre-set regulator

Brass control

Stainless braided LPG hose
Cons
Uncomfortable height for cooking

The flat top surface may not fit certain cookware

May require additional accessories for specific cooking needs
6. King Kooker 24WC 12″ Portable Propane Outdoor Cooker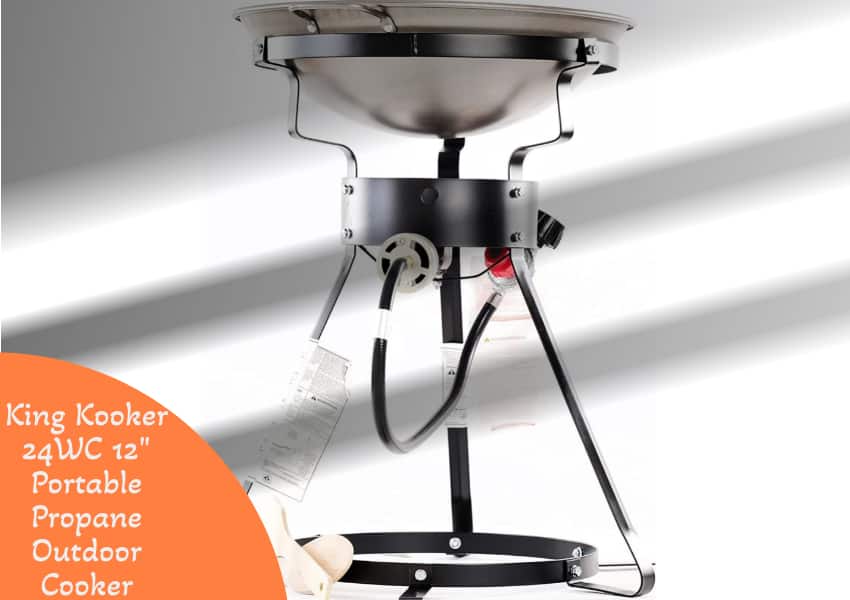 The King Kooker 24WC 12′ Portable Propane Outdoor Cooker is a convenient and compact solution for outdoor cooking. Its portable design and efficient propane usage make it perfect for backyard barbecues or camping trips.
The included 18-inch wok allows you to easily whip up delicious stir-fry dishes with crispy textures that will impress your friends and family. This propane outdoor cooker has a high heat output of 54,000 BTUs per hour, ensuring that your wok heats up quickly and maintains a consistent temperature for perfect stir-fry every time. The adjustable regulator allows you to control the flame intensity, giving you the flexibility to cook various dishes. The sturdy construction and compact size make it easy to transport and store. Plus, the included cooking thermometer ensures precise cooking temperatures.
Pros
Portable and compact design for easy transportation and storage

High heat output for quick and efficient cooking

Adjustable regulator for precise flame control

Included cooking thermometer for accurate temperature monitoring

Versatile cooking options with the included 18′ wok
Cons
Some users may find the stand height uncomfortable for cooking

A propane tank is not included. You must purchase it separately.
7. GasOne 200K BTU Propane Burner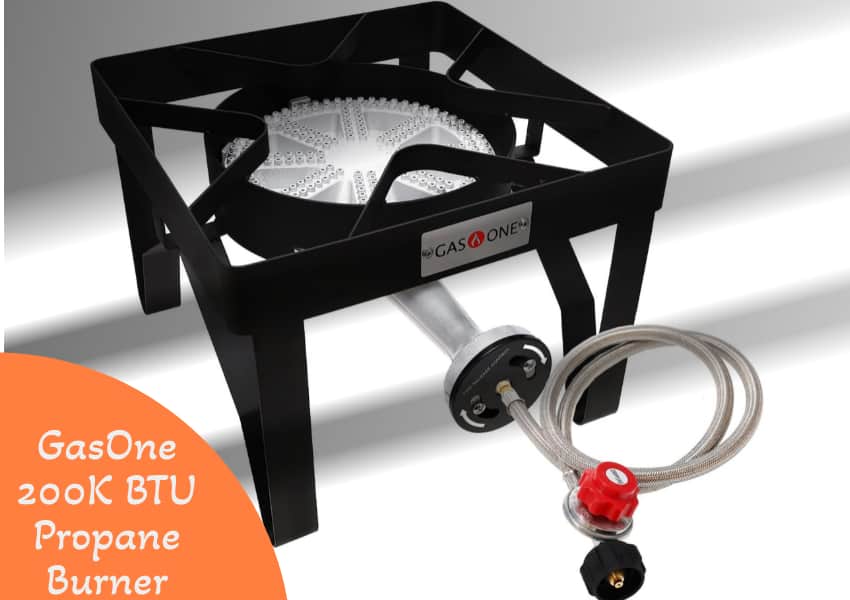 The GasOne 200K BTU Propane Burner is an ideal outdoor stove for home brewing and turkey frying. It features an adjustable 0-20Psi regulator and a steel braided hose.
This heavy-duty propane stove is designed to provide a high heat output of 200,000 BTU, ensuring quick and efficient cooking. The adjustable regulator lets you control the heat intensity, making it perfect for various cooking needs. The steel braided hose adds durability and ensures safe propane flow. With its wide range of uses, this burner can be used for home brewing and turkey frying, outdoor cooking, canning, and more. Its compact size and easy portability make it convenient to use and store.
Pros
High heat output of 200,000 BTU for quick and efficient cooking

Adjustable regulator for precise heat control

Steel braided hose for durability and safe propane flow

Wide range of uses, including home brewing and turkey frying

Compact and portable design for easy storage and transportation
Cons
Some limitations in temperature control reported by customers

It may require a better regulator for improved heat control, according to reviews
8. Camp Chef EX60LW Explorer 2 Burner Outdoor Camping Modular Cooking Stove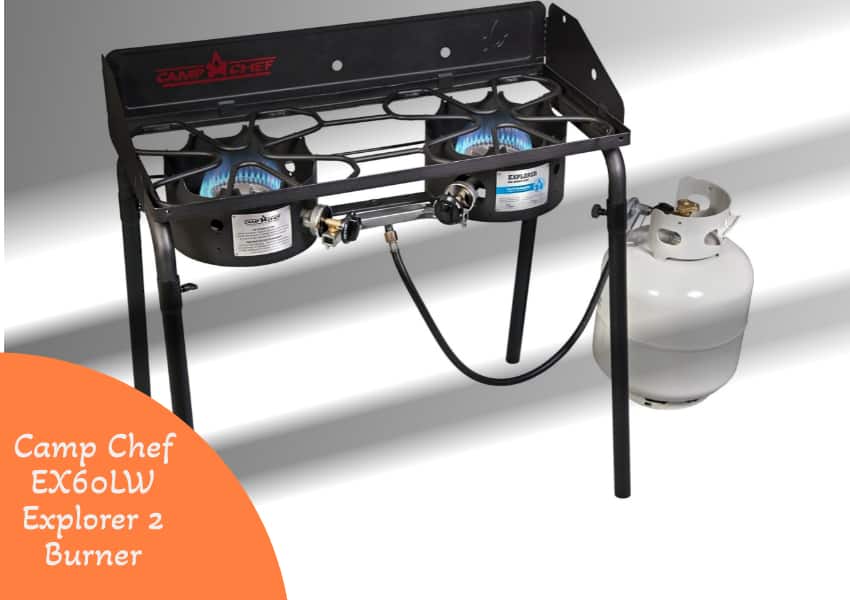 Now that you are familiar with the GasOne 200K BTU Propane Burner, let's move on to another great option for outdoor cooking: the Camp Chef EX60LW Explorer 2 Burner Outdoor Camping Modular Cooking Stove. This stove is perfect for all your camping adventures and outdoor cooking needs.
The Camp Chef EX60LW is designed with convenience and versatility in mind. It features two powerful burners that deliver a total of 60,000 BTUs of heat, ensuring quick and efficient cooking. Whether boiling water for coffee, frying up some bacon, or simmering a delicious stew, this stove has covered you.
One of the standout features of this stove is its modular design. It comes with removable legs, making it easy to transport and set up wherever you go. The adjustable heat control knobs allow you to fine-tune the temperature according to your cooking needs.
The sturdy cooking surface can accommodate large pots and pans, making it suitable for cooking for a crowd.
Overall, the Camp Chef EX60LW is a reliable and versatile option for outdoor cooking. Its powerful burners, modular design, and adjustable heat control make it an excellent choice for camping trips, backyard cookouts, and other outdoor cooking adventures.
Pros
Powerful burners for quick and efficient cooking

Modular design for easy transportation and setup

Adjustable heat control for precise temperature regulation

Sturdy construction for durability
Cons
Maybe bulkier compared to single burner options

Requires a propane tank for operation

Not suitable for indoor use due to gas emissions
9. Gas One Propane Double Burner
Equipped with two burner heads, the Gas One Propane Double Burner provides extreme heat for outdoor cooking. This rugged construction stove is perfect for all your outdoor cooking needs. This double-burner stove can handle everything, whether grilling, frying, or boiling.
The detachable legs make it easy to transport and set up wherever needed. The adjustable 0-5 PSI regulator with a steel braided hose ensures safe and efficient propane flow.
Each burner has its heat dial, allowing you to control the temperature for precise cooking. With its high-quality regulator, you can feel confident in the safety of this stove.
Pros
Provides extreme heat for outdoor cooking

Individual heat dial per burner

Rugged construction for durability

Portable and easy to set up

High-quality regulator for safety

Two burner heads

Steel braided hose

Detachable legs
Cons
Legs could be more stable but sufficient for personal use.
Choosing the Right Wok for Your Burner
Picking the correct wok is critical, too. You want one that fits the burner well.
Size – Match the wok bottom to the burner size. Too small won't heat evenly.
Shape – Round bottom woks need round burners. Flat bottoms can use any burner.
Depth – Deeper woks work better to toss food. Get 14 inches deep or more.
Material – Carbon steel heats fastest. Cast iron holds heat well once hot.
Weight – Heavier woks over 5 pounds are best for stability during tossing.
Handles – Look for short helper handles and a long handle for tossing.
Lid – Get a domed lid to trap heat and moisture when steaming.
Make sure to get a big, heavy wok designed for high-heat cooking. Check that it pairs well with your new wok burner.
Helpful Wok Burner Accessories
Some handy extras can make wok cooking easier:
Wok ring – A metal ring that sits over the burner to hold the round wok bottom.
Steaming rack – A raised rack fits inside the wok for steaming food.
Lid holder – Holds wok lid upright while cooking. Keeps counters clean.
Splatter screen – Mesh screen protects from hot oil splatters.
The stovetop grate lets you use a flat bottom wok on standard burners.
Burner cover – Protects burner when not in use.
Wok spatula – Long wooden spatula ideal for tossing and stirring.
Wok brush – Scrub brush to easily clean the wok after cooking.
Look for accessories that make your wok and burner work better. Splatter screens and lid holders add convenience to your kitchen.
Tips For Using A Wok Burner Safely
Wok cooking uses very high heat. Follow these tips to stay safe:
Clean burner – Keep free of grease and crumbs that can catch fire.
Secure wok – Use a ring or handle lock to stabilize the wok.
Good ventilation – Cook with a hood fan on to ventilate.
No loose clothes – Tie back loose hair and sleeves to avoid catching fire.
Use a mitt – Wear a glove or mitt to handle the hot wok.
Remove with care – Pick the wok straight up to prevent spills and burns.
Monitor flames – Ensure the gas is fully lit and shuts off properly.
Have a fire extinguisher – Keep an ABC type nearby, just in case.
Attend cooking – Don't leave the wok burner unattended when lit.
A powerful wok burner needs extra caution. But a few safety steps will let you use it without worry.
Wok Burner Fuel Options
Wok burners can use several kinds of fuel:
Natural gas – Hooks up to a gas line like a stove. Adjustable flame. Needs ventilation.
Liquid propane – Portable LP tank fuel. It gives high heat and flame control.
Electric – Heated electric coil. Lower heat output than gas. Easy to use.
Charcoal – Gives great smoky wok flavor outdoors. Hard to control heat.
Wood – Cut wood fuel for an authentic smoke taste. It takes skill to cook over.
Gas fuels like natural gas or propane heat the best. Electric works but doesn't get as hot. Charcoal is fun for outdoor cooking.
Pick the fuel you have available or want to cook with. Make sure your wok burner type matches the heating source.
Setting Up Your Wok Burner
Installing a wok burner is easy. Follow these steps:
Read instructions – Check the manual to understand the parts and steps.
Shut off gas/electric – Turn off stove fuel supply before starting.
Prepare space – Make sure the surface is clean and has room for burner.
Assemble stand – Attach legs or components to build a sturdy base.
Install burner – Fit secured burner into stand opening.
Connect the fuel line – Attach the gas hose or electric cord safely.
Test burner – Turn on and check that the flame/heating works right.
Season wok – Coat the new wok in oil and heat to prep the cooking surface.
With a suitable space and fuel supply, a wok burner can be up and running fast. Then, you'll be ready to wok and roll!
Cleaning and Caring for Your Wok Burner
To keep your wok burner working well:
Wipe up spills – Clean burnt food drips after cooking.
Degrease weekly – Use soap and water to remove grease buildup.
Deep clean monthly – Scrub all parts with a brush and degreaser.
Check connections – Inspect fuel lines and valves for wear or leaks.
Cover when not in use – Protect burner from dust and grease.
Replace parts as needed – Get new igniter and grates if broken or rusted.
Lubricate moving parts – Keep hinges and adjustments working smoothly.
Check manufacturer instructions – Follow the details for your model.
Regular care and cleaning ensure a good wok burner lasts for years. A well-maintained burner is also safer.
Where to Buy a Wok Burner
You have several options to buy a wok burner:
Home stores – Check Lowe's, Home Depot, etc., for basic models.
Restaurant Supply – Stores for chefs have commercial-grade wok ranges.
Online retailers – Amazon, WebstaurantStore, and everythingkitchens.com sell many styles.
Specialty stores – Asian markets or cooking stores may have good selections.
Manufacturer websites – Brands like Garland and Bluestar sell directly online.
Classified ads – Search Craigslist or Facebook Marketplace for used deals.
For the best price, selection, and shipping, going through an online retailer is easiest for most. But shop around to find the perfect wok burner for you.
Tasty Recipes for Your Wok Burner
A wok burner lets you cook many great Asian dishes. Try these yummy recipes:
Stir fry – Quickly cook meat and veggies in a bit of oil.
Fried rice – Toss rice with eggs, meat, and vegetables.
Pad Thai – The classic Thai noodle dish with peanuts.
Kung pao chicken – Spicy chicken with peanuts and vegetables.
Sweet and sour – Pineapple, bell pepper, and chicken or pork.
Egg foo young – Chinese omelet with meat and bean sprouts.
Potstickers – Pan-fried Asian dumplings.
Use your powerful wok burner to cook restaurant favorites at home. The high heat helps create a big wok hay flavor.
FAQs
How do I choose between a gas or electric wok burner?
Gas burners provide more intense heat for excellent wok hay. But electric burners don't require ventilation and are simpler to install. Choose gas if you want maximum authentic stir-fry flavor. Go electric for easier use.
What about induction wok burners?
Induction wok burners use electromagnetic energy to heat the wok very quickly. They're more expensive but energy efficient. Make sure your wok is induction compatible. Induction gives great wok heat without an open flame.
Should I get a portable or built-in wok burner?
Portable wok burners allow you to store the unit when not in use. Built-in burners are permanently installed and require some remodeling. Portable is better for renters or occasional wok use. Built-in is ideal for frequent wok cooking.
How do I clean my wok burner safely?
Avoid hosing down or submerging the wok burner in water. This can damage the gas components. Gently wipe with a damp cloth and degreaser. Use a wire brush or scraper for stuck-on food. Allow to dry before use thoroughly.
What ventilation do I need for a wok burner?
Powerful kitchen exhaust ventilation is highly recommended, like a 600 CFM hood above the wok. Open windows and run fans to help. Proper ventilation removes smoke, steam, and odors.
Can I use my wok burner outdoors?
It depends on the model. Some are made for outdoor use with stainless steel construction. Others are indoor only. Ensure your outdoor wok burner is rust-resistant and equipped for propane tanks or natural gas hookups.
How close should my wok burner be to the cabinets?
Allow 12-18 inches minimum clearance around the wok burner. The high heat can damage or ignite nearby walls or cabinets. Leave plenty of safe space for tossing food.
Does a wok burner require special maintenance?
Check the gas connections periodically for leaks with soapy water. Lubricate any moving metal parts. Other than that, regular cleaning is all that's needed. Follow the manual for any model-specific care.
What's the best wok to pair with my new burner?
Choose a carbon steel or cast iron wok at least 12 inches wide with a rounded bottom. The material and shape will heat evenly and be durable. Match the wok bottom's curvature to the burner too.
Conclusion
Cooking with a wok needs a unique burner to shine. The right wok stove gives your meals a sizzling restaurant flavor. With even heat and high power, it unlocks real wok hay.
Choose a wok burner based on your cooking style. Gas burners are hot for authenticity. Electric ones are simpler to use. Induction wok sets give modern, high-tech cooking. Size it to fit your wok pan perfectly. Then, pick any handy design features to fit your kitchen.
Soon, you'll be dishing up gourmet Asian food at home. With your powerful new wok burner, making flavorful fried rice, seared meats, and crisp veggies is easy.
Share your stir-fry success with us! Comment below on how a wok burner improved your cooking. Tell us your favorite meals to make in your hot new wok.