Tefal pans are a type of non-stick pan that the Tefal company makes. They are known for their high quality and durability. Tefal pans are made with various materials, including aluminum, stainless steel, and cast iron. They also have different non-stick coatings, such as Titanium and Thermo-Spot.
Why should you read this article?
If you are considering buying a Tefal pan, this article is for you. We will review the most popular Tefal pans and recommend the best pans for different needs. We will also provide you with a buying guide and tips on caring for your Tefal pans.
Why are Tefal pans so popular? What are the pros and cons of Tefal pans? Read on to find out!
What Makes Tefal Pans Great?
First, they have a non-stick surface called Thermo-Spot. This means your food won't stick while cooking. It also shows when the pan is hot enough by turning red. No more burnt food!
Second, Tefal pans heat up fast on the stove or in the oven. Suppose you need your pans to heat quickly when cooking. Tefal does this well. It helps cook the food faster.
Finally, Tefal pans are easy to clean. The non-stick surface means you can wipe it clean. No hard scrubbing is needed. This saves time.
Also read: Are Blue Diamond Pans Worth Their Weight in Diamonds?
What are the different types of Tefal pans?
Tefal makes many kinds of pans. Here are some of their most popular models:
1. Tefal Nonstick Pans
These pans have a non-stick coating called Thermo-Spot. It stops food from sticking while cooking. It also shows when the pan is hot by turning red. Tefal's non-stick pans are easy to clean since food doesn't bake on. They heat up fast, too.
2. Tefal Stainless Steel Pans
These pans are made of stainless steel. They are durable and conduct heat well. Stainless steel does not react with foods either. Tefal's stainless pans have an aluminum base to spread heat evenly. Many also have a non-stick layer inside.
3. Tefal Ceramic Pans
These pans have a ceramic non-stick coating. The coating is free of chemicals called PFOA and PTFE. Ceramic heats evenly and lets foods slide off easily. Tefal's ceramic pans come in many colors, too.
4. Tefal Hard Anodized Pans
These pans have a hard, anodized aluminum surface. That makes them extra durable. The anodized aluminum also resists corrosion and conducts heat well. Tefal's hard anodized pans heat fast and evenly.
No matter what style you need, Tefal makes high-quality pans. Their non-stick, stainless steel, ceramic, and hard anodized pans all cook food evenly. Find the Tefal pan that matches your cooking!
Also read: Sauté Pan vs. Skillet: The Secret Trick to Picking the Perfect Pan for Any Dish
Tefal Pan Reviews
1. Tefal Unlimited Cookware Set Review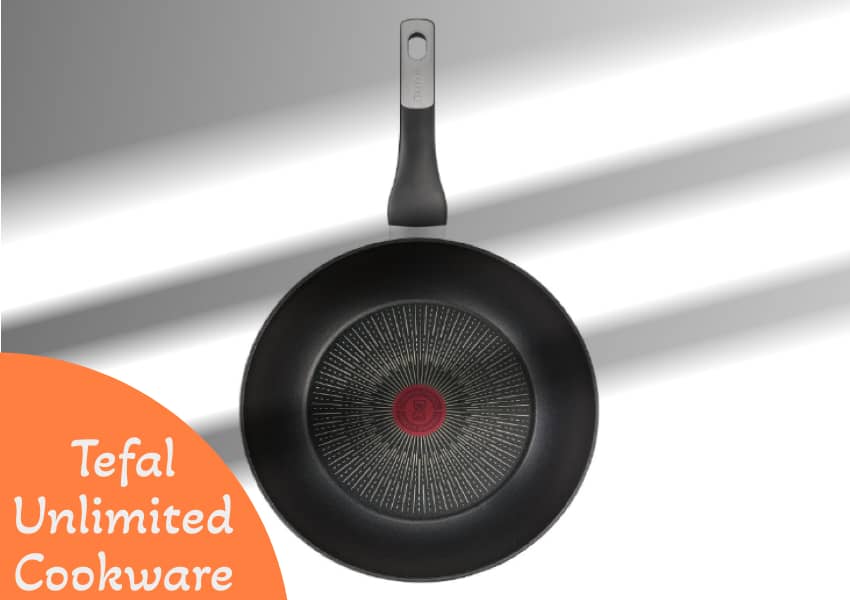 The Tefal Unlimited set has pots and pans for all cooking needs. Here are its top features:
Pans – The set has fry pans in three sizes. They have Tefal's Thermo-Spot non-stick coating inside. This prevents sticking and burns.
Lids – The pans have glass lids to trap heat and moisture while cooking. The lids fit tightly.
Handles – The handles stay cool while cooking. They are big enough to grasp with oven mitts, too.
Durability – The pans are metal utensil-safe. Their rugged anodized aluminum stands up to daily use.
Oven use – The pans can be used up to 400°F in the oven. Their riveted handles stay on at high heat.
Easy to clean – Food doesn't bake onto the non-stick interior. It wipes clean after cooking.
The Tefal Unlimited set has high-quality pans for all stove-top and oven cooking. Their non-stick interiors and durable construction make cooking and cleaning a breeze. This is a great cookware set for any home cook.
The pans heat evenly and look stylish, too. While pricey, the Unlimited set will last for many years. Its superior performance makes it worth the cost for cooks wanting reliable cookware.
2. Tefal Ingenio Cookware Set Review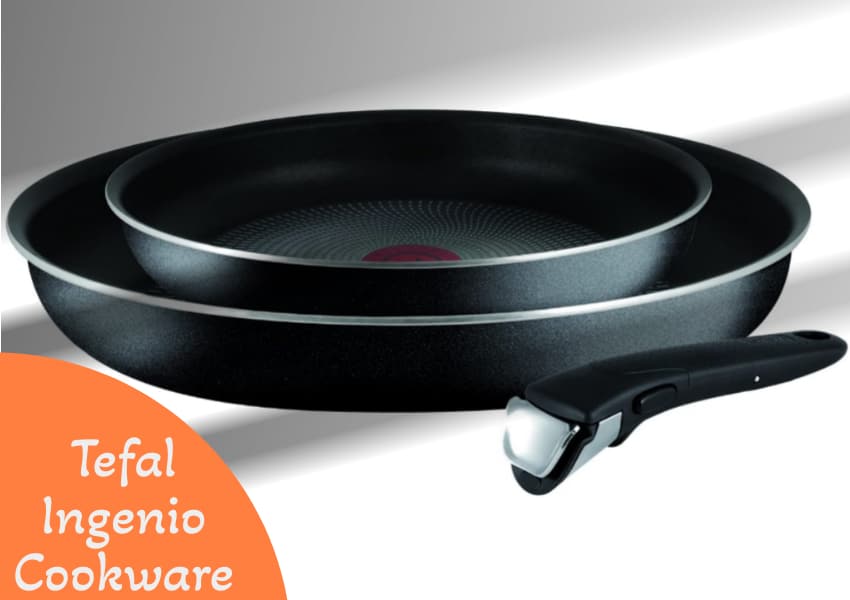 The Tefal Ingenio set offers modular, stackable pots and pans. Here are its key features:
Removable handles – The pans have removable handles for easy storage. Handles attach and detach quickly.
Stackable – Without handles, the pans stack neatly to save cabinet space. Their flat lids also stack.
Non-stick – The pans have Tefal's durable titanium non-stick coating inside. It prevents sticking and cleans up fast.
Oven safe – The pans and lids are oven safe up to 300°F to finish cooking meals.
Versatile – The set has fry pans, saucepans, and more for all cooking tasks. Lids fit every pan size.
Durable – Made from heavy-gauge aluminum, the pans resist warping even at high heat.
With its detachable handles and stackable design, the Ingenio set takes up little space. The non-stick interiors make cooking and cleaning easy. It's an excellent choice for compact kitchens.
The pans distribute heat evenly to prevent hot spots. While not cheap, the Ingenio set's modular versatility adds value. Cooks wanting space-saving, all-in-one cookware should check out the Ingenio system.
3. Tefal Actifry Review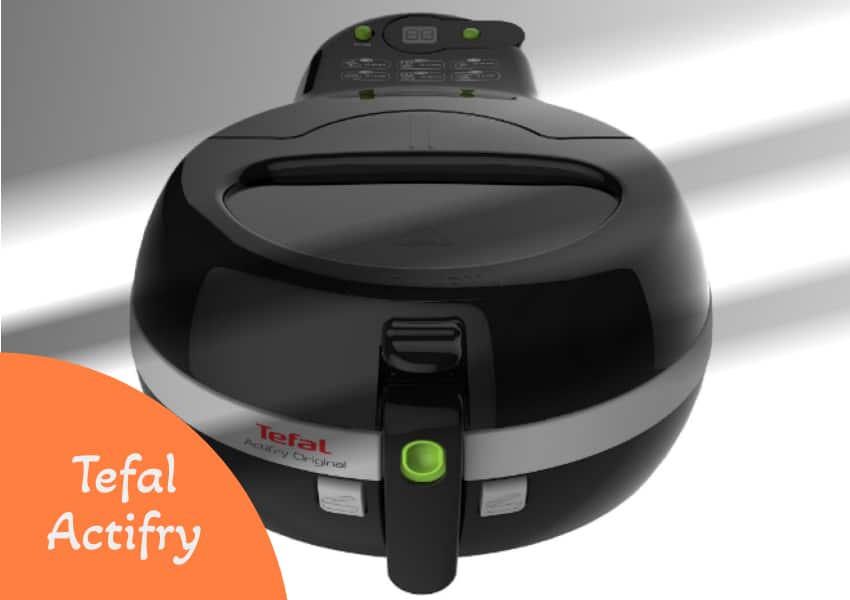 The Tefal Actifry makes low-fat fried foods with little oil. Here are its main features:
Low-fat frying – The Actifry circulates hot air to fry with just a spoonful of oil. Food comes out crispy, not greasy.
Versatile – It fries frozen foods, homemade fries, chicken nuggets, and more with no mess.
Large capacity – The Actifry holds up to 2.2 pounds of food for the whole family.
Digital controls – The simple dial lets you easily select time and temperature settings.
Safe – The hot cycling air prevents burns. The lid stays closed during cooking.
Dishwasher-safe – The removable pan and lid clean up fast after use.
With the Actifry, you can enjoy guilt-free fries, chicken, and more. It gives you crispy results using little oil. The large capacity feeds the whole family fast.
The Actifry is easy to use with set-and-forget digital controls. Cleanup is quick since foods don't bake. For healthy, oil-free frying at home, the Actifry delivers.
4. Tefal Jamie Oliver Cookware Set Review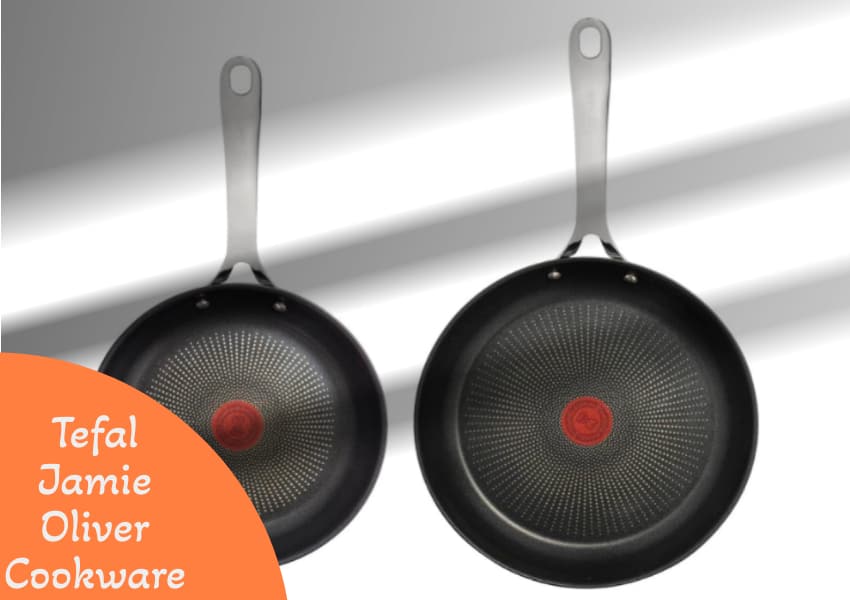 The Tefal Jamie Oliver set combines quality and style. Here are its top features:
Pans – The set has frying pans, saucepans, sauté pans, and more. All have stainless steel exteriors.
Non-stick – Inside, the pans have Tefal's Prometal Pro non-stick coating. It resists scratches and cleans easily.
Handles – The stainless steel handles stay cool while cooking on the stovetop.
Lids – Glass lids seal in flavor and nutrients when simmering or braising foods.
Oven safe – All the pans and lids are oven safe up to 400°F to finish roasting meals.
Stylish – The pans have a fun, modern look with their colorful exterior stripes.
Made for everyday cooking, this Jamie Oliver set boasts top quality. The non-stick interiors mean you use less oil while cooking. And cleanup is a breeze.
The pans heat evenly to prevent hot spots. While not cheap, they're built to last many years. For reliable, stylish cookware approved by Chef Jamie Oliver, this set delivers.
5. Tefal Optimo Cookware Set Review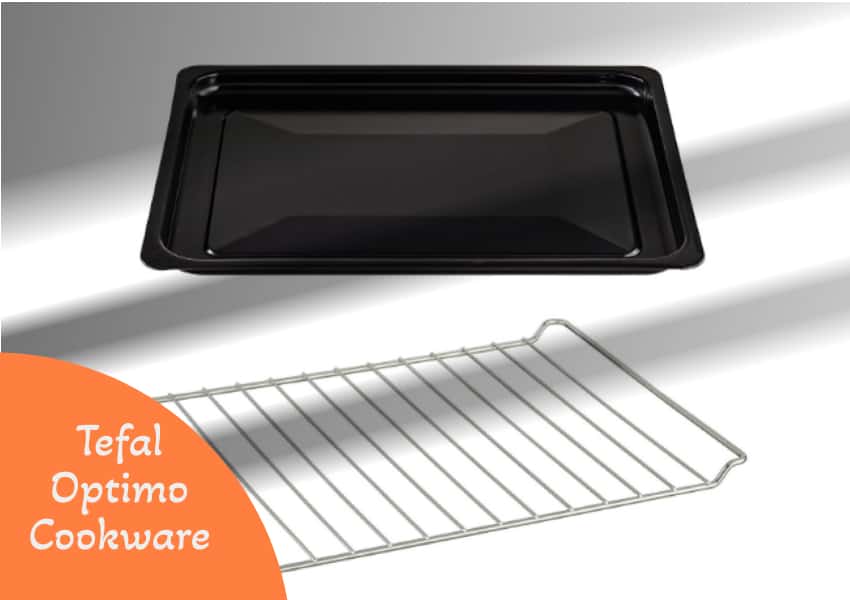 The Tefal Optimo set has essential pans for daily cooking. Here are its key features:
Non-stick pans – The set includes fry pans with Tefal's non-stick coating inside. It prevents sticking and speeds cleanup.
Tempered glass lids – The lids fit tightly to seal in heat, moisture, and nutrients when cooking.
Riveted handles – Securely riveted metal handles stay cool on the stovetop and are oven-safe.
Easy to clean – The non-stick interiors clean easily after cooking without scrubbing.
Affordable – This Tefal set is budget-friendly compared to premium cookware.
Limited warranty – The set has a 10-year warranty against defects.
While not fancy, the Optimo set has what most home cooks need daily. The non-stick frying pans make quick eggs, meats, and more with little mess.
The lids and riveted handles work reliably. Though affordable, the set should last for many years. The Optimo is a good starter set for first apartments or college. It covers basic cooking needs without the high price tag.
Also read: Best Omelette Pan
Buying Guide:
What to look for when buying a Tefal pan?
Tefal makes many pan styles. Keep these tips in mind when buying one:
Non-stick – Tefal is known for its non-stick coatings. These make cooking and cleaning easier. Popular coatings are Thermo-Spot, titanium, and ceramic.
Size – Consider the pan size you need for cooking tasks. Small pans are suitable for eggs—big ones fit roasts and large meals.
Materials – Tefal uses aluminum, stainless steel, and anodized aluminum. Each transfers heat differently.
Handles – Stay-cool handles that are riveted on securely work best. Look for big handles to grasp with mitts.
Lids – Matching, tight-fitting lids trap moisture and nutrients. Glass lids let you see food cooking.
Oven-safe – Verify the pan and handles are oven-safe if you'll bake in it.
Price – Tefal pans range from budget-friendly to pricey. Make sure it fits your budget.
Warranty – Tefal offers 5-10 year warranties on defects. More extended warranties equal more coverage.
Keep these tips in mind when selecting a Tefal pan. Choosing the suitable materials, size, handles, and features will ensure it meets your cooking needs.
How to care for your Tefal pans to avoid common problems:
Tefal pans will last longer with good care. Follow these tips:
Hand wash only – Don't put Tefal pans in the dishwasher unless it's stated as safe. Hand washing prevents damage.
Use plastic, wood, or silicone utensils – Metal utensils can scratch the non-stick coating on many Tefal pans. Use plastic, wood, or silicone instead.
Don't overheat – Avoid leaving an empty pan on the burner. This can harm the coating. Don't preheat to very high temps either.
Don't cook on high heat – Extremely high heat can degrade the non-stick coating over time. Use medium-low to medium heat for most cooking.
Cool thoroughly before washing – Thermal shock from hot pan + cold water can warp pans. Always allow the pan to cool before cleaning.
Avoid abrasive scrubbers – Don't use anything too abrasive to clean. Soft sponges or clothes work best.
Avoid dropping or impact – Dropping pans or banging utensils on them can damage the surface or exterior. Handle with care.
Dry thoroughly – Fully dry your pan after washing by hand or towel. Letting moisture air dry can discolor or dull the coating.
Store carefully – Nest pans carefully without scratching. Hang pans or place them on pan protectors. Don't stack heavy items on top.
With gentle washing, proper utensils, and careful storage, your Tefal pans will last many years. Follow these tips to get the most life from them.
Tefal Pan Safety
Tefal pans are safe when used properly. Follow these tips:
Handle with potholders – Tefal pan handles get hot. Always use potholders or mitts to avoid burns.
No broiler use – Tefal pans are typically not safe under the high direct heat of a broiler.
Check oven-safe ratings – Not all Tefal pans can be used in the oven. Verify the oven-safe temperature first.
Don't leave empty overheat – Don't leave an empty pan to preheat for too long. This can damage the pan.
Follow cook times – To avoid burning food or overcooking, follow the recipe cook times for Tefal pans.
Ensure tight handle rivets – Loose handle rivets can cause injury. Make sure the riveted handles are tight.
Get smoke alarms – Smoke alarms alert you if you accidentally burn foods while cooking. Have them near the kitchen.
Use potholders, verify oven safety, and supervise kids around hot pans. Following basic safety tips keeps cooking with Tefal pans injury-free
Tefal Pan Accessories
Get the most from your Tefal pans with valuable accessories:
Silicone, wooden, or plastic utensils – Metal can scratch Tefal's non-stick coatings. Use silicone, wood, or plastic utensils instead.
Pan protectors – These cushion pans prevent scratches in cabinets or drawers. They also level pans.
Pan lid organizer – A lid organizer neatly stores lids upright so they're easy to find.
Panhandles – Removable handles attached to Tefal's stackable pans for easy lifting.
Stackable steamers – These insert into pans to steam veggies, seafood, and more.
Griddles – Non-stick griddles fit over burners or pans to grill or cook pancakes.
Pan scrapers – Soft pan scrapers cleanly remove stuck-on foods from non-stick interiors.
Heat diffusers go under pans to disperse heat evenly and prevent hot spots.
The right accessories keep Tefal pans performing like new. Use pan protectors, lid organizers, scrapers, and more for best results. Invest in accessories that match your cooking style.
Tefal Pan Warranties
Tefal offers warranties against defects in materials and workmanship. Warranty coverage varies by pan line:
Non-stick pans – Most Tefal non-stick frying pans come with a 10-year warranty. This covers the non-stick coating peeling or flaking off.
Stainless steel – Tefal's stainless steel pans usually have a lifetime limited warranty. This means they're covered for the expected lifetime of the pan.
Hard anodized – Hard anodized aluminum pans often have 10 or 15-year warranties. Anodizing defects would be covered.
Titanium pans – Titanium-reinforced pans tend to have longer 15 or 20-year warranties. This reflects their ultra-durable design.
Bakeware – Tefal's non-stick bakeware pieces typically have a 2 or 5-year warranty. This covers warped pans, peeling, and more.
Permanently save your receipt as proof of purchase. Contact Tefal if any defect emerges during the warranty period. Make sure to register your warranty online, too. Then enjoy years of performance from your Tefal pans!
Environmental Impact of Tefal Pans
The Use of PTFE in Tefal Pan Coatings
Many Tefal pans have non-stick coatings made with PTFE (polytetra fluoro ethylene). Here's what you should know about PTFE:
What is PTFE?
PTFE is a synthetic chemical compound made up of fluorine and carbon.
It has non-stick properties and resists heat and chemicals.
PTFE coats non-stick pans, fabrics, and more to repel water, oil, and stains.
PTFE in Tefal Pans
Tefal uses PTFE in coatings like Tefal Prometal Pro and Tefal Titanium.
The non-stick PTFE layer allows food to be released easily during cooking.
PTFE holds up well to high heat without breaking down.
Safety Considerations
Overheating PTFE above 500°F may release toxic fumes. This rarely happens during home cooking.
New formulas of PTFE made today are less likely to decompose or off-gas.
With regular stove-top use, Tefal pans coated in PTFE are safe for home cooking.
So, in Tefal pans, PTFE offers convenient non-stick performance. When used as directed, it poses minimal risks thanks to improved production methods.
Potential Risks Associated With PTFE
The PTFE coatings in Tefal pans can pose some potential risks:
Off-gassing at high heat – At extremely high temperatures above 500°F, PTFE coatings can off-gas toxic fumes. This rarely happens in home kitchens.
Birds at risk if overheated – Birds are susceptible to PTFE fumes. Avoid cooking with PTFE pans around birds if overheating.
Coating degrades over time – The non-stick effect declines as PTFE coatings wear after many years of use.
Scratches from utensils – Metal utensils can scratch PTFE surfaces, allowing more sticking. Only use wood, plastic, or rubber utensils.
Flaking from abrasion – Rough scrubbing can damage PTFE over time, causing flaking. Gently hand wash only.
Environmental persistence – PTFE breaks down very slowly in nature. Newer PTFE types degrade faster.
With careful use at lower home cooking temperatures, Tefal's PTFE pans are pretty safe for humans. Proper care also prevents coating damage. While persistent, most PTFE stays bonded within pan coatings during their useful lifetime.
Final Verdict:
Are Tefal Pans Worth Buying?
Tefal offers quality non-stick cookware that makes cooking and cleaning easier. Here's an overall verdict on Tefal pans:
Benefits:
Even heating – Aluminum construction spreads heat evenly with no hot spots.
Non-stick surfaces – Coatings like Thermo-Spot, Titanium, and Prometal Pro prevent food from sticking.
Easy to clean – Food doesn't bake on the non-stick interiors so pans wipe clean fast.
Durable – Anodized aluminum bodies withstand daily use for years. Newer coatings resist scratches.
Drawbacks:
Cost – Tefal pans are pricier than essential cookware. You pay extra for performance.
Delicate coatings – Harsh scrubbing or metal utensils can damage the non-stick layer over time.
Overall, Tefal's innovative non-stick coatings deliver great cooking convenience. As long as you care for them gently, Tefal pans will serve reliably for many years.
The even heating and easy release of foods make cooking much more effortless. For most home cooks, Tefal pans are worth the moderate price.
Recommendations For The Best Tefal Pans
Based on performance, features, and value, here are my top Tefal pan recommendations:
Tefal Titanium Frying Pan – This fry pan is ultra-durable and scratch-resistant with a reinforced titanium non-stick coating. It's metal utensil safe, too. Great for everyday eggs, meats, and more.
Tefal Unlimited Non-stick Set – This set has frying pans and pots in various sizes, all coated in Tefal's excellent Thermo-Spot non-stick. It's oven-safe and stylish enough for any kitchen.
Tefal Pro Texture Frying Pan – The textured surface on this frying pan distributes heat evenly and improves searing. The Prometal Pro coating resists scratches flawlessly. Great for sizzling steaks, chops, and more.
Tefal Dishwasher Safe Pro Pan – As the name states, this pan can go in the dishwasher for easy cleaning. The non-stick holds up well, and it heats evenly for great results.
For long-lasting, non-stick performance, easy cleanup, and reliable everyday cooking, these Tefal pans deliver. Invest in the right Tefal cookware to make cooking simpler.
Tefal pan FAQs
Are Tefal pans PFOA-free?
Most modern Tefal pans use PFOA-free, non-stick coatings. Older pans contained trace amounts of PFOA, but Tefal has shifted to greener PFOA and PTFE-free formulas.
Can you use olive oil with Tefal pans?
Yes, olive oil can be safely used with Tefal pans. The smoke point of olive oil is suitable for most stove-top cooking temperatures. Avoid overheating empty olive oil in a Tefal pan.
How should you clean stuck-on food on a Tefal pan?
Most Tefal pans are induction-compatible but verify before purchasing. Stainless steel and anodized aluminum Tefal pans work on induction cooktops. Some non-stick types may not.
Can you use Tefal pans in the oven and broiler?
Some Tefal pans are oven-safe up to certain temperatures. Always check the instructions. Tefal pans should never be used under direct high broiler heat.
How should Tefal pans be stored?
Store Tefal pans nested with care to avoid scratching. Hanging pans are ideal to avoid stack damage. Use pan protectors in cabinets or when stacking.