Forget everything you thought you knew about grilling. There's a new technology that's revolutionizing backyard cookouts – infrared grills. Infrared waves perfectly cook your food, but how does it work so well? What exactly makes it better than gas or charcoal? We're pulling back the hood on the juiciest innovation in grilling.
In this guide, you'll learn insider secrets from grill masters who swear by infrared. We cover how they work, key benefits, what to look for when buying, helpful tips, safety, and more. You'll find out why chefs and backyard chefs alike are switching over. Infrared grilling delivers incredibly consistent, restaurant-quality results. But beware – the truth behind the hype holds some surprising revelations.
In a hurry! Here is a summary of the Basic Info. You need to know about Infrared Grills.
What is an Infrared Grill?
Infrared grills cook food using infrared heat waves instead of an open flame. The heat waves go into the food to cook the inside without burning the outside.
How do Infrared Grills Work?
Infrared grills have special burners that make infrared waves. The waves heat a surface that then cooks the food. Some models use gas burners, while others are electric.
Benefits of Infrared Grilling
Infrared grills cook fast and evenly. They don't flare up like gas or charcoal grills. Infrared grills make less smoke, too. I can pick the right temp for what I'm cooking. High temps sear while low temps slow roast without drying out food. They're easy to clean since there's less grease and grime. Infrared grills save money over time because they use less fuel.
Downsides of Infrared Grilling
The main downside is the higher upfront cost. But a well-made infrared grill will last for years with care.
Comparison to Other Grills
Unlike gas and charcoal grills, infrared models cook evenly without flaring up or making much smoke. They give more control over temperature, too. While pellet grills offer precision, they can't get as hot as infrared for searing.
For juicy, tasty grilling, infrared is my top pick. The even heating, temperature control, and easy cleanup help me make mouthwatering meals. As a chef, that's all I need!
Top Infrared Grill Reviews
1. Char-Broil 463370719 Performance TRU-Infrared Grill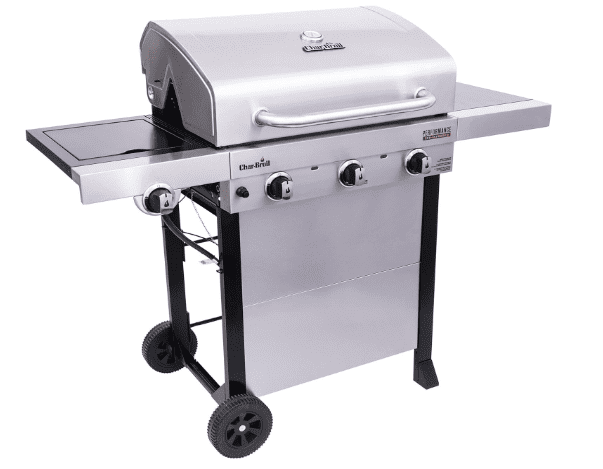 Char-Broil 463370719 utilizes TRU-Infrared cooking technology. It prevents flare-ups, delivers even heat and cooks juicier food.
It is perfect for most cookouts, with 450 square inches of primary cooking space. The porcelain-coated grates are durable, rust-resistant, and easy to clean. The reliable push-to-start electronic ignition and swing-a-way warming rack add to the versatility of this grill.
Overall, this grill offers a great cooking experience with its even cooking ability, the TRU-Infrared grates' uniqueness, how quickly the grill heats up, and the consistent heat across the cooking surface.
Pros
Even cooking and lack of flare-ups

Quick heating and consistent heat

Good quality and durability

Versatile with swing-a-way warming rack

A reasonable price for the performance

Exclusive stainless steel finish

TRU-Infrared cooking technology

450 square inches of primary cooking space

Porcelain-coated grates

Push-to-start electronic ignition

Swing-a-way warming rack
Cons
Assembly may take some time

Awkward screws for the handle on the lid

Some customers prefer the older design with a solid cast metal heat conductor.
2. Char-Broil Performance Series Amplifier Infrared – 463331021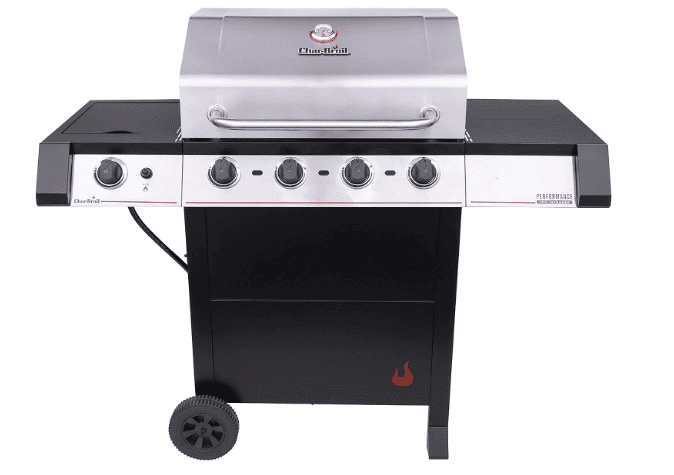 This grill is an excellent addition to any backyard due to its Amplifier technology and stainless steel construction.
The Amplifire cooking technology ensures you can enjoy your meals without worrying about flare-ups. In the meantime, it provides even heat distribution for perfectly cooked food every time.
The stainless steel construction gives the grill a sleek and modern look. Plus, it ensures durability and rust resistance, making it a long-lasting investment.
The Char-Broil 4-Burner Grill has a 10,000 BTU side burner, allowing you to keep your sides and sauces warm while you grill. The lid-mounted temperature gauge makes it easy to check the inside temperature of your grill for perfectly cooked food. The porcelain-coated steel grates are durable and easy to clean, making maintenance a breeze. The electronic ignition guarantees reliable starts every time. It eliminates the frustration of struggling to light the grill. Additionally, the removable porcelain-coated grease pan makes cleaning up quick and easy.
Pros
Gas grill with a 10,000 BTU side burner

Amplifire cooking technology

Lid-mounted temperature gauge

Porcelain-coated steel grates

Electronic ignition

Removable porcelain-coated grease pan

Prevents flare-ups and delivers even heat

Durable stainless steel construction

Easy-to-clean porcelain-coated steel grates

Reliable ignition system

Convenient side burner
Cons
Some customers found the grill to be bulky.
3. BIG HORN OUTDOORS Portable Infrared Broiler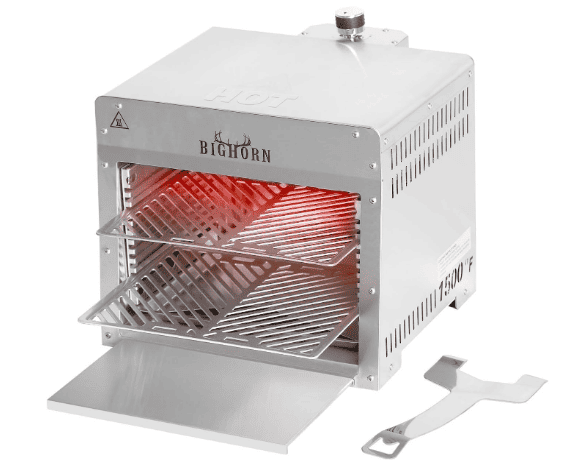 The BIG HORN OUTDOORS Portable Infrared Broiler is an excellent choice for a portable and powerful propane gas grill.
This grill is made of premium stainless steel, ensuring its durability and resistance to rust. Its portable design makes it perfect for picnics and camping trips. The adjustable grill grate with ten position levels allows you to control the cooking heat for different types of food. With a front panel and grill handle made of stainless steel, this grill ensures safety and convenience.
Pros
19,000 BTU power

Made of premium stainless steel

Portable design

Adjustable grill grate with ten levels of position

Stainless steel front panel and grill handle

Intense heat for high-quality cooking

Sturdy and rustproof construction

Portable and suitable for outdoor activities

Adjustable grill grate for versatile cooking

Safe and convenient design
Cons
Difficulty in lighting after several uses

Sharp exposed metal edges

Lacks convenience features of more expensive infrared gas broilers
4. Char-Broil® Patio Bistro® TRU-Infrared™ Electric Grill, Red – 20602109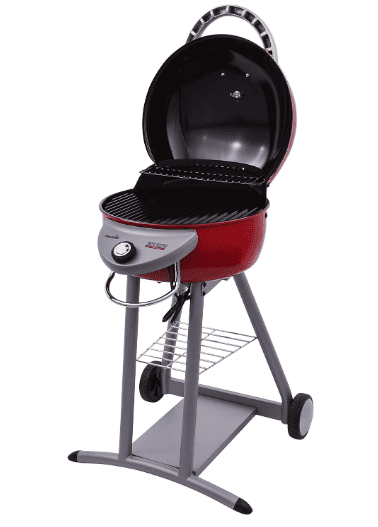 The Char-Broil Patio Bistro Grill in red is popular with outdoor cooking enthusiasts. This grill is powered by electricity, eliminating the hassle of gas or charcoal.
It quickly reaches cooking temperatures, thanks to its TRU-Infrared cooking technology. This technology prevents flare-ups and cooks juicier food. With a total cooking space of 320 square inches, you'll have plenty of room to cook for friends and family.
The control knob allows you to adjust cooking temperatures. While the porcelain-coated steel grates ensure even cooking and easy cleaning. The lid-mounted temperature gauge helps you keep track of the heat, and the bottom shelf provides convenient storage.
Pros
Powered by electricity

320-square-inches of total cooking space

Control knob for temperature adjustments

Porcelain-coated steel grates

Lid-mounted temperature gauge

Bottom shelf for storage

Well-made and good quality

Fast heat up and perfect cooking temperature

Excellent results, especially for fish

It can be used as an outdoor oven

Easy to use with temperature control dial
Cons
Challenging to assemble, missing bolts

It takes time to heat up and requires a high-rated extension cord

A fragile lid should not touch or lift
5. Napoleon P500RSIBPSS-3 Prestige 500 RSIB Propane Gas Grill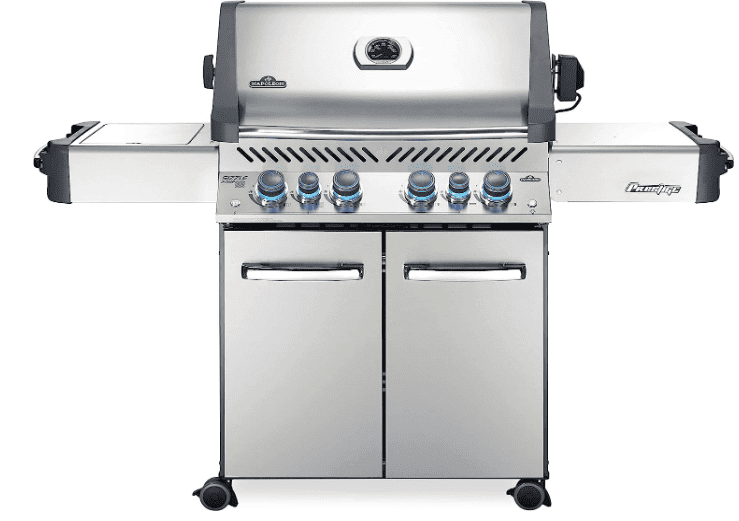 Napoleon's P500RSIBPSS-3 offers a generous cooking space and powerful burners for grilling enthusiasts. It has four stainless steel main burners and 48,000 BTUs produced per hour for evenly cooked food with intense flavour.
This grill provides ample room perfect for cooking for a large gathering. It has 500 square inches of main cooking space, 260 square inches on the warming rack, and 140 square inches on the side burner. The grill also features a flame-throwing JETFIRE ignition system for quick start-up. Plus, an infrared sizzle zone side burner that heats up to 1800 degrees in 30 seconds.
Pros
Generous cooking space

Powerful burners

Quick start-up with flame-throwing JETFIRE ignition system

Infrared sizzle zone side burner for intense heat
Cons
Some lower-quality components, such as doors and handles

The main grill has a hot spot in the centre

The Rotisserie motor feels cheap
Factors To Consider When Choosing an Infrared Grill
There are a few key things to think about when picking one.
· Size And Cooking Capacity
Picking the right size infrared grill is critical. You want one with enough grill space and power to cook what you need.
Smaller grills work well for individuals or couples. They take up less room and are more portable. But they can only cook a couple of burgers or steaks at once.
For bigger families or groups, look for a larger grill. Bigger grills give you more grill space to cook larger amounts of food. They also tend to have more powerful burners and higher BTUs. This gives you enough heating power for lots of food.
Check the dimensions of the main grill area and the overall size. Compare BTUs across different models to understand the heating capacity.
Pick a grill size that matches your cooking needs. You want enough room and power to grill tasty meals for the whole gang. The right size makes all the difference.
· Hot and Even Heating
You want one with plenty of heat power when picking an infrared grill. The grill should heat up fast and distribute heat evenly across the cooking surface.
Look for grills with multiple burners and higher BTU levels. More burners and BTUs mean more heating power for faster, more even cooking.
You also want good materials that conduct heat well. Cast iron and ceramic surfaces hold and spread heat nicely to prevent cool spots.
Even consistent heat is a key to proper cooking. It ensures food is done throughout without burnt spots. Steaks will have a nice sear while the chicken cooks through fully.
We recommend testing infrared grills in person before buying. See how quickly they heat up and check for hot and cold zones. Go for a grill that provides strong, even heat distribution. It will give you perfect results every time.
· Construction and Durability
Always pick an infrared grill made of quality materials for durability. You want one that will hold up for years of use.
Look for grills made of stainless steel. Stainless steel resists rust and corrosion. It stands up to weather and frequent grilling in the elements.
Also, check that critical parts like burners and cooking grates are made of suitable materials. Cast iron grates hold heat well and last a long time.
Make sure the construction feels sturdy and stable. Things should fit together snugly without gaps or loose parts.
Quality materials and construction will give you a grill that keeps performing season after season. The extra durability is worth the investment.
With the right materials and care, your infrared grill can serve you for many tasty cookouts.
· Features and Accessories
When picking an infrared grill, look for extra features to enhance usability.
Side burners give you extra space to simmer sauces or side dishes. They are great for multitasking.
Built-in cabinets provide storage and extra room to prep and plate.
Some grills have extras like LED lights illuminating your grill surface at night.
Fold-away wings fold down for more workspace.
Rotisseries let you slowly rotate and roast large cuts of meat.
Smoker boxes add a tasty, smoky flavour.
Also, look for valuable accessories like grill covers, scrapers, and grill baskets. These can add convenience and functionality.
The right extra features and add-ons create a more versatile grill. You can grill, roast, smoke, and more. It becomes an outdoor cooking station perfect for backyard chafing!
· Price Point
Infrared grills often cost more than basic gas or charcoal grills. But you get what you pay for in terms of quality and performance.
Higher-end infrared grills made with better materials and more features will be pricier. More powerful grills with extra burners also command higher prices.
That said, there are affordable infrared options out there, too. Look for sales and discounts to get a deal. Some budget-friendly grills offer good value for basic infrared grilling.
While cost is a factor, we recommend investing in the best grill. An excellent infrared grill should last many years when properly maintained. The longer lifespan helps justify the initial expense.
And you'll save money over time by using less fuel for the same cooking results. That's thanks to infrared's efficiency and heat consistency.
Consider both upfront cost and long-term value when picking your grill.
· Different types of infrared grills [Gas vs Electric]
There are two main types of infrared grills – gas and electric. Each has pros and cons.
Gas infrared grills use propane or natural gas to power the infrared burners. They heat up very quickly and reach high temps for excellent searing. But they require gas hookup and tank maintenance.
Electric infrared grills plug into a standard outlet. They take a bit longer to heat but are simpler to use. No gas hookup or tank is needed – plug and play.
Some dual-powered models give you the option of gas or electric. Consider your home setup and grilling habits when choosing.
Outdoor kitchens with easy gas access do well with gas-powered infrared. Electric works nicely for balconies and patios without gas lines.
We suggest trying both kinds to see which you prefer. The important thing is evenly distributed infrared heat from gas or electric burners.
Also read:
Also read: Best Toaster Oven Under 100$
Infrared Grill Cooking Tips
1. Preheat for Success
Properly preheating an infrared grill is critical for great results. Here are my tips:
Start by opening the lid and turning all burners to high. This kicks the grill into high gear to heat up fast.
Give it at least 10-15 minutes to preheat fully.
Check the temp gauge – you want 500°F or higher for proper searing.
Leave the lid open as it preheats. This allows heat to spread evenly everywhere instead of getting trapped.
Once preheated, quickly cool down by turning the burners to medium for a minute or two before cooking. This stops overshooting temps.
Be sure to preheat with no food on the grill. Food acts like a heat sponge and inhibits full preheating.
Patience during preheating pays off. You'll have perfectly sizzling results in no time.
2. Cooking Up Perfection
One beauty of infrared grills is how well they cook all sorts of food. Here are my tips:
Steaks and chops – Sear at 500°F+ first, then finish at lower heat for perfect doneness.
Burgers and dogs – Cook over medium heat, turning occasionally, until fully browned with a bit of char.
Chicken and poultry – Use moderate heat around 375°F to avoid burning the skin before the meat cooks.
Fish and veggies – Grill gently over low to medium heat to prevent drying out. Baste with oil or sauce to keep it moist.
Fruit – Toss sliced pineapple, peaches, etc., on a well-oiled grill at medium-high heat for delicious caramelization.
Infrared's precise temperature control lets you dial in the ideal heat for your cooking. Experiment to find what works best for each food type. With the proper settings, you'll achieve grill master levels of flavour!
3. Keep It Clean
Regular cleaning keeps your infrared grill looking and working its best. Here are my tips:
Wipe the exterior with a soft cloth after each use once cooled. This removes grease and dirt before it builds up.
Clean the grill grates thoroughly after each cookout. Use a grill brush and scrape debris while still warm (not hot).
Deep clean the interior 2-3 times per season. Remove grates and burners and scrub away baked-on grease.
For Electric Models,
Carefully vacuum around heating elements to remove ash buildup.
Check and replace foil on drip trays as needed to facilitate cleanup.
Cover your grill when not in use to protect it from weathering.
Proper infrared grill cleaning only takes a few extra minutes but makes a big difference. You'll have it looking shiny and performing like new.
Also read: Best Pots and Pans for Gas Stove
Infrared Grill Safety Tips
1. How to safely operate your infrared grill
We prioritize safety when firing up an infrared grill. Here are our top tips:
Read the manual so you understand proper use before starting.
Check for gas leaks on gas models by spraying with soapy water. Fix any leaks before use.
Ensure your grill is on a flat, stable surface away from siding, eaves, trees, etc.
Don't leave the grill unattended when in use – stay nearby.
Keep kids and pets at least 3 feet away when grilling.
Use proper tools like long tongs and heat-resistant mitts.
Allow the grill to fully cool before doing any cleaning or maintenance.
Disconnect propane tanks not directly attached when done grilling.
Take time to care for your grill between uses. Following the manufacturer's directions is a must. Your grill will deliver tasty, safe results for years with safe maintenance habits.
Also read: Best Granite Stone Pan
Grill Troubleshooting Made Easy
Like any appliance, infrared grills can occasionally have issues. Here are some quick troubleshooting tips:
Check your propane or gas hookup if the grill doesn't light. Make sure valves are open, and tanks aren't empty. Also, inspect igniters for damage.
For temperature control problems – Ensure burners are clean and debris-free. Clogged ports can impact performance. Make sure the knobs turn smoothly too.
If parts feel loose – Tighten screws, bolts, and connections. Don't over-tighten, but snug enough to prevent rattling.
For weak heat output – Do a deep clean to remove grease buildup. Also, check the burner condition and replace it if needed.
With odd sounds – Switch off immediately and inspect for loose parts, gas leaks, etc. Fix as needed.
If issues persist, contact the manufacturer for guidance. They can walk you through fixes or arrange service. Don't attempt complex repairs on your own.
A bit of regular care prevents most problems. But when issues pop up, start with simple troubleshooting.
FAQs
How long do infrared grill burners typically last?
With proper maintenance and cleaning, the burners in a quality infrared grill can last 5-10 years on average before needing replacement. Look for models with commercial-grade or ceramic burners for maximum longevity.
Can you use infrared grills year-round or just in summer?
Infrared grills work great year-round. Their enclosed design retains heat nicely, even in cold weather. Get a grill cover to protect it from harsh winter elements. Adjust the burner output to maintain temps.
 What safety precautions should you take with an infrared grill?
Beyond the tips covered already, ensure your infrared grill is only used outdoors in a well-ventilated area. Never leave the grill unattended when in use. Locate the grill at a safe distance from structures and combustibles.
How does infrared compare to convection grilling?
 Infrared directly heats the food, while convection grills use hot air flow. Infrared can achieve higher temps for searing while convection evenly roasts meats. Both have advantages depending on your needs.
Can you use wood chips or pellets in an infrared grill?
Most infrared grills are not designed for wood chips or pellets. However, some models allow adding a smoker box attachment for infusing smoke flavor. Check your manual before attempting.
How often should you clean an infrared grill?
For optimal performance, do a quick clean after each use and a deep clean every 3-4 months. More frequent deep cleaning may be needed for heavy-use grills.
What kinds of food work best on an infrared grill?
 Infrared grills excel at searing steaks, burgers, chops and other meats. Vegetables, seafood and fruit also cook well. Avoid small or delicate foods that may fall through the grates.
Can you convert a regular gas grill to infrared?
Unfortunately, the grill must be specifically designed for infrared cooking. The burner systems differ significantly. Retrofitting is not practical.
Are there any special maintenance needs for infrared grills?
Beyond regular cleaning, keep an eye on burner condition, check hoses for wear, and watch for clogs in gas models. Proper care prevents most issues.
 What is the ideal grilling temperature for infrared?
 Infrared excels from 350°F up to searing temps of 600°F+. Adjust for what you are cooking. Use lower heat for delicate foods.
Conclusion
Find Your Perfect Grill
With so many infrared grill options, picking the right one takes some thought. Consider your budget, cooking needs, and convenience factors.
If you grill for crowds, go bigger with more power. For balcony use, compact electric models work nicely.
We recommend getting the best quality you can afford for durability. And think about useful extras like side burners based on how you'll use them.
You can't go wrong with a top brand known for performance and construction. Shop around to get the best deal.
Be sure to prep your space and learn grill safety too. With the right infrared grill, you'll enjoy juicy, flavorful cookouts all season long.