Best Overall
OVENTE BGI101S Single Plate Portable Electric Stoves
Great Value
Cusimax Infrared Ceramic Plate Portable Electric Stoves
Premium Choice
Elite Gourmet Countertop Stoves
A portable electric stove is a compact design. For the essential tool in your kitchen or living space. It is a great choice for a backup cooking option. And to serve a home-cooked meal anywhere.
As the technology for other home appliances has evolved. The same happened to our kitchen tools. And as we all agree, a stove is one of the most important tools used in any household.
So, let us look at these product reviews of electric stoves. To decide which countertop electric stove will serve your needs better.
The 12 Best Portable Electric Stoves 2021
Comparison Table
| | | | |
| --- | --- | --- | --- |
| brand | dimensions | weight | |
| Duxtop 8100MC/BT-180G3 stoves | 13 x 2.5 x 11.5 inches | 6.32 pounds | Check Price |
| Ovente BGS102B Double Plate stoves | 18.4 x 3 x 9.7 inches | 7.5 pounds | Check Price |
| Isiler 1800W Sensor Touch stoves | 11.6 x 14.2 x 2.2 inches | 6.74 pounds | Check Price |
| Cusimax Upgraded Version 1500W stoves | 13.58 x 4.41 x 10.71 inches | 5.72 pounds | Check Price |
| OVENTE BGI101S Single Plate stoves | 8.8 x 2.5 x 9.3 inches | 2.4 pounds | Check Price |
| Cuisinart Cast-Iron Single Plate stoves | 11.5 x 2.5 x 11 inches | 6.85 pounds | Check Price |
| Cusimax Infrared Ceramic Plate Stoves | 11.8 x 3 x 8.7 inches | 4.29 pounds | Check Price |
| NutriChef PKSTIND48 Double Stoves | 14.18 x 2.64 x 23.63 inches | 12.35 pounds | Check Price |
| Techwood Double Upgraded Version Ceramic Stoves | 22.5 x 4.5 x 9.7 inches | 6.34 pounds | Check Price |
| Sanuvo Single Sealed Burner Stoves | 11.14 x 3.19 x 9.72inches | 5.64 pounds | Check Price |
| NuWave Precision Induction Cooktop Stoves | 14.37 x 6.3 x 15.94 inches | 6.9 pounds | Check Price |
| Elite Gourmet Countertop Stoves | 3.6 x 11.5 x 18.8 inches | 4 pounds | Check Price |
Best Electric Portable Stoves
1-Duxtop 8100MC/BT-180G3 Stoves-Compact & Light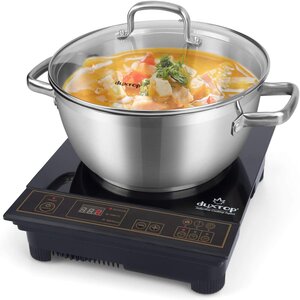 overview
Duxtop induction electric stove features a lightweight and compact design for easy storage and handling. It requires a 120V 15ampelectrical outlet, which is the standard in all American houses.
It is designed with a digital panel with a timer. It offers a temperature range from 140 °F to 460 °F with the timer increasing from 1 minute to 170 minutes.
This single burner does not burn food as it does not have flames or heating elements. Thanks to the glass cooktop, it is easy to clean by wiping it with a wet towel.
It options 10 power levels ranging between 200 and 1800 watts. And an auto-detection for the pan allows it to shut down automatically if no cookware is detected after 6o seconds.
This portable stove has 7 durable blade fan. that rapidly reduces the heat to enable the product's longevity besides the diagnostic error message system of high and low voltage warning.
However, this single burner portable electric stove requires special magnetic base cookware with a diameter of 5 inches at least. And it provides the customer with a 2-year manufacturer's guarantee. And appreciated customer service.
key features
Induction countertop
120V 15 amp electrical outlet
Digital control panel
No open flame or heating element
7 blade fan
auto-pan detection
Magnetic bottom
ETL approved
1800 Watt
Pros And Cons
Pros
Energy efficient
Safe to use.
Easy to clean.
Cons
Requires special magnetic bottom cookware
Bottom line
Duxtop portable induction countertop electric stove will work anywhere. If there is an electrical outlet nearby It has the best convenient size that can fit in your backpack. It offers a high degree of security.
2-Ovente BGS102B Double Plate Stoves-5 Heat Levels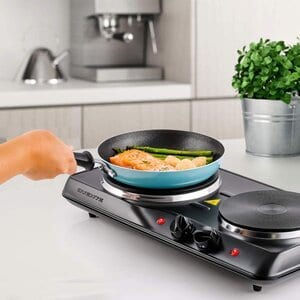 Overview
Ovente electric stove features two hot plate countertops. Up to 7 inches cast iron electric stove. It has 5 temperature levels and a stainless steel base.
It has a cast iron coat power level of a 120V electric outlet. It heats up quickly and can cook food equally with no cold or hot spots.
Ovente is bend and rust-resistant even after long years of usage. It is keeping the right temperature with a burner power level indicator light. That prevents the food from being cooked at the wrong temperature and get burned.
This burner electric power level indicator light enables you to choose the desired temperature. To cook your food with a simple turn of the knob setting and maintain the stove's temperature.
Ovente electric stove does not need intensive cleaning. The non-electric parts can be wiped clean with a wet cloth or a dish detergent and dry.
This product options a 1-year guarantee for USA residents. Including spare parts replacement and repairing beginning from the purchasing date.
Key features
Anti-Slip rubber feet
Induction Countertop
fast and consistent heating
adjustable and easy to control the temperature
durable fire-resistant metal interiors
1700 Watts X 120 Volts
7 inch and 6 inch cast iron plates
Easy to clean
Heavy Duty
Pros And Cons
Pros
Straight forward usage
Easy to clean.
Heat evenly.
Cons
Consumes a lot of electricity.
Bottom line
Ovente BGS102B Double Plate Electric Portable Stoves is the best double portable stove. It is simple to use and clean. You can take it anywhere with electrical outlets. And it helps to protect the food from getting burnt.
3-Isiler 1800W Sensor Touch Stoves-Touch Buttons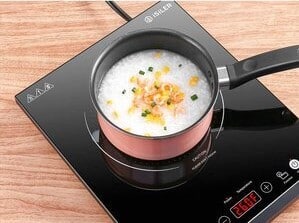 Overview
Isiler induction stove has a lightweight and compact design with a depth of 6 cm for easy transport and storing in limited spaces. It has 19 levels of power, increasing range from 100W to 1800W.
It offers 17 adjustable temperature levels between 140 °F to 460 °F. It has large sensitive buttons for enhanced usage.
Isiler stove surface is wide, measuring a diameter of 6.7 inches. To fit frying pans with the measure of 9 to 8 inches in diameters. Ensuring a well-balanced and uniform heat all around the surface.
It options an overheat protection child lock with curved edges for extreme protection. And has a + and – button for setting the timer with one press for 10 minutes up to 3 hours long.
Isiler electric stove is made of a premium surface that is wear-resistant and easy to clean. And it requires special cookware like stainless steel material pots.
Key features
Overheat protection
Child safety lock
Easy to clean
Fast heat distribution
Proper induction cookware only
1800 Watts / 120 Volts
17 temperatures
preset options
press buttons for settings
Pros And Cons
Pros
Easy to clean.
Electricity efficiency
Easy to use.
Lightweight
Child safety lock
Heat indicator light
Fast heating
Modern style
Cons
Limited temperature control
Bottom line
Isiler portable induction countertop stove is the best for moving. Either camping or on vacation. It is perfect for boiling water, warm, or cook anything with ease. It has no knobs or buttons. It is a heavy-duty portable induction countertop, so it requires minimal effort to clean.
4-Cusimax Upgraded Version 1500W Stoves-Non Slip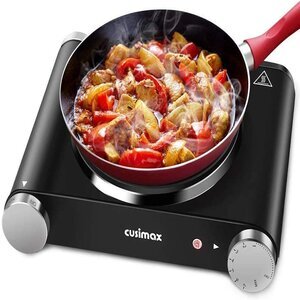 Overview
Cusimax single plate electric stove has a small and lightweight design. It is suitable for storing in limited spaces and ideal for offices, boats, and traveling.
It offers 7 levels of adjustable heat temperature equipped with a hot plate of 7 inches in diameter. You can use pots up to 7.4 inches in size and made of any cookware material normally used in your kitchen.
Cusimax is safe and does not release any harmful radiation. It can be used with aluminum, copper, or cast iron frying pots.
This stove features black durable stainless steel. That can withstand extensive use. And a powerful 1500W heating cast single iron burner that cooks food fast and evenly.
It includes a heating light that may turn on and off during cooking with an auto shut. This light is normal and indicates the correct heat temperature achieved.
It has a thermal fuse for overheat protection. So, when it reaches overheating temperature. It will turn off automatically for a couple of seconds to avoid any hazard.
Cusimax requires minimal maintenance to clean with wiping with a wet cloth. And nonslip feet to make sure it stays in place firmly.
Key features
Noise-free
No electromagnetic radiations
Adjustable temperature
Controlling knob
overheating safety thermal fuse
all cookware work for this plate
premium quality iron cast
Easy to clean
1500 Watts
7 temperature levels
Anti-Slip rubber feet
Pros And Cons
Pros
Easy maintenance
Straight forward
Balanced heat distribution
Effective temperature control
Cons
It takes time to cool.
Limited temperatures
Heat conduction
Release vapor when used for the first time.
Bottom line
Cusimax induction countertop portable stove is a multipurpose tool. You can use it when hosting a picnic or in the kitchen to get everything cooked simultaneously. It features a compact size to store in your kitchen cabinet or drawer. It has a super portability option to travel with it.
5-OVENTE BGI101S Single Plate Stoves-Best Overall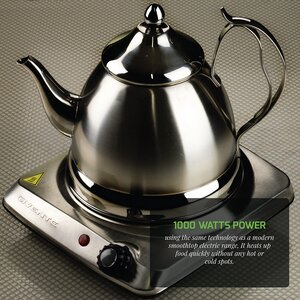 Overview
Ovente electric infrared stove has a tough and beautiful countertop stove. It is made of durable shiny stainless steel. And the tempered glass ensures infrared unit power and great performance.
It offers a 12V amp electric burner with infrared technology. With an innovative design. For a simple electric top for heating food quickly and evenly. Without missing any spot on the heating surface.
This countertop burner can be used with any cookware. However, it is best to use flat cookware within the size of 7 inches in diameter.
Overtine infrared add some classiness to any kitchen countertop, with its stainless steel flat frame and silky crystal glass top.
It has a slim and light body weighing 2.4lbs, making it perfect for kitchenettes and camping trips, with a 1-year guarantee for USA residents for replacements and repairs.
Overtine infrared countertop burner requires minimal effort on cleaning. Wipe the top with a clean cloth, and it is all shiny and new.
Key features
Premium quality crystal ceramic glass
Fire-resistant metal internal
Adjustable temperature knob
Nonslip rubber feet
Heat indicator light
7-inch cooking plate
1000 Watts / 12 Volts
Infrared technology
Even heating
suitable for all cookware
Pros And Cons
Pros
Sturdy
Straight forward
Controllable Temperature
Elegant
Guarantee
Cons
Limited temperature settings
Bottom line
Overtine electric infrared stove is the best for those people living in small apartments. It is light, durable, and strong.
6-Cuisinart Cast-Iron Single Plate Stoves-Coil-Less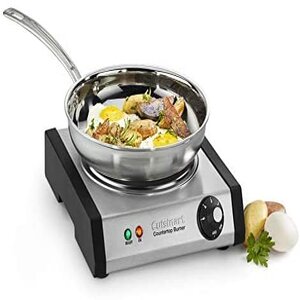 Overview
Cuisinart portable electric stove has an elegant and compact size design. It has healing power of 1300 Watts with 6 temperature settings.
It offers a premium brushed stainless steel cast iron coat. With a flexible and even temperature control from low to highest heat settings.
This burner heats the entire heating surface. And not limited to certain temperature adjustments. Giving you total control over the temperature.
This cast iron burner is suitable for warming. And cooking food on boats, entertaining at home and dorm rooms.
It is a versatile tool with an adjustable thermostat that lights with auto shut on when ready to use. And nonslip feet for firm placing when operating.
This single burner is heavy-duty that requires minimal cleaning with just wiping the surface with a wet cloth and maintaining the desired heat settings without worrying about the food getting burnt. Or spill out of the pot.
It is bigger than the standard portable burners. However, it is still easy to carry on you when travelling or camping. You can use cookware or pots up to 11 inches in diameter.
key features
Brushes stainless steel internals
On/Off light indicator
Extra-wide plate
Adjustable heat
Nonslip rubber feet
Durable iron cast plate
1300 Watts
6 temperature settings
Even heat distribution
Pros And Cons
Pros
Full control of the temperature
Easy to use.
Scratch-resistant
Easy cleaning
Cons
Big for a portable burner
Risk of fire
Bottom line
Cuisinart single plate portable electric stove features a simple, functional design. It is a multipurpose tool that can be used best when traveling or as an extra countertop stove in the kitchen. A very known and trustworthy company manufactures it.
7-Cusimax Infrared Ceramic Plate Stoves-Great Value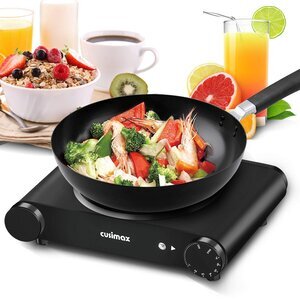 Overview
Cusimax portable electric stove has a conveniently compact design. It offers heating power ranging from 120V to 1200 Watts that allows it to heat in seconds.
It uses far-infrared heating with no electromagnetic radiation. They are making it safe and unharmful for human use and featuring an auto safety shutdown button. With heating temperature degrees controlled with an indicator that turns off automatically.
Cusimax burner can be used with pots and pans like glass, copper, and frying pans. With a maximum of 7.1 inches in diameter.
It can reach the desired temperature in just seconds and can easily cook any food. But when you boil water, it is best to cover your pot with a cover.
The company's products are covers with a product liability to all USA residents. With an 18 month guarantee for quality and replacing parts.
This burner is safe and durable. Requiring minimal maintenance and cleaning with a wet cloth. With a durable stainless steel body and ceramic cooktop to withstand frequent use.
key features
Infrared plate
Suitable for all cookware
No electromagnetics radiations
Highest temperature efficiency
Consistent heat distribution
Easy to Clean
Auto temperature control
LED display screen
Built-in fan
1500 Watts / 120 Volts
Ceramic top
Pros And Cons
Pros
Easy to clean.
Straightforward heat settings control
Durable
Very stable
Cons
Scratchable ceramic top
Needs a heatproof top to work on
Bottom line
Cusimax infrared countertop burner allows their buyer to take even and quick heating with them wherever they need to. It can be used as another tool in your kitchen and it works best on picnics and dorm rooms.
8-NutriChef PKSTIND48 Double Stoves-Safety Lock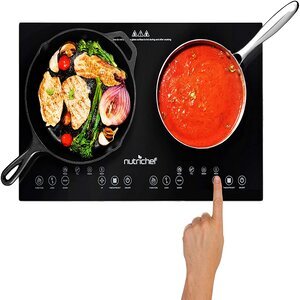 Overview
Nutrichef induction double plate electric stove is a versatile and compact size design. It offers a heating power of 12V electric induction.
It is an energy-efficient product. When cooking because of the electromagnets circulations. Between the cooking hot plate and the pot.
Nutrichef induction burner has two burners circular heating top with an independent temperature setting and LCD digital display screen.
It options multiple cooking modes from frying, steaming, and water boiling mode. To just warming the food to keep warm until serving time with just one press on a button.
Nutrichef burner is constructed from a cast iron double burner. And a flat bottom pan with a diameter that ranges from 12 to 26 cm.
It has a built-in child safety lock, which locks automatically while cooking to avoid any burning hazard for kids. And it requires minimal maintenance and cleaning with a scratch-resistant surface.
key features
Tempered ceramic glass countertop
Induction burner
Special cookware required
Flameless design
Instant heating
Certified for safety and protection
Double circular top panels
Child lock
Configuration panel for temperature setting
LCD display screen
Auto warming function
Several cooking settings
Saves electricity and power
1800 Watts / 120 Volts
Pros And Cons
Pros
Temperature control
High quality
Stain-resistant
Child lock
Cons
May scratch with aggressive cleaning.
Bottom line
Nutrichef induction countertop stove is perfect for those who live in places with small kitchens. It is functional and can replace your main stove. Many consider it very useful for events like picnics and camping.
9-Techwood Double Upgraded Version Ceramic Stove-Multi Purpose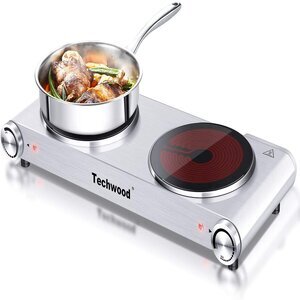 Overview
Techwood double burners countertop electric stove has a compact and flat design. It offered versatile use in cooking a variety of food and used as a food warmer.
It features ergonomic riveted stainless steel handles. That stays cool and comfortable even when the burner is operating. To ensure secure transporting and safety on the stovetop.
This stove includes nonslip rubber feet to ensure that the hot plate stays firmly in place while cooking for safe use. An adjustable thermostat has an automatic lock for overheating and a 1-meter power cord to prevent any danger.
The temperature is adjusted with a simple turn of the knob. To control the desired position and keep it maintained until you are done with your cooking.
Techwood countertop burner options heating power levels ranging from 120V to 900 Watt. With infrared heating energy for vertical heat.
It is constructed from a premium glass surface and polished stainless steel body. It is offering simple cleaning with a wet cloth when it cools.
key features
Infrared ceramic plate
Scratch-resistant
120 Volts / 900 Watts
No electromagnetic radiation
Nonslip rubber feet
automatic overheat shut down
Separate temperature control
Thermostatic knobs to adjust the temperature
Easy to clean
Stainless steel internals
A thermal fuse to avoid overheating
Pros And Cons
Pros
Easy to clean.
Adjustable and auto secure heat settings
Durable
Cons
Long time to cool.
Not scratch-resistant.
Bottom line
Techwood double countertop electric stove is an efficient product. Both heat evenly and fast cooking two kinds of food at the same time. With a compact and small size for limited spaces and easy to clean.
10-Sanuvo Single Sealed Burner Stoves-Heat Proof Handles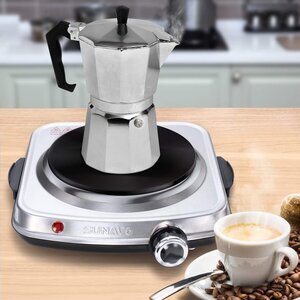 Overview
Sanuvo electric portable single plate stove has a compact and modern design. It offers heating power levels of 1500 Watt of electricity with 6 levels of accurate heating control.
This stove has a distinguished heating tube system that enhances heating efficiency by 20% than traditional coil heaters. It is resulting in more longevity, stability, and fast cooking time.
Sanuvo countertop burner features an anti-rust stainless body. Heat insulates handles that provide more protection for easy and safe moving anywhere.
It can be used with any cookware pans, aluminum, and stainless. And can cook all kinds of food from boiling water to steaks.
The advantage of this stove is that it is certified with ETL. that requires trying products and operate stoves for 3 or 4 times. To get rid of vapors that are released when using for the first time.
key features
Compact and lightweight design
No electromagnetic radiations
Noise-free
Suitable for all kinds of cookware
Adjustable temperature settings
Thermally insulated handles
Overheating safety protection
1500 Watts
Threaded cast iron plate
6 levels of temperature control
Stainless steel surface
Nonslip rubber feet
Pros And Cons
Pros
Safe
ETL certified
Easy to clean.
Overheat indicator lights.
Bottom line
Sanuvo single portable burner is a unique and useful tool. That can operate anywhere with limited space. Offering the best options, you may require in your electric burner.
11-NuWave Precision Induction Cooktop Stoves-Functional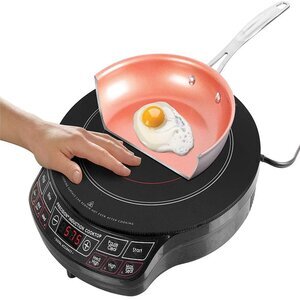 Overview
Nuwave single plate induction portable electric stove has a high quality. And overall perfect performance design. It offers a heating power of 1500 Watt of electric induction.
It has 6 different temperature level settings. With the option of preprogramming at 52 different temperatures. With the flexibility to cook between 100 °F and 575 °F. It options 10 degrees of fast-increasing temperature.
Nuwave induction portable burner is equipped with an adjustable LCD setting screen. And a functional cooking stage programming up to 100 hours memory. And performance programming.
With the proper magnetic base cookware with the capability of electric induction. Provided this countertop stove is the best electric burner that will work perfectly.
Nuwave induction countertop portable stove has auto safety features with an automatic shutdown lock when the electricity induction cookware is removed off the surface.
key features
Requires magnetic cookware to work
Pre-setting option
6 different temperature settings
Flexible and adjustable temperatures
Saves energy and power
Automatic shut down
Lightweight
1300 Watts
Pros And Cons
Pros
Even and quick heating
Convenient preprogramming
LCD screen
Cons
The shut down lock is inaccurate.
No guarantee with some supplier
Bottom line
Nuwave portable induction countertop stove is light weighted and versatile. It uses less energy with 70% than traditional electric burner and gas stoves.
12-Elite Gourmet Countertop Stoves-Premium Choice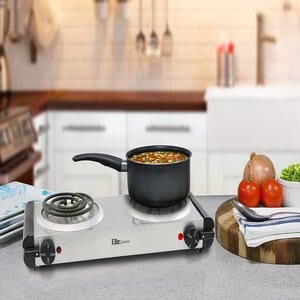 Overview
Elite gourmet portable countertop electric stove has a straightforward and compact design. It offers heating power levels of 1400 Watt of electricity.
It is constructed from a sleek and flat cast iron stainless body, with a coil cooking surface of 6 and 7 inches in diameter, which is easy to store in limited spaces.
Elite gourmet countertop double burners feature dual adjustable temperature control from low to high settings to meet different cooking methods. With a power indicator, it lights off and on when the burner is on while operating.
This burner needs easy cleaning by lifting the coil surface after cooling. And wipe with warm wet damp to remove any stains of food or drips.
key features
Double adjustable temperature control
Suitable for different kinds of cooking
Flat iron cast plates
Stainless steel exterior
Even heat distribution
Easy to clean
7-inch and 6-inch coiled plates
Heat light indicator
Compact and lightweight
Pros And Cons
Pros
Easy to clean.
Safety features
Lightweight
Easy to store.
Cons
The temperature adjustment is inaccurate.
The knob release vapour
Bottom line
Elite gourmet portable countertop stove is one of the best portable stove products. It is the best electric burner covering all the factors you need in your electric burner from cooking to storing.
Yet, the temperature settings may require more accuracy. And when used for the first time, the temperature knobs may leak some oil that causes vapours release.
FAQs about the Best Portable Electric Stoves
Can the cookware for traditional gas stoves be used for induction burner portable stoves?
The cookware for induction cooktop portable stoves can be used with the gas stoves, but it is not recommended.
The induction stove cookware has a magnetic base That can melt and get stuck to the gas stove surface when heated, causing the magnetic bottom to be minimized.
And the induction cooktop is relatively cost more than standard cookware.
However, many have stated that using induction compatible cookware for gas stoves. The heat is distributed better, which is convenient for warming food only.
How much electricity does the electric countertop portable stoves use?
Let us stop the suspense with a few preliminary price estimates. Most electric-powered ovens draw between 2,000 and 5,000 watts.
With the average electric burner wattage coming in at around 3,000 watts.
So how a good a deal of power does an electric burner range use per hour?
Suppose an electricity price of 12 cents per kilowatt-hour (kWh). A 3000-watt oven will cost you approximately 36 cents per hour using high heat. As for the burners on the electrical stovetop, larger burners draw extra energy.
Many single or double cooktops range from approximately 1,200 watts for the smallest burners. To 3,000 watts for the largest. It cost you 14 cents and 36 cents per hour, respectively.
But even in this case, you understand the exact wattages of your oven. And every one of your burners, this breakdown is a simplification.
How does an induction portable stove works?
The first thing you should know is that induction stoves operate using electromagnetic flows generated by copper wires positioned inside the ceramic top plates.
These electromagnetic flows allow the burner to generate electromagnetic power, causing the particles in the pan to vibrate and generate heat.
To be clear, induction stoves rely on heating the pan itself rather than the top plate of the burner, which results in more energy savings because heat is transferred directly to the pan rather than through a mediator.
Final verdict
Suppose you need a 1500-watt portable burner that works properly with any cookware as much as 7. 4 inches in diameter with minimum heat loss.
It has an auto-shutoff feature for protection and nonslip rubber feet to hold it steady on your counter or table. Then the best portable electric stove is the Cusimax Infrared Ceramic Plate portable electric stoves.
Suppose you want an infrared burner that is electric-powered. The heating technique is exclusive to traditional electric burners.
Infrared is designed to offer super-rapid heating the high heat production. Or even heat distribution. Then the best portable electric stove is OVENTE BGI101S Single Plate portable electric stoves.
Suppose you want to create connoisseur food in a small area. With this nonstick coil surface, Elite delicacy electric powered double burner.
This 1440W Elite delicacy electric powered double burner. It consists of a heat power indicator mild for safe use. Cooking is quick, smooth, and steady. The best portable electric stove is Elite Gourmet Countertop Stoves.