Flawless cutting boards are an absolute necessity in the kitchen. They make food preparation simpler and safer.
Making the right size end grain cutting board is essential. However, there is no single measurement that fits all situations.
Finding the right cutting board size for your kitchen is easy when you understand your needs and how much space you have. Read on to learn how to make a perfect choice!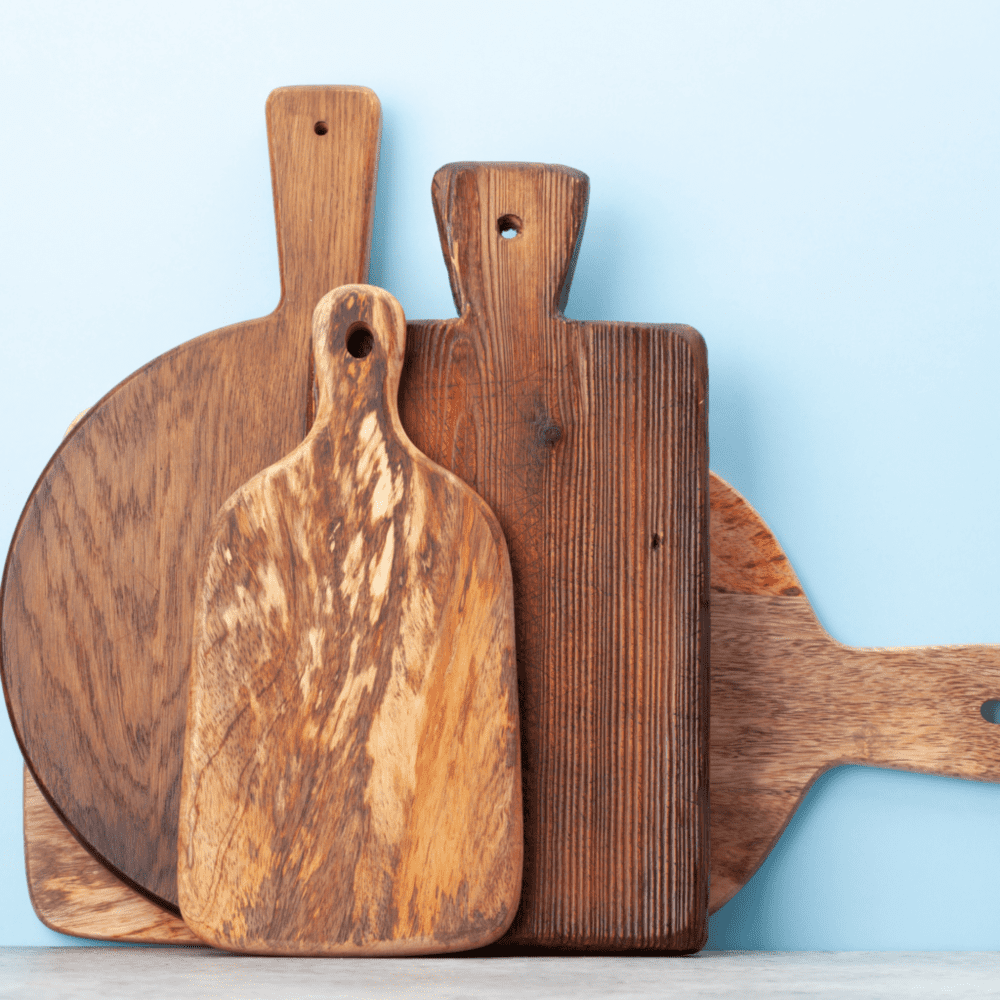 What are the dimensions of the End-Grain Cutting Board? How much do they weigh?
Cutting boards come in different sizes and shapes.
You should consider the following when you start measuring the dimensions of a cutting board:
There are known standard sizes for the boards in general, however, there are specific boards that may be smaller and sometimes larger than those standard sizes.
Size Dimensions
Carving – 24 x 18 x 2.25 in = 61 x 45.7 x 5.7 cm
Cutting – 18 x 14 x 2 in = 45.7 x 35.6 x 5 cm
Charcuterie – 16 x 12 x 1.75 in = 40.6 x 60.5 x 4.4 cm
Generally, cutting board sizes vary from 16 inches by 12 inches (smaller and more manageable) to 24 inches by 18 inches (larger and better suited for bigger cutting tasks). The 18 inches by 14 inches size is often considered the standard.
Weight
Carving – 22 lbs. =10 kg
Cutting – 13 lbs. = 5.8 kg
Charcuterie – 9 lbs. = 4 kg
Read also: How to Care for End Grain Cutting Board?
Essential factors define your cutting board size
Good cutting boards are kitchen essentials.
Countertops are kept safe from scrapes and kitchen knives' damage while cooking is made easier and safer using cutting boards.
When it comes to size, however, there is no one-size-fits-all.
Choose what accommodates your specific needs and space to ensure the ideal fit for your kitchen.
Below are essential factors to consider:
Basic size; The optimal size for everyday tasks is 14 by 18 inches, but depending on your purposes you could need a larger or smaller one.
your culinary needs: If you are a chef that prepares multiple dishes at once, then you will need a large cutting surface.
Alternatively, if you're a home chef who makes simple dishes, you may only need a more minor cutting board.
your counter and storage space:
Small counter spaces require a more minor cutting board proper for it.
On the other hand, a more giant cutting board is best for those with lots of counter space.
Are you going to keep the cutting board in a cupboard or lean against the wall behind the counter? If so, look for a board around 1.25-1.5″ thick.
A thicker board with handles is a good option if you can keep it in a fixed place on the countertop.
A 2-3″ thick one makes an impressive statement.
It's great to have a wood cutting board on your counter for fast food preparation or simple slicing.
The material: material used affects the thickness.
If you are looking for more durability, choose wood cutting boards.
Wood cutting boards offer thick material. and more resistant to knife blades.
When you're choosing a wooden cutting board, look for hardwood.
You can guarantee it lasts for years as long as your wooden board receives good care and is not in contact with hot water for long periods.
Read also: How to Care for End Grain Cutting Board?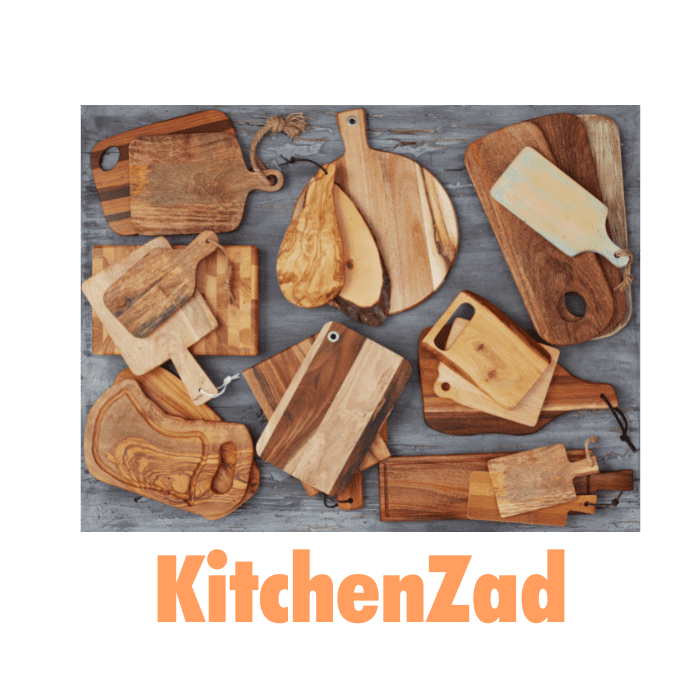 One of the plastic cutting boards advantages is that they are easier to clean. However, they are thinner and less durable
Silicone cutting boards have the same characteristics as plastic boards.
Plastic boards offer lightweight. So, keep those features in your mind while choosing your block's material.
The most popular and chosen one is rectangular cutting boards.
They can accommodate a variety of ingredients.
However, there are square and round wood boards available if you want something more specific.
Your average meal prep would help you define the right size of your cutting board that you should stick with.
The 16 by 12" cutting board would suit you in case you cook small meals for two or three people.
If you cook for more than 3 people, you will probably enjoy a larger 18-24" cutting board.
In case of limited counter space, small wooden cutting boards are great to have.
In contrast, commercial kitchens with more space can benefit from larger boards.
Before purchasing a board, determine the size of the area you can store it in and buy the largest one that will fit comfortably.
The bottom line is that the perfect block size should be large enough to accommodate the ingredients you plan to cut, but not so large that it takes up too much counter space or is challenging to clean.
If you have plenty of counter space, a bigger board of 24 by 18 inches is a great choice; however, opt for a smaller board of 16 by 12 inches if you have limited counter space.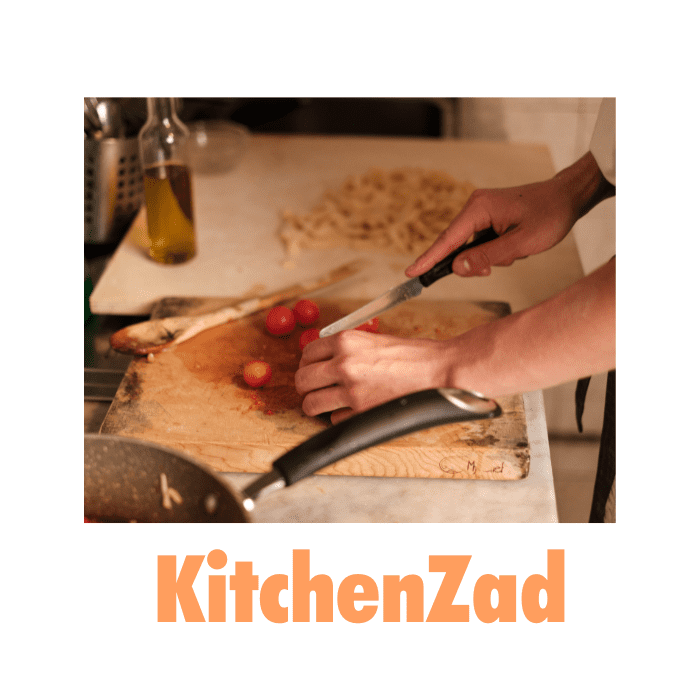 A quick trick to knowing the right size
The knife should be placed at an angle on the cutting board with a minimum of one inch of space at both ends.
For a paring knife, you can use the small board.
For your santoku knife, you can choose a bigger one.
However, you would level up the size of your knife if you have an eight- or 10-inch chef's knife.
However, you are free to choose what suits best to you and your needs.
Read also: 10 Best Cutting Boards Review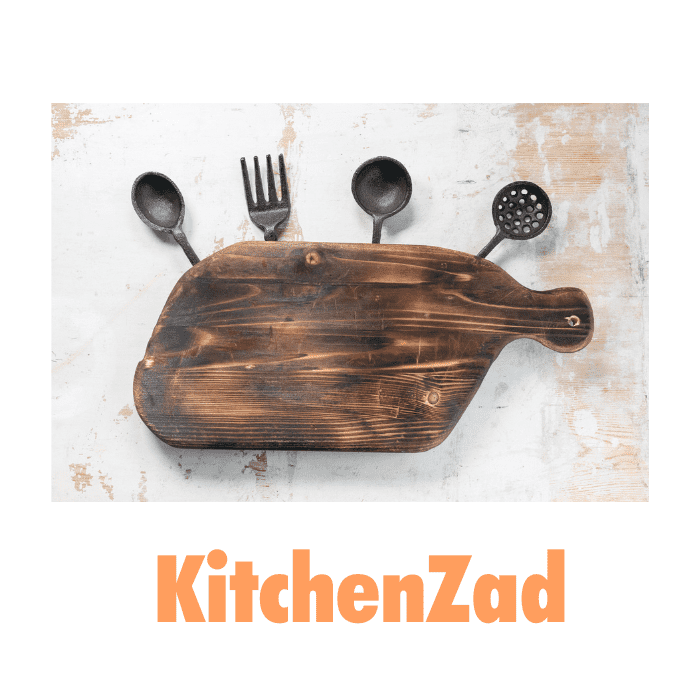 Frequently asked questions
What distinguishes a butcher block from a cutting board?
Usually, cutting boards are composed of edge-grain boards consisting of long strips glued together.
Whereas, a butcher block is constructed from multiple pieces of end-grain wood that are at least 2 inches thick, held together by glue along the edges.
For daily use, End-Grain Boards are a superior alternative to conventional butcher blocks. They are composed of maple and walnut ends which are connected on the edges and faces, making them more dependable than typical boards.
Will my End-Grain Boards look just like the photos on the website?
Every single board produced is unique!
The appearance and the colours of the grain differ from one tree to another and accordingly the wood would change. 
This is because wood is a natural product.
Also, each board is handcrafted and the pattern gets defined throughout the process of construction.