Best Overall
KitchenAid KKFTR16SL 19Pcs Knives Set
Great Value
Victorinox Cutlery Classic 15 Pcs Knives Set
Premium Choice
Cuisinart C77SS-15PK 15-Pcs Knives Set
Best dishwasher safe Knives set can be pushed and pulled around in the washing machine without the harsh cleaning detergent cause rusting, so putting them in the dishwasher requires specific qualities to withstand all that. Right?
The knives that do not rust in the dishwasher, for example, do not need to be hand-polished. Choosing the incorrect dishwasher safe knives is a common issue.
However, it is critical to inspect these knives before purchasing. Different materials handle high temperatures and humidity in different ways, with varying degrees of abrasion.
To solve this problem, I have reviewed 10 of the best dishwasher-friendly knives set to help you choose your favorite one that will suit you best.
List of 10 Best dishwasher safe knives set 2021
Comparison table
| | | | |
| --- | --- | --- | --- |
| Product name | Number of Pieces | Blade Material | |
| KitchenAid KKFTR16SL knives set. | 16 pieces | 1.4028 high carbon stainless steel | Check Price |
| Victorinox Swiss Army Cutlery Swiss Classic knives set. | 15 pieces | high carbon stainless steel | Check Price |
| Cuisinart C77SS-15PK knives set. | 15 pieces | high carbon stainless steel | Check Price |
| J.A. Henckels International Statement knives set | 15 pieces | high-quality stainless Steel | Check Price |
| Wanbasion Professional knives set. | 16 pieces | Blue titanium coated stainless Steel | Check Price |
| Marco Almond KYA27 knives set. | 14 pieces | Titanium coated stainless steel | Check Price |
| Master Maison Premium knives set. | 19 pieces | German Stainless Steel | Check Price |
| Home Hero knives set. | 17 Pieces | Stainless Steel | Check Price |
| Wusthof Deluxe German knives set. | 14-Piece | carbon stain-resistant Steel | Check Price |
| Styled Settings White Forged knives set | 14 pieces | Forged Stainless Steel | Check Price |
Best Dishwasher Safe knives set
1-KitchenAid KKFTR16SL 19Pcs Knives Set-Best Overall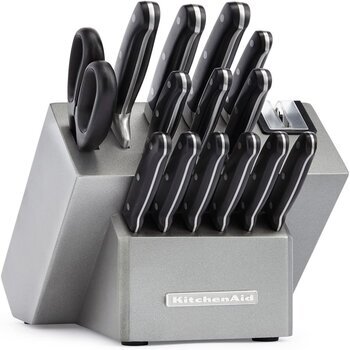 This knife set includes
3.5''Paring knife
8''Chef's knife
5.5''serrated knife
4.5''Steak knife
6''Chefs utility knife
6''Cleaver
7''Sankotu Knife
8''Bread knife
4''Kitchen shears
Silver woodblock
Key features
As we always expect from kitchen aid, they have thought about every tool you might need. To prepare a wonderful meal for your family.
They compiled this 16 pieces set crafted from a1.4028 high carbon stainless steel. To make sure that they can withstand heavy usage in your kitchen. Especially if you are still a newbie in cooking.
In terms of increasing your safety and confidence. This set features ergonomically triple-rivet constructed handles. That feels comfortable and more secure in your hand's grip.
For more comfort and convenience, these sets include a sleek silver block. To provide you with organized and reachable utensils. So that you do not have to keep searching for your knives while cooking.
By using this durable and sturdy material, these blades can last for a long time without worrying about them becoming dull or ineffective.
One notable feature about this product is that they provide you with an easy. And a simple way to sharpen your blades. by including honing Steel in the set.
Some of you may be curious about what knives are in this collection and what are they used for?
You get a paring knife to help you with delicate tasks like peeling, trimming, and slicing vegetables.
It also comes with what professional chefs call starter sets, including a serrated utility knife, a chef's knife, and an extra paring knife. That is ideal for preparing small snacks or meals for your children.
Keeping in mind how your dining table and silverware will appear in front of your guests. we have provided you with fantastic steak knife sets to achieve the chic looks you desire at your dinner party.
Pros And Cons
Pros
Due to the German stainless steel
It is highly durable and long-lasting.
It is dishwasher safe.
Edges that are sharp and well-polished
Adaptable
Ergonomic handles for more grip
Cons
They may rust after a couple of washes.
The handles may get loosen over time.
Bottom line
KitchenAid's silver sleek knife set is ideal for convenient storage under kitchen cabinets. Sharpening is fast and straightforward with the included sharpener. The block's classy construction looks fantastic in any kitchen.
2-Victorinox Cutlery Classic 15 Pcs Knives Set-Great Value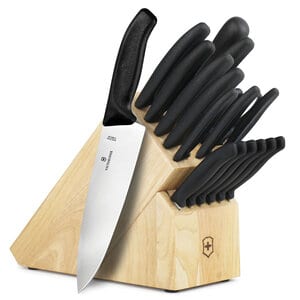 This set includes
3.25''straight paring knife
4.25″ Serrated Utility Knife
6×4.25″ serrated steak knives
5''Utility chef's knife
7''Santoku Granton knife
8''chef's Knife
8.25''Serrated Bread knife
10''Sharpening Steel
Kitchen scissors
Slant hardwood block
Key features
Victorinox Swiss Army has been a well-known brand in manufacturing knives and kitchen utensils.
So, when I included this product of 15 pieces set. I was confident that it would meet all your high-quality and durable expectations.
If your interest is the high quality of the materials, then this is it. They used light European stainless steel blades with a long curved tip to ease any cutting and chopping for you, even if used to the rocking style.
You will perform it with no effort or stress.
Noting that each blade has been ice tempered to add more satisfaction. And long-lasting sharpness, so your preparation of a delicious meal will be an easy job and enjoyable.
And guess what? You do not get to stress about re-sharpening these blades for a long time because of this advanced technology that results in a razor-sharp edge. That will ease up any chopping or slicing you may need.
Let us say that you are still a newbie and do not have that much experience. Then this set will not let you down.
If you need a knife set that you can easily handle and gives you more confidence while cooking. These classic swiss handles are made with non-slip textured plastic. That will increase your control over the blade.
Besides, you will not feel any wrist tiredness or instability when holding your knives due to their well-balanced and comfortable grip.
It does not just end there. Victorinox thought about everything to increase your comfort. They included a slant hardwood block to offer you convenient storage space.
But it would help if you kept in mind that these Victorinox sets require specific care. To maintain its endurance and sharpness.
As mentioned above, they are considered dishwasher safe, so you can easily place them in the top rack.
Yet, I would advise you to hand wash them and dry them thoroughly to avoid any chipping or rusting.
Also, it would be best if you applied frequent sharpening. The honing Steel included keeping a long-lasting sharpness.
Pros And Cons
Pros
Excellent European Steel that is lightweight.
Dishwasher-safe sets for mincing
Dicing
Slicing
Cutting
Chopping
Shredding.
The handle is designed to minimize any wrist fatigue and gives you more control.
It has a textured non-slip grip.
Cons
May rust after a couple of washes.
Bottom line
The 15-piece Victorinox Swiss knives set has a pleasant handle. With a lightweight and well-balanced structure. As well as sharpening the edges are hardly needed. These are the primary devices for every kitchen.
3-Cuisinart C77SS-15PK 15-Pcs Knives Set-Premium Choice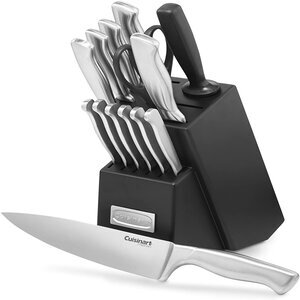 This set includes
8″ Chef Knife
8″ Slicing Knife
7''Santoku knife
5.5''Utility Serrated knife
3.5''Paring knife
8''Sharpening Steel
Kitchen Scissors
Hardwood block
Key features
We thought you might enjoy including this set of 15 pieces from Cuisinart. Especially if you love cooking but hate the feeling of pain in your wrist. after a long period of cutting and slicing.
In terms of versatility, this set allows you to personalize your kitchen utensils the way you prefer, with no limiting any easiness or comfort during the preparation of your signature plate.
As for sturdy and durable construction, the blades are made from high carbon stainless steel. That you will chop and slice using them in a smooth and relaxed way.
If you have zero or little experience using such professional knives. The blades come with a solid bolster to increase your feeling of control and stability. When holding them in your hands.
Cuisinart handles are ergonomically designed with hollow stainless steel. To be as light as a feather but also more stable and comfortable in your grip.
These blades and handle structures will provide you with the most comfortable Desire to hold your knives for a long time without even feeling it.
Last but not least, Cuisinart did not forget about your beloved family.
So, these sets include 6 x 4.5" hot forged steak knives to enhance the looks of your dining table. And ease up the cutting of meat for your young ones.
Pros And Cons
Pros
Slip
Textured handles for a safe and comfortable grip
Regardless of hand size
The design of handles reduces fatigue of the hand and wrist.
European Steel of high quality and lightness
Dishwasher-friendly
Cons
They can rust if not dried properly.
Bottom line
The Cuisinart knife set offers outstanding high-carbon, stainless steel blades for extreme precision. And stability throughout the preparation of meals. Due to its ergonomic handles, which are robust but lightweight and comfortable.
4-J.A Henckels International Statement 15 Pcs knives Set-Endcap Handles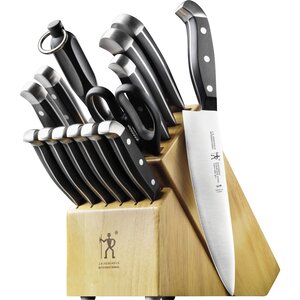 This set includes
3''paring Knife
5''serrated utility knife
7''hollow edge santoku knife
8″ chef's knife
8''bread knife
6.45steak knife
Honing Steel
Kitchen shears
Hardwood block
Key features
Let us say that you have been practicing slicing and cutting food using a basic knife set. Such as the Victorinox sets, and you reached the point where you need to upgrade your kitchen utensils.
Ja Henckels's international statement of 15 pieces offers you advanced kitchen tools to meet your requirements.
One of their notable knife features is that the single-piece stamped blade. They are constructed from high stainless Steel, which is significantly lighter than any forged blades.
And you do not have to stress about their adaptability. Since they were made with a full tang characteristic.
That will increase the long-lasting sharpness of the edge. While offering you a light and more controllable grip. Which results in boosting your confidence in tackling all sorts of food preparations.
If your focus is more on the handle's Design, JA Henckels's will not let you down.
Since the triple rivets included in the handles will offer a well-balanced. And stable grip that you will immediately feel once you hold them.
With no further ado, as we all seek a knives collection that will enhance the looks of our kitchen. The handles are made with a straight-shaped endcap. To apply an aesthetic effect to the display.
Pros And Cons
Pros
Sleek and authentic looks
Extremely light
Razor-sharp
Dishwasher safe
Cons
The handles are positioned so close in the block.
The horizontal hardwood block consumes a lot of space.
Bottom line
Ja Henckels set is suitable because it is well-balanced. It has an optimal weight and is compact. Love of cooking will be satisfied with this set of kitchen knives.
5-Wanbasion Professional 16 Pcs knives Set-Extra Sharpness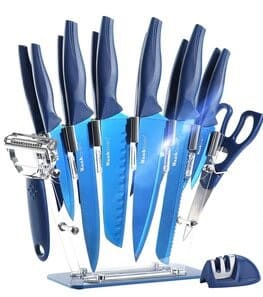 This set includes
7''Sankotu Knife
8''Bread knife
8''Chef's Knife
5''Utility knife
3.5''Paring Knife
8''Carving Knife
6 Steak Knives
Kitchen scissors
Sharpener
Key features
This product is designed especially for those who like to add a splash of colors to their kitchen tools collection.
You will not like missing on such quality and endurance of this 16 pieces set from Wanbasion. Since it meets the cool looks with the high quality, you seek.
The most remarkable feature of these blades is the blue titanium coating on their surface, which provides you with scratch and corrosion-resistant knives.
Noting that the blades are thin and adaptable. To give you the privilege of cutting through the most challenging food with minimal effort. Due to the precision edge's ability to hold its edge retention and extra sharpness.
Is there anything else that you believe a knife set should include? Well, wait for it.
Wanbasion universal knife block allows you to organize your knives, regardless of where you plan to store them since they are rust and bend resistant.
As for versatility and the wide range of options included in this knife's sets, we highlighted the most valuable blades you may require in preparing a delightful meal.
Such as the sankotu knife, which is impressive in mincing and slicing small ingredients. Like garlic and herbs with the hollow end to reduce the friction.
Also, the serrated bread knife can be used in slicing bread. Or more convenient in cutting through food that is hard on the outside. But soft on the inside without crushing it.
And as we all know, a chef's knife is the most usable in the kitchen since it is flexible with a curved blade.
Pros And Cons
Pros
A colorful appeal in a beautiful blue color
Included are a peeler and a sharpener.
A multipurpose set.
Sharp blades and comfortable handles
Dishwasher safe
Cons
They may require honing after each use.
Rust overtime
Bottom line
Wanbasion blue sets are dishwasher safe and made of stainless steel. They will not rust, stain, or dull over time. To improve the flexibility and durability of knives and other tools, a unique process is used.
6-Marco Almond KYA27 Rainbow 14Pcs Knives Set-Ergonomic Design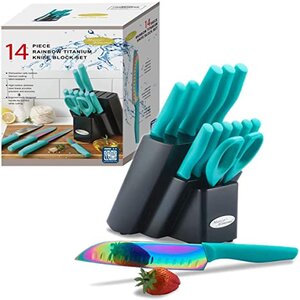 This set includes
8''Slicing Knife
8''Bread Knife
7''Santoku knife
5''Utility knife
3.5''Paring Knife
6×4.5″ Steak knife
Multipurpose shears
Woodblock
Key features
Let us assume that you are still a new homeowner. And you are looking for this kitchen collection that will make you stand out from all your friends.
These 14 pieces set from Marco will definitely meet your taste.
The first thing you need to know is that the blades are made of high-quality stainless steel. They are coated with titanium which results in these lovely rainbow colors. To enhance the looks of your stylish utensils.
These knives structure will assure you with long-lasting durability. And sharpness with no stressing about any corrosion or rust.
Yet, let me promise you that these incredible looks will not affect the performance of each knife. As they are intended to meet specific tasks and demands. They are providing you with more control over its flexibility and endurance.
And guess what? Marco almond did not forget about providing with the ultimate comfort. And safety for you and your family.
Since the turquoise handles are ergonomically designed to increase your comfort. And firm non-slip grip so you can tackle around any ingredients quickly.
Well, I am sure you are thinking, how can this set have anything more to offer?
Of course, Marco always made sure that the entire material used in making these knives is safe. To protect you and your family from any health hazards.
Both the stainless steel and the titanium used are rust-free. And no toxic particles can residue on your food.
You thought it ends here. But actually, it does not. You get the whole package here. A safety sheath is provided with these knives. To make sure they are safe while moving around or even shipping.
When it really comes down to cleaning, this rainbow set is known to be a dishwasher-safe knife set.
Yet the tricky point here is that it is recommended to washing them by hand. And dry immediately to maximize its strength. And sharpness for the most extended period.
Pros And Cons
Pros
This is an essential all-purpose set for any cooks to have.
They are safe to be washed in the dishwasher.
They are highly razor-sharp due to high stainless Steel.
Coated titanium for extra durability
Corrosion and rust resistance
Beautiful colors
The block is very convenient to store.
Cons
The blades may require honing when taken out of the box.
As advised
It may rust after a couple of washes in the dishwasher.
Bottom line
Rainbow knife sets are made of stainless steel of premium quality. To become stable and durable. The knife set is high quality and attractive.
The titanium is on each blade, making it highly soothing.
7-Master Maison Premium 19Pcs Knives Set-Secure Grip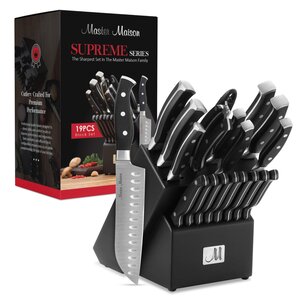 This set includes
8''Chef's Knife
8''/5.5''Bread Knife
8''Carving Knife
5.5''/8''Santoku knife
5.5''Utility Knife
3.5''Paring knife
8×4.5''Steak Knives
Honing Steel
Wooden block holder
Key features
Master Maison considered how to provide you with the utmost comfort. And glamour by gathering this outstanding 19 pieces set.
Since many professional chefs were consulted in designing these blades. With the highest quality but still at an affordable price.
You will use these knives with ease and comfort due to the single-piece forged high German stainless steel blades.
In addition, these blades are razor sharp to the degree that they excel any ceramic or acrylic knives.
The defining point of this product is the triple Japanese rivets on the handle. These will help you use this set with more power and strength. With no worrying about their longevity or functionality.
They are equipped with ergonomic constructed handles. To make you feel more confident and secure when slicing or cutting hard food.
But wait for it as it does not stop here. We all complain of hand tiredness and frustration when requiring accurate cuts.
Master Maison constructed these handles to offer you extra comfort. and precision thanks to the well-balanced and lightweight grip.
Let me say it in another way. It does not matter if you are a man or woman. You will want this set.
Having a dinner party? Maison did not forget about that since they included 8 steak knives in this set. To help you arrange your dining table with style.
But take care these steak knives may be a little tricky to use, especially for the young ones.
To sum this up, the master house provided you with the best knives you have ever seen. as they never need honing, chip, or wear out and never become dull.
Pros And Cons
Pros
Blades that are rust and stain-resistant.
Ergonomic anti-fatigue handles
Incredible edge retention
German high carbon steel of the highest quality
Tang is fully exposed for added strength.
Cons
The steak knives are a little tricky to work with.
Bottom line
The master Maison set feels and performs well above their price. They are incredibly well-made, strong, and extremely blunt, and sharp.
You will love how they blend and feel in your hand. As if they were built for your specific hand and how well balanced they are.
8-Home Hero 17Pcs knives Set-Long Lasting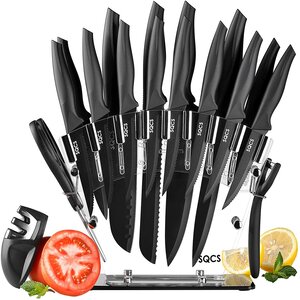 This set includes
Utility knife
Carving knife
Bread knife
Pizza knife
Paring knife
Chef's knife
Cheese knife
Peeler
Scissors
Acrylic stand
2 stage sharpener
Key features
Are you fed up with constantly replacing and restocking your kitchen with new, overpriced knives?
Meet your new favorite kitchen mate. Home hero created these 17 pieces of knives set to suit all your demands at a reasonable price at the highest quality.
When it comes to durability. They utilize the highest stainless steel materials for the blades. Then they coat it with non-stick paint to offer you the ultimate comfort and smoothness. While cutting any sort of food.
These blades will not rust, stain, or chip over the long run. It is resulting in stress-free usage.
Equipped with ergonomic PP handles for more support, comfort, and confidence. But it would help if you were careful as they start to loosen a bit after some time.
Noting that. You will feel the difference between the hero home set. And any other alternative thanks to the sharpness, stability, and functionality.
Well, it does not end there. The home hero always thinks of ways to add more safety to their clients. So, they included a premium quality 2 stage sharpener to limit the risks of using dull knives.
Also, it offers a lot of other utensils that are essential in the kitchen. Say you are preparing a plate that requires many herbs, or you need some lemon skin to finish your light meal.
Hero home included sharp scissors and a peeler to give you a complete set of all the tools you may need in the kitchen.
Lastly, this set includes 6 steak knives to add more glamour to your dinner, whether for your family or guests.
Pros And Cons
Pros
Multi-purpose set since it includes a peeler and scissors.
Sharp razor knives
2 stage sharpener to maintain the sharpness of the blades.
Dishwasher safe
Reasonable price compared to other alternatives.
Ergonomic handles for more comfort
Cons
The handles may get loose after a while
Bottom line
The home hero set is made of quality stainless steel blades. That has been carefully painted with non-stick paint. To ensure that they can be used for any cutting, chopping, or slicing without any problem.
9-Wusthof Gourmet Deluxe 14Pcs Knives Set-Budget Friendly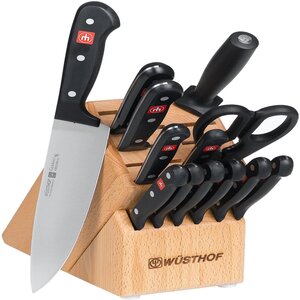 This set includes
Straight paring knife
Curved paring knife
Utility knife
Serrated bread knife
Chef's knife
Honing Steel
Kitchen shears
6 steak knives
Beechwood block
Key features
You may be wondering why I included this Wusthof 14 pieces set. Since it is pretty like the JA Henckels set mentioned above.
Well, I had to because these slight differences changed my mind a lot about both products.
One of them is the price since this set is slightly cheaper than Zwilling. Without limiting the fulfillment of your demands or needs.
The first thing you need to do is that these blades are made from stamped laser cut high carbon stainless steel, which is stain and corrosion-resistant.
With accurate tempered Steel to maintain the sharp edges. Yet, if you want to re-sharpen them to meet your demands, you can easily use any honing tools/ IF NEEDED.
Keep in mind that this laser-cut applied to the blade preserves the edge sharpness. And durability at its highest to enable you a relaxing and stress-free preparation of your meal.
All these advantages are equipped with triple rivet synthetic non-slip handles. Aligned with this full tang blade thus, you will immediately feel the increase in your confidence. And control once you hold it.
It will just blend in your grip as if it magically becomes an extension to your arms!
You think I am done here and asking yourself what else can a knife set have to offer? Well, there is more.
This knife set comes with a kitchen block to assist you in organizing your utensils. Please keep them in reach, so you do not have to search for them all over your kitchen while cooking.
And guess what they have some extra empty slots so that you can preserve the sharpness of some different blades in it.
These advantages may be double faces because it means that this set has fewer utensils than other alternatives.
The tricky part here is that the steak knives are not serrated, which results in the possibility that you might need to sharpen them yourself.
Last but not least, this Wusthof set is considered to be dishwasher safe. Yet, it was recommended that you hand wash them. To increase their long-lasting sharpness and avoid any chipping or dullness.
Pros And Cons
Pros
Durable and long-lasting quality materials
Exceptional warranty against material defects or craftsmanship
Non-slip textured handles for more control and comfortable grip
Dishwasher safe
The reasonable value of money
Cons
Steak knives are not serrated and may need re-sharpening.
Dishwasher friendly but recommended to be hand washed.
Bottom line
Wusthof knives set has a durable and sturdy blade. That features a laser-cut and tempered which you will simply fall in love with. Since it maintains its sharp edge for the most extended period.
And also, it will not break your budget as it is much affordable than other alternatives.
10-Styled Settings White Forged 14Pcs knives set-Non slip Handles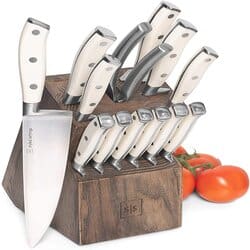 This set includes
8″ Bread knife
8″ chef's knife
5″ Utility knife
6 steak knives
8″ Carving Knife
3.5''Paring knife
Kitchen shears
Walnut hardwood block
Key features
If you seek some modern touch that will add some glamour and class to your kitchen décor, then this set is the one for you.
This ivory and silver stunning 14 pieces set from styled settings will complement any kitchen collection without compromising any performance or quality.
Since the philosophy of styled setting has always been, why not cook with style and enjoy it.
It is coming with a white walnut wood knife block. That is exceptionally made from the highest quality and superior materials. to save all your tools in one place.
So, you can just stretch your hands and grab your utensils in an eye blink.
As for the construction of the blades, they are made from a full tang stainless steel. That is reinforced with a taper grind edge technology.
That will supply you with an extreme sharpness that you never dreamt of.
These edges will deliver you with the sharpest blades that are easy to sharpen as much as you need since they went through a professional quality check-up with an experienced team.
Keeping your safety in mind by adding a protecting bolster. To keep your fingers from sliding onto the blades.
Noting that these knives will allow you to rest calm about their longevity. And high performance so that you can always depend on them. When preparing a complicated meal for your guests.
What more do you need? Well, this knife set has much more to offer.
These knives are crafted with the most robust toughness. At the same time, being rust and corrosion resistant besides exceptional edge retention.
However, when I washed them in the dishwasher, I found some rusting stains on the surface of the blades, with quite loosening handles.
So, I would advise you to hand wash them carefully and dry them thoroughly.
Also, they offer you the ultimate comfort and control. At the same time, using thanks to the ergonomically constructed white non-slip handles.
With a triple rivet that extends along the full tang blade. Which will make you feel more secure and confident during your preparations.
I know you are thinking now that this set much cost a fortune.
Besides, it comes with such a reasonable value of money since you will not need to replace it at any time soon.
Pros And Cons
Pros
Comfortable and firm grip due to the ergonomic design of the handles
Robust and durable thanks to the high stainless steel material
Corrosion-resistant
Dishwasher safe
Cons
A little bit on the expensive side
It may show some rust stains if not properly cared for.
Bottom line
This one-of-a-kind white knife set is made of upgraded stainless steel. That has been ergonomically constructed for maximum comfort.
They are equipped with a durable hardwood block that perfectly highlights the beauty of their design. They are simplified in their easiness but effective in performance.
FAQs about the Best Dishwasher Safe knives Set.
1-What is the meaning of a dishwasher safe knives set?
A dishwasher knife set is quite like any other alternative knife set. However, the only difference is that they are made from materials that can withstand the aggressive spraying of water. And strong detergents.
Thus, you can just place them on the top rack in the dishwasher without stressing their durability or sharpness.
When it comes to those who cannot spare much time washing. And cleaning their kitchen utensils. This type of knife will suit them best.
2-How to maintain your dishwasher knives set?
This is definitely the most favorite part of the set-safe. It is because you can wash it whether on the top rack or by hand, whatever method fits you most right now.
The good thing about these clever knives is that they offer you the opportunity to choose. This is not always the case with the kitchen knives, which are the most not dishwasher-safe.
The problem involves cleaners that can cause a reaction. Or risk further damage to the material in the dishwasher. These knives are, on the other hand, covered with substances to prevent damage.
3-Why should I have a safe knives set for this dishwasher?
This knife set is a superb choice for people who want quality knives. To be washed without worrying about getting stupid in a dishwashing machine.
But they are more than that. They also have significant advantages. For instance, the materials they are built are robust and durable. Making them more reliable.
This is a worthy investment to be considered by every cooking enthusiast or chef. Plus, many of these sets are offered by combining different types of knives, such as Santoku, chefs, etc.
And the block is a practical and modern addition since you can place it on your counter for easy access and a lovely look.
4-What to consider when purchasing the best dishwasher safe knives set?
The blade
When you check all these knife sets alternatives available on the market. You will conclude that most of them are made from stainless steel.
Because stainless steel is a challenging and long-lasting material, that is easy to sharpen and has a low chance of chipping or breaking.
Some of these stainless steel blades also have a non-stick coating. To make slicing and cutting delicate foods easier.
Remember that the blades must be razor-sharp and, preferably, have a slightly curved tip.
To test its high performance, try chopping on a cutting board in a rocking motion with it.
The handles
Avoid using wooden handles because they can easily be damaged.
As an alternative, search for much sturdier components. Such as plastic or stainless steel.
Aside from that, finding knives with comfortable and easy-to-hold handles is essential.
Suppose you are purchasing online and are concerned about the blade's comfort. Look at some photos to see if it is curvy and padded.
The material
There are several alternatives when it comes to the material. Although high carbon steel is the most common.
This is due to its durability and ability to keep its edge for an extended period. And when paired with alloy, it can withstand staining and will not rust or pit.
Ceramic is another durable and high-quality material. It is long-lasting and performs well, but it cannot compete with carbon.
One of its most significant advantages is keeping its edge for an extended period. However, it does tend to break.
Forged knife against stamp one
Knife construction is significant; forged knives are far more pricey than stamped knives. This is since they have bolsters that the others do not.
A forged knife is also heavier, whereas stamped knives are lighter. The blade of a forged knife is thicker and more durable, but it is less flexible.
Stamped knives typically have a thinner blade and greater flexibility. Choose the type of construction that is best suited to the foods you will be working with.
Block
Many of the brands we have presented feature a hardwood block. Which makes the knives conveniently stored in one place? And avoids scratches and damage to drawers.
These blocks are stylish and modern, and they will complement any countertop. There are also sets that do not include this block, which can be inconvenient for some, particularly those with limited countertop space.
But do not worry, your knives will be safe. Many of them come with blade covers for added protection.
Price
The sets of knives may be a good deal, particularly when you use all kinds of knives, including these sets.
However, that does not mean that you must spend a ton of money on excellent dishwasher-safe knives set. Famous companies make some great sets at affordable prices.
Still, we should not buy low-cost sets because they are likely to be of poor quality and will not last long. You will end up wasting more money because you will have to purchase other knives.
Final verdict
The KitchenAid KKFTR16SL 19Pcs knives set is our choice for the best overall knife set since it is equipped with cooking utensils to deal with your kitchen tasks with ease.
The fine-edge blades feature a precise cut with a long-lasting sharpness.
Our second choice for the most incredible value is the 15-piece Victorinox Swiss Classic knives Set. It can handle almost any imaginable kitchen task.
These are essential tools for every kitchen. Made from a comfy handle, ideal weight, and balance, and a sharp razor edge, often re-sharpening.
Our third pick is the 15-piece Cuisinart set for the best quality knives set. As it offers a range of advanced new blades and styles. They are allowing home cooks to customize the collection of cutlery.
Knives are built for high precision. And accuracy employing superior high carbon stainless steel blades.