Popcorn, is it vegan? Your answer is most probably "yes," isn't it? Especially since it is made up of microwave-popped corn, how can it not be?
This part of the story is true because the fact is it is just a corn kernel but is it still vegan if it is found seasoned and topped with seasonings? And are there any additional ingredients list that turns it non-vegan? That's what we are going to find out!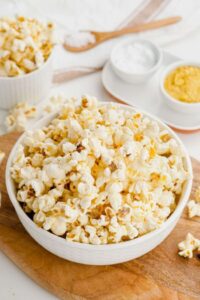 Popcorns- Vegan or Not?
Popcorn is kettle corn that has been seasoned with plenty of salt and sugar and cooked in oil.
Traditional popcorn is made the same way, which makes it vegan. While many popcorn companies continue to use the same method, flavoring their products actually turns them into non-vegan.
So, now the question is: "is microwave popcorn vegan?" Yes, if it is plain popcorn and only seasoned with sea salt, then it is vegan. However, when real butter and other additives for microwave popcorn are added, which are known to contain animal products, the situation changes.
How to Check If Microwave Popcorn Is Vegan?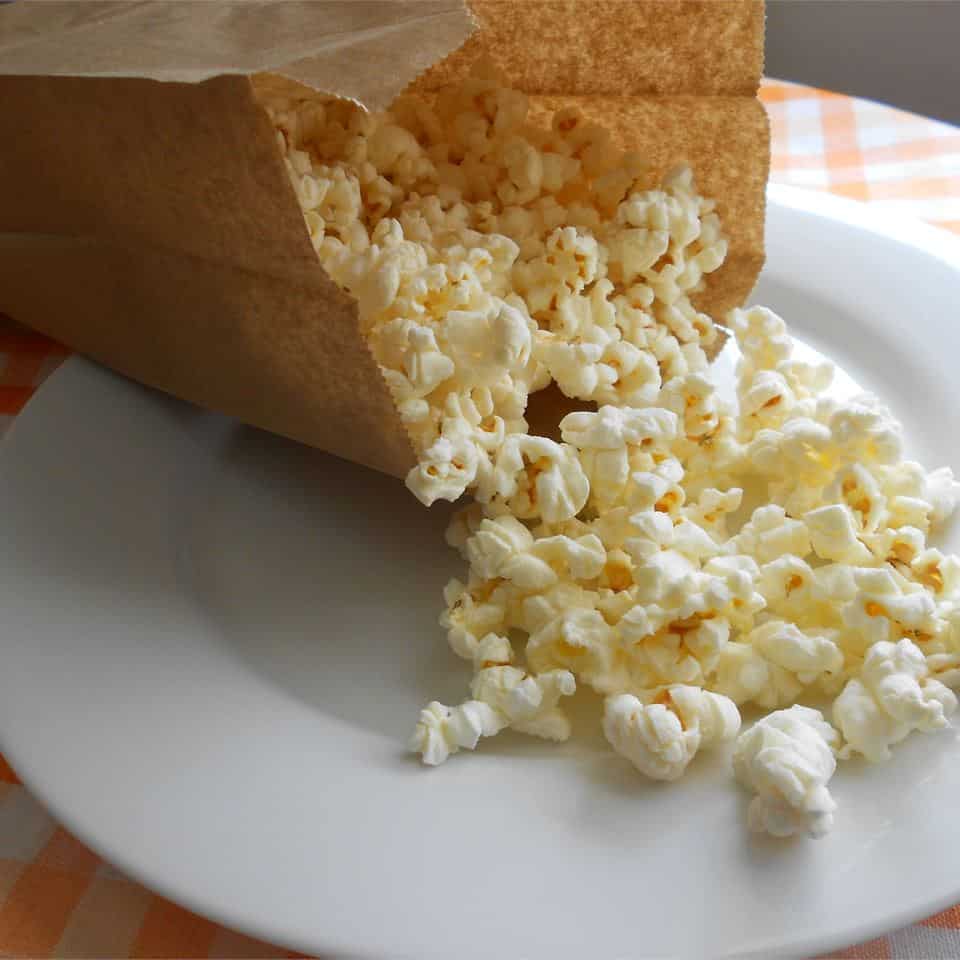 While shopping for a vegan popcorn recipe, you need to quickly check out whether it has a milk ingredient or not.
It is always recommended to first looking for an allergen guide warning, which will be indicated as "CONTAINS MILK" or something like if the popcorn contains dairy.
Simply move on and check the next box of microwave popcorn when you notice that milk warning.
Keep in mind that an item is often still regarded as vegan-friendly if the allergen notice simply states, "MAY CONTAIN MILK."
The phrase "may include milk" simply denotes that the product was produced at a facility that also contains dairy products, but dairy was not used on purpose to create the product.
Pre-Popped Popcorn
The same goes for Pre-popped popcorn while checking out whether it is vegan or not. As long as there are other oil options without palm oil, corn kernels can be consumed vegan, knowing that the use of real butter or any other dairy ingredient by the makers will be disclosed on the labels.
Movie Popcorn
Now you must be wondering so what about movie theater popcorn, is it vegan too? Since canola oil is typically used, these popular movie theater popcorn varieties are surprisingly vegan, especially when served in natural flavors. When seasonings and other flavorings are added, it becomes non-vegan.
Milk Ingredients in Microwave Popcorn
In microwave popcorn products, you can discover a wide variety of milk ingredients. But it is worth mentioning that the cheesy popcorn version ingredients are not so common. However, "butter" and "natural flavors are so common.
The following dairy components should be avoided:
Butter
Butter Oil
Clarified Butter
Dry Buttermilk
Dried Butter
White Cheddar Powder
Natural Butter Flavor
Natural Flavor (Includes Milk)
Dried Parmesan Cheese
Natural White Cheddar Flavor
Dried Cheddar Cheese
White Cheddar Powder
"Gray Area" Ingredients in Microwave Popcorn
Sucralose
Sucralose, which is synthetically made and normally regarded as a vegan flavor, actually has a notorious history of animal testing, which is completely against the ethical views of vegans.
It can occasionally be found in sweet kettle corn and other sweet types of popcorn.
Palm oil
Common palm oil, which vegans disagree with because of sustainability and environmental concerns, is almost always used to make pop microwave popcorn flavors.
It is also against the ethical views of the vegan community because the process of producing it destroys the soil and harms wildlife living close to the location where this product is produced.
Artificial Colors
Some popcorn recipes use synthetic colors like yellow 5 or yellow 6 to flavor the popcorn to make it have a richer yellow color.
Artificial colors are not always regarded as vegan because of constant worries about animal testing.
10 Vegan Popcorn Brands You Should Try
1.Angie's Boom Chicka Pop
Both vegan and non-vegan goods are available at Angie's Boom Chicka Pop. And what sets their products apart is that they are non-GMO, gluten-free, and Kosher-certified.
With its vegan selections, including Sea Salt Popcorn, Sweet and Salty Kettle Corn, Sweet BBQ Popcorn, Light Kettle popcorn, Chili Lime Flavored Popcorn, and Salted Caramel Popcorn, the brand uses sea salt, cane sugar, and sunflower oil.
2. Pop Secret
Pop Secret popcorn offers eight vegan popcorn options, which are
Pumpkin Spice, Search for Kettle Corn, Sea Salt, 94% Fat-Free Kettle Corn, Sweet n Crunchy, Popfetti, Sweet n Crunchy Caramel.
So, is Pop Secret Vegan? Some are vegan-friendly while others are not.
3. Orville Redenbacher
Is Orville Redenbacher popcorn a vegan option? orville redenbacher's offers a variety of vegan options including; Naturals Simply Salt, The SmartPop Kettle Corn, orville redenbacher's Kettle Corn, and Naturals Simply Salt with Light Salinity,
On the other hand, Orville Redenbacher's Movie Theater Butter, and Light Butter contains actual butter.
4.SkinnyPop
Good news for butter lovers! Because one of the best dairy-free microwave popcorn brands Skinny Pop Butter mixes natural, non-dairy butter tastes into their products.
And even if they might add buttery popcorn flavor, this is undoubtedly a vegan butter popcorn option because of the delicious flavor of sea salt.
5. Newman's Own
Sea Salt Popcorn and Tinder White Popcorn are the only two flavors of Newman's Own Popcorn that are entirely vegan.
Sadly, the rest of their offerings include real butter and milk, in addition to the white cheddar that is frequently used in microwave corn because it gives their products more flavor.
6. 365 By Wfm
This brand's No Oil or Salt are the only two flavors that are suitable for vegans. They do have organic popped corn kernels, though.
As with regular popcorn, organic popcorn is extremely healthy and vegan-friendly, it contains vitamin E until dairy products and other common flavoring ingredients are added.
7. Smartfood Popcorn
There is only one flavor of Smartfood that doesn't have any non-vegan ingredients: Smartfood Kettle Corn Popcorn which is sweet and salty.
The company's other flavors either include dairy products or include non-vegan ingredients. Similar to other food goods on the market, you must carefully read the product label to make sure that all of the ingredients are secure and vegan.
8. Jolly Time Popcorn
There are only three vegan food products Jolly Time produces which are: KettleMania, Simply Popped Sea Salt, and Healthy Pop Kettle Corn.
All their other products have milk ingredients.
9. Quinn Popcorn
Quinn Pop microwave popcorn offers only two vegan options: Sea Salt and Vermont Maple Kettle Corn.
The rest of their flavors have milk ingredients.
10. Cousin Willie's Popcorn
Cousin Willie's microwave corn only comes in one vegan flavor: Microwave Popcorn with a Smidge of Sea Salt
Vegan-Friendly Popcorn Toppings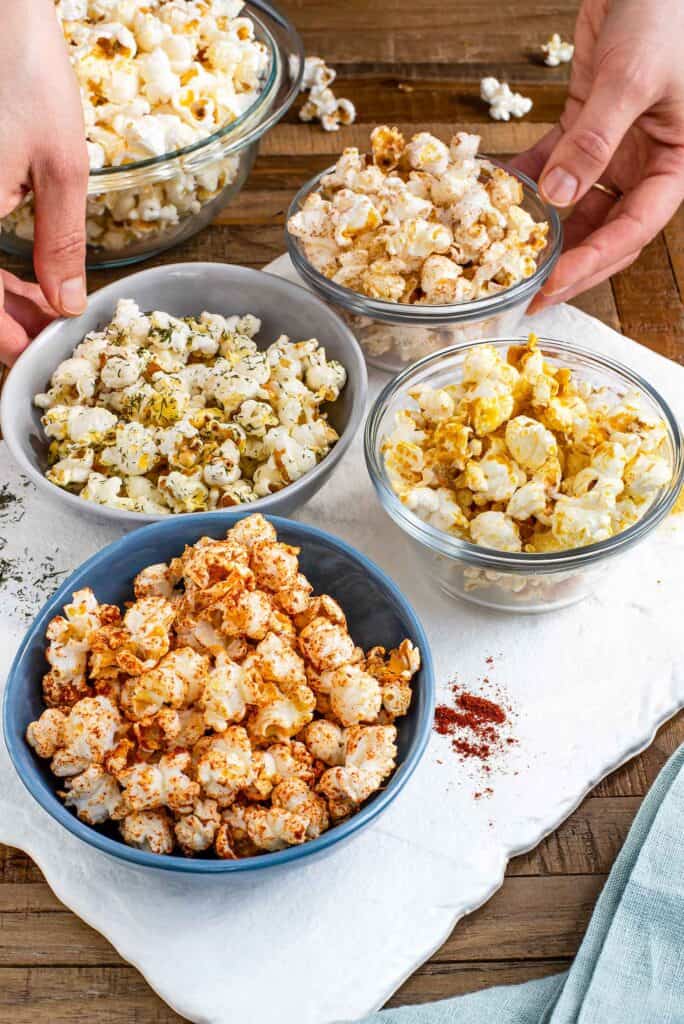 Sea Salt
Agave Nectar & Cinnamon
Peanut Butter & Almond
Maple Syrup & Coconut
Chili & Lime
Smoked Paprika & Salt
Peanut Butter & Almond
FAQ About "Is Microwave Popcorn Vegan?"
Is popcorn vegan?
It varies. Typically, if something is bland or unflavored, it is regarded as vegan; however, if it contains dairy products like cheese or real butter, it is not.  So, you need to make sure you check the box each time!
is Butterkist butter popcorn vegan?
Their website claims that all of their popcorn is suitable for vegetarians and vegans, and their microwave corn is as well.
But you also need to always check the nutrition list on their packs, though, as some of the products include extra milk.
Does microwave popcorn contain dairy?
One of those foods that can be a bit tricky to locate is dairy-free microwave corn. You will find real butter and milk products most of the time used in them to create the genuine buttery flavor made famous by movie theaters.
Is act 2 popcorn vegan?
ButterLOVERS (made of "natural non-dairy butter flavor) and kettle corn are the only two vegan options Act II provides.
Is coconut oil good for making popcorn?
The combination of coconut oil and popcorn is one of a kind. Although it is not the first thing that springs to mind, the subtle coconut flavor and salt are great! When you cook popcorn in oil, the oil conducts heat, assures the kernels pop, and prevents the kernels from burning.
Final Thoughts
There are lots and lots of vegan popcorn brands out there for you to try, so being vegan does not mean you have to sacrifice delicious popcorn.
There are many fantastic options for microwave popcorn and movie theater popcorn, you just need to be a little bit cautious and check to see if products are suitable for vegans.