Premium Choice
Noble Home And Chef Knife Bag
Best Overall
Aaron Estilo leather Adjustable Knife Roll Bag
Great Value
Chef Sac Knife Bag
What is the safest and most convenient way to store your expensive knife set in the kitchen? Exactly! a knife block. Okay, so what is the best way to store them outside your kitchen?!
That's what Knives Bags and knife rolls are made for. to help you safely store your precious culinary if you are always on the move!
Here we gathered the best knives bags on the market at the moment to help you pick up the best product from the comfort of your home.
List of 10 best knives bag 2023
Comparison table
| | | | | | |
| --- | --- | --- | --- | --- | --- |
| Product name | Dimensions | Item weight | material | Number of slots | |
| EVER PRIDE ultimate edge Chef knives Bag | 2.01 x 10.51 x 10.98 inches | 2.2 pounds | polyester | 20 slots | Check Price |
| Noble Home and Chef knife Bag | 0.98 x 7.95 x 19 inches | 1.35 Pounds | polyester | 10 slots | Check Price |
| Shun Knives Bag Roll | 0.5 x 18 x 19.5 inches | 0.03 Pound | Polyester and nylon | 8 slots | Check Price |
| Messermeister Heavy Duty Knife Bag | 6 x 1.5 x 20 inches | 1.1 Pounds | nylon | 8 slots | Check Price |
| Mercer Culinary KnifePack Plus | 12 x 18 x 24 inches | 1.74 pounds | nylon | Backpack | Check Price |
| Hernest Chef's Knife Roll Bag | 1.42 x 8.94 x 9.84 inches | 1.11 pounds | ceramic | 10 slots | Check Price |
| Hide and drink Handmade Leather knife Bag | 0.25 x 19 x 21 inches | 1.84 pounds | Leather and olive green | 8 slots | Check Price |
| Boldrick Leather knife Bag | 2.4 x 8.9 x 22 inches | 1.65 pounds | Leather | 8 slots | Check Price |
| Chef Sac knife Bag | 1.81 x 8.58 x17.28 inches | 1.19 pounds | polyester | 8+ slots | Check Price |
| Aaron Estilo leather Adjustable Knife Roll Bag | 1 x 19.7 x 29.5 inches | 4.8 pounds | leather | 10 slots | Check Price |
Best Knives Bags and Rolls
1-The Ultimate Edge 2001-EDB Deluxe Chef Knife Case-Professional Choice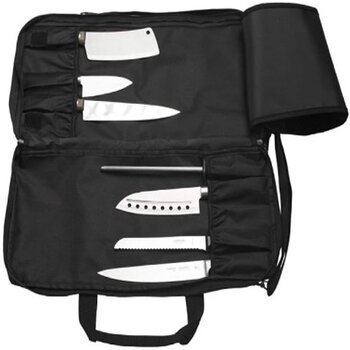 Everpride ultimate edge knife case features a practical and convenient design for professional chefs or culinary students.
These best knives bags are Entirely manufactured from durable and puncture-resistant 600D polyester fabric.
Catering professional chefs' needs with 3 large sections for 20 knives and other culinary utensils for extremely practical and easy to carry anywhere.
containing 2 separate storage compartments with slots for 20 knives chefs up to 20.5″ long and 1 zippered compartment for storing other tools with 3 heavy-duty inner zippers for all-time protection.
The travel-friendly design of this bag comes with a comfortable handle and adjustable shoulder strap. For more convenience with a padded inner organizer and they are super light weighted entirely when traveling.
Everpride edge kitchen knife bags come with a 30-day guarantee with a full refund.
Pros And Cons
Pros
Storage capacity
Sturdiness
Perfect for traveling
Cons
Does not hold the heavyweight
Little insubstantial.
Bottom line
The Everpride kitchen knife case is convenient and easy to carry anywhere. Accommodating extra storage capacity for holding all your kitchen tools in one place, keeping them as safe as possible.
it's a practical choice for culinary students rather than professional chefs.

Read more, Best Fruit Knives Review
2-Noble Home and Chef knife bag-Best Overall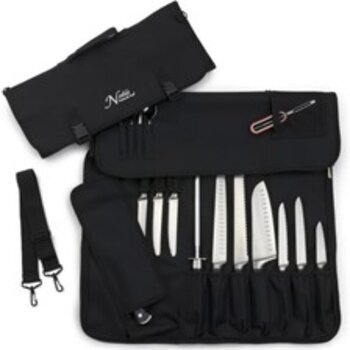 Noble 10 slots chef knife roll bag features a stylish and professional design that you need for extra protection of your knives when on the move.
Thanks to the 6oo denier canvas woven from sturdy and durable polyester this is one of the best knives bags.
Offering a cut and puncture-resistant fabric for your kitchen knife roll bag with a strong metal zipper.
Featuring a removable handle and adjustable shoulder strap with a sturdy leather buckle for more convenience when transporting your culinary tools.
The Noble roll chef bag holds up to 15 knives or culinary utensils.
Offering 10 slots for different kinds of blade knives up to 18″ long, a meat cleaver pouch with handle space, a scissors pocket, 4 slots for tasting spoons, and an additional slot for other tools.
Be careful that this bag cannot hold knives more extended than 17″ long or puncture the fabric, or their weight will break the leather buckle.
Pros And Cons
Pros
Adjustable buckles and straps
Durable fabric
Affordable
Cons
Holds up to 17″ long blades only
Bottom line
Noble chef bag is an ideal bag for chefs looking for their first culinary bag,. it comes at an affordable price and provides extra protection for their culinary utensils and knives.
3- Chef sac Chef Knife Roll Bag | 8+ Slots for Knives & Kitchen Tools -Best Quality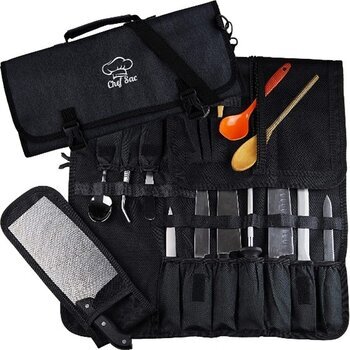 Chef sac 8+ pockets roll bag features the ultimate and discrete design suitable for professional chefs and culinary students.
With the courtesy of showing no knives, so no one knows the expensive knives you are carrying.
This best knives bags is Entirely made from durable polyester canvas with high-quality double stitching for maximum durability to WITHSTAND years of daily use.
This chef bag contains 8+ pocket slots that fit a meat cleaver, paring knife, chef's knife, santoku knife, utility knife, bread knife, boning knife, 3 more fixed blade knife pockets, and a honing rod in addition to 2 pockets with a zipper compartment for a sharpening stone, kitchenware, and tasting spoon. but still, Noble Home chef bag can hold more.
Offering this lightweight and strong bag for the convenience of carrying it with this comfortable and adjustable shoulder strap.
Unfortunately, the buckles do not hold up against most weight and will pop undone if too much pressure is applied.
Pros And Cons
Pros
Padded pockets
Durable strap
High-quality stitches
Cons
Does not fit long knives
Not for heavyweights
Bottom line
The chef pocket knife bag is the best roll for carrying your kitchen knives and tools. Perfected to be the best knives bags for professional chefs and culinary students with its convenience, efficiency, and well-made.
4- Aaron Estilo Leather Knife Roll Storage Bag, Elastic and Expandable 10 Pockets-Best Performance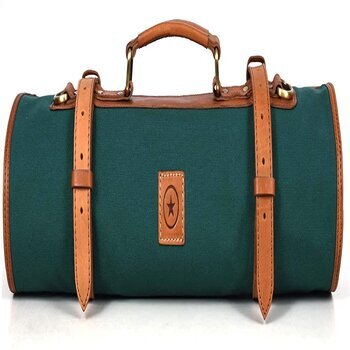 Aaron Estilo leather knife roll bag features a handcrafted design Suitable for professional executive chefs due to its durability and excellent knife holding capabilities.
Amazingly, crafted from a premium quality buff calf leather perfectly stitched for extra durability with 2 attractive ANTIQUE buckles to secure your knives. plus an elegant adjustable handle.
This bag roll contains 10 elastic and stretchable pocket slots to hold kitchen knives up to 18″ long. With a heavy-duty zipper pouch for extra kitchen accessories.
Yet, it is not water-resistant. So, make sure that the kitchen counter is dry when placing your leather roll bag.
Offering the best buying experience with Aaron leather goods. You get a 1-year warranty on the material and the craftsman of this product.
Pros And Cons
Pros
Handcrafted
Double stitching
Elastic and stretchable pockets
Bottom line
With Aaron leather knives bag, you will be surprised by the quality and durability of this leather knife roll. your most precious knife and most expensive Japanese knives will be safe from dents, scratches, and moisture.
5- Shun knife bag roll-Velcro Closures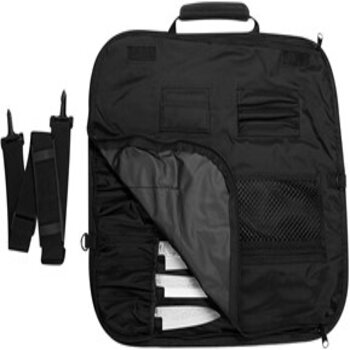 Shun 8-slot knife bag roll is an elegant and knife-friendly way to travel with your knives. Offering space up to eight knives in protected elastic pockets.
One of the best knives bags with A zippered canvass pocket inside, perfect for non-bladed kitchen tools.
The interior of this knife bag roll is designed with space for business cards.
The roll is crafted from PVC-laminated 600 deniers' plain-woven polyester with nylon straps. It is crafted with Velcro zippers and offers a padded handle. With D-rings to adjust the strap stamped with the shun logo.
Offering Velcro straps that are stiff enough to carry the bag closed.
Pros And Cons
Pros
Perfect storing for extra cutlery
Covered zippers
Excellent for traveling
Cons
Contains chemicals that cause birth defects
Poor strap quality
Tiny zippers
Zippers stuck in the pockets
Bottom line
This knife case is one of the best knives bags recommended for traveling chefs and cookery professionals.
6- Messermeister 8-Pocket Heavy Duty Nylon Padded Knife Roll-Easy to Clean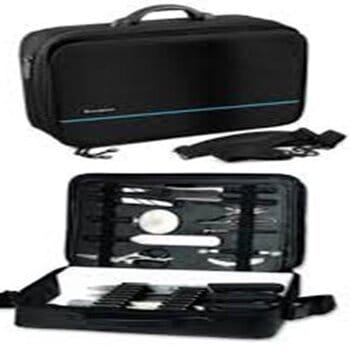 Messermeister 8 slots knife bag features the ultimate design for professional or personal chefs and culinary students.
Amazingly, this padded knife bag is manufactured from high-grade laminated, water-resistant 600-denier nylon. Offering a VAST collection of sizes and colors. With heavy-duty coil metal YKK and water-resistant zippers sealing the pack on three sides.
With eight padded elastic and bolstered pockets with full inside lining. Plus a foam core to the exteriors and a D-ring adjustable shoulder strap especially on both ends of the bag.
However, the pockets can hold knives up to 18″ long with extra 3 pockets for pens, one gigantic pocket for other tools, and four business cards pockets.
This knife bag offers a LIFETIME warranty. Due to the premium technology and high-quality materials. that may survive harsh operational conditions.
Preferably you need to use some knives guard to avoid the edges cutting through the bag's fabric and the scratches on your blades.
Pros And Cons
Pros
Lifetime guarantee
Durable
Easy clean
Cons
Needs knife guards
Too short for long knives
Bottom line
Messermeister knife case is the primary choice for professional chefs and culinary students. it offers a long-lasting industrial fabric to withstand any harsh working conditions.
7-Mercer Culinary KnifePack Plus-Backpack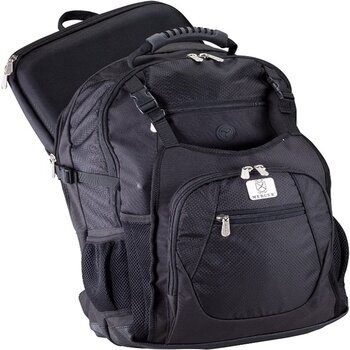 Mercer culinary knife bag features a practical and functional design. Suitable for culinary students and personal chefs for the convenience of moving around without worrying about your tools or belongings.
Amazingly, it is one of the best knives bags. Crafted from durable, cut, and puncture-resistant nylon fabric with a comfortable handle and padded shoulder straps.
WHAT MAKES IT PERFECT? It organizes your tools and gears in separate compartments.
Including a mini front pocket for business cards or a notepad, a padded laptop sleeve, a removable hard shell cutlery tool case, and a zippered pocket for pens.
Pros And Cons
Pros
Durable
Huge space capacity
Bottom line
The Mercer culinary knife bag is a multi-function backpack offering flexibility and durability. Whether you are a culinary student heading to a cooking class or a personal chef going to a client, this is one of the best bags for transporting your belongings as safely as possible.
Also read , Forged Knives vs. Stamped Knives: What's the Difference?
8- Hernest Chef's Knife Roll Bag, Waxed Canvas Knife Cutlery Carrier, Portable Chef Knife Cases-Travel Friendly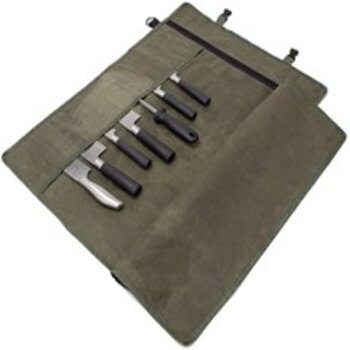 Hernest 10 slots knife roll bag features a convenient and functional design to carry your knives when going camping, working, or barbequing safely and safely.
This is one of the best knives bags Thanks to the cut and puncture-resistant ceramic fabric and waxed canvas.
With 2 durable buckles to secure your knives when rolling the bag to close TIGHT.
Offering the probability of holding 10 kitchen knives up to 18.8″ long with an extra zipper for other utensils like scissors, and a knife sharpener.
It would be best if you looked out for the stitches as with regular use they may start ripping off causing small holes in your roll.
Pros And Cons
Pros
Cut and puncture-resistant
Durable
Affordable
Bottom line
Hernestknife roll bag is rated as the best chef knife roll. its large capacity, lightweight, and affordable secured design tightly keep all your kitchen tools from falling out or any damages.
9- Hide and drink Handmade leather knife bag-Vintage Style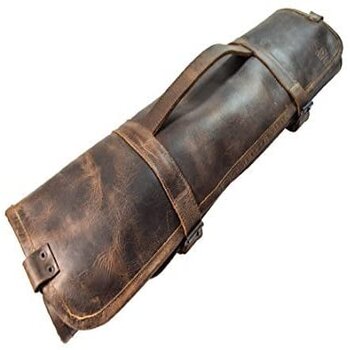 Hide and drink leather knife bags allow chefs to travel with their kitchen tools comfortably and conveniently
This is one of the best knives bags Crafted from the best full-grain leather with durable and water-resistant olive-green canvas pockets.
Providing space for up to 8 knives with different shapes and lengths.
The full-grain elegant leather appearance will improve with time and usage. Reinforced with this patina that makes it shinier.
The leather is stitched with durable and HEAVY DUTY features. that survive the harsh conditions in any kitchen, with an adjustable strap for easy carrying when on the move.
Pros And Cons
Pros
Elegant and classic look
Durable inside canvas
Affordable
Cons
Poor quality strap
Breakable buckles
Bottom line
The Hide and drink 8pocket knives bag is ideal for all ranking of chefs. From executive chefs to culinary students.
The Easy-rolling this heavy-duty buckle offers, protects your kitchen utensil from any damage.
Read more , How to Sharpen your Knives Without a Sharpener?
10- Boldrick Leather knife Bag-Thoughtful Gift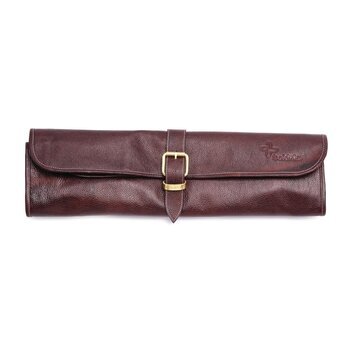 Boldrick single buckle knife bag is the perfect fit to travel with your kitchen tools in style. Offering the convenience of storing knives in a one buckle bag for a more travel-friendly design.
The durable buckles offer a firmer grip than slots. Ensuring a safer holding for the knives with minimal chance of falling.
Boldrick bags are durable and ideal for culinary students and professional chefs who want to transport their knives conveniently with cut and puncture-resistant materials.
The premium leather protects the knives. From moisture, nicks, and scratches when traveling or transporting. With an inside, durable woven canvas and fabric material.
Pros And Cons
Pros
Perfect quality leather
Durable canvas
Amazing space
Cons
No handles to carry
Poor Colour
Bottom line
Boldrick knives bag roll is ideal for personal chefs or culinary students. it is a beautiful heavy-duty buckle that holds everything in place.
Also check , What Are The Different Types of Kitchen knives and Their Uses?
FAQ about the Best Knives Bags
Why do chefs carry their own knives?
Most chefs agree on using their own knives, and other kitchen tools give them pride.
Using a blade that is not yours can be uncomfortable and inconvenient. It can be dangerous to use other chefs' knives.
As you do not know how sharp they are, and unsharpened knives can be unsafe causing.
Why do I need a knife roll?
You would wish to place all your knives within one bag, including the chef's knife, many paring knives, and other kitchen tools.
So, you recognize your blades, knowing which of them to put in your roll bag ought to be easy. Additionally, to knives, you would want to hold different things.
Appreciate peeler, honing steel, sharpies/pens, thermometers, and the other essential cooking tool.
What things to check before buying a knife bag roll?
Material: you want to get a bag crafted from sturdy and durable material. That can withstand the daily use of holding your knives with sharp edges. You also want a material that can protect your blades from the dirt of your kitchen.
Capacity: for more knives and tools, you need a larger capacity. It is inconvenient to get 7 slots to roll and expect it to hold more than 10 blades. The best knife roll should have space for each knife in its specific slot to keep them from scratching.
Easy to carry: A knife roll designed to ease taking your chef knives around. It should be with a durable handle and adjustable shoulder straps. Offering a comfortable way of bringing your kitchen tools to a workplace or culinary school.
Yet, some products feature a handle or shoulder strap. Make sure of the durable padded handle and comfortable straps.
Final verdict
The best overall knives bag is Noble knife bag roll. its durable, high-quality material quality will withstand daily use.
Suppose you are a haunting fan and need to carry on the kitchen tools and knives around. Then, the Aaron leather bag roll is the best choice to make.
For an affordable knife bag that withstands your journey of becoming a professional chef, Chef Knife Roll Bag | 8+ Slots for Knives & Kitchen Tools is a nice option.