Forged knives and stamped knives are two different types of knives. While they share a similar look, they also have very different characteristics. One knife will be more durable and last a lifetime, while the other is quick and easy to make.
You'll learn about the key differences between forged and stamped blades. You'll also discover the most critical things to test when determining which knife type to buy.
What Is a Forged Knife?
What Is a Stamped Knife?
What are the differences between forged and stamped knives?
Are Forged Knives Better Than Stamped Knives?
Are stamped knives suitable?
When it comes to the forged blade or stamped blade definition, you must note that they correspond to the blade's production technique.
Since the manufacturing process has a serious influence on the consistency of the finished product. In terms of weight, efficiency, sharpness, and edge retention.
What are forged knives?
The definition of forged knives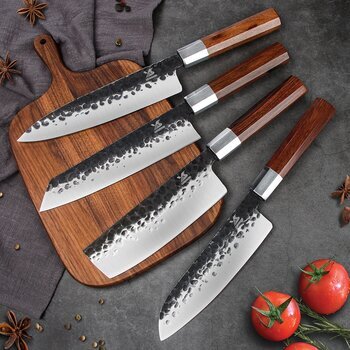 The first thing to understand is that forged knives begin with a high-carbon single piece of steel. That has been shaped into a kitchen knife shape.
This complex method requires the experience of a skilled knifemaker. With the most in-depth skills in that area.
Many new kitchen knife makers also handcraft their forged kitchen knife sets.
However, due to the strong demand for a high-quality knife with a forged blade. Large factories had to expand their output. By incorporating more advanced systems with manual supervision.
Keeping in mind that the forging method is massive, labor exhausting, and needs both technology expertise.
To make things more straightforward, the well-known Wusthof knife brand goes through 40 steps procedure. With a couple of superiority checkups to produce their forged bar of steel blades. While for the Zwilling JA Henckels stamped kitchen knife product lines only go through 14 steps procedures.
The forging procedure includes heat tempering at least a temperature of 2000°F, which results in a more flexible forged steel. That you can shape into the desired excellent option of a kitchen knife.
It's worth noting that forging knives used to be always done by hand. However, more modern machinery and mechanical assistance are now used in the entire modern forging. And the carbon steel heat tempering processes.
On the other side, several knife makers continue to use the hot drop-forging technique. Which relies on professional knife manufacturers' hands to turn the hot-forged piece of metal into the kitchen knife shaping. Rather than mechanical machines.
Whatever hammer forging technique is used, whether traditional or modern forging. The forged knife produced is much more robust and long-lasting than any stamped knife.
Since they make denser, heavier blades, they have excellent knife blade sharp edge retention. The most significant disadvantage that they're expensive options than most kinds of knives.
What are the main steps in the forging process?
For the knife mold, computer-aided modeling was used.
Steel bars that have been pre-cut and heated to exceptionally high temperatures.
forming red hot steel into the desired form
To set the strength of the steel blades, they must be tempered.
To offer a razor-sharp edge knife,it must be a hammer forging
Cleaning, polishing, and checking everything thoroughly.
Handle connection, as well as bolster and tang finishing
Final examination of the product lines and sharpening to a pre-determined angle.
What are the top different forged types of knives and types of kitchen tools?
What are stamped knives?
The definition of stamped knives
Essentially, a stamped kitchen knife is cut from a huge sheet of steel rather than a specific piece of high-carbon stainless steel. The laser cutting of the blade is identical to cutting a big dough with a cookie cutter.
It's worth noting that this cutting method allows for the rapid cutting of several blades at a lower production rate. As a result, a stamped knife is an affordable knife than forged knives.
One distinguishing characteristic of a stamped kitchen knife is that its thin blade is more adaptable.
What are the main steps in the stamping procedure?
A computer is programmed with the form of the kitchen knife shape.
Massive stainless steel sheets are placed under the laser cutter.
The stamped type of knife is carved from a sheet of metal.
Tempering is applied to the blades.
They are honed to improve their longevity and efficiency.
After sharpening, the blades are shaped and fixed to the handles.
Until launching knives for sale, the quality management team inspects and cleans each one.
What are the top different types of stamped kitchen tools?
3″ Paring Knife and Kitchen Scissors
What are the key differences between forged and stamped knives?
After explaining the meaning of forged and stamped knives, we will go through the key differences between both. Then, to make it easier for you to decide which is better from your point of view.
Blade construction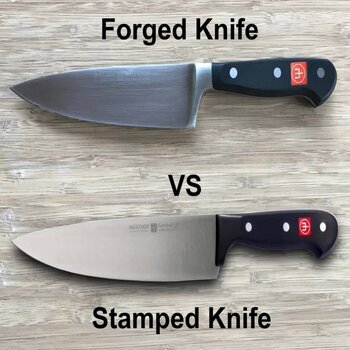 Forged knives have thicker blades than stamped knives. Since they are cut from a single block of high carbon steel blades. However, stamped blades are manually carved from a huge thin sheet of stainless steel.
It is worth recalling that forged knife blade comes in various thicknesses. That runs from the knife edge that becomes slimmer until it reaches the endcap, where the edge becomes denser.
The knife's densest section is between the handle endcap and the safety bolster.
In contrast to the stamped knife blade thickness, which is continuous from the edge of the blade to the endcap of the handle.
Keep in mind that the thickness of the forged knife increases its longevity. And accuracy by providing a more flexible blade and balance when cutting.
Aside from that, the forged knife blade makes cutting and slicing through the tougher food or raw fish. Even the rocking motion is used.
Safety bolster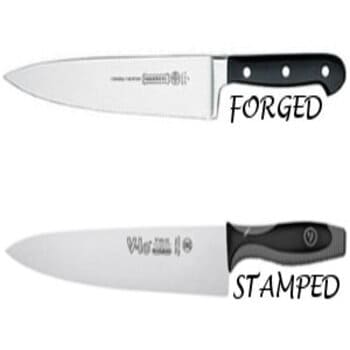 The steel part that attaches the blade to the handles is known as a bolster. This serves as a safety barrier, reducing the possibility of your hands sliding over the edge. And injuring your fingers.
In addition, adding to the knife's toughness also makes it a heavier knife and more dependable knife.
There are just a few categories of protective bolsters, full, half, or partial. The majority of german style knives of high-quality forged knives are crafted with either of these types of bolsters.
For example, the Wusthof classic ikon creme collection of knives and Japanese-style knives are designed with full bolsters. Those are thick and large, providing more security. While consuming a portion of the cutting edge.
Since the steel at the endcap of the handle is so thick, sharpening the whole blade edge would be difficult.
On the other side, Wusthof Ikon creme blades have half or partial-safety bolsters. Those are shorter and do not have the same level of protection. Nonetheless, they allow you to sharpen the blade tip quickly.
Finally, since stamped knives are the same thickness all the way through, they do not have a bolster.
Tang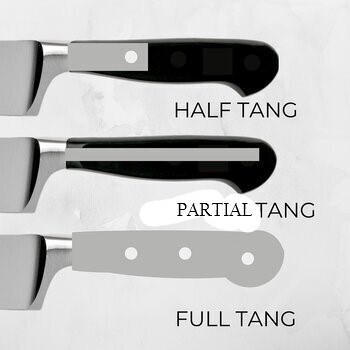 A fully tanged knife handle may be crafted on either stamped or forged knives. However, stamped knives do not usually have one.
The tang is the steel segment that runs through the knife handle until it reaches the endcap.
A full tang ensures that the stainless steel blade extends into the knife handle. While a half or partial tang means that the stainless steel stops in the center of the knife handle. And is protected with steel rivets.
It is significant to mention that the greater the tang, the more robust and stable the knife. That tang is what holds the blade connected to the handle for added protection and ease.
As we would expect from forged blades of a high-quality knife. They are all crafted with a full tang, while stamped knives are designed with a half tang.
Tangs have the disadvantage of adding weight to the knife. And being loose during repeated use. That is why some seasoned chefs choose stamped knives over forged knives.
However, the decision is dependent on the job at hand. Since the knife handle may be a little unbalanced with such cutting techniques.
Weight
Many aspects affect the additional weight of a forged knife, including the thickness of the blade, the material or tang of the handle, and the type of protective bolster.
Stamped knives have lighter weight since they are not equipped with a safety bolster and a half-tanged handle. Aside from that, they are carved from a sheet of stainless steel.
When you want to spend in luxury and versatility. Choosing the right weight for your knife creates a big difference.
A hard, sharp edge knife helps chop hard fruits. Such as pineapple. While a thin blade is more effective when preparing more fragile foods, such as onions.
Flexibility
In terms of adaptability and versatility, forged knives are stiffer and more controllable. As a result, they are ideal for slicing harder foods like carrots, breaking big pieces of beef, and mincing garlic or herbs in the kitchen.
Furthermore, they require simple sharpening, ideally with a whetstone. knife sharpeners
Compared to stamped blades, which are more adaptable and make for easier maneuverings when cooking delicate ingredients. As a result, they are a safer option if you like more lightweight blades.
Sharpness
Sharp edges are achievable for both forged and stamped blades.
Note that the tinier the angle, the more defined the blade's entire edge. Since the edge angle varies between 10 and 20 degrees on either side, the recommended range is 16 degrees.
The most refined edge of the blade knives is perfect for chopping fragile foods. But be cautious since they are more prone to chipping or breaking under the strain of extended hours of use.
It is worth remembering that the best durable. And dependable knives are sharpened at a 15-degree angle.
Because of the big, wedged blade construction. Forged knives are designed to endure the heavy-duty cuts of chopping. And slicing utilizing the rocking style motion.
On the other hand, the thin blade of lower-cost stamped knives is the best option for performing light weightiness tasks and significantly cutting precise like a carving knife and thin slices.
Edge retention
The significant distinction between forged and stamped knives is edge retention.
Knives that are often forged keep their edge retention much longer than stamped knives. Causing more frequent sharpening.
This is because forged blades are made using a tempering process. that produces strong blades that can keep their edge for longer than stamped blades.
Ease of Sharpening
Manual sharpening is better with forged knives. Since it is a rigid blade than stamped knives. Which are more challenging to sharpen manually. Because they can break or even break.
It does not vary whether the blade is forged or stamped with electrical knife sharpeners.
Price
Because of the complicated production processes used to produce them. Forged knives are significantly more costly than stamped knives.
Furthermore, since they are more robust and heavier. They use more alloy steel and raw materials, which are more expensive than most blades.
Aside from that, their price is influenced by their product brand names, the kind of steel used, and the location.
Now that you've learned the main distinctions between forged and stamped knives. It's time to determine which is best for your kitchen.
Are Forged Knives Better Than Stamped Knives?
Manufacturing procedures: Forging a knife usually requires more time and processes. Stamped knives are less expensive to mass manufacture.
Construction: Stamped blades are made up of a thin blade and a knife handle. Forged knives have heavier high carbon stainless steel stronger blade, a bolster, and are often full-tang knife handle. Many of these aspects add to the knife's balance and longevity.
Weight: Knives that have been forged are thicker than those that have been stamped. The extra weight is beneficial in durability and functionality. But it may be inconvenient when preparing a large amount of food.
Flexibility: Forged knives are not prone to bending, which enhances their longevity. However, if you have complicated knife operations, such as 
deboninglarger fish, a little flexibility helps. Stamped knives are much more flexible.
Edge retention and sharpness: Both forged and stamped knives have a pretty sharp edge. But forged knives retain their sharp edge blade for a longer time.
Sharpening: Both are simple to sharpen by using an electric sharpener. If you're sharpening by hand, go for forged.
Price: Knives that have been forged are usually 
more costly than knives that have been stamped.
Are stamped knives good?
There is a widespread misunderstanding that a stamped knife is not a high-quality knife. Although this is not necessarily the case, they have come a long way in terms of technology.
Stamped knives, for example, from brands like Global, Henckel, Wusthof (Gourmet collection). And Misen is a high-quality german knife brand, robust. And work. If not better, than many forged knives.
Many of the stamped knives are top-rated among highly experienced chefs. So, without further ado, due to their low cost and lightweight construction.
since the Victorinox fibrox is the most widely used knife amongst professional chefs.