Yes, a traditional honing rod and whetstone can repair your dull blade but will take a lot of time and effort. That's why you should get a functional electric knives sharpener, and take your kitchen knife sharpening process to a whole new level.
Electric knives vary in stages, types, prices, and many more factors, which makes the process of buying a new electric knife sharpener not a super easy thing.
So in this handy article, we will tell you the main things you need to consider before buying a new electric knife sharpener, to make sure you buy the best electric knives Sharpener on the market.
How do I Choose an Electric Knife Sharpener?
There are some factors you should take into consideration when buying an electric knife sharpener, including:
Consideration #1. Safety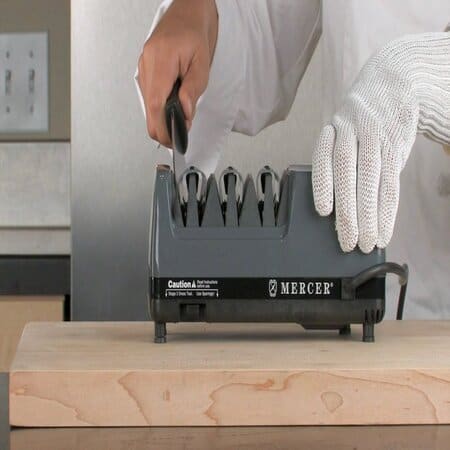 Knives carry safety risks so do the electric knives sharpener machines. So make sure you buy the sharpener machine that has a strategically positioned guard feature, to protect your fingers from getting scratched or hurt
Actually, it is recommended to wear cut-resistant gloves while using.
Consideration #2. Slots and Sharpening Stages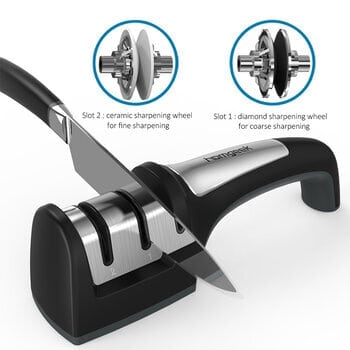 A sharpener machine that has multiple slots and sharpening stages offers more flexibility and versatility than the one that has fewer slots, why?
Because more than one sharpening stage will sharpen your dull blade perfectly. and increase its lifespan, while the multiple sharpening slots will efficiently remove your kitchen knife blade burrs.
Read more , The Best Ceramic Folding Knife /Pocket Knife Review
Consideration #3. Sharpening Wheel Material
What makes your sharpening machine effective is the sharpening wheel it is made from. some are made of ceramic, stones, metals, diamonds, abrasive belts, or steel
What is the function of sharpening wheels?
They refine the bevel at the knife's edge of the blade by grinding away the dull material and polishing its blade edge.
All in all, diamond abrasive is the best tool material for sharpening machines.
Consideration #4. Ease of Maintenance
Another factor you need to keep an eye on is to make sure you buy the best electric knives sharpener on the market is the ease of cleaning and maintenance.
Your dull knife leaves behind metals, and you need a sharpener machine that offers easy disposal of them
Modern electric sharpener machines are easy to maintain, as they are usually made of high-grade plastic or stainless steel, making it easy to clean them with a damp cloth only.
About the motor? Don't even worry. it usually needs no special maintenance in case you don't keep it operating a long time nonstop.
Consideration #5. Budget
Before searching for the Sharpener to bring your damaged knives back to life, you need to set yourself a budget and choose the tool that meets your needs only.
Consideration #6. Size
You don't need your knife's sharpener fixed and ruining your countertop space, right? So you should get the sharpening machine that suits your free standing kitchen cabinet and space.
Also check, Best High-End Kitchen Knife Sets
Consideration #7. Versatility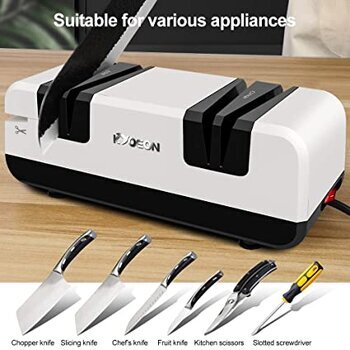 Keep in mind that some electric knives sharpeners are not designed to work with all types of blades. some are designed to only work with specialized knives.
So you have to pick the electric Sharpener that works with most of the damaged knives you have. which means if you have serrated blades, you shouldn't go buy a machine that works only with straight knives.
Consideration #8. Angle Guides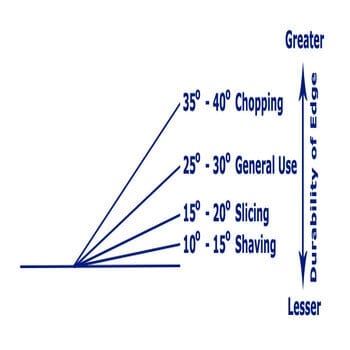 Angle guides (also known as the controlled-angle system or sharpening guide) are such an important element in directing your knife's blade to the sharpening wheel at the right sharpening angle.
The sharpening angle at which the knife's blade meets the grinding wheel is so sensitive. as the wrong angles can damage your blade.
So we recommend buying an electric knives sharpener with a sharpening guide. to make sure you get a perfectly angled sharpening for the perfect bevel possible.
Check also, Best Oil For Cutting Boards |Buyer's Guide
Consideration #9. Time
Okay, we know that most electric knife sharpeners on the market can get the job done. but let me tell you that there are electric sharpeners that can get the job done much quicker than the others.
Yes! Some electric sharpeners can give you a razor sharp edge within seconds. So if the sharpening process is a boring thing to you then, you should get a fast electric knife sharpener.
Consideration #10. What Are You Going To Be Sharpening?
One of the most important things to consider when buying an electric knife sharpener or even a manual knife sharpener is what are you going to sharpen. so before getting your electric Sharpener, try to take a look at your kitchen knife sets.
Now according to the following factors, decide the electric Sharpener you need.
1. Edge angle
What does the edge angle mean? It is the measured angle from an imaginary vertical line on the knife, to the edge of the knife.
European knives and American knives are usually 20-degree edge angles on both sides, while Japanese knives are 15-degree angles. (If you can't find out your knife sharpening angle, you can check the website of its brand or contact the manufacturer)
And since not every electric knife sharpener can give your Asian knives or European knives a safe sharpening process, then you have to keep an eye on that critical factor.
Read more, 5 Best Knives' Oil and Lubricant Review
2. The knife type
Determine the type of your blunt knife, whether it is a serrated blade (serrated knife), non serrated knife, hunting knife, pocket knife, or even ceramic knife.
And if you have so many types then decide according to the majority of them.
3. Will you sharpen tools?
Not only your expensive knife needs to be sharpened, but your kitchen scissors and cleavers also do, so take this into consideration, and there are lots of electric knife sharpeners that work efficiently as a tool sharpener.
Do you really need an electric knife sharpener?
The electric sharpener can pretty much sharpen any kitchen knife or blade. Starting from a chef's knife, a hunting knife, or a garden tool sharpener.
The high precision and strength are capable of shaving the most rigid steel quicker.
So, the question to ask do you really need an electric knife sharpener?
Since, you may prefer to use a simpler manual knife sharpener, honing steel, or a whetstone. The answer depends on your personal preferences and your budget.
How long do electric sharpeners last?
High-quality electric sharpeners with a diamond abrasive can last for more than 20 years.
While a low-quality sharpener featuring several materials can last from 3 to 6 months.
Check our list of the best bread slicers.
Manual knife sharpener Vs. Electric knife sharpener
Okay most of us already have a honing rod or a whetstone at our kitchens. but at some point, we need to take our sharpening process to the next level.
Electric knife sharpeners and manual knife sharpeners both have pros and cons. so the point is you should choose what suits your blades and your needs.
Manual knife sharpeners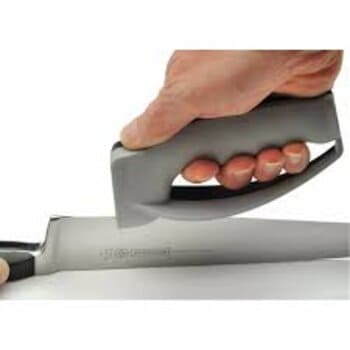 Manual knife sharpeners often are affordable or cheap. they do not need a power source. and since they are not automatic knife sharpeners, then they offer better control if only you knew how to use them correctly.
Manual knife sharpeners are always compact and lightweight, which makes it super easy for you to store them and use them in any outdoor knife sharpening process.
We can say that manual sharpeners will be great for quick touch-ups between full sharpening with electric sharpeners. (check our list of the best manual sharpeners on the market)
The real drawback is that most manual knife sharpener usually does not work on serrated knives. (want to know how to sharpen your serrated knives?)
Electric knife sharpeners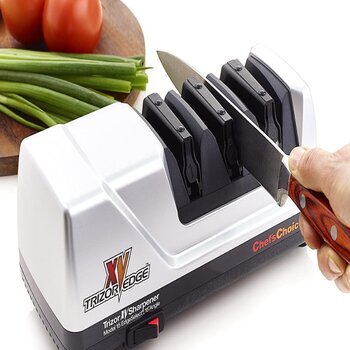 Electric sharpeners are much easier to use and so much faster than manual knife sharpeners. there are some electric sharpeners that can give you a razor sharp knife blade in record time.
And you will love the fact that there are electric knife sharpeners that provide pre-set angle guides. to make you just set your precious knife in the guide and effortlessly slide it through.
They offer various efficient sharpening options for the variety of your kitchen knives blades. (check the best electric knife sharpeners on the market right now)
The drawback is they are expensive, always need a power source. which makes them not suitable for outdoor activities. And lastly, most of them are bulky and hard to store.
Check also, 10 Best Oil For Cutting Boards 2022 |Buyer's Guide
Final thoughts
An electric knives sharpener has to be your best friend for maintaining your kitchen knives and keeping them always razor-sharp. as taking good care of your kitchen blades will definitely increase their longevity and make them stay longer in your service.
In that handy guide, we discussed the most important things to consider when buying an electric knife sharpener.
So after reading it carefully, we expect you to be able to buy the best electric knives Sharpener on the market.