Great Value
Thirteen Chefs Food Safe Honing Oil
Premium Choice
Liberty Synthetic Oil
Best Overall
Yoshihiro TSOIL Maintenance Oil
After years of continuous use, you will notice that your folding knife started to show rust, corrosion, and discoloration that's only if you are lucky! if you aren't, you will find it so hard to open and close the blade.
Here comes the role of the oil for folding knives! It helps to remove rust, smoothens the surface, and fixes the locking mechanism.
Here are the best folding knives oils on the market right now. read carefully and pick up the product that suits your knives and budget.
List of 12 Best Oil for Folding Knives 2023
Comparison Table
| Model | Brand | Weight | Size | |
| --- | --- | --- | --- | --- |
| 1-Yoshihiro Tsoil Tsubaki Japanese Knife Maintenance Oil | Yoshihiro | 3.52 ounces | 1.5 x 1.5 x 6 inches | Check Price |
| 2-Kurobara Tsubaki Japanese Knife Maintenance Oil | KUROBARA HAMONO TSUBAKI | 6.2 ounces | 7.95 x 2.05 x 2.05 inches | Check Price |
| 3-UltraPro Food Grade Mineral Oil | UltraSource | 7.40 pounds | Height: 13.0 inches Length: 6.0 inches | Check Price |
| 4-Thirteen Chefs Knife and Honing Oil | Thirteen Chefs | 12.3 ounces | 4 x 2 x 7 inches | Check Price |
| 5-Daiwa Reel Oiler 64110100 with Needle Dispenser Knife Oil | Daiwa | 0.8 ounces | 8 x 4 x 1 inches | Check Price |
| 6-Citadel Black Natural Food Grade Knife and Blade Maintenance Oil | Citadel Black | 7 ounces | 5.51 x 2.2 x 1.5 inches | Check Price |
| 7-Sentry Solutions TUF Glide Inhibitor Knife Oil | Sentry Solutions | 0.8 ounces | 3 x 1 x 6 inches | Check Price |
| 8-Quick Release Oil Precision Oiler | Quick Release Oil | 2.2 ounces | not mentioned | Check Price |
| 9- Liberty Synthetic Oil | Liberty Oil | 3.98 ounces | 6.7 x 2.4 x 2.3 inches | Check Price |
| 10-Liquid Bearings Synthetic Oil | Liquid Bearings | 1 oz /2 oz bottle | not mentioned | Check Price |
| 11-Nano Oil-Nanolube Anti Friction | NanoLube | 8 ounces | 6.25 x 2 x 2 inches | Check Price |
| 12-KPL Knife Pivot Lube Knife Oil | Knife Pivot Lube | 0.634 ounces | 3.62 x 2.83 x 0.79 inches | Check Price |
Best Oil for Folding Knives
1- Yoshihiro Tsoil 100% Tsubaki Japanese Knife Maintenance Oil -Best Overall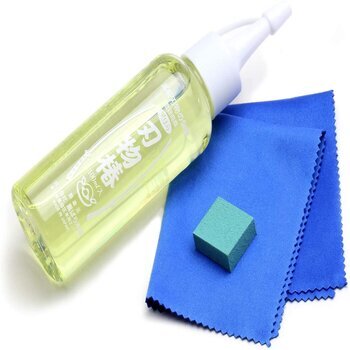 For those who own Japanese knives, this Japanese Knife Maintenance Oil is the best choice they can make. it comes in a set that includes a cloth to help you apply your oil. and a Sabitori rust eraser, which is essential for eliminating rust and preventing discoloration.
Camelia Oil
What sets this product apart is camelia oil, which is one of the best oils for knives. You can safely use this food-grade oil on your kitchen blade. with no worries of any possible poisoning.
Glue-like Material
I like this lubricant because it is made of a glue-like material, which makes it last longer on your knife-sharp edge.
The bottle can last for months as it comes with a 3.4-ounce oil.
Pros and Cons
Pros
Applicable for kitchen knives
A set of 3 elements
Prevent corrosion
Do we recommend Yoshihiro Tsoil maintenance oil?
Yes! we definitely do recommend it. it provides you with a complete set for lubricating your Japanese knives.
Read more, 5 Best Knives' Oil and Lubricant Review
2- Thirteen Chefs Knife and Honing Oil 12OZ -Great Value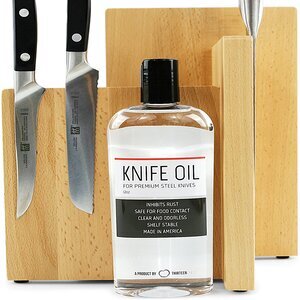 Low price is the defining point of Thirteen Chefs oil. It is so much cheaper than Yoshihiro oil.
Experts certified this oil as a food-grade one that has neither smell nor taste. Therefore, it is food-safe oil. That's why it is the best option for Allergic people. as they can safely use this gluten-free oil.
13-ounce Bottle
You can use this 13-ounce bottle for a high carbon steel knife, and all other different kinds and shapes of steel. And if you have a Japanese knife set, this oil will get the job done perfectly.
All you have to do is use the oil on the targeted object. it is a rust inhibitor that will prevent water and humidity from interacting with the knife.
Multi-purpose
This multi-purpose oil can be applied to more than just a folding knife. You can use this bottle for your locking mechanism, pocket clip, sharpening tool, grinder, and axes.
Lastly, thirteen chefs' oil will protect your knife blade from rusting and corrosion, which will add more life to your knife handle.
Pros And Cons
Pros
Gluten-free
Odorless
Low-price
Multi-purpose
Can be applied to carbon steel
Food safe
Cons
Excellent for steel blades
But it does dry out wooden handles
The lids don't stay on very tight
What makes Thirteen chefs oil so special?
This oil comes at a low price. and is a safe selection for those who are allergic to these kinds of oil.
3- Liberty Oil, 1oz Bottle of 100% Synthetic Oil -Premium Choice
Liberty Synthetic Oil protects your knives Without evaporating. it comes in a 4oz bottle, which is filled with 100% synthetic lubricant.
The manufacturer offers you a 1.5-inch pharmaceutical-grade applicator, which is made from 18-gauge stainless steel.
Multi-purpose
Unlike Thirteen Chefs oil that is made for knives and blades only, this oil is applicable for plastics and painted surfaces. Therefore, homeowners can apply this oil to many applications.
Pros And Cons
Pros
High grade and high-performance lube oil
Provides good protection
Good Quality knife oil
The application needle keeps coming out
Cons
A lot darker than shown on pictures
My Take…
Liberty Oil is a high-grade and high-performance lube oil that will take your folding knife's functionality to the next level.
Read more , The Best Ceramic Folding Knife
4- Kurobara 100% Tsubaki Japanese Knife Maintenance Oil -Authentic Japanese Quality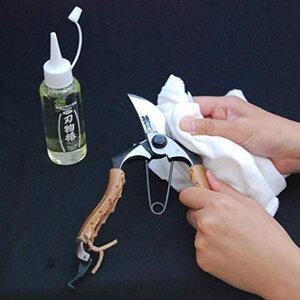 The Kurobara knife oil's defining point is that it comes in two different sizes, 3.5oz, and 8.6oz. the bigger size bottle comes with a spray nozzle. making it faster and easier to be applied.
Just keep in mind that the lubricant is collected in Japan. However, the manufacturer provides complete English instruction on the bottle itself.
You can apply and use This lubricant to any metal area of your knife, including locking mechanism, screws, and grip.
Unlike Liberty Oil, this product is unscented, so it is a good option for those with allergies.
Pros And Cons
Pros
Spray cap for more comfortable use
Two different sizes
Unscented
Perfect for allergic people
Cons
Expensive for the features
My Take…
Kurobara oil is one of the best and most affordable oils in the market now. So if you are looking for an unscented oil that will protect, consider this product.
5- UltraPro Food Grade Mineral Oil -NSF Approved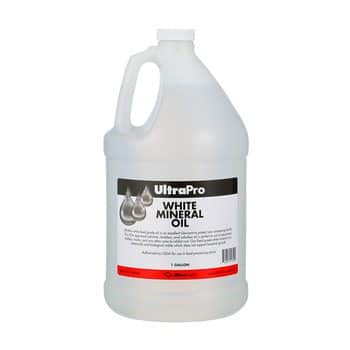 UltraPro oil works for many materials as you can apply it on stainless steel and wood. if you use this 4-ounces oil on stainless knives, you will have anti-rust blades.
Just a few drops of this oil will lubricate the moving parts, such as the liner lock of your folding knives.
This multi-purpose lubricant is not only applicable for knives but also for all stainless-Steel gadgets. As for the wooden knife handles, applying this oil will protect and preserve your gadgets.
For easy usage, the product comes in a dropper bottle to make it say for you to reach between the locking mechanism.
You will be glad to hear that this product has no taste and color and is USDA approved.
Pros And Cons
Pros
Tasteless
Can be applied easily
Clean stainless-steel surfaces
Clean and maintain knives
Food safe
Cons
Thinner than other mineral oils
My Take…
UltraPro mineral oil will clean and maintain your knife-edge without any harm to your health.
Check also, Best Electric Bread Slicer
6- Daiwa 64110100 Reel Oiler with Needle Dispenser Knife Oil -Multi Purpose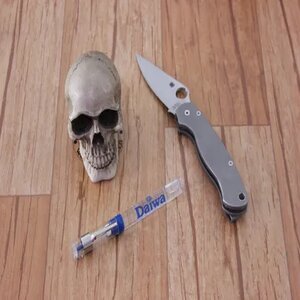 The long thin needle is the defining point of Daiwa oil. It is much easier to use and apply than the UltraPro product.
Apply drops of this oil, and the magic will happen in just a few seconds. You will be able to move the liner lock of your folding knife just as easy as before
This multi-purpose product can be applied as gun oil on a sharpening stone and many other tools.
I like the thin needle because you can use it quickly in the far-reaching areas of your tools.
Another great feature of this magical bottle is that it will allow you to apply an adequate amount of oil, saving the oil for a long time.
Crystal Clear Bottle
The bottle is crystal clear, so you can find out quickly how much is left from the oil. This feature can be an alarm for you. So, you can buy a new one at the right time.
Pros and Cons
Pros
Clear bottle
Thin needle
Light tool
My Take…
Daiwa reel knife oil is ideal for those working outdoors, as it is lightweight and easy to carry around.
7- 100% Natural Food Grade Knife and Blade Maintenance Oil, 1.69oz by Citadel Black -Odorless
The combination of oil materials is what really distinguishes Citadel Black. As the bottle is filled with both white mineral oil and cold-pressed Tsubaki oil.
This combination is safe to be applied to all your kitchen tools. And you can apply it to various materials.
Only a few drops of this oil will keep your knives away from any rust or corrosion.
Odorless Oil
You will love to know that this is an odorless oil that will not stiffen, especially on your knife handle.
Pipette Style Dropper
For a comfortable oiling process, the dropper is designed in a pipette style. But still, Daiwa Reel is much easier to use than it.
Pros And Cons
Pros
Pipette-style dropper
Odorless
Doesn't stiffen
Cons
Overpriced
Might get an empty bottle
My Take…
Citadel black oil offers you a pipette-style dropper. making oiling your knives such an effortless task.
8- Sentry Solutions Tuf-Glide Needle Applicator 0.5 OZ -Needle Applicator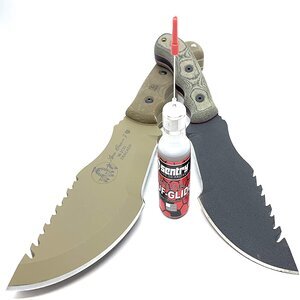 Without further ado, Sentry Solutions TUF Glide comes to rescue your knives. it will definitely get the job done quickly and easily.
Two Applicator Types
Unlike Citadel Black oil that's available in one model, this one comes with two applicator types: a knife oil needle applicator and a pen applicator.
The knife oil needle applicator is perfect with small parts. while the pen applicator works better with bigger knives, your sharpening stone, and any other sharpening tool.
you can use this Glide to clean a folding hunting knife or even a pocket knife. Just a few drops will lubricate the tool. and eliminate the rust and corrosion of your knife blade.
Pros And Cons
Pros
Two shapes
Reduces rust and corrosion
Perfect for folding and pocket knives
Cons
Smells terrible
The liquid is very thin
My Ta
Sentry Solutions Tuf glide inhibitor knife oil offers you a material that eliminates rust and corrosion. However, it has a bad odor.
Read also , What Is The Best Natural Oil For Wood Cutting Boards?
9- Quick Release Oil Refillable 1/4 oz. Precision Oiler -Friction Minimizer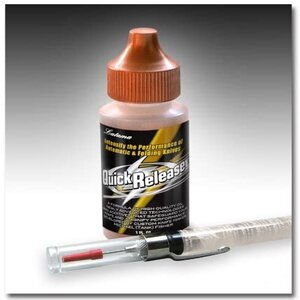 Quick Release does not only lubricate folding knives. but it also lubricates bicycle gears, tools, sharpening stones, and even your gun oil.
This synthetic oil is specially bottled to create a protective self-renewing surface, that minimizes friction.
Just like Sentry Solutions, the oil comes with a needle that easily gets into the small parts. giving great results, especially for the moving parts.
You still have the chance to choose droplets to wipe along the edges of the knives. However, this droplet is not applicable for your kitchen knife block or onto specific points that need lubrication.
Pros And Cons
Pros
Extracts any dirt and moisture
Needle applicator
Minimizing friction tool
Cons
Thick oil
Hard to wipe clean off
My Take…
Quick Release will extract any dirt and moisture out of your tools. and will give you a clean self-renewing surface. so if you are looking for a single product to use for various tools, look no further than this product.
10-Liquid Bearings Synthetic Oil-Corrosion Resistant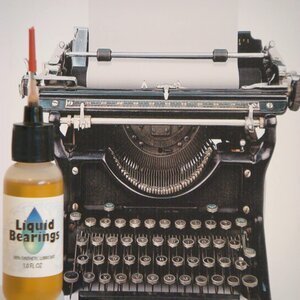 Synthetic oil is always a better choice than organic oils for preventing dust and dirt from sticking to any surface.
This oil is intended to eliminate dust and any Petro-oils that you have applied to your knife previously.
it is superior in terms of corrosion prevention because it treats the damage of your hunting knife moving parts.
Plastic Safe
You can use it on any knife and many other metal tools. It is also plastic safe, allowing you to use it on any plastic or painted surface.
Two-needle Applicators
You will love to know that this product offers you two-needle applicators. One inch needle and 1.5-inches one.
The only drawback is that Liquid Bearings oil is so expensive.
Pros And Cons
Pros
Two-needle applicators
100% Synthetic oil
Eliminates any previous greasy materials
Cons
Expensive than similar items
My Take…
Liquid Bearings oil is one of the best oiling products you can come across in the market. it will prevent any rust, corrosion, or discoloration on your tools.
11- Nano-Oil – NanoLube Anti Friction Concentrate 10 weight -Moisture Barrier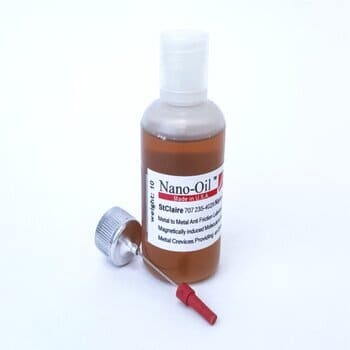 This innovative nano oil creates a protective layer that reduces the rust on your blade and raises its lifespan.
If you can't open the handle of your folding knife as smoothly as before, this product will really help you.
You will be glad to know that this oil is that it comes with a stainless-steel needle applicator. So, you can apply it in small rusty spots of your knife with absolute ease.
Also, using this oil will not dismantle your wooden knife handle, thanks to the needle dropper.
Pros And Cons
Pros
A good layer of protection
Reduces a lot the problem of wear and tear
Reduces rust and corrosion
Cons
Make bearings go out faster Oiler pen falls apart
My Take…
Nano-oil will create a protective layer on your knife. and will make it as smooth and shiny as when you first received it.
Read more , Best Oil For Cutting Boards
12-KPL Knife Pivot Lube Knife Oil-Exceptional Properties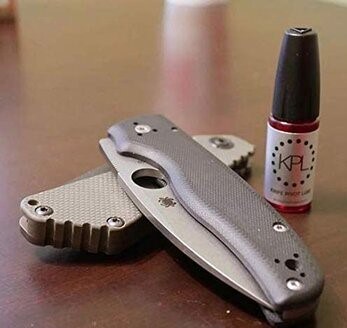 KPL has the finest lubricants for traditional pocket knives on the market. Making it ideal for those who have classic or traditional pocket knives.
Synthetic Component
This lubricant has a synthetic component. that prevents pocket lint and grit from causing early wear on your blades. In addition, this oil cleans your pivot screw while you are using it.
What sets this product apart is the two varieties it offers. KPL Original and KPL Heavy take care of various parts of your knives. the first form is ideal for your pivot screw, while the second is best for your pocket lint.
Pivot knife lubricants are smaller in size than standard knife lubes. because you only need a few drops to get the job done, keeping your folding knives are lubricated for a month.
But heavy-rotation kitchen knives require lubricating every week.
In fact, KPL Knife Oil is not just good for cleaning and maintaining your knife. but it is also excellent for smoothing it.
Unilke Nano-Oil that comes in a medium-sized bottle, this lubricant comes in a tiny, compact container for easy handling. Be cautious while handling it as if it is squeezed too hard, it may explode.
To sum it up, this oil is meant to be used on the locking mechanism, bearings, and blades. It prevents rusting, pitting, galling, and ordinary wear, and tear.
Pros And Cons
Pros
The applicator needle ensures that you do not pour too much oil at once.
This product is food safe, making it an excellent alternative for those who use their knives and knife block in the kitchen.
The oil has a pleasant scent, so your blades will smell great once they have been lubricated.
Ideal for folding knives.
Inexpensive
Increases knife durability.
Reduces corrosion and wear.
Cons
The tip of the applicator needle get clogged sometimes.
My Take…
Your folding knives will unfold quicker and more effectively after using KPL Knife oil. So if you want extraordinary smoothness to your folding knife. This oil is a must-have!
FAQs about Best Oil for Folding Knives
Why Would You buy a lubricating oil for folding knives?
Lubricating your knife is just as important as sharpening it. This oil works as a rust inhibitor and keeps your knives, sharpening tool, and different tools away from corrosion and rust.
Cleaning your knives with oil will preserve your blade's sharp edge from any damaging materials.
Damaging materials can be damp, acids, or other substances. These substances can damage your knife ultimately.
How often should you lubricate your folding knife?
You should lubricate the blade and the pivot joints every 2-3 months. This will prevent the knife from rusting. Also, it is always dependent on the condition and quality of the knife care.
After cleaning, apply a tiny quantity of lubrication to the knife's mechanical parts, especially the pivot screw points if it is a folding knife.
Then lubricate the blade's entire surface with a thin layer of oil
Do you have to oil your carbon steel knife every time you use it?
Simply no if it is a kitchen knife. Just wash it with dish soap and dry it after every use. Never leave the carbon steel knife in the sink.
However, if it is a pocket knife, you would rather oil it more often, especially the knife joints. I wash with dish soap and dry mine right after I use them if they are kitchen knives.
Which is better the thin or thick lubricating knife oil?
Thicker oil is much better for your knives and other small tools than a thin one. Thicker oil will lubricate better and ever creates a better protective layer for your tools.
As a result, you will be capable of moving it smoothly. It is always better knife care to use a good brand of knife oils.
What Oil Should I Use on Wooden Handle?
Mineral oil
It will preserve both kinds of stabilized and non-stabilized wooden handles and maintain them appearing and feeling fresh for a longer time.
Danish natural oil
The effectiveness of Danish oil knife lubricant on woodworkers has been acknowledged for many years. This Tung oil-based combination penetrates the wooden handle thoroughly.
It is critical to wipe the handle with a clean piece of cloth after applying the knife lubricant and letting it dry. That is how the natural structure of the wood is best shown, but more importantly, the excess Danish oil must be removed.
Linseed oil
It is a type of vegetable oil that functions similarly to Danish oil knife lubricant. First, spread a thin coating, let it dry, and then scrub it to remove any extra oil.
It is crucial not to let the blade dry out! After all, it may stick to the top like glue, which you do not want.
Final verdict
If you have a low budget and looking for an affordable lubricating oil, go with Thirteen Chefs Knife and Honing Oil. It will give you great results at a low price.
If you want an oil applicator with more than one size option, consider our premium choice Liberty Synthetic Oil, It comes with two different needles to perfectly meet your needs.
And the best overall product in our list of "Best Oil for Folding Knives" is Yoshihiro Tsoil Tsubaki Japanese Knife Maintenance Oil. it comes with a cloth and a Sabitori rust eraser to take your oiling process to the next level.