Best overall
KitchenIQ 50009 Edge Grip 2 Stage Knife Sharpener
Best performance
PriorityChef Knife Sharpener
Best Quality
Wüsthof – 2 Stage Hand-Held Sharpener
Did you buy an expensive knife set that got dull, and you don't want to spend more money on buying an expensive electric knife sharpener? Then a manual knife sharpener is the best choice you can make.
Manual sharpeners vary in materials, stages, durability, sizes, and prices. So read the following lines carefully to pick up the sharpener that meets your needs.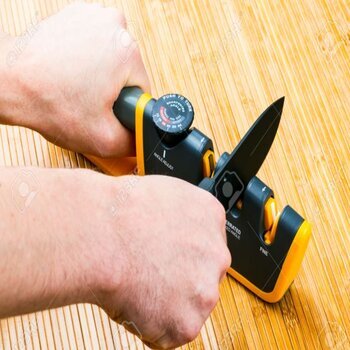 List of 9 Best Manual Knife Sharpeners 2023
Best Manual Knife Sharpener

KitchenIQ 0009 Knife Sharpener is absolutely the best manual knife sharpener, and that's for a good reason!
Deliver a razor-sharp edge to your dull knives or damaged knives with the help of the two amazing sharpening options this manual knife sharpener offers.
The first option is the coarse setting, which has carbide blades that quickly and efficiently set your knife's edge.
The second option is the fine setting, and it has incredibly efficient ceramic rods that hone and polish your just-sharpened blades and give quick touch-ups to keep your blades always ready to serve you.
For complete control and stability, this manual knife sharpener features a non-slip base and a soft grip rubber ergonomic handle to keep the tool in place while using it and make the sharpening process so comfortable.
You can sharpen your dull knives at the edge of your countertop, and credits go to the patented edge grip that will let you sharpen. preventing the tip of your larger blades from dragging over your countertop's surface.
You will adore the small size of this kitchen knife sharpener that literally fits your palm. you will find it super easy to store it in your drawer; in other words, if compact knife sharpeners are your cup of tea, then KitchenIQ 0009 Knife Sharpener is perfect for you.
It is time to sharpen and bring your straight edge double-beveled European knives and American knives back to life!
Pros
Patented edge grip
Compact for easy storage
Suitable for straight blades and serrated blades
Non-slip base and soft grip rubber handle
Stainless steel and soft touch accents.
Cons
Not suitable for kitchen scissors
It doesn't work with Asian style knives
Reverse stage placement
Do I recommend KitchenIQ 0009 Knife Sharpener?
Of course, I do! If you are sick of constantly going to shops to sharpen your precious knives, this sharpening tool will save your time, effort, and money. and most of all, it will give you the hairsplitting sharpness you are dreaming of.
Read also , Things to Consider When Buying an Electric Knife Sharpener

PriorityChef Knife Sharpener for Straight and Serrated Knives is the runner-up in our "best manual knife sharpener" list. (wanna know how to sharpen your serrated knives?)
For a unique sharpening process, this manual knife sharpener features two efficient sharpening stages, and the first stage features a diamond-coated coarse wheel to grind your straight blades into the finest shape,
While the second sharpening stage features a fine ceramic wheel that polishes your blades to a razor edge.
Want to get the sharpest blades in few seconds? All you need to do is pass your kitchen knife through the sharpening slots around ten times and then welcome the sharpest blade of all time.
Wondering about design? PriorityChef Knife Sharpener will definitely fit any modern kitchen, especially if it has stainless steel appliances.
Personally, I loved the ultra-hard, diamond-coated sharpening surface, and it is considered to be the best material for sharpening.
Why? Because it is excellent for tougher sharpening processes and perfectly puts edges to your kitchen knives with minimal pressure.
Unlike KitchenIQ 50009 Knife Sharpener that works with almost all kinds of knives, this manual knife sharpener doesn't work with Japanese knives. (check the best Japanese knives)
Pros
Large hand grip
Diamond and Ceramic Dual-Sharpening Power
Non-slip base
Stylish and sleek design
Ergonomic and durable construction.
Safe
Versatile and easy to use
Cons
It doesn't work with Japanese knives and ceramic knife
Bottom line
Don't let the low price deceive you! This manual knife sharpener is more efficient than many expensive kitchen knife sharpeners on the market. If you are looking for the best performance, look no further than PriorityChef Knife Sharpener.

Unlike most electric sharpeners that provide only one stage, Wüsthof Handheld Sharpener (2922) provides a top-notch sharpener that works in two sharpening stages.
How does the first stage work? As you put your blade forward, the kitchen knife sharpener will quickly and efficiently sharpen it and remove all rounded edges and coarseness, pretty simple, right?
How does the second stage work? It is for honing and polishing your blades.
How will you benefit from this stage? If your kitchen knife (whatever the type of knife you own) is sharp and can cut the hardest foods efficiently, but it looks so dull, this stage will improve its texture and give it an attractive, shiny, and glossy look.
You will love the high-quality materials used in this manual sharpener, which are steel carbide, ceramic, and rubber.
The steel carbide will give you a razor-sharp edge. It is a hard material that can efficiently and quickly sharpen any uneven blade's surface, all coarse edges. and the knife's smooth round lower edge, with absolutely no damage to the metallic blade.
When it comes to ceramic rods, they are excellent for honing the blades, and they offer a straight, shiny. and a new look to the oldest blades in your drawer. they also make them tough enough to handle harder sharpening knife jobs.
Let me tell you more about the Wusthof base. it is made of rubber to provide excellent grip and control to keep the sharpener in place while using it. Rubber will prevent the sharpener from slipping for any reason; how safe!
To get the best results, we recommend washing your knives before sharpening or cleaning them with a clean piece of cloth.
Pros
Two honing and sharpening stages
It gives a new and shiny look to the knife
It gives strength to the blades
Anti-slip rubber base
Sharpens the blade without damaging it
Cons
It might not be very durable after a year of regular use
Is Wüsthof 2 Stage Knife Sharpener worth buying?
Yes, it is! If you are looking for a professional kitchen knife sharpener that turns your old knives and dull blade into brand new ones, this kitchen knife sharpener will do the job perfectly.
Check also, 10 Best Bread Knife 2022 Review

Cubikook Kitchen Knife Sharpener is one of the best manual kitchen sharpeners for all the right reasons. and let me count these reasons for you.
Unlike Wüsthof handheld sharpener that comes with 2 stages, this sharpener features 3 stages.
For an incredibly efficient sharpening process, this manual sharpener features a group of excellent materials. including, Diamond dust rods in the coarse sharpening stage for remove burrs and forging a new sharpening edge angle. (wanna know the difference between forged and stamped knives?)
In the second stage, the Tungsten carbide deburrs and corrects your blade, while the final stage has ceramic rods for refining and giving your blade a mirror-like finish
To get the sharp edge you have always been looking for, just pull through sharpener seven swipes for each sharpening stage.
If you want to get, your sharp knife polished only, pull through the sharpener third stage 8 to 10 times, without too much pressure or too much metal loss from the sharp edge.
We recommend using the first stage once or twice a year, as it is the most abrasive sharpening stage.
Keep in mind that Cubikook Sharpener is not suitable for micro-toothed serrated knives.
For a comfortable, stable, and controlled sharpening process, the manual sharpener comes with rubber patches at its base to prevent the sharpener from sliding and slipping off your countertop.
It also comes with an ABS-plastic ergonomic handle to make your knife sharpening feel like a breeze.
Pros
Super durable construction
Great value for the money
Works with specialty knives
Easy to use
Easy to clean
Sturdy build
Comfortable and safe
Fast and effective
Versatile application.
Cons
Not suitable for micro-toothed serrated knives
Cannot fix severely damaged knives
Bottom line
Picking Cubikook Kitchen Knife Sharpener feels like a no-brainer; it will offer you an easy, sleek, safe, and comfortable knife sharpening process. So if you want a 3-stage manual sharpener, this is a perfect choice to make.

Chef'sChoice ProntoPro will sharpen your non-serrated blades with absolute ease and efficiency, with its excellent three-stage sharpening system to give you the best results from the comfort of your home.
You will get a surprisingly quick and efficient knife sharpening process when using this manual knife sharpener. as it uses 100 percent pure diamond along with a criss-cross sharpening pattern for its three versatile sharpening stages.
Get a razor-sharp edge and a mirror-polished sharp blade after few strokes and in almost no time.
You will freaking love to know that Chef'sChoice ProntoPro works with 99% of the knives you have in your drawer. including your straight knife, serrated knife, western knife, European-style knives, and Asian-style knives.
And credits go to the sharpening slot of 15 degrees and 20-degree angle.
If you are a fan of electric sharpeners, then check these electric versions from Chef's Choice. We guarantee you will like these electric options.
Not only this, but it will also perfectly sharpen your double bevel blades. including your chef's knife, santoku, hunting knife, sports knife, pocket knife, and bread knife.
But don't expect it to be a good ceramic knife sharpener, kitchen scissors, or machetes. (check out the best scissor sharpener).
What is my favorite part? It is the firm grip that the rubber ergonomic handle offers, it is more comfortable than Cubikook CS-T01 Knife Sharpener's handle.
Pros
Works with a variety of knives as Asian knife, Western knife & serrated blade
Easy to use
Durable
Firm-grip handle
CrissCross sharpening technology sharpens knives instantly
Long-lasting diamond abrasive
Ergonomic handle for an easy and secure grip
Precise bevel sharpening angle control for perfect sharpening edges
Cons
A little bit high on price
Bottom line
It is time to bring back your dull blades and damaged knives to life. With Chef'sChoice ProntoPro Hone Manual Knife, you can restore your old, dull blades and sharpen them back to life.
This sharpening tool will provide durable, sharp, arch-shaped edges from the comfort of your home.
Read more , How to Care for Your Paring Knife?

SunrisePro Best Kitchen Knife Sharpener for Straight and Serrated Knives is your ideal choice for sharpening your straight and serrated blade efficiently, simply, quickly, and quietly.
Yes, this Straight and serrated knife sharpener might not be the sharpest sharpening tool on the market, but we guarantee that it will get the job done.
It is cylindrical with the grinding slot on top of it, which means that there are no left or right sides, making it the ideal sharpening tool for left-handed users.
Get your blunt knife back to life within seconds with the help of the tungsten carbide blades and the permanently fixed sharpening angle, and let me tell you one more time that it is perfect for both of your straight and serrated knives.
We actually don't recommend using SunrisePro Best Kitchen Knife Sharpener to sharpen your expensive specialty knives. as we don't know the exact sharpening angle of it. So if you want to sharpen your Asian knife or fine-toothed serrated blades, you better find another manual knife sharpener.
We like this manual sharpener's small and lightweight size that does not take up too much space on your kitchen countertop. making it also so easy to get in your backpack while camping or outdoor sharpening activities.
We also like that the sharpening tool comes with a suction cup to keep it always steady, which means you can use it without holding it down. but we still recommend using it on flat surfaces for a more safe and accurate sharpening process.
Using this manual knife sharpener is never hard; unlike your old electric knife sharpener that needs a lot of practice to master using it, this sharpening tool is super easy to use.
Pros
Works with serrated knives
Powerful non-slip suction for safety
Lightweight and fits in small places
Ultra-durable and convenient
Easy to use
Versatile
Suitable for left-handed users
Cons
Unknown sharpening angle
It does not work with fine-toothed serrated knives & Asian knives
Bottom line
Get a razor-sharp chef's knife, hunting knife, pocket knife, butcher knife edge in just 3 Swipes, and say bye-bye to the dull blad forever! If you want a compact and affordable sharpening tool, this sharpener is a great choice.

Vremi 4 Stage Manual Knife Sharpener is one of the best manual knife sharpeners on the market right now, and let me tell you why.
Unlike regular manual knife sharpeners like SunrisePro Sharpener that only offers 2 or 3 sharpening stages, this incredible manual sharpener offers 4 sharpening stages. Isn't that just amazing?
These 4 slots are
Two hard carbide Tungsten steel blades for coarse sharpening
Two fine ceramic rods for honing
In simple words, it has 2 stages for 15-degree edges, and the other 2 stages are for 20-degree edge knives. And the combination of steel carbide blades and ceramic sharpening rods will offer you an efficient sharpening process.
We like how this handy and versatile sharpening tool can sharpen all your kitchen tools. To avoid any mistakes while sharpening, the two zones of the tool are labeled with a transparent cover to cover the zone you are not using easily.
I feel that people with quite big hands might not like the handle design as it is too small, which might cause some safety issues, but at the same time, it has a rubberized grip weighted base, keeping the manual knife sharpener on the place.
Pros
Compact, small and convenient
Works perfectly with a 15-degree angle and 20-degree angle knives
Non-slip, weighted base
Easy to store in your kitchen drawer
Cons
The handle is too small for users with quite large hands
Bottom line
Want to keep your light-duty kitchen knives always razor-sharp and ready to serve you? Vremi 4 Stage Sharpener is the right choice. it will assure you have the sharpest kitchen knives with a serrated blade and standard blade.
Read more , How to shuck oysters without an oyster knife

Smith's 50264 Sharpener is one of the best knife sharpeners on our list for a good reason.
Sharpening your pocket knife, hunting knife, chef's knife, double-beveled knife, and serrated knife is no longer a hard thing to do with this versatile manual sharpener.
When you first see Smith's 50264 Knife Sharpener, you will think that it is a 3 stage manual knife sharpener. but in fact, it has 2 sharpening stages only.
For a unique sharpening process like those in the biggest shops, the sharpening tool has multiple sharpening angles to suit your knives of different classes and designs. Here is the manufacturer's guide.
Easily adjust the knob to:
16° for filet knife and Asian knife (per side)
20° for a pocket knife and Western knives (per side)
22° for a hunting knife (per side)
23° for a tactical knife (per side)
For an optimal knife sharpening process, the sharpening tool uses carbide blades and synthetic hook grooves for its coarse sharpening stage, while for the fine stage, it uses ceramic rods.
This manual knife sharpening tool offers a slip-resistant rubber handle and base for a super stable and safe regular kitchen knife sharpening process.
You will love to know that you can use Smith's 50264 Adjustable Manual Knife Sharpener to maintain the blade cutting edge of your already sharp knife.
Pros
Allows manual sharpening at a wide range of angles
Inexpensive
Works with serrated knives
Replaceable abrasive components
Soft grip firm handle
Non-slip rubber feet
Cons
Not so convenient stage placement
Bottom line
Save your hard-earned cents and do not spend it on buying a new set of kitchen knives every couple of months, and buy Smith's 50264 Sharpener. it is affordable enough to save your money and efficient enough to save your effort and time.
Also check, What are the Benefits of Oysters? | 7 Healthy Advantages

AccuSharp Knife Sharpener is one of the most popular manual knife sharpeners on the market. it is designed to save your time and precious budget! Yes! It is also one of the most affordable manual sharpeners as well.
What is so special about AccuSharp Knife & Tool Sharpener? Its ease of use, unlike most sharpeners on the market that need complicated angle setups and hard-to-understand instructions, this sharpener is surprisingly easy to use.
It is designed to work with all types of blades, even serrated knives blades effortlessly. all you need to do is to put your knife's blade on a flat hard surface while its edge is pointing up, and then press the sharpener along the blade's edge through the V-shaped orifice.
For a safe sharpening process, a safety plastic belt reduces accidents and ensures you do not injure yourself by mistake. (check out the best cut-resistant kitchen gloves)
Enjoy a fast knife sharpening experience, as the diamond-honed carbide blade will hone your blades in less than 10 seconds, yes! 10 seconds only are able to turn your roughest edge to a smooth one.
Okay, all in all, we can't say that AccuSharp Knife Sharpener will get you a razor-sharp blade or better than the factory model, but it will give you an ultra-sharp blade for your daily use, whether in a kitchen or outdoors.
We can't ignore the ergonomic handle the sharpener features. it fits right-handed users and left-handed users.
Pros
An easy to use knife sharpener
It Will gives you a sharp edge in just 10 seconds
Dependable and long-lasting construction
Diamond-honed tungsten carbide sharpener
Safe to use
Unique, ergonomic handle
Bottom line
AccuSharpSharpener is the ideal choice if you are looking for a manual sharpener that gives quick fixes for your blades for daily use.
Also read , How to Hone Your Knife? | Easy Guide
FAQs about Best Manual Knife Sharpener
How to Choose the Best Manual Knife Sharpener?
Here are a few elements you need to keep an eye on to make sure you buy the best manual knife sharpener on the market.
First, price
Buying an excellent manual sharpener won't cost a fortune, but you need to make sure that the product is a really good value for money.
Second, blades
Whether your chef's knife is Japanese knife or European Style knife, double-beveled or triple beveled, or even outdoor knives, you need to pick up the manual sharpener that works well with it.
Third, Material of Abrasives
Abrasives are the surfaces that straighten, hone, and polish your knife blade directly. The most popular in descending order are
Diamond abrasive
Sapphire abrasive
Ceramic abrasive
tungsten carbide abrasive
synthetics abrasive
Fourth, stages and slots
Most electric knife sharpeners and manual knife sharpeners have one sharpening stage, but if you are looking for more specialty and want to hone your knives first then sharpen them, you can buy a 3 stage or 4 stage knife sharpener.
Fifth, safety
Whether it is an electric knife sharpener or a manual knife sharpener, pick up the tool that has a nonslip rubber base and rubber handle.
What are the different types of manual sharpeners?
A pull-through sharpener 
Which has guides to pull your knife blade through; you can find
Inside it sharpening abrasives to grind away the imperfections of your blades and honing the blades to straighten your bent metals.
A whetstone
It is a solid block of harder materials than your blade's steel. And pulling your blades across the grit will sharpen it.
Both types have sharpening elements of various grit levels.
Final verdict
The best overall on our list is undisputedly KitchenIQ 50009 Edge Grip 2 Stage Knife Sharpener.
It is surprisingly affordable, completely lightweight for easy storage, sturdy enough to offer a safe sharpening process, and suitable for straight blades and serrated blades.
Our premium choice is the one and only PriorityChef Knife Sharpener.
Its Diamond and Ceramic Dual-Sharpening Power will offer you the most efficient knife sharpening process; it is completely safe, easy to use, and durable enough to stay in your kitchen for long years.
The best quality product in our list of "best manual knife sharpener" is Wüsthof 2 Stage Handheld Knife Sharpener.
It offers two efficient honing and sharpening stages that give strength and durability to your blades, and most of all, it is so freaking affordable.