Great Value
ASR Tactical Survival Ceramic Folding Knife
Best Overall
Boker Plus Anti-MC Ceramic Folding Knife
Premium Choice
Stone River Gear G10 Ceramic Folding Knife

Did you get an expensive stainless steel pocket knife, that its blade ended up rusty and dull? so you should probably get yourself a ceramic folding knife!
In the next few lines, we will show you the best ceramic folding knife /pocket knives on the market right now. to help you choose the best ceramic blade from the comfort of your home.
List of Best 5 Ceramic Folding Knife/ Pocket Knife 2023
Comparison Table
| | | | | |
| --- | --- | --- | --- | --- |
| Product name | grind | Handle material | Blade style | |
| ASR Tactical Survival ceramic folding knife | Flat | ceramic | Razor | Check Price |
| Boker Plus Anti-MC ceramic folding knife | Straight | Carbon Fiber, Titanium | Drop Point | Check Price |
| Stone River Gear G10 ceramic folding knife | Flat | Carbon Fiber, Ceramic | Drop Point | Check Price |
| Cool Hand 1.5 OZ Ceramic folding pocket knife | Flat | Black mirror ceramic, carbon fiber | Drop point | Check Price |
| Mojo-Home ceramic folding pocket knife | Flat | Ceramic, textured ABS | Razor | Check Price |
The best ceramic folding/pocket knives
1- ASR Tactical Ceramic Folding Razor Blade Survival Escape Knife -Great Value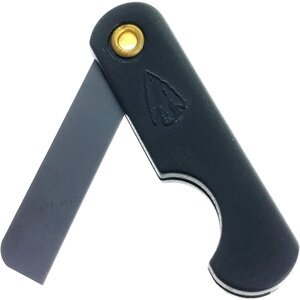 ASR Tactical ceramic pocket knife has a convenient and portable design. making it an ideal folding blade knife for camping, traveling, and lugging in a small backpack.
Lanyard Hole
Coming with overall dimensions of the knife are 1.7 inches when folded and 2.8 inches when opened. With an overall weight of 1ounces, including a rivet punch hole to clip it on your belt or use it as a keychain.
Injection-Molded Handle
This folding knife has an injection-molded handle into the knife blade, making it more corrosion and rust-resistant and conveniently protect the knife when folded.
This knife offers a sharp blade with a chisel edge that withstands bumps and tearing and can easily slide through tough materials. but as a matter of fact, the blade will need frequent knife sharpening.
Pros And Cons
Pros
Light
Longevity
Non-metallic
Anti-rust and corrosion
Cut through tough
Materials.
Portability
Versatile
The reasonable value of money
Cons
One side blade
Not strong enough
Do we recommend ASR Tactical knife?
Yes, we definitely do! it is an exceptional addition to your camping tool collection. Featuring a lightweight, durable, and foldable structure with a chisel edge to help in any emergency. So if you are looking for a knife blade that works as a utility knife, survival knife, and kitchen knife, look no further than this ceramic blade knife.
Read more,Best Knives' Oil and Lubricant Review
2- Boker Plus Anti-MC Folding Knife with 3-1/4 in. Straight Edge Blade -Best Overall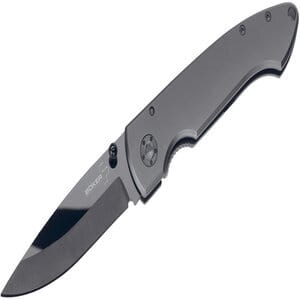 Boker Plus ceramic folding knife features a modern, slim, elegant, and unique structure, making it freaking perfect for so many jobs!
The overall length of this pocket knife is 7.75 inches, while the blade length is 3.25inches. With a weight of 2.5 ounces.
100% Non-Magnetic
You will love to know that the knife blade is 100% non-magnetic, which provides ultimate edge retention, and corrosion resistance features.
Carbon fiber Handle
The Boker pocket knife features a light, sturdy carbon fiber handle and corrosion-resistant titanium. Including a sturdy liner lock mechanism.
Providing a pocket clip and a strap hole for the firm and secure transport due to utilizing the highest material qualities.
Unlike ASR ceramic folding knife that needs frequent knife sharpening, this knife will stay razor-sharp for years to come.
Pros And Cons
Pros
Liner lock mechanism
Super sharp
Light
Carbon fiber
Pocket clip
High materials qualities
Cons
Unsatisfying customer service
Fragile blade
Unfold properly.
What makes Boker Plus pocket knife so special?
It mixes carbon fiber with light and durable materials to offer you hair-splitting sharpness and edge retention. you won't need to use your sharpening stone, or manual knife sharpener for years!
Check also, Best Electric Bread Slicer | Buyer's Guide
3- Stone River Gear G10 Handle Speed Assist Ceramic Folding Knife -Premium Choice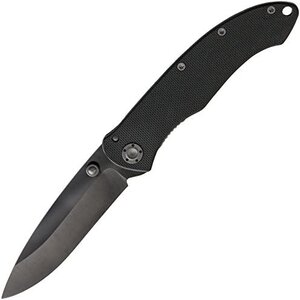 Stone river folding knife has a compact and exceptional design. making it an excellent alternative for your paring knife. So if you are looking for a high-quality knife for outdoor activities and foremost everyday carry, check the following breathtaking features.
In contrast with any EDC knife, this knife's length is much smaller, making it more legally user-friendly.
Light Zirconium Oxide
crafted from light Zirconium oxide, which makes it 10 times sharper than any traditional pocket knife. And makes it are corrosion and rust-resistant too.
Light Carbon Fiber Handle
We really appreciate the carbon fiber handle, which is designed with ergonomic double thumb rivets.
A liner lock mechanism offers a comfortable and firm grip and more security during carrying in your pocket. Besides, they include a stainless steel tip-up pocket clip that assists in holding everyday usage.
Pros And Cons
Pros
Extra sharp
Durable
Ergonomic handle
Lightweight to carry.
Long.
Legally user friendly
Cons
Thin and fragile blade
Contains chemicals.
Why do we love Store river gear folding knife?
Because it is the best alternative for the paring knife in the kitchen or outdoors due to its high-quality structure and durability. and it offers extra-long points for more versatility.
So if you are looking for an affordable alternative for the expensive paring knife set, consider this knife.
4- Cool Hand 1.5 OZ 4.5″ Carbon Fiber Folding Pocket Knife -Carbon Fiber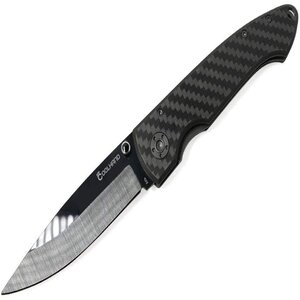 Cool Hand knife has an elegant and straightforward design, making a stunning gift idea for someone you cherish who loves outdoor activities at an affordable price.
This blade length is 7.75 inches when it is unfolded, and 3.25 when folded. With a total weight of 1.5 ounces. so it can satisfy all your cutting requirements in any intense situation.
Black Mirror Ceramic
The blade is crafted from a black mirror ceramic material non-metallic or magnetic with a feather or cool hand logo stamped on the blade. Coming with an outstanding guarantee.
100% Carbon Fiber Handle
This EDC ceramic pocket knife is made from a 100% carbon fiber handle, providing a comfortable and firm grip. This pocket knife includes a tip-down pocket slide with a strap hole for more flexibility.
Unlike Stone River Gear knife that is super solid, this knife blade is fragile and slim that may flake under an aggressive sharpening.
Pros And Cons
Pros
Super sharp
Light to carry.
Guarantee
Ease of portability
The reasonable value of money
Cons
Requires extra sharpening.
Thin and very brittle blade
Should you consider buying Cool Hand pocket knife?
This folding knife offers the ultimate lightness with long-lasting durability. it is rust and corrosion-resistant because it doesn't contain any stainless steel.
5- MOJO-HOME Ceramic Blade Folding Pocket Knife -Multi functional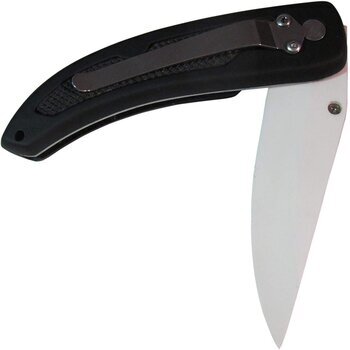 The mojo-Home ceramic folding pocket knife has a unique and versatile design. making it awesome for indoor tasks, crafting projects, and camping.
The knife length is 7 inches, 3 inches for the blade length, and 4inches for the handle. making it convenient to keep in your car or backpack for easy access.
This ceramic pocket knife features a super sharp ceramic blade that is rust and corrosion-resistant and is not affected by any liquids, acids, or moisture.
ABS texture Handle
The handles are manufactured from an ABS texture that offers a comfortable and firm grip. With an easy-to-use locking tab to press for unfolding these pocket knives.
Pros And Cons
Pros
Light
Corrosion and rust-resistant
ABS handles
Giftable
Cons
Not safe for children
Needs sharpening.
Is Mojo-Home pocket knives worth buying?
yes! they are the best choice for indoor chores. They are waterproof and corrosion-resistant. so you can use them in wet situations without compromising their efficiency.
FAQs about the Best Ceramic Folding Pocket Knives
1-How much sturdiness do ceramic folding knives features?
They are crafted from a very sturdy and tough zirconia dioxide. And heated to the maximum heat to create a tough blade.
Then the edges are sharpened on a sharpening rod. or wheel with coating it a speck of diamond dust through professional workers until the blade is super sharp.
The ceramic blades' sturdiness refers to the level of sharpness it reaches on the mole scale. So, for instance, the hardened steel reaches between 7.5 and 8 on the scale.
While the ceramic reaches 8.5 when hardened on the scale. This means that ceramic remains sharpen for a longer time than normal kitchen knives.
2-What should not you do with ceramic knives?
It would help if you prevented any utilizing that involves twisting and flexible movements since they can ruin the cutting edge. Here are a few foods and elements that should not be cut with a ceramic blade.
Bones: slicing through tough bones are not suitable for ceramic since it can damage the edge. The ceramic blades are very stiff and maybe ruined while twisting or extensive force.
Frozen food: to limit damaging the blade, you should not slice through frozen foods. Slicing through frozen items will apply pressure on the side, causing to chip or break.
Cutting: slicing food using a chopping motion is not recommended. Also, any chore that requires bending motion. Like carving meat involving bone or filleting fish.
Crushing: never place the knives on their side. To crush cloves of garlic, spices, or other food since the blade can break.
Hard food: they are not designed to slice through food with hard skins like pineapple, watermelon, and pumpkin. Also, cheese blocks may damage such a blade since it requires a handful of powerful force and power.
A ceramic knife is not meant to open anything such as plastic packages or lids off cans. They are crafted to cut food only.
3-What are the benefits of ceramic utility knives?
Due to the sharpness and the light of the ceramic blades, they became a prime part of any kitchen knife set.
Most cooks turn to them for accurate slicing since they are much lighter and more efficient when cutting large quantities of food without tiring the hands or turning dull.
They are anti-rust and stains, as they are durable, and the load is well balanced. Experienced cooks specifically utilize them in peeling and slicing delicate fruits and vegetables like figs, grapes, tomatoes, and onions.
In comparison with steel knives, they are mostly corrosion and rust-resistant. So, they do not react or absorb liquids, salt, or acids. They are limiting the food from getting browner or changing the taste.
Also, they maintain the food fresher and providing us with clean and even cuts.
Besides, steel knives begin to get dull after more frequent use. Yet, the sharpness can be maintained for a long period. And they will preserve their attractive appeal.
4-Is ceramic knives any good?
Of course, yes, without thinking about maintaining the super jagged side for a ceramic knife for a long time. Due to the manufacturing materials.
Yet, their outstanding sturdiness comes with huge concerns about chipping. Since the lack of any strengthened additives, the edges are inclined to break.
They have gained their new reputation as one of the sturdiest utility items after adding more substances during manufacturing, categorizing them as top-class cutlery kits.
It is tempting when you compare ceramic knives to select the cheaper ones. That will be a challenge since the production process. And the material required is all expensive, which the producers will need to cover such costs by passing them to the overall price.
5-How to care for your pocket knives?
Cleaning your knives does not differ from owning plastic, metal, or plastic knife handles. However, wooden handles will require extra care for cleaning and getting off the rust. But lets us go over the standard steps for cleaning.
Tools
Toothpick
A small brush or old toothbrush
Q tips
Lubricants
Soapy warm water
Paper towel
Step 1: remove dirt and grease
Open your knife and remove a speck of stuck dirt or grease from your handle with a toothpick. If the lock mechanism does not open correctly, this will solve that problem. Ensure that the knife is dry, or the removed dirt will get stiff, and the knife will be harder to clean.
Step 2: Rinse and scrub
After removing all the stuck dirt and grease, rinse the knife under some warm water over the sink, cleaning the handle's inside.
Put a little soap on your brush or toothbrush carefully scrub the whole brush thoroughly. Keeping in mind the lock mechanism, ensuring that you removed all the grease, dirt, or sand. That will allow you to have a firm grip when the blade is open.
Step 3: clean each blade separately, then clean the inner part
For cleaning a multi-tool folder knife, start by scrubbing every single item separately. Then unfold the knife. Once every item is cleaned, unfold all of them and clean the inside of the frame.
Utilize the Q tips to clean the frame inside, reaching the corners and curves. Rinse the knife thoroughly, and immediately dry it with a soft towel.
Step 4: lubricate
Once the blade is dried, start with lubricating the edges, rivets, and any movable parts. There are numerous kinds of lubricants like petroleum-based products.
Yet, if you utilize your knife in slicing food. It is recommended to use a food-safe lubricant like minerals and vegetable oil.
Step 5: wipe it
After spraying the lube all over the necessary parts without overusing them, employ a paper towel to wipe down any excess oil off the surface.
It is recommended to wipe down any lubricated part to limit any future rusting or cracking.
Note that: if you are dealing with a wooden handle, it is essential to wipe down all the oil from the handle. Also, many craftsmen recommend using licensed food-safe oils.
6-Why ceramic knives are too sturdy?
The hardness of zirconia is a double-edged sword, intending to speak. Their hardness allows preserving a side that is longer than maximum metallic blades. However, their inherent brittleness approaches their usefulness is limited.
Hard substances and bone purpose. That could all damage the delicately satisfactory fringe. And prying moves are positive to damage a ceramic blade.
Anyone who desires a knife handiest for infrequent slicing of softer substances. I ought to be thrilled to locate an exceedingly intense side each time a folder is opened, though.
Even beneath regular use, they can preserve slicing lengthy beyond the time. In contrast, a steel blade will want sharpening if the substances are all quite soft.
Final verdict
If you are an outdoor enthusiast and prefer a portable. and compact folding knife that is light, durable, and affordable. look no further than ASR Tactical Survival ceramic folding knife.
If you are a newbie for owning a pocket knife, Boker Plus Anti-MC ceramic knife is the best choice to make. it is 100% non-magnetic and offers outstanding edge retention and corrosion-resistant features.
And the premium choice in our list of "Best Ceramic Folding knives" is Stone River Gear G10 ceramic folding knife. it features double ergonomic thumb releasing buttons to release the blade with absolute ease.