How To Cut Watermelon Easily?
It is summertime, and you most probably know what this means. It is watermelon time! But do you actually know how to cut watermelon?
We actually know that there is almost no feeling better than the feel of a cold sugary piece of watermelon inside your mouth in hot summer, that's why we decided to show you how to cut watermelon easily.
Find out how to cut watermelon easily into cubes, batons, and many more in our step-by-step handy guide.
First: How to cut watermelon cubes? (3 easy ways)
First way
Tools
Steps
Step 1: Wash the melon and dry it well with a paper towel.
Step 2: Cut the watermelon in half. In a way, you get to even-sized circular haves (not oval).
Step 3: Take one half and trim off the outer circular part of it.
Step 4: Place it upside down on the cutting board (in a way that the bigger part of red flesh faces the cutting board). And the smaller part is facing you.
Step 5: Cut off the outer skin by holding the knife in an angel. Cut all the pinky and white flesh (you might lose some red flesh, but it is not a big deal).
Step 6: Cut a watermelon horizontally to three or four circular thirds.
Step 7: Cut each part horizontally and vertically to have small yummy cubes. Repeat with the other half, and you can cool the cubes in the refrigerator if you like!
Cutting cubed watermelon is no longer a big deal, right?
Second way
Here is another easy way to cut watermelon at once.
Step 1: Cut both of the ends of your melon
Step 2: Place it in a way that one of both ends is fixed to the cutting board. then start to peel all the skin of the fruit.
Step 3: Slice the melon lengthwise and width wise. and then serve the yummy watermelon slice.
Third way
Here is another easy way for cutting watermelon into cubes.
Step 1: Cut the uncut watermelon lengthwise into two halves. And then Slice each half lengthwise to have four quarters.
Step 2: Take a quarter and make 3-4 horizontal cuts at the top part till you reach the grind.
Step 3: Cut the quartered watermelon again, but this time in a vertical.
Step 4: Cut the bottom of the melon from edge to edge. And voila! Enjoy your sugary, yummy cubes.
Tip: You can eat the cubes using wooden sticks instead of a fork. It will be more fun.
Second: How to cut watermelon triangles?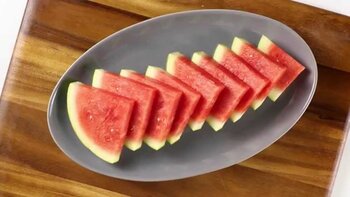 Tools
Steps
Step 1: Wash the whole uncut water melon and dry it with a paper towel or a kitchen towel.
Step 2: Place your fruit on the cutting board and slice the skin from the two ends of it.
Step 3: Cut it into two halves vertically. And put one half on the cutting board in a way that the red flesh is facing the board.
Step 4: Cut the half vertically from the middle of it into two even-sized pieces (quarters).
Step 5: Cut the quarters into 1-inch slices. And then repeat with the other half, and then serve the yummy watermelon wedge pieces!.
Tip: if you don't want to cut a melon another half of the melon, you can cover it with plastic wrap and store it in the fridge. Enjoy the yummy triangles with your family and beloved ones.
Third: How to cut watermelon batons (watermelon sticks)?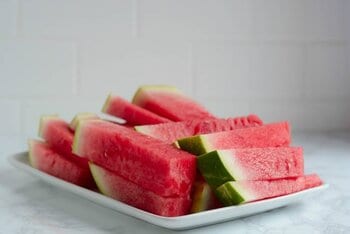 Tools
Steps
Step 1: Wash the melon and dry it.
Step 2: Place it on the cutting board and cut the skin from the two ends.
Step 3: Cut the water melon in half vertically (in a way that you get two even-sized oval halves.
Step 4: Put one half on the cutting board so that the red part faces the board and the green part is facing you.
Step 5: Cut vertical slices lengthwise. Then slice the fruit again width-wise (you will have many green cubes).
Step 6: Separate the melon pieces and repeat with the other half. Then serve your melon cut. And bon appetite!
Fourth : How to cut watermelon balls?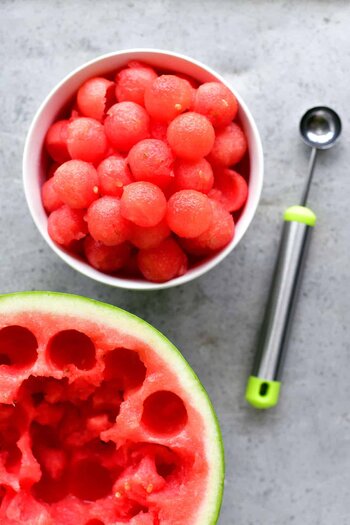 Tools
Parisienne scoop (melon baller)
Sharp knife
Steps
Step 1: Cut melon into two halves.
Step 2: Use the baller in a circular motion inside the melon to scoop out the balls.
Step 3: Repeat with the other half and serve the balls.
Super-duper easy, ha? These watermelon cuts and slices will be gorgeous in making a fruit salad or watermelon salad.
Tip: you can use the leftovers to make a smoothie.
Fifth: How to cut watermelon stars? (and many more shapes)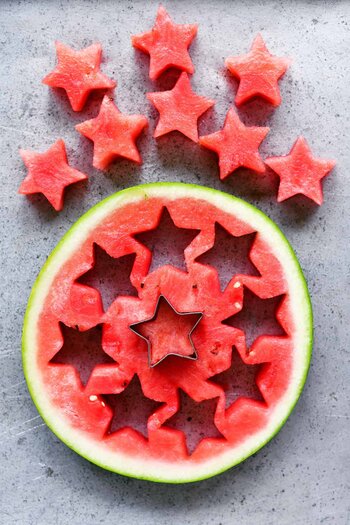 Here is another easy way to cut a watermelon that you and your kids will definitely love.
Tools
Cookie cutters
Sharp knife
Steps
Step 1: Wash your fruit and dry it, then put it on your cutting board.
Step 2: Cut the melon into many round slices.
Step 3: Put the cookie cutter in the flesh to make many shapes. And voila! Your cutie melon shapes are ready to be served.
FAQ about How To cut Watermelon Easily
1–How to pick up the perfect watermelon in the store?
-Before searching for an easy way to cut watermelon, you should know first how to buy the perfect melon in the store.
-Tap or knock on the fruit. If you got a satisfying hollow sound, then this is the one that indicates that it is a ripe and juicy watermelon.
-Pick up the matt, not a shiny one.
-The rind shouldn't be scratched easily.
-The rind shouldn't have any holes.
-Whether the juicy watermelon is small or big, it should be heavyweight.
-The pale spot (field spot) in it should be creamy yellowish (ripe), not white.
2–How to store watermelon?
-While summer, you can store the whole watermelon at room temperature, and it will be safe for up to two weeks.
-Store the sliced melon in an airtight container in the fridge, and it will be safe for up to 4-5 days.
-To store a half melon, wrap it in plastic wrap and fridge it. It will be safe for 4-5 days.
-You can also put the sliced watermelon pieces on wax paper and then freeze them. After they are completely frozen, transfer them into an airtight container. Then freeze them. They will be safe for up to three to six months.
-Never preserve them with tomatoes or apples. That will damage the melon and reduce its longevity.
3-What are the best watermelon tools?
–Watermelon slicer rotating blades
-Riveira watermelon slicer
-Watermelon slicer & cutter by sleeké
-Kitchenettes slicing and carving tool
-Gayisic 4 pack watermelon cutter tools
-Nex stainless steel slicer
-Chef's path slicer cutter corer
4-What are the benefits of watermelon?
One cup is rich in vitamins A, C, and B. plus 170 mg of potassium, 11 mg of calcium, 15 mg of magnesium, lycopene, 0.6 g of fibre, 0.36 g of iron, and 11.48 g of carbs.
The main benefits
It helps relieve muscle soreness.
It helps improve heart health. And it prevents heart stroke.
It controls blood pressure
It can treat diabetes
Consuming it regularly can improve your skin and hair health
It can treat inflammation
It prevents cell damage
It can help to combat cancer
It leads to healthy weight management
It keeps you hydrated
It offers you digestive support
It can promote sexual health
It can prevent macular degeneration
Consuming it regularly can offer kidney support
It strengthens immunity
It boosts energy levels
5-What are the benefits of watermelon seeds? And how can I use them?
The benefit of it is not only in the flesh but also in the seeds, as they contain magnesium, iron, protein, zinc, carbohydrates, calcium, phosphorus, and healthy fats
Here are some magical benefits :
These seeds can prevent acne (you can apply the seeds' oil directly on your skin, but you have to test that first).
They actually can prevent signs of aging.
They have the ability to moisturize the skin.
They can be used as a treatment for hair thinning and hair loss.
They can increase melanin production.
They can control your blood pressure.
They can boost energy levels.
They can prevent osteoporosis.
They Boost the immune system.
They can make the bones stronger and healthier
They are good for heart health
They are good for diabetes
They have the ability to improve males fertility
They Support the nervous system
They can fight stress and depression
Here is how you can use watermelon seeds
You can rinse and dry them first, then store them in airtight containers. That will give you an excellent nutritious snack.
You can also dry these seeds and add them to salads or nuts plates.
You can add olive oil and salt to them, then bake them.
You can dry and grind them to have a seeds powder with the same nutritious benefits.
You can extract the oil from the melon seeds as well.
6-How can I use watermelon rind?
Here are some smart ways to use the rind
Pickle it
Use it as a traditional Indian curry
Use it to make gazpacho
Candle it
Sweet and spicy chutney
Moroccan salad
Coconut curry
Rind stir fry
Rind smoothie
7-How long does it take for growing and harvesting the watermelon plant?
Their tree produces its first fruit after 60 days, and you can harvest it in 3 months. They need dog days of summer to grow; no wonder why mid-summer is the season of harvest. But their season also depends on where you live.
8-How many watermelons can a single vine produce?
A single plant will give about four fruits. And it gives males and females flowers. The male flowers are usually more than female flowers; the plant gives a single female flower after every 7 male flowers.
9-What are the Interesting facts about watermelon?
Their scientific name is Citrullus lantanas.
They are not only fruits, but they are vegetables as well! They belong to the botanical family of gourds, and they grow the same way as fruits. As they grow from flowers that are pollinated by bees.
They are named watermelon for a reason! As they are full of watery watermelon juice, the percentage of water in each fruit is about 92%.
You can literally eat the entire fruit! It is not only the flesh that you can eat, but you can also consume the rind and seeds in various ways. And you can safely eat these seeds.
This fruit has about 50 various types, such as the seedless (queen of hearts, crimson, nova, and jack of hearts) – the picnic (black diamond, Charleston grey, and All sweet).
Icebox (tiger baby and sugar baby) – the yellow\orange (yellow doll, tender gold, and desert king).
Jubilee Sweet and Cobb Gem are the largest types.
The seedless ones have nothing to do with genetic engineering; actually, the reason behind this is hybridization.
The tiny white seeds are nothing but empty seed coats. You can eat them. They are totally safe.
For 40 years till now, Japanese farmers mastered the art of growing them in odd shapes. They can even grow then in square shapes.
China is the leader in producing them.
August 3 is devoted to being their national day.
The world's largest watermelon weighed 350.5 pounds. And it is recorded in Guinness world record.
Watermelon carving is such a popular art in Thailand.
The main elements you need for growing this plant are water, sunlight, and pollination from bees.
Final verdict
The watermelon cut varies in shapes and sizes, according to your mood and purpose.
But keep in mind that the easy watermelon cutting isn't what only matters; your fruit quality, sharp knives, and tools also matter, so keep an eye on them.