How To Choose The Right Cutting Board?
Decided to get a new cutting board but then found yourself lost in the market between various materials, sizes, functions, and prices? we have been there before!
In this handy guide, we will be telling you the nine things to consider when buying a cutting board. to make sure you get a cutting surface that serves you for years to come.
What to know before buying a cutting board?
Here are the most important factors you need to watch carefully while buying a chopping board to make sure you buy the best cutting board.
Things to Consider When Choosing a Cutting Board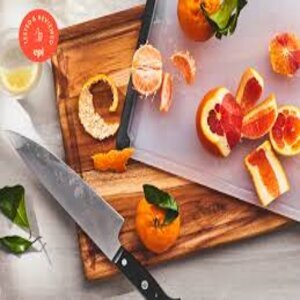 First, Materials
The Cutting board material types you will find in the market are thick hardwood, plastics, glass, or light rubber.
A hard wood cutting board is always heavyweight, durable, and thick. Most of them offer deep juice groove on the sides to hold the running-off juices.
These grooves prevent bacteria and cross-contamination to maintain hygiene in your kitchen.
They can also work as attractive appetizer trays to let you serve your yummy meal. And their only drawback is that they are not dishwasher safe; dishwashers make them crack and ruin soon.
A rubber cutting board and a plastic cutting board are much easy to store and clean. They are dishwasher safe, but they are not so attractive, less durable, and don't live long.
Wondering if a glass cutting board is any good?
Well, despite its charming, clean look, and high level of hygiene,
Glass boards are so bad when dealing with your kitchen sharp knife. yes, they are super hard on your kitchen knives and can turn them into dull knives in no time. So you better remove the glass cutting board from your shopping cart!
Also check , Best Material For a Cutting Board
Second, Size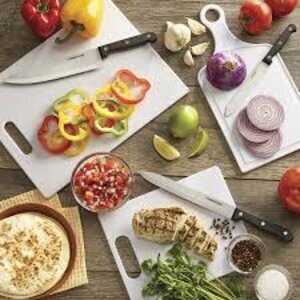 Let me tell you that the size of your lovely cutting board is so important. an extra-large and wide board will offer you a big room to easily prep meals.
But in which case, you may face the storage problem and will find it hard to store your big board. on the other side, a small board will offer you convenient storage.
So you need to take accurate measurements of your sink before buying a countertop or over-the-sink board, especially if your sink is larger than standard kitchen sinks.
In brief, you have to choose the chopping board that suits your kitchen and needs.
Third, Quantity
You will find that many boards in the market come in sets of various sizes. Just pick up the product that meets your needs. we recommend buying a wooden board set of two or three boards. to use one as a butcher block for cutting raw meat, and the other one for chopping veggies.
and you can use the last carving board as a cheese board. (if you kept it free from knife marks).
Also read , Why is It Important To Use A Cutting Board? (10 Reasons Why!)
Fourth, Knife Care
You should consider your kitchen knives before buying a new chopping board. you should pick up a knife-friendly material that won't dull your blades.
Otherwise, you will find yourself buying a new set of knives from time to time or at least will always need to spend some time sharpening them.
When it comes to this point, a wooden board is the best option. It will be easy on the knives and won't nick them over time. (wanna take a look at the best Japanese knives on the market?)
Fifth, Functionality
You have to make sure that you pick up the carving board that gets the job done. Try to pick up the board the grip well to the surface to avoid irritating slippage.
Take a look at the juice groove sections around the edges. and check if they are deep enough to catch the juices running off from your raw meat and poultry or not.
Also, take a look at the cutting surface and check whether it is easy enough on your knives or will dull your knife blade and cost you a new set of knives every month.
Read more , Butcher Blocks vs Cutting Boards: What's the Difference?
Sixth, Cleanup and maintenance
Many factors can cause your chopping board to stain over time, making cleaning up and sanitization such a basic factor you have to keep an eye on while buying a cutting board.
We highly recommend any wooden cutting board, especially natural wood cutting boards such as the bamboo cutting board or the maple wood one.
A bamboo board has antibacterial properties and is much easier to clean than a plastic board.
When you are cutting raw meat or fish, bacteria cling stronger into plastic. making cleaning up a really challenging process. Anyways we recommend sanitizing your chopping board after each use (whether it is a wood board or a plastic board).
Most of the cutting boards are not dishwasher safe, which might be a problem for some people.
So again, if you are still wondering how to choose the right cutting board material, you have to choose the one that is ideal for you and your beloved kitchen.
Check also , What Is The Best Natural Oil For Wood Cutting Boards? (5 Magical Oils)
Seventh, Design
Nobody can neglect the aesthetic factor. who will ever buy a piece of kitchen equipment that ruins the décor or kitchen design?
Actually, when it comes to design, wood boards are the winners. They have a classic natural look that suits every design and theme.
That does not mean that you will never come across nice-looking plastic cutting boards. No, they also have various looks and designs that you might find what you like among them.
Eighth, Price
One of the most important factors to consider when buying a chopping board is price.
Ask yourself whether it is worth your money or you can find another board higher in quality and less in the price?
Ninth, Durability
Durability is another factor you have to keep an eye on while buying a chopping board. The board should live in your kitchen for at least two years, and you don't have to buy a new board every year.
Also read , End Grain vs. Edge Grain Cutting Boards: What is the Difference?
Final Thoughts
Now you are all set to get the best cutting board on the market!
Happy chopping experience!