The Wellfleet puffer petite oysters also referred to by Wellfleet, is one of the best kinds on cap code kinds of oysters.
Oysters derive the characteristics of the location they grow and live in. with no question nothing tastes more like the sea, salt, and terroir of Cape Cod oyster farm.
Oyster fanatics worldwide are slurping down Cape Cod's mighty size of oysters.
When all, the Cape has been supplying the prime-notch wild oyster in its shallow Boston bays. And the cold ocean for centuries.
Mention Cape Cod oysters and the 1st few names that may leap to mind is Wellfleet petit oysters.
You will find them at restaurants all around the globe. Since as more and more oyster farmer establish store oyster farms on Cape Cod Mayo beach.
The Wellfleet puffer petite oyster is not the only game in town. We discovered the perfect place of Cape Cod oyster farmer.
So, let us have an overview at the Wellfleet petit puffer oysters farm first.
They are growing on the salty mudflats and shallow. Swift moving tides of Wellfleet Harbor farm.
These international noted wild oysters get their plump, sweet, salty flavour from a combination of salt and fresh cold tides funnelled into the harbour beach. There are various farms in Wellfleet, Massachusetts.

Wellfleet puffer petite oysters history
Puffer's petite oyster farm was found on the tidal flats on the mayo beach. It is one of the oldest beds in the state as it has a great geographic place. And climatic elements that contributed to the success of shellfish productivity.
The advantage of having from 10 to 12 feet of the sea flowing in and out of the bay daily.
Bringing in the rich nutrients from the Gulf of Maine. Wellfleet bay is the appropriate place at the right time.
Irving is growing and farming shellfish in Wellfleet for almost 40 years now. Irving loves his job as a lot.
That he said that he treats every day of harvesting on the farm. With the same kind of enthusiasm as his early first day on the boat.
Irving Puffer has been in the seafood business from wholesale to restaurants.
He decided to lean back and focus on farming only. Irving was given this oyster bed by the farmer Howard snow who taught Irving since the beginning.
Jake also followed his father footsteps. And Jake is farming shellfish now for five years and still going. Jake started picking Wellfleet oysters since he was a teenager. And became a fan of farming shellfish.
While jake puffer always intended to go to college in Boston. Yet, Jake started focusing on business courses.
That will help his family better run the family business in farming shellfish after he graduates.
Jake's dedication to evolving this business has not gone unnoticed. Jake puffer was the first one to receive the Wellfleet spat scholarship in 2006.
Also read, How to shuck oysters without an oyster knife
How they cultivate Wellfleet puffer's petite oysters?
Puffer's oyster farms follow a unique technique in how they get their oyster seed.
In comparison, most farmers buy their seeds every year from seed farmers. Located anywhere close to the actual farm.
Puffer's farms collect their seeds straight from their farm in the Wellfleet harbour.
They deploy specially designed spats, also known as hats while oysters are hatching.
This process can collect up to 2 million oyster seeds every season. They start this process in early summer.
When they insert their special designed hats into a solution of lime. And cement leaving them to dry and then place them on their beds.
The oyster collectors or hats provide a suitable location for Wellfleet puffer petite oysters.
After hatching for the free-swimming little larvae to lay their oyster shells. By attaching it to them. The lime and cement help oyster to stick to these hats.
At any time in august. The oysters will start to look like a little speck. And after that with a few weeks, the average size of the oyster becomes half an inch.
Then they breakdown the oyster's hats. By separating the oyster's collectors. And making them individuals that can grow outside the bags.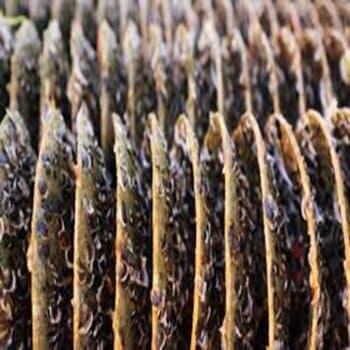 How do the Wellfleet puffer petite oysters taste like?
Puffer oysters are everything the word fresh means. Once you put in your mouth, a juicy burst in your mouth when you bit down on them.
The liquor and the cool burst is very sensational with a less saltiness than most oysters of Wellfleet. That is because of the tides emptying the bay on both sides twice every day.
With the duck creek and the Herring river pumping in and out of the bay. It becomes the perfect spot for different nutrients.
Due to the combination of fresh cold water. This helps with the perfect blend of saltiness and sweetness. That relies on affects the taste of the Wellfleet puffer petite oysters.
Wellfleet puffer petite oysters enjoy the coastal waters rich nutrients. That provide phytoplankton which provides the oyster with consistent, exceptional taste.
This results in plump meat with a crispy fresh finish and mildly sweet flavor of the oysters. The benefit of the cold coastal waters does not stop here.
Moreover, they help in slowing the metabolism of oysters. Which build mineral resources of glycogen that enhance the sweetness of puffer oysters.
Wellfleet Puffer's oysters cultivated at the bottom from 2 to 3 years. And Wellfleet bay exposed to the beach tides twice daily.
This helps the meat be firmer in texture, as they hold their shells closed tight until the tides return.
When buying Wellfleet puffer petite oysters. They should be alive, and their shells closed very tight.
Wellfleet puffer petite oysters are the best choice of oysters used for soups, stews, and stuffing.
Wellfleet puffer petite oysters are also great for frying, grilling, or just eating them raw with just some lemon juice.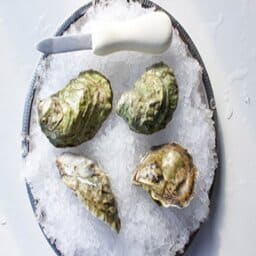 What makes Wellfleet Puffer Petites oysters more special?
Wellfleet puffer petite oysters tend to be long and strong-shelled. Skilled tasters recognize that they are plump and clean flavour.
With a distinctive sensible balance of creamy sweetness and brine. These are the factors that they are so special:
Cold waters:
The common temperatures in Wellfleet's bays are colder than those in most south beach. Coldwater temperatures cut down the Wellfleet oysters' metabolisms. It is serving them store compounds like glycogens. A technique such as carbohydrates loading. That makes the Wellfleet puffer petite oysters have a sweeter taste.
High salinity:
The salinity in Wellfleet Harbor is also high (28 components per thousand). Compared to the saltier bays like the upper Chesapeake Bay. Experienced tasters notice that oysters growing in saltier waters have a cleaner texture.
Big, fast-moving tides:
Wellfleet have vital tides, averaging around 12 feet, and broad, shallow estuaries. This suggests a high volume of fresh flavour.
Like phytoplankton rich seawater swift drifts and nourishes the beds two times per day.
Also, continuous exposure to air on the flats. Which facilitates the creation of Wellfleet oysters very hardy.
So, they are ready to withstand shipping and stay fresh for a long time for the consumer.
Environment or Merroir:
Wellfleet puffer petite Oysters have a tasty flavour by what they feed on. The unique combination of nutrients regional species.
Like phytoplankton that inhabit Wellfleet, they are completely different from those near Cotuit, Massachusetts Boston. And these great variations contribute to the Wellfleet's' distinctive flavour.
Clean waters:
Wellfleet puffer petite oysters are lucky to grow in a very clean, contaminant-free area. Throughout the years, the estuaries have remained clean.
Wellfleet residents are grateful. That pollution and oil spills have not hurt the oyster beds. They put all their effort to work to keep it that way.
How to chuck Wellfleet puffer Petites oyster?

Step1 Wash.
First, Scrub the Wellfleet puffer petite oysters under cold water, at least one hour before shucking. Put them flat on a pan within the refrigerator, giving them time to relax.
Remember, they are little living creatures. A lot of shaking or handling can result in making them tense and tougher to open.
Step2 Secure the Puffer Petite oysters.
Hold the oyster, flat face up, in a hard material or towel, held firmly against the work surface.
Do not attempt to open an oyster in an open area as you want to be a clam. Keep your hand out of the area around the knife all the time as it might slip and cut your hand.
Step3 Shucking.
Insert the oyster shucking knife's tip edge in the hinge or the Achilles heel of the oyster. Flip your hand as if you were turning the throttle of a motorcycle. Pushing in with steady pressure till you feel the snap.
Step4 Release the meat.
Now make a full twist to create enough of an opening. Then slip the blade along the top hinge of the shell, cutting the flat muscle.
On the top of the shell is now off and all that is left to try and do is cut the bottom muscle.
Keep the oyster level up in all times, thus not losing any of the juice. Most of the time it is served on crushed ice, that holds the oyster level and keeps it cold.