Premium Choice
King Kooker 5500 Oyster Shucker Opener
Best Overall
Aozita Oyster Shucker
Great Value
Hamouuda Oyster Shucker Opener Set
The oyster shucking machine is a lifesaver for both seafood restaurants and those who enjoy eating shellfish at home.
Most people don't know how to open the oyster properly, and the oyster ends up getting spoiled. To make sure that your oysters aren't spoiled, you need to choose the right machine
Choosing the appropriate oyster shucking machine is critical for avoiding injury and saving a lot of time.
They come in two varieties: electric and manual. Both provide a terrific shucking experience and make the task easier.
Oyster shucking machines come in different sizes. And offering the choice that can be useful to fit your seafood dishes.
So, let us discuss the best oyster shucking machines.
List of the 10 best oyster shucker equipment 2021
Comparison table
| | | | | |
| --- | --- | --- | --- | --- |
| Product name | material | dimensions | weight | |
| Aozita Oyster Shucker | stainless steel | 9.4 x12.2 x 1.9 inches | 4.14 pounds | Check Price |
| King Kooker 5500 oyster shucker opener | Stainless Steel | 6.88 x5.88 x 20 inches | 7.78 pounds | Check Price |
| Hamouuda oyster shucker opener set | stainless steel | 8.86 x 11.93 x 2.13 inches | 4.67 pounds | Check Price |
| Vollrath (1853) Oyster King | stainless steel | 6.25 x 15 x 5.5 inches | 4 Pounds | Check price |
| Buffet Enhancements 1BBB9S Ez Oyster Shucker | stainless steel | 12″ x12″ x 19 inches | 7.70 pounds | Check price |
| plasmargon Oyster Clam Opener Machine with Oyster Knife | stainless steel | 6 x 16 x 14 inches | 8 pounds | Check price |
| V benlem oyster shucker opener | stainless steel Bakelite wood | 39.37 x 19.69 x 39.37inches | 220 pounds | Check price |
| R&M International oyster shucker | Hardwood stainless steel | 9.5 x 4 x 5.5 inches | 14.4 ounces | Check price |
| TDOCK oyster shucker Tool Set | stainless steel | 13.03 x 1.81 x 9.72 inches | 4.52 pounds | Check price |
| AWshuck oyster shucker | stainless steel plastic | 20 x 1 x 6 inches | 4 pounds | Check price |
10 Best oyster shucker equipment
1-Aozita oyster shucker-Best Overall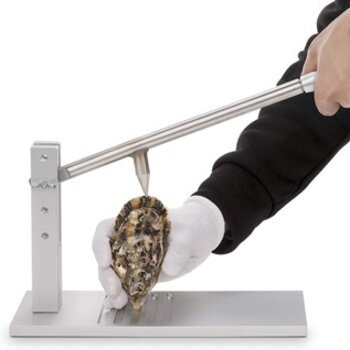 Aozita oyster shucker offers a quick and straightforward design. To help to open your oysters. It comes with a set of an oyster knife, G-clips, and an oyster machine.
It has a straightforward structure to put together. And you can place it on a desk or the top of a table, holding it down with the provided G-clips.
Once you set the oyster shucker machine. You can choose the right height you desire to match any size, whether large or small.
It features a stainless steel blade material and a metal base. A groove was inserted on the base to ensure the machine's balance as it punctures the oyster shells.
Pros And Cons
Pros
Fast
Easy to use.
Sturdy
Comes with a guarantee.
Cons
Expensive
Not dishwasher safe
Bottom line
The Aozita machine is safe, accessible, and quick. You will not worry about any risks to cut your fingers. Also, it ensures that you will not have any shell in your shucked oysters. It is offering fully intact shucked oyster meat and juices. And it is functional to use in a restaurant as it is quick and fast.
Yet, it requires to shuck oysters vertically, which results in losing the liquor and juices. And sometimes they come without the bolts, which makes installing them a little hard.
2-king Kooker 5500 oyster shucker Opener-Premium Choice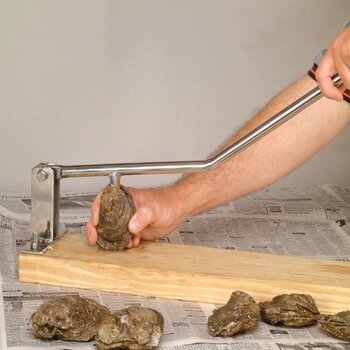 King kooker 5500 shucker opener features a 5500B stainless steel body. And a pine blade and wood base with a round handle. It is safe and helps to reduce any chances to cut yourself.
It is one of the best oyster openers that you must-have for seafood restaurants. That needs shucking huge amounts daily and short time.
King hooker 5500 shucker opener offers a straightforward design. That makes it the best oyster shucking machine in the market. It requires minimal pressure.
Pros And Cons
Pros
Easy
Requires minimal pressure.
Reduces accidents.
Efficient
Comes with an extra oyster knife.
Cons
Does not fit all sizes.
Uncomfortable round handle
Bottom line
The king hooker 5500 shucker opener is a simple and easy design that can get any stubborn shells open with no struggle. Keeping all the shucked oyster meat and liquor intact. This machine makes shucking oysters an enjoyable experience.
Yet, as the handle is round, it may need a firmer grip, resulting in an uncomfortable use. And it has an adjustable height set resulting in not fitting all sizes.
3-Hamouuda oyster shucker opener set-Great Value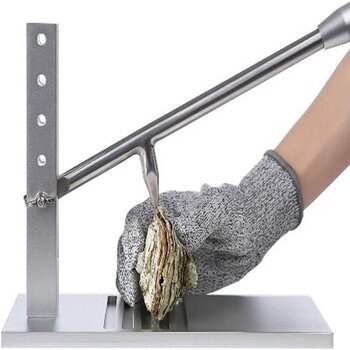 Hamouuda oyster shucker opener set designed to endure extensive use. With a durable and sturdy part. It is the best oyster shucker machine used in a restaurant or at a seafood vendor.
It features a sturdy steel wrench stick with an aluminum metal base. It has five grooves inserted on the base. To ensure the machine's balance and stabilization while shucking.
Hamouuda shucker opener set offers the property of fixing it to any table with the G-clips. And adjusting the height to fit many sizes of oysters, scallops.
It comes with a long high-end Aluminium handle for faster shucking and safer use. It is a great tool for restaurant staff, hotels, and buffets. As it reduces the chance of any injuries as they peel them faster.
Pros And Cons
Pros
Adjustable lever
Rust free.
Durable
Handle extensive use.
Cons
Expensive
Takes a lot of space.
Bottom line
The Hamouuda shucking opener set was built to shuck these stubborn oyster shells with ease. It is a long-lasting tool. It comes with an adjustable wrench stick set to fit all sizes, besides the spare parts of 1 set of an open-shell opener, 1 set of shell knives, and 1 G-clip.
Yet, it may be a little expensive. So, it is not affordable for restaurant owners that just started their business. And they need a lot of space to place in the kitchen.
4-Vollrath (1853) Oyster King-Simple & Safe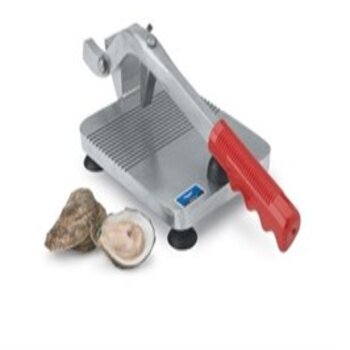 Vollrath (1853) Oyster King had an innovative design with a thick stainless steel blade. It is suitable for both restaurants and home use.
It comes with four rubber feet that ensure the stability and stabilizing of the machine. Also, they prevent the shucker from slipping while applying pressure on the wrench.
Vollrath (1853) Oyster King features a comfortable handle for a firm grip and ease in usage. Thanks to the handle design offer a better hold when applying pressure on the wrench.
It is the best oyster shucking machine when you are facing dozens of oysters. Making shucking them an enjoyable and fun experience. With a two-year guarantee.
Pros And Cons
Pros
Comfortable
Efficient
Durable
2-year guarantee
Cons
Expensive
Not suitable for small sizes
Bottom line
Vollrath (1853) Oyster King is the best tool for opening hard and many oysters' shells. Without any struggling or frustrations. It is one of the most ideal and user-friendly shucker in the market.
Yet, it may be an expensive tool to use in the house. And the unadjustable handle set may not suit cracking small-sized oysters.
5-Buffet Enhancements 1BBB9S Ez Oyster Shucker-Durability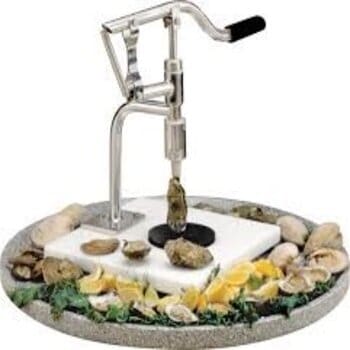 It features a durable steel body with a polycarbonic shielded stainless steel blade. With a supported base with four rubbers to prevent the body from slipping. And offers the right airflow inter the sanitation tool.
Buffet Enhancements 1BBB9S Ez Oyster Shucker has an elegant ad sophisticated design. It is suitable to be a centerpiece on a restaurant table to help ease the shucking for oysters.
Buffet Enhancements 1BBB9S Ez Oyster Shucker option an ergonomic and safe handle. Enabling you to keep your fingers at a distance. At the same time, pressing down the handle to open some shellfish.
This oyster shucker fits two oysters for simple and effective use. And it is a versatile tool as it opens different shellfish than oysters.
Pros And Cons
Pros
Durable
Safe
Easy and quick
Cons
Too big for home kitchens
Hard to clean.
Expensive
Bottom line
Buffet Enhancements 1BBB9S Ez Oyster Shucker is considered an enhancement at restaurant buffets. It is a straightforward machine to use the machine. It is providing a base rubber to ensure enough safe stability and air sanitation.
It is considered a commercial version of the oyster shucker as it cannot be used at home. Also, it may be a little expensive and hard to clean.
6-Plasmargon Oyster Clam Opener Machine with Oyster Knife-Adjustable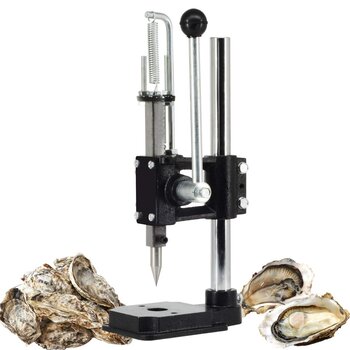 Plasmargon oyster shucker is designed for restaurants and commercial use. It is suitable to increase efficiency and help reduces costs.
It has a cast iron base treated with a spray paint seal. That makes the shucker from absorbing any smells and allows ventilation for up to 2 days.
Plasmargon shucker features a punching pin manufactured from 304 food-grade stainless steel. It would reduce any harm to the human body if it contacted the oyster, scallops, or clams.
Pros And Cons
Pros
High-grade food quality
Easy to use.
Functional
Versatile
Bottom line
The Plasmrgon shucker is a great and versatile tool for restaurants and markets. With an adjustable height blade and opening of different sizes. Including an oyster shucking knife and a pair of scissors with guard gloves.
Yet, it may not be suitable for home kitchens. And the handle may be unstable.
7-V benlem oyster shucker opener-Firm & Steady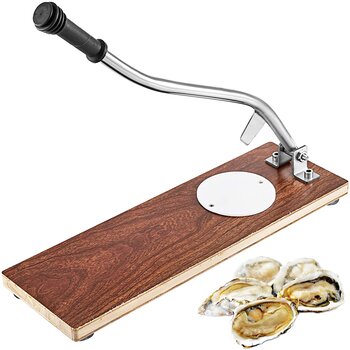 Vbenlem oyster shucker opener has an elegant and convenient design. It is suitable for restaurants, seafood markets, and even family uses.
It is constructed from a high food-grade stainless steel handle. And a PTFE board for holding the oysters. That helps in reducing any health concerns.
Vbenlem oyster shucker opener is constructed from Bakelite wood that will not get mouldy. Thanks to the long rubber ergonomic handle for a more comfortable grip. It is saving more labor and a quick shucking experience.
The base comes with four ant slip pads. To ensure stability while applying the pressure to shuck oysters. With an adjustable tightness between the handle and the base to fit all oysters' sizes.
Pros And Cons
Pros
Food grade quality
Easy to use.
Ergonomic design
Sturdy
Versatile
Cons
No instructions
Does not fit small sizes.
Bottom line
Vbenlem shucker opener manufactures from steel and Bakelite base. Perfect for shucking shellfish in no time. It features sturdy and durable materials for long-lasting uses and rubber feet for more stability.
Yet, it is not easy to put together. Especially it is not provided with an instructional manual. And it does not fit all sizes. It only shucks big ones.
8-R&M International Oyster Shucker-Sturdy Construction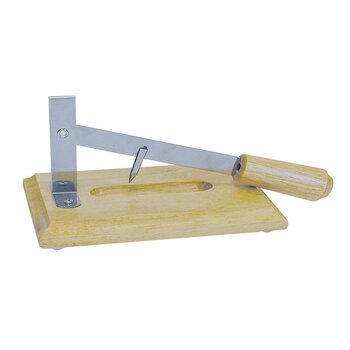 R&M international oyster shucker is a straightforward and humble design. However, it is constructed from sturdy and durable hardwood. That makes it more attractive.
It has a steel piercing wrench point to open the shell in two. With a wooden handle that makes a comfortable and sturdy grip. It is allowing more control when applying more pressure.
R&M is a tabletop shucker making the operation of shucking easier and more efficient. Offering an easy and wash and drying through before storing.
Pros And Cons
Pros
Easy to use and store.
Easy to wash.
Attractive design
Effective
Cons
The metal handle bends
Base wobble
Handle not too long.
Bottom line
R&M international shucker is a table shell opener offering a safe. And makes an easy way to open your shells at an affordable price: easy cleaning and functional storage.
Yet, the wooden handles may bend when applying to much pressure and the base id not stable enough to be flimsy.
9-TDOCK oyster shucker Tool Set-Shucking Tools Included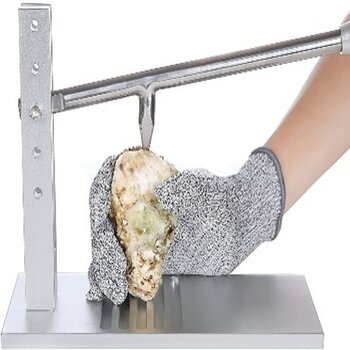 TDOCK oyster shucker Tool Set is a simple and easy design. It is suitable for restaurants, seafood markets, and homes without worrying about any injuries or cutting your knives.
It has a premium Aluminium base with five channels. To stabilize and control the machine when applying more pressure. With a stainless steel wrench stick and Aluminium long handles for more comfort.
TDOCK features an adjustable height to fit all sizes of oysters. Making the oysters shucking faster, safer, and effortless. And help to secure the juices and meat.
The package comes with a set of oysters shucking tools. An oyster shucking knife and a pair of protective gloves and spare G-clips.
Pros And Cons
Pros
High quality
Easy to clean.
Stable
Adjustable blade
Affordable price
Cons
The arm can use more leverage.
Small size
Bottom line
TDOCK oyster shucker Tool Set makes shucking easy and fast. It reduces any chance of injuries or cutting your fingers. Moreover, this package gives you the benefit of providing a free guard glove for protecting your hands and extra oyster tools.
Yet, the arms can enjoy more leverage and require more screws to stabilize the place. It may be smaller than it looks.
10-AWSHUCKS Oyster Shucker-Unbreakable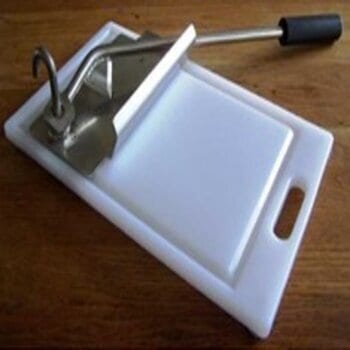 Awshucks oyster shucker has a premium and durable design. It is suitable for catering, restaurants, and home parties.
It features a safe stainless steel wrench with an unbreakable 11 steel gauge. And a plastic cutting board. Also, it is dishwasher safe.
Awshucks shuckers give you the advantage of opening the oyster shells horizontally, which ensures saving the seashells' inner juices and clams and keeping the meat intact.
Pros And Cons
Pros
Sturdy
Effective
Easy opener
Guarantee
Bottom line
The AWshuck oyster shucker opens the oysters from the side. To ensure saving the natural juices and keeps the perfect taste of the meat.
Yet, the blade may rust after using for a long time and maybe too big to be a portable oyster shucker.
Frequently asked questions about oyster shucker equipment
What to consider when buying an oyster shucking machine?
When thinking of buying an oyster shucking machine. You need to consider the features that you must have. However, it is a straightforward process. When you know the most crucial elements when choosing one for Oyster:
Construction
The oyster shucker base is the vital part. To ensure stability and balance. When installing it, as it lessens from the stress of using shucker, you need a material that is sturdy enough to hold the pressure.
Look for one that includes G-clips to hold the base steady. If you chose a wooden base shucker, get one with rubber feet to keep the wood base steady and elegant. It offers an attractive, tempting design and safer.
They tend to be soft and easy to break. When applying more pressure on the wooden handle, and maybe a little expensive. However, the metallic base is more durable and easier to wash.
Height
When you want to get the perfect product to shuck an oyster, go for the one with the adjustable height leverage. It fits all sizes of reducing your stress and frustration.
When facing the challenge of shucking big or small ones. With an unadjustable height blade. To ensure that a variable of oyster's sizes will get opened in ease.
Cleaning
Oysters shucking is a messy task. As sometimes, you end up spilling all the liquors all over the oyster shucker and the counter. And some smell of seafood can last for a long time.
So, get one that requires to be cleaned easily and saves you effort as after shucking. Using a machine with gaps, tiny shells and juices get stuck on the shucker.
Size
It is better to get a portable oyster shucker and to store products easily. It is important to have comfortable hands for an exact and firm grip.
Preferably a wooden arm as some designs features too small or big hand. That isn't easy to get the hang of it around your hand. Look for one that is designed to offer you the right handle that feels comfortable in your hands.
Safety
one of the main steps in shucking with machines to apply some pressure on the lever. That can be risky as they can slip or the base can wobble, and your fingers get cut. Choose the machine that includes the most safety elements.
Such as G-clips or grooves on the bottom designed to provide stability. And indicate suitable safety measures.
Usability
Choose an oyster shucker product that comes with a straightforward design. And is used easily or assemble. Look for comfortable features.
It is offering a set of comfort with an ergonomic wooden handle. Rubber base and G-clips for stability. It is important to look for efficiency, safety to use for a different size.
Guarantee
It is best to ensure that you get guaranteed against any damages or broken spare parts. As we all know that buying a product through amazon cover any defective items. Or broken parts.
However, it is still up to the manufacturer to replace any parts after the machine was used. Go for the seller that provides spare parts in case of any damage with regular use.
Return policy
Check with the vendor before buying any product. Suppose they allow returning the shucker even if it worked properly. But you discovered it is not what you require.
Delivery
When purchasing online. It is best to consider the cost associated with the shipment. As it may cost more than your budget. And that is one of the annoying things about online purchasing.
What are the alternative tools for shucking oysters?
Suppose you are facing a situation that needs you to shuck fresh oysters without any shucking tools. You can use any of these three alternatives:
Fire
the safest way to shuck oysters without a quality oyster shucking tool is heat. Place them with the flat side down and the hinge end towards you. When the oyster gets too hot and opens.
It helps ensure the steam and any sharp elements are pushed in the opposite direction. A closed oyster will take like 15 minutes to open with the grill's steam or the campfire.
Paring knife
A paring knife can come in handy in shucking an oyster when you do not have shucking tools available around you. Start at the side of the front of the oyster, not at the opening. And gently insert the knife between the flat line that touches the top and bottom shell together.
As it starts to open gently twist the knife around 90 degrees. And cut along the flat muscle that connects the shell.
Screwdriver
A screwdriver is like a shucking knife in shape. After cleaning the screwdriver, start with inserting it into the opening at the top of the oyster. And wiggle it gently; however, if you feel that the screwdriver is stuck before the shell opens.
Use extra care and slight force to minimize the chance of breaking the shell. Then twist the screwdriver to open the shell further. And then cut along the muscle to free the meat.
Note that whenever using a sharp tool. You must ensure that you support your oysters away from the sharp part.
So, it would accidentally slip forward and cut your fingers. It would be better to use garden gloves or a kitchen towel to make sure that you protect your finger.
However, if you found shucking with any of these methods is hard, you probably do it wrong, so try again.
Can I use an oyster shucker on different kinds of oysters?
Some oysters shuckers are unable to shuck all oysters it comes in different kinds and sizes.
Having an adjustable set handle for your oyster shuckers is great. Using one oyster shucker for all kinds depends on the design of the oysters.
What are the most common mistakes for shucking and storing oysters?
You must make sure that you get them from a vendor. That knows how to care and keep them safe. As they need to be kept cold and alive at all times until the moment you are eating oysters directly. That helps in avoiding any chances of bacteria or the risk of poisoning.
Try different types and decide which one you like more. A huge difference between eating oysters originated from the West coast.
East coast, and the Gulf. As the east coast are clean and salty, the west coast is small and sweet, while the gulf oysters are meaty.
Once you get the oysters, try keeping them as cold as possible for them to be fresh. Place them on crushed ice in the fridge even if you will not serve them cooked or raw. Otherwise, they will smell and be spoiled and can cause sickness and poisonous.
Avoid getting any accidents to cut your hands even with an oyster shucking knife or machine. It is better to use a kitchen towel or high-quality oyster gloves. Even if you are not applying too much pressure when you twist your knife into the oyster's hinge. As sometimes, slipping happens, and you want your hands to be always protected.
Do not shuck your oysters ahead of time from using. Save them intact until the serving time to keep their meat and juices intact.
You are ensuring that they are fresh and free from any dirt. And if you cannot shuck them at home and you asked your vendor to shuck them for you. Make sure that you cook them once you arrive home.
Save the liquor, especially if you plan to eat them raw. As the juices inside enhance the experience of having high-quality raw oysters. It tastes incredible. Also, the perfect ingredient when preparing soups and chowders. However, it would help if you were certain that the liquor is clear and fresh.
Do not overcook it: like most seafood, they should be cooked gently. When you serve a soup or a chowder, add your oyster last. And boil them until they are cooked through, which does not take more than a few minutes.
If they are overcooked, they will become tough and unpleasant.
How to shuck an oyster?
There are a lot of different kitchen tools and types of equipment to shuck them. The main point is to have the proper oyster opener on hand.
If you chose to use the shucker machine, it will not be a difficult task and will turn to be a great experience. Yet, it requires a lot of practice to keep your high-quality seashells intact, just by placing them on the kitchen countertop or a table.
With the opening point upwards right below the blade, handle adjust a firm grip. Apply enough pressure, and you will get your shucked oyster easily.
Final verdict
Suppose you need the best oyster shucking machine that you can use at home. And has a durable and straightforward design in addition to the advantage of being affordable in price. And placed on a kitchen counter or a table, then King Kooker 5500 oyster shucker opener is your top choice.
Suppose you need an oyster shucking machine with an adjustable handset. That fits all sizes and can be used at home or restaurants. Moreover, it reduces the risk of any injuries and safe to use. Then your top choice is Aozita Oyster Shucker.
Suppose you need a durable and sturdy oyster shucking machine blade. That is suitable for restaurants and seafood vendors. Moreover, featuring a long handle with a better adjustable height set to fit all sizes. The HAMOUUDAH oyster shucker opener sets your top choice.