Want to buy a new cutting board and don't know which material to buy? There are various types of cutting boards ranging from wood boards, plastic boards to glass cutting boards and rubber boards.
Are all materials the same? Definitely not! So here comes another question what is the best material for a cutting board? that's what we will be telling you in the next few lines.
Everyone buying a carving board for the first time have a question inside their heads, and that question is: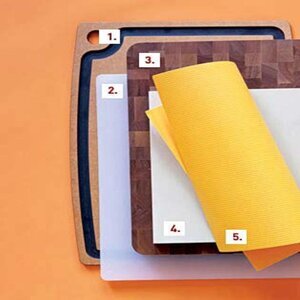 Are Plastic Cutting Boards Safer Than Wood?
It is no brainer that cutting meat on wooden cutting boards is way better and safer than plastic boards. Let me tell you why.
A plastic board can have many gouges, scratches, and small holes, making shelters for millions of harmful bacteria.
Most kinds of wood are antibacterial, which makes wooden cutting boards much safer.
Plastic boards also dull your knives easier than wood boards.
Now we eliminated plastic boards. It is time to answer this:
What Type of Wood Cutting Board Should I Get?
Read the following lines carefully, and choose the wooden chopping board material that meets your needs.
Maple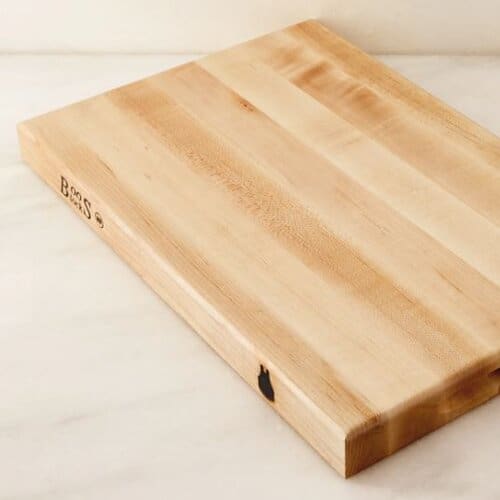 Maple wood is the best type of wood for cutting boards (especially hard and sugar maple wood)
It wears well against your daily cutting and is easy on your expensive blades. It is a hardwood and closed-grain wood that has tiny pores, which makes it perfect against the formation of bacteria.
Its natural color perfectly fits any decor. You can easily clean a maple cutting surface with a sponge and soapy water.
The only drawback is it is so hard to get rid of stains because of its lighter-toned surface. But that won't be a big deal if you took good care of your board and maintained it regularly.
Read more , Butcher Blocks vs Cutting Boards: What's the Difference?
Bamboo: Is Bamboo Good for Cutting Boards?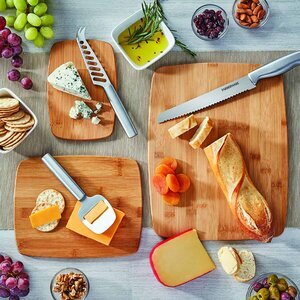 Bamboo boards are so freaking popular, but guess what? Technically, bamboo is not wood, yes! It is hard grass. But it is the environmentalist's choice.
Bamboo is 100% organic, renewable, and sustainable. There are no chemicals used in growing and harvesting it.
A bamboo board is water-resistant and scratch-resistant. It is durable enough to stay with you for a lifetime, unlike glass boards or other plastic options. (Just make sure you don't soak them and oil them with food grade mineral oil or any cutting board oil frequently)
The only drawback you will find in a bamboo cutting board is they are hard on the knife blade. So we don't recommend using your expensive chef's knives on them.
Ash
Here is another perfect wood for cutting boards. It is such a durable and hard cutting board material. Its light tone makes it an excellent addition to your kitchen.
But it needs special care to prevent stains.
Also read , End Grain vs. Edge Grain Cutting Boards: What is the Difference?
Beech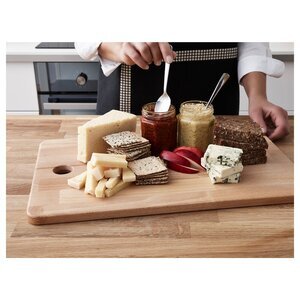 Beech is a hardwood and closed-grained wood. It is easy on the knife blade, food-safe and scratch and impact resistant. It also resists stains, bacteria, and moisture.
Thanks to its tiny pores, a beech wooden cutting board is almost as effective as a maple wood cutting board.
Beechwood cutting boards are the cheapest. Keep in mind that you have to condition it and oil it with mineral oil regularly as it can easily shrink
Acacia.
Acacia isn't as popular as maple and walnut. But its being hardwood, durable, hard, and sturdy make it perform so well in kitchens.
Acacia wood cutting boards are cheap and vary in shades. And an acacia cutting surface is easy to clean; just a sponge and soapy water will get the job done.
Check also , How To Choose The Right Cutting Board?
Walnut: Is Walnut Toxic for Cutting Boards?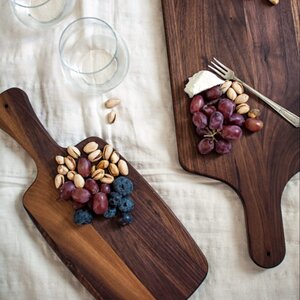 Of course not! Walnut is totally different from maple as it's the softest closed-grain type of wood. (want to know more about the end grain cutting board and edge grain cutting boards?)
Walnut cutting boards don't dull your sharp blades, but they can easily have scratches. At the same time, it is stained-resistant due to its rich, dark hue.
Its medium-large pores make it food-safe, bacteria, and moisture resistant. It also provides your countertop with a chic look.
You can easily sanitize and take care of walnut boards. We recommend conditioning walnut boards and oiling them with mineral oil regularly to avoid shrinking.
In brief, walnut wood cutting boards are not so good and not so bad, but most of all, they are safe. So those who ask is walnut toxic for cutting boards or not, you just got the answer.
Also read , Why is It Important To Use A Cutting Board? (10 Reasons Why!)
Teak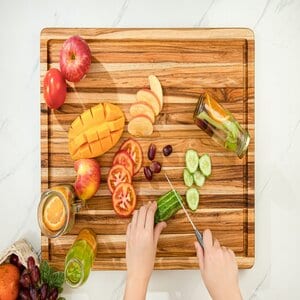 That type of wooden chopping board became popular not so long time ago. They are closed-grained hardwood cutting boards, sturdy, mold, warp-resistant, and very handy to clean and use.
My favourite part about teak wood cutting boards is they almost need no maintenance.
They store their water and natural oils, which stops water from leaking inside
Teak is scratch-resistant and doesn't shrink easily as in previous woods. But it will end up dulling your sharp knife because of the high ratio of silica. (wanna get the best kitchen knife set on the market right now?)
You won't like the large pores of teak, as they make the teak board vulnerable to moisture and bacteria.
Now you know the safe wood for the manufacture of cutting boards, you have to know that not all kinds of wood are safe. It is time to answer this:
Check also , What Is The Best Natural Oil For Wood Cutting Boards? (5 Magical Oils)
What Woods Are Not Good for Cutting Boards?
It would be best if you always stayed away from open-pored woods like red oak, as it will be so hard to keep them clean and safe from stains. Pine is also a bad option as it will give a resinous taste and smell; unlike maple, pine is soft and can easily show scars.
The rule is, the wood should be solid wood but not too hard to dull your sharp knives. It should offer you a non toxic cutting board or butcher block, that is washable and easy to maintain.
Oak: Can You Make a Cutting Board From Oak?
Oak is the exception here. Even though it's a hardwood tree, an oak wood chopping board is not safe because of its huge pores that shelter millions of bacteria.
But if you already have an oak wood chopping board, we recommend sanitizing, disinfecting, and regularly using mineral oil.
Pine or Cedar: Is Pine Good For a Cutting Board?
Making cutting boards from pine or cedar wood is a bad idea because they are softwoods and can get easily destroyed. they can turn your sharp knife blade into a dull knife in no time.
A Cedar wooden board can also cause skin and respiratory issues.
Red Oak and Balsa wood cutting boards aren't safe as well.