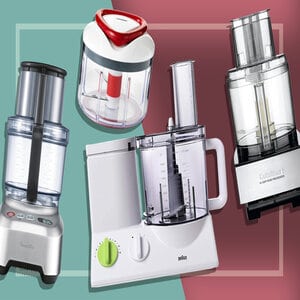 Cleaning a food chopper isn't always as easy as it seems, and the reason is simply that not all food choppers are the same!
There are manual food choppers and electric choppers, some of them are completely dishwasher safe, some are partially dishwasher safe while others aren't dishwasher safe at all. And the hardest type is the last one, to be honest.
And in this handy step by step guide, we will try to make it easy for you. all you need to do is to take notes then apply!
How do you clean a food processor or chopper?
Step 1: Separate the components of the food processor
After you chop, slice or dice your food, you will find a mess everywhere inside the chopper.
You have to take each piece apart so that you could wash it very well. But if it is an electric chopper, You have to keep the electrical parts away from water.
As for the manual sharpener, you have to watch out while you take each sharp blade apart, otherwise, you might hurt your fingers.
Also read , How to Hone Your Knife? | Easy Guide
Step 2: Start with the Food chopper Blade
As we mentioned above, the blades must be washed after each use. The moisture from the food ingredients can lubricate each blade. If you don't clean them very well after using them, you won't be able to keep them sharp for so long.
Besides, if you wash them after every use, you will make every clean process much easier.
You only need to rinse off the large food particles under warm soapy water. You can also use the nylon brush that comes with some choppers to remove the stuck food between crevices since if you only sink them in the water, you won't get rid of the stuck foods.
After washing, you need to dry each sharp blade with a soft rag or sponge to keep them safe from rust.
Read more , How to shuck oysters without an oyster knife
Step 3: Move to the Food Chopper Attachments
After washing each blade, you need to wash all the attachments you used.
All you need is warm water and dish soap. Then let them sink for minutes in the soapy water.
Use a soft sponge to get the best results.
Note that the sponge must be a soft one, so you don't scratch your manual food processor or the electric chopper!
You can place the removable attachments in the dishwasher, but not the stainless steel ones.
Step 4: Clean the Food chopper engine/motor
Here we go for pieces that we don't have to wash after each use.
The motor will not get dirty every time you use your processor, so you will have to clean it only if it gets dirty. Washing the motor might not be as easy as the previous units, but it is still accessible.
A soft cloth or rag is all that you need. Wipe the motor thoroughly and carefully.
Note that you can't use soapy water in washing the motor as it may ruin your appliance.
Step 5: Dry what you cleaned and let them cool
After you rinse all pieces of your onion chopper or garlic chopper, you need to dry them thoroughly.
Drying your kitchen appliance pieces will save them from getting ruined and will help you to live longer.
You need a soft dry cloth to dry them completely, then store them in your kitchen cabinet.
Remember not to use it if it is still wet.

Now we will move to the next part:
Read more , How to Care for Your Paring Knife?
Which parts should be cleaned regularly, and which should be cleaned once in a while?
But firstly, let's see what the parts of the food processor are.
A motor
Controls
The bowl/cup
A lid with a tube and pusher
Blades and attachment
The parts that should be cleaned once in a while
1- Food Chopper Motor
ِA motor in a food processor is the source of power that you need to chop or dice your food. it provides the processor with the needed energy to start.
The more powerful your motor is the more professional results you will get.
2- Food Chopper Controls
The knob twists in your food processor are the units that you move or push to operate it.
3- Food chopper bowl
The bowl of the cup of the food processor comes in different sizes but most of the time it comes in 1 liter.
The bigger size you get the more space for more food and less time you will have.
4- The lid with tube and pusher
The bowl comes fitted with a lid that has a tube for feeding. This feed tube helps you to add ingredients while you are chopping or slicing.
It also works as a chute for introducing objects to shredding or slicing discs.
5- The food chopper removable attachments
Food choppers or processors all come with different attachments or blades. Each chopping blade and attachment has its own different job.
They always come very sharp that you may hurt your fingers.
Most of the choppers come with the same different blades: the chopping blade and the slicing one, also known as the S blade.
It is used for shredding food and grate, mince, mix or even puree food.
Check also, 10 Best Bread Knife 2022 Review
Parts that must be cleaned regularly:
1-Food Chopper Blades
You must clean each blade regularly as it gets very dirty after each use.
You can clean each blade with your hands, and only some of them are safe to put in the dishwasher.
They are very easy to clean with hands. You only need running water and dish soap.
But you have to watch out while washing since they are very sharp that you may hurt yourself.
You can't use hot water while washing each chopper's blade as some of them may get rust as a result, and the plastic coating may melt.
2- Food chopper lid and bowl
Since the food is chopped into the work bowl and the base, they are the first to fill with vegetables and nuts. You must clean them after every use.
Washing the cover and the bowl might be a little pain, but if you don't wash them after each use, the bowl's walls and the base will be filled with rotten food.
3- The blade curves
Food may stick in the inside curves of the blade, which will need special tools for cleaning.
4- The exterior part of the food chopper
Since this part is not in direct contact with food, it can hardly get filthy.
This part is easy to wash, but it rarely gets dirty. So that, we say that you can wash it occasionally.
Now we will tell you what tools or items we will need to wash your own favorite kitchen gadget.
To wash food processors, you'll need the following:
Use an appropriate amount of mild dish soap.
A sponge or a soft rag.
Bicarbonate in soda (sodium bicarbonate).
Brush made of nylon.
Read also , Things to Consider When Buying an Electric Knife Sharpener

Extra Cleaning Tips
As we know that the blades are dangerous, using the nylon brush will help you to clean them without much danger.
If you want to clean the feeding tube, you will need a small iron brush to place it inside the tube and clean it. But be careful to dry it very well after cleaning.
We know that cleaning the lid is a bit hard, so we got you a great tip, which is to place a sheet of plastic wrap between the lid and the bowl before using the chopper. This will help you to prevent extra scrubbing.
Do you feel that your chopper smells bad? Don't worry! you can make a mixture of baking soda and water since the baking soda can absorb odors. Then place the mixture in the container for 10 to 1 minute.
After leaving it, open the tab and rinse it off underwater.
Final Thoughts
Cleaning your food chopper will make it last longer and provide you with healthier meals without having to think about hygienic issues.