Best Overall
Brieftons 10-Blade Vegetables Spiralizer
Premium Choice
Mueller Austria Multi Blade Vegetables Mandoline
Great Value
Progressive International Prepworks Mandoline

There is literally no tasty recipe that has no vegetables in its ingredients, and to be honest, slicing vegetables is not such a hard thing to do.
But it's a complicated and annoying thing to do when you are busy or have many vegetables to cut and slice. Luckily, there are a lot of vegetable slicers that will help you to get the job done.
In our buyer's guide, you will find the Best Vegetable Slicer in the market. All you need to do is to pick up the one that suits your needs.
List of 10 best vegetable slicers 2023
Comparison table
| | | | | |
| --- | --- | --- | --- | --- |
| Slicer | Material | Blade | Operation | |
| Fullstar Pro Food Vegetable Chopper | Plastic | Stainless steel | Manual | Check Price |
| Brieftons 10-Blade Vegetables Spiralizer | Japanese 420-grade steel, BPA-free and ABS plastic | Stainles steel | Manual | Check Price |
| DASH Safe Aqua Slice Vegetables Mandoline | Steel, silicone, and plastic | Stainless Steel | Manual | Check Price |
| Presto 02970 Professional SaladShooter Electric Slicer | Plastic | Stainless Steel | Automatic/ electric | Check Price |
| Mueller Austria Multi-Blade Vegetables Mandoline | MU-MANDO | Steel | Manual | Check Price |
| OXO 1155700 Good Grips V-Blade Mandoline Slicer | Plastic | Steel | Manual | Check Price |
| Lifestyle Dynamics Original SpiraLife Vegetable Slicer | Plastic | plastic | Manual | Check Price |
| Chef's Inspirations Premium V-Blade Mandoline Slicer | Stainless Steel, Plastic, Rubber | Steel | By hands | Check Price |
| Swissmar Borner Plus Mandoline Slicer | Plastic | Steel | By hands | Check Price |
| Progressive International Prepworks Mandoline | Plastic | Steel | Handheld | Check Price |
10 Best Vegetable Slicers [year]
1. Brieftons 10-Blade Vegetables Spiralizer-Best Overall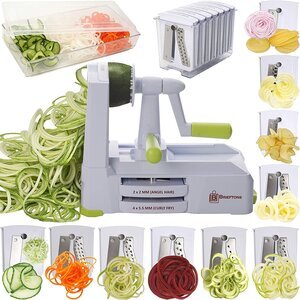 Brieftons 10-Blade Spiralizer comes with 10 ultra-sharp blades, distributed as follows:
Seven kept in the blade storage caddy
One pre-installed in the blade rack.
Two kept in the blade self-storage part
To be honest Only three of these blades are premium and the rest are standard
It is made of Japanese 420J2 stainless-steel and premium quality reinforced ABS plastic, making it strong enough to deal with the hardest vegetables such as sweet potatoes and butternut squash.
You can use Brieftons spiralizer to cut and slice so many kinds of veggie; we can't even list the veggie it can be used with, that's why we came up with a general rule:
All the blades can be used with soft veggie.
Bigger blades such as the 5mm or 5.5mm blades are designed for harder vegetables like butternut squash.
The Flat blade is designed for vegetables with layers such as cabbages, onions, and bell peppers.
Brieftons spiralizer isn't made for vegetables only, but it can also help you make a wide variety of slices such as:
Spaghetti, wide ribbons, gourmet salads, fine ridged, lasagna, curly fries, angel-hair noodles, crinkle chips, linguine, pappardelle, and pasta.
Best features of Brieftons Spiralizer
It is equipped with a catch container & keep-fresh lid to hold your food and kept it fresh till using it.
It provides an easy ON/OFF lever for steadfast operation
it is equipped with a caddy for safe blade storage
Extra tip:
To catch the spiralized vegetables while coming out, we recommend you to use one of the following:
The attached plastic storage container
A cutting mat
A bowl or plate
An aluminum foil. (Try to roll all edges slightly inward to be safe to contain any juices or spiralizing bits).
Wash and Care instructions
There are a few steps and tricks you need to follow when washing your piece of equipment to maintain it and prolong its life.
Wash your Brieftons spiralizer with tap water. You can add a detergent (if necessary), then for better results clean between the blade teeth by using a brush.
For prolonging the life of your spiralizer, we recommend hand washing. But if you want to wash it in your dishwasher, it is recommended only to use the top rack.
You can store Brieftons Spiralizer as a whole in your kitchen, or you can simply take it apart and store the individual parts in your drawer.
Pros And Cons
Pros
Slice veggies quickly
Blade caddy for safe storage
4 recipe EBooks
Easy ON/OFF lever
Catch Container
Keep-Fresh Lid
Foolproof suction pad
Cons
The blades must be hand washed
Not suitable for cutting cheese and nuts
The capacity of the catch box is small
Three blades are premium
Do we recommend Brieftons spiralizer?
Yes, we definitely do! It is designed for those looking for a high-quality, durable slicer that serves them for years to come. this kitchen gadget will stop you from wasting your money on the low-quality and old-designed vegetable slicers.
You can also read our forged knife VS stamped knife comparison
2. Mueller Austria Multi-Blade Adjustable Mandoline Cheese/Vegetable Slicer -Premium Choice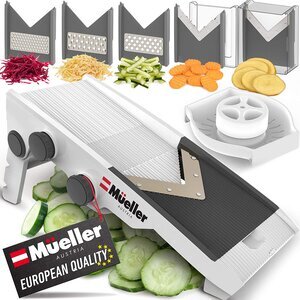 Mueller's magnificent mandoline is equipped with 5 ultra-sharp blades, while most of the v shaped mandoline vegetable slicers usually have just one blade.
Surgical Stainless Steel Blades
The interchangeable blades that are German-engineered are what set this kitchen gadget apart. they are 420 grade hardened surgical stainless steel, and provide unmatched functional versatility.
But you need to WATCH OUT! these blades are so sharp, so never use the equipment with no slicing guard. On the other hand, these efficient blades make such an excellent onion chopper cutter, garlic chopper, and vegetable peeler.
Actually, this piece of equipment is made with your health in mind. It features ABS plastic, which is non-toxic and won't harm your family's health. And will guarantee healthy meals.
Suffering from the challenge of replacing attachments in the low-quality dicers? This slicer lets you replace the attachments and lock them in place quickly and safely in almost no time.
The best features of Mueller Austria Adjustable Mandoline
It is easy to use and adjust, plus it is designed to versatile to save your time and effort.
LFGB standard approved
It is non-toxic and 100% BPA. It also doesn't break easily.
It is equipped with a slicing guard of steel prongs to protect your fingers while using it.
Wash and care instructions
You can easily clean it with your hands using running water only or with some soup and a sponge. And it is also dishwasher safe.
Pros And Cons
Pros
Great value for the product
Easy to operate
BPA free
Easy cleaning
Cons
No safety gloves included.
The grip is slightly uncomfortable
The blades are not so sharp
What makes Mueller Austria stainless steel mandoline slicers special?
This kitchen gadget is made for those who are always busy and have no time to spend in the kitchen. because nobody has the time to cut with a knife anymore! it is an easy-to-use piece of equipment for slicing, julienne & grating vegetable.
3. Prepworks by Progressive Adjust-A-Slice Mandoline -Great Value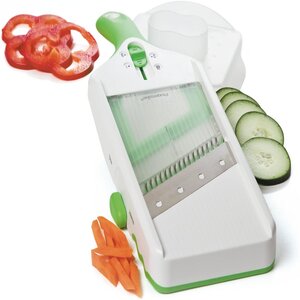 If you don't need a lot of cutting options and looking for a simple cutter to get the job done, Prepworks handheld slicer is such a perfect kitchen tool.
It is super easy to use; all you need to do to get the julienne blades is to flip the knob and then enjoy the yummy slices and cuts.
The versatile slicer has three thickness options (thick, medium and thin, and only two cutting options, straight and julienne.
You will love the design of this mandoline slicer, it is handheld, lightweight, and portable and needs almost no space for storage, and you can store it in any drawer or the counter's corner.
It has no stand, you will hold it with a hand and cut the food with the other hand, and you will need to have a bowl under the slicer to collect your food. But it has Non-skid ridges to hug the bowl rim. Or you can use it on the cutting board.
The angled sharp blade is so efficient and effective; you will be able to have thick cuts easily with no struggle
Wash and Care Instructions
It is so easy to clean this kitchen tool as it is mainly made of plastic, and you don't have to remove any parts from it.You can simply rinse it with few drops of soap and a sponge, that's all. And it is also dishwasher safe.
Pros And Cons
Pros
Portable
The blade slices effortlessly
Light and compact for easy storing
Easy cleaning
Easy to use
Extremely affordable
Cons
The food holder is useless
No stand
Limited thickness options
Who should go for Prepworks handheld slicer?
If you are looking for a mandoline that is not too heavyweight, not too expensive, and not too cheap, Prepworks by progressive adjust is a real good kitchen tool.
Also read , How to Hone Your Knife? | Easy Guide
4. Fullstar Vegetable Chopper – Spiralizer Vegetable Slicer – Onion Chopper -with Container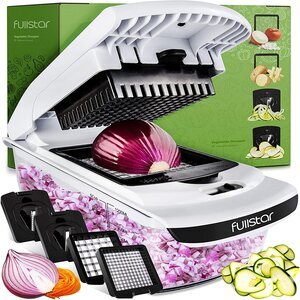 Fullstar adjustable mandoline slicer is a multifunctional vegetable slicer that doesn't only cut veggies but also Spiralize, dice, and chop many different kinds of vegetables easily and in almost no time.
The Built-in chop lid enables you to cut vegetables to the 1.2L collection tray in a super-easy way to avoid the mess standard knives, and cutting boards make.
If you are looking For the most guaranteed slicing experience, there are two-sized chopping razor-sharp stainless steel blades.
Stainless Steel Blades
These stainless steel blades are safe and have no harmful effects on your health as they are heavy duty and rust-resistant
Fullstar's storage container is made of BPA plastic, and it lets you keep and store prepared veggies till you are ready to start cooking. That type of plastic also does not harm your health.
This set from Fullstar includes
A julienne ribbon blade for producing yummy potatoes matchsticks.
A julienne slicer for producing thin carrot slices
A mandoline blade
A straight ribbon blade
A coarse grater blade for cutting cheese and chopping onion.
For excellent stability, this kitchen gadget is equipped with a non-skid base, and it also comes with a soft grip handle to make it easy for you to lift it and move it from one place to another.
This slicer from Fullstar lets you replace the blades and lock them in place quickly and safely, and you can shift from slicing to dicing a second.
Using this incredible piece of equipment will make you easily cut, chop, dice, and julienne onions, tomatoes, courgettes, peppers, cucumbers, and carrots. You can also make delicious sweet potato recipes and zoodles.
The best features of Fullstar vegetable chopper
It comes with 4 amazing efficient interchangeable blades designedto cut the hardest veggie.
It is made of an impact resistant ABS plastic to last long. You don't have to worry about durability
The transparent body lets you watch the progress of cutting up.
It is designed to be lightweight not bulky, so that you easily lift it and remove it from place to another.
You can use it everywhere since it is not electrical.pretty cool right?
Wash and Care Instructions
You can clean easily clean it cleaning by placing it on the top shelf of your dishwasher. And keep in mind that it is not so easy to wash it with hands.
Pros And Cons
Pros
Soft grip handle
Catch tray
Stable during use
Easy storage
Cons
Not so easy to clean by hand
My Take…
No exaggeration! Fullstar Vegetable Chopper is the best vegetable slicer you might come across. If you are a dishwasher fan, you will fall in love with it. But if you prefer hand washing, you might face a little difficulty (yes, we said a little).
5. DASH Safe Slice Mandoline Slicer, Julienne + Dicer for Vegetables, Meal Prep -Versatile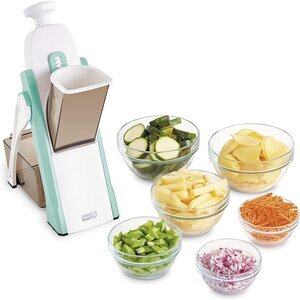 Dash veggie slicer is literally the safest option you will come through in our list, thanks to its unique design that protects your hands from going near the built-in blades.
Best features of DASH Safe Slice Mandoline
It features a thickness adjuster that allows you to control the thickness options in a range of 1-8 mm.
It comes with a food catch container to keep your countertop clean.
It offers a recipe guide and a cleaning brush.
The mandoline can be folded away for compact storage.
Its legs lock into place when used to prevent slippage while using.
Some parts of it are dishwasher safe (but not all of it)
Here is how Dash mandoline works:
The feed tube leads to the blade, and the push handle moves the edge against your veggie.
Because of the spring, the handle pops up automatically, all set for the coming Slice.
While the pusher fits perfectly into the tube and ensures the food contacts correctly with the blade.
This Mandoline slicer makes food prep super easy, fun, and quick, and it offers 30+ slicing options. It is designed to Slice, matchstick, julienne, dice, and more.
That is what makes it perfect for making yummy soups, stews, salads, zoodles, potato matchsticks, julienned carrots, and homemade potato chips.
Dash mandoline slicer comes with a food catch container, recipe guide, recipe database access, and a cleaning brush.
You have to keep in mind that its hole is too small, and you will have to cut the veggie in half
In fact, this kitchen utensil in general is a little bit hard to clean.
Pros And Cons
Pros
Extremely safe
Easy to use
Safe to clean
No loose blades
BPA free
Cons
The hole is too small
Difficult to clean
My Take…
Dash slicer is one of the safest mandolines you will come through in the market. which makes it a perfect tool for kitchen beginners.
Read more , How to shuck oysters without an oyster knife
6. Presto 02970 Professional SaladShooter Electric Slicer-Chops Nuts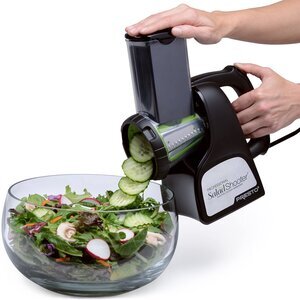 Presto vegetable cutter will make you effortlessly slice veggies and fruits to make delicious salads, soups, cheese, pizzas, tacos, desserts, and much more.
You can also grate chocolate, chop nuts, and make bread with ease. as it is super duper easy to use. All you need to do is to point and shoot where you wish. and the funnel guide will make the vegetables direct exactly to where you want.
For your comfort in the kitchen, presto shredder can fit anywhere, even in the drawer, as it compacts for easy storage.
And for your safety, the presto shredder/slicer is wired with a polarized plug for your kitchen's outlets.
The best features of Presto 02970 Professional SaladShooter
It comes with stainless steel blades to ensure long-lasting quality with guaranteed efficiency.
It features a sturdy handle to make it easy for you to hold it while using to prevent any injuries.
It provides an easy on/off button on the handle to make it easy to turn on and off your appliance.
For satisfying results, it comes with added power and capacity.
Are you suffering from small chambres of regular choppers? The large food chamber here can hold whole potatoes, Zucchini, and more. And can be easily adjusted for smaller loads.
The twist-lock ring secures the cones in their place safely.
For your safety and comfort, it comes with a Non-slip base. (you don't have to worry about slippage)
120 Volt AC, 60 HZ only
Wash and Care Instructions
The cleaning process is so effortless. all you need is a damp towel to wipe down any leftover food particles. The cones are dishwasher safe and can also be hand washed; all other parts are dishwasher safe as well.
Pros And Cons
Pros
Saves time
Safe to use
Easy cleaning
Safety/click Lock
Cord Storage
Cons
A little bit noisy
Large compared to other vegetable slicers
My Take…
Presto kitchen utensil is such a great idea for salads many more recipes! It is safe and gets the work done perfectly. So if you have no problem with its slight noise and large size, go ahead and buy it right away.
7. OXO 1155700 Good Grips V-Blade Mandoline Slicer-Compact Storing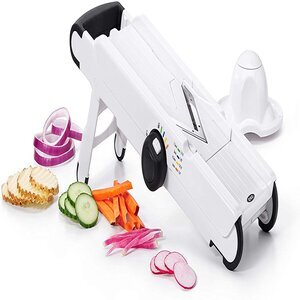 The amazing OXO Good Grips slicer comes with four interchangeable blades: wavy blade, straight blade, and julienne blade. And it offers four easily adjustable thickness settings, which can be effortlessly set with the turn of a dial on the side of the cutter.
These adjustable thickness settings are 6mm4.5mm, 3mm, and 1.5mm.
OXO vegetable slicer features a V shaped blade that offers many slicing variations and can easily slices firm and soft vegetables and fruits.
The Straight and wavy blades are designed for straight or crinkle cuts, while the julienne blades are designed for fine strips and French fries.
Non-slip Feet
It also features non-slip feet, a tuning knob, and a handle to make the equipment stay in place when used, which makes it a real sturdy tool for absolute comfort and safety.
The food holder holds your sliced veggies and protects your fingers, but the blade clip actually leaves a small divot in the runway and can catch food particles while sliding down.
V Blade Design
Oxo comes with a V-blade design, allowing for a sharper angle for attack, and increasing the blade's efficiency.
We don't like this slicer from Oxo placing the blades in and out needs your fingers to interfere dangerously near the steel edges.
You will be happy to know that you can easily fold in the feet and lock the slicer for minimum space storage.
Wash and Care instructions
The body of the tool and the food holder can be washed in a top-rack dishwasher safely. At the same time, the blades should only wash my hands. Just rinse the blades and then sanitize them.
Pros And Cons
Pros
Easy to use
Compact storage
Inexpensive
Easy to clean
Cons
Dangerous while changing the blades
My Take…
OXO Slicer is an easy, cheap, and helpful tool for slicing veggies, fruit, Zucchini, and more. So if you want an inexpensive slicer that can do many different cuts such as balconettes and crinkle, consider this mandolin slicer.
Read more , How to Care for Your Paring Knife?
8. Lifestyle Dynamics Original SpiraLife Vegetable Slicer-Spiralizer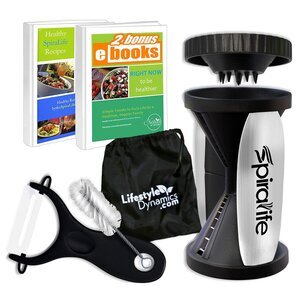 Original SpiraLife spiral slicer has a special cap with a wide and short funnel that maximizes the number of veggies converted to zoodles.
Finger Guard
For your protection, it features a protective finger guard to improve protection while slicing the food.
The key feature of the Original SpiraLife Spiralizer is portability; you will fall in love with its lightness. It is such a perfect tool for camping and traveling.
The wide blade opening prevents your veggies from shredding to mush and ensures your food's less wastage. You will also love it when you know that SpiraLife Spiralizer is the most affordable slicer on our list.
Unclog Power
Don't worry about the food being stuck inside. It is equipped with an unclog power to prevent your veggies and fruit from being stuck inside the cutter and offers you a storage bag, eBook, vegetable peeler, and a cleaning brush.
Wash and Care instructions
Easily rinse it under running water, and you can wash it with some detergent if necessary. We don't recommend washing it in the dishwasher.
Pros And Cons
Pros
Minimal storage space
Portable and suitable for traveling
Easy to clean
Saves time
My Take…
The portability, lightweight, and affordability make it a real good spiralizer in your kitchen.
9. Chef's Inspirations Premium V-Blade Mandoline Slicer-Safety Gloves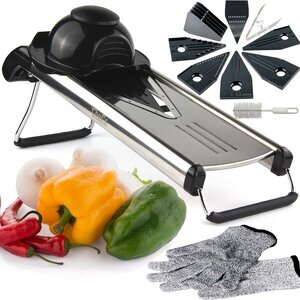 Chef's Inspirations cutter will save your time and will let you prepare food in almost no time. It will even make your time in the kitchen more fun.
Six Interchangeable Blade Inserts
This cutter is designed with the cook in mind; it features six interchangeable blade inserts that will let you slice, cut, and julienne vegetables professionally.
These inserts are:
1.5mm slice
2.5mm slice
3.5mm slice
3.5mm Julienne
7mm Julienne
1.6mm grater insert.
For your safety, this cutter comes with a protective blade sleeve, blade caddy, a hand safety guard, and nonslip rubber feet, and for easy storage, you can fold away the nonslip feet and store them wherever you want.
Wash and Care Instructions
After each use, rinse the tool under running tap water. And clean it with the extra brush, as it offers you an easy cleaning experience. It is also dishwasher safe.
Pros And Cons
Pros
Safe to use
Durable and stays in place when used
Easy to clean
Quick and easy to use
BPA FREE
FREE cleaning brush.
Cons
Wastes food
Will rust if not taken care of properly
My Take…
This vegetable slicer from Chef's Inspirations is one of the best vegetable slicers you will find in the market. It is safe and easy to use, and durable enough to stay with you for years.
But if you didn't take care of it properly, it will rust.
Check also, Best Bread Knife
10. Swissmar Borner V-Slicer Plus Mandoline 5 Piece Set -Easy to Clean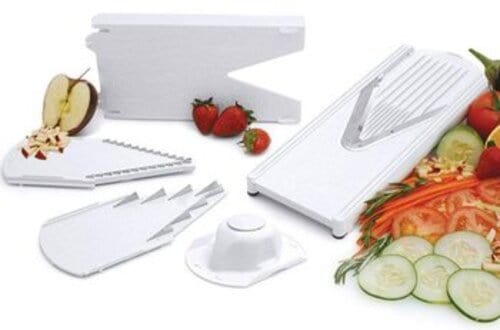 Swissmar slicer is made primarily from plastic and stainless steel. It comes with 3 sharp blade inserts, an ABS plastic frame, handguard, food safety holder, and a storage caddy.
You can cut and shred your vegetables to various thickness options with the 1/3″ and 1/8″ inserts.
For your safety, there is a holder that grips vegetables and fruit firmly with stainless-steel prongs so that your fingers stay safe and protected from the German steel blades.
The food Safety holder offers high protection as well. And for storage, the three inserts, the frame, and the safety holder fit into a storage caddy. You can store the caddy on your counter.
Wash and Care Instructions
It is easy to clean; all you need to do is just rinse it under running water. it is also dishwasher safe.
Pros And Cons
Pros
Easy to use
Blade caddy
Tough ABS plastic
Hand guard
Cons
The blades are extremely sharp and dangerous
Limited thicknesses for slicing
Not good for hard veggies and fruits
My Take…
This cutter is an inexpensive option for you to have in your kitchen. It will work best with a soft veggie, and it will be a little hard to use it to cut harder ones like potatoes and Zucchini.
FAQ about Best Vegetable Slicers and Mandolines
How to pick up the best vegetable slicer?
Before buying a vegetable slicer/vegetable chopper, keep an eye on the following:
1- Operation type
You will pick one of these two:
Manual slicer: this type of slicer is perfect for preparing small amounts of food each time.
Electric/Automatic slicer: these slicers have an electric motor to help you get the job done; they are suitable for chopping many amounts of food.
What makes them special is that they can be used manually as well.
Keep an eye on the slicer's motor; the high wattage motor will give you a high quality cutting experience in no time.
Read also , Things to Consider When Buying an Electric Knife Sharpener
2- Ease of use
A knife and a cutting board cutting method is a traditional method; the key feature of vegetable slicers is how easily and quickly they get the job done.
They also offer various cutting options as julienne and crinkle cuts, so try to choose a simple and easy-to-use slicer.
3- Safety
Always make sure you check the protective blade guard and the safety lock. These features will reduce the risk of cutting. Some slicers also provide nonslip feet.
You can buy cut-resistant gloves; they will ensure the safety of your fingers. And never miss reading the manual; it will help you avoid the misuse of the tool.
4- Size
You have to consider your kitchen and counter space before bringing your brand new food slicer home; you should also pay attention to the weight.
5- Durability
No one likes to spend his hard-earned money on a new slicer every couple of months. And you will not also like it when your blades rust after a couple of uses.
So make sure you get high-quality equipment that lasts long. A high price tag will never guarantee a long-lasting tool, but the material will.
6- Noise
Some slicers are really noisy, so it will be better if you give your brand new slicer a try before buying.
7- Warranty
You should check the manufacturer's warranty and check in which cases you can replace or repair your shredder.
How to clean and maintain a food slicer?
There are some tips that can make your food shredder last longer and work efficiently over time. Here are some of these tips:
Step 1: Read the cleaning instructions in the manual properly before using.
Step 2: Try always to put on cut-proof gloves when cleaning the blades.
Step 3: Set up the blades' thickness to zero, then use a soft piece of cloth or wipe them from both sides. Don't use steel wool, and it will only add scratches to your blades and ruin it.
Step 4: Turn the slicer off; remove the large food particles stuck on the blades, the center plate, the slice deflector, and the tray. And start to rinse these parts, then dry them.
Step 5: Clean the sharp blade with a detergent or soap, and you can clean the blades in their place or remove them
Step 6: Wash the remaining parts, and rinse them with hot water. We recommend using a sanitizing spray to sanitize the blades.
Step 7: Then let your piece of equipment air dry. Then make sure you lubricate the slide rods.
Step 8: Then cover the slicer with a towel or a piece of cloth and store it in a dry place.
For prolonging and maintaining your slicer, make sure you always sharpen the blades. Sharpening stones will do the job perfectly.
After finishing the sharpening process, it is preferable to rinse and sanitize your blades.
How to prepare your vegetables and fruits before spiralizing?
– Take the core out from the fruit that has a hard heart, such as pears.
-Trim both of the ends. (You have to make your cuts straight as much as you can).
-Ensure you take away the peel from tough root vegetables; if the skin is not suitable for eating, remove/peel it first. (You don't have to peel Zucchini and potatoes).
-It is recommended to microwave large, firm vegetables such as rutabaga to make them easier to be cut.
How to store your spiralized veggies?
It is totally fine to store sliced food in an airtight container inside your refrigerator for two to three days. Or you can freeze them; you will keep them safe for a long time, like peppers.
Yes! This means that you can prepare vegetables before cooking or even cut extra and save for using later, but pay attention that this doesn't work with everything.  
Such as apples and potatoes, because they get oxidized quickly and change color to brown, it will be better to prep them only when needed.
Sliced cucumber can also be kept for 2 days only due to high water content.
What to Do with Leftover sliced vegetables?
While slicing and cutting your food, there will definitely be a small amount of leftover, but it doesn't mean that the leftover has to go to waste. You can try the following.
Chop leftover food
Sauté
Use pasta sauce, rice, and omelets.
Use in juices and smoothies.
Cucumber can be used for infused water.
Make homemade baby food.
Butternut squash leftover can be used in making a yummy soup.
Or freeze them in a freezer-safe bag to use them later in a stock,
What are the types of mandoline slicers?
French mandolines
This is the traditional or the classic type, and they are designed for heavy usages. That's why you will always find them in professional kitchens and restaurants.
They are usually high quality and high in price, and they will usually last long.
V shaped mandolines
That type is growing in popularity, they are usually not interchangeable for other shapes, but they offer different thickness options.
Japanese mandolines
They are the lightest and most straightforward. Their stainless steel blades come in diagonal angle, and they are so sharp.
Their compact sizes make them portable and easy to store. They are so durable as well.
What are the different cuts of vegetables?
Taglio brunoise (Fine Dice)
Macedoine (Large Dice)
Julienne (Match Stick or French cuts)
Slicing
Mirepoix
Concasser
Mincing
Chiffonade
Parallel cutting
Roll cutting
Crushing
Cubes
Rings
Final verdict
The best overall in our list of "best vegetable slicer" is undisputedly The Brieftons 10-Blade Vegetables Spiralizer.
It is strong enough to deal with the hardest vegetables; as it is equipped with a catch container and keep-fresh lid to hold your food and keep it fresh.
It is easily cleaned and you can store it as a whole or you can simply take it apart and store it as separated individual parts.
Our premium choice is the one and only Mueller Austria Multi Blade Vegetables Mandoline.
It is easy to use and adjust, plus it is designed to be versatile to save your time and effort. It is a safe tool and does not harm your health as it is non-toxic and 100% BPA-free.
It is also equipped with a slicing guard of steel prongs for your protection
It is such a durable piece of equipment; it lasts long and doesn't break easily. This makes it really worth your hard-earned money
And the best budget is Progressive International Prepworks Mandoline.
It is less than $20, and it is portable because of its lightweight, which also makes it compact for easy storage. It is super easy to use and clean.