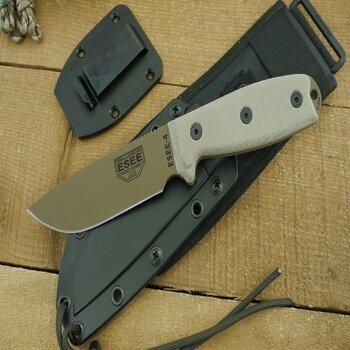 Have you ever wondered, "what is the best survival knife out there?". Then let us tell you that ESEE 4P fixed blade knife is the answer.
Why?
Because when you're in a life-threatening situation, choosing the wrong pocket knife, folding knife, fixed knife or whatever type of knife is a fatal mistake. The art of jungle survival is no joke; you have to choose the sharpest knife to guarantee your safety.
If you're planning to join a SERE training or a survival school, you should avoid the cheap bolt knives. You can go ahead and buy a bolt knife. But eventually, you'll hate it. Not only are they uncomfortable and challenging, but they are also not durable.
It would be best to have a razor-sharp, comfortable field knife, especially if you're joining law enforcement, military, or special operations communities.
When you're on the field, your life is a priority. Buying a cheap survival knife won't do. For that reason, we tested out one of the best survival knives, ESEE 4. And to be honest, this knife is excellent in too many ways.
We've got to say that this is not the best survival knife out there. But it has all the features that will make you love it. It will be your best friend on the field.
If you are familiar with Randall's Adventure & Training, you probably know how good their products are. Since 1997, this company has been producing nothing but the best survival knives.
One of their coolest products is the ESEE 4P Fixed Blade Knife. If you seek an all-purpose knife with excellent quality, you've come to the right place.
Read also , Things to Consider When Buying an Electric Knife Sharpener
Specifications Of ESEE 4P Fixed Blade Knife:
| | |
| --- | --- |
| | |
| Overall Length | 9.0″ |
| Cutting Edge length | 4.06" |
| Overall Blade Length | 4.5" |
| Maximum thickness | 3/16" |
| Blade Width | 1.25" |
| Item Dimensions (LxWxH) | 12 x 5 x 3 inches |
| Knife Weight | 7.4 ounces |
| Item weight | 12 Ounces |
| Blade Material | 1095 Carbon Steel |
| Handle Material | Plastic |
| Blade Length | 4. 50." |
| Includes | Molded Polymer sheath |
| Made in | USA |
Overview:
In the ESEE lineup, the ESEE 4 model is everyone's favorite. We checked out the knives in the lineup and didn't find any astonishing differences. Yet, the minor differences between the 4 and the 3 and 5 are what make this knife unique.
The ESEE 4 knife has a longer and thicker knife blade than the 3. The 4 is designed to be more powerful and durable than the 3. It's also lighter than the 5. For these reasons, people always prefer the ESEE 4 to the other ESEE model knives.
However, many features will make you fall in love with this particular one and avoid any other survival/tactical knife. Here, we listed six reasons that will make you buy this ESEE 4 knife.
Read also , Things to Consider When Buying an Electric Knife Sharpener
1- ESEE 4 knife is easy to use, comfortable to hold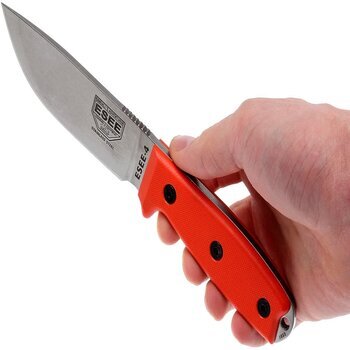 When we tested this knife, the first thing we noticed is how light it is. The whole knife weighs about 12 ounces. Lightweight combined with the knife's unique handle belly makes it pleasant to hold.
ESEE knives are well-known for their ergonomic handles. Not only because the handle fits nicely in the palm, but also it's not slippery. The linen Micarta handle scales give you a superior grip. So, if your hands are wet, the handle won't slip.
Regarding how grippy this knife is, we have to mention how the large choil will help you. The ESEE 4 knife's choil works as a finger groove. It allows you to do any subtle blade manipulations with ease.
The spine jimping of the blade enhances the level of control of the ESEE 4 knife. It provides you with thumb-supported cutting. The spine jimping extends far enough forward. So you can use it in conjunction with the finger-sized choil.
You can do any hard work with this knife, and your hands won't feel fatigued.
The annoying thing we noticed about the handle is that you should use the choil. The grip is somewhat narrow and may run holes in your hand (if you're not wearing gloves). People with large hands will be mad at this.
So, how to fix this? If you have large hands, consider using the choil. You can put the index finger on the blade's choil while using it. After some time, you'll get used to it.
(Pro tip: The handle of ESEE 4 knives is the same as ESEE 3 ones. The only difference is the metal thickness. ESEE 4 metal thickness is 0.063" less than ESEE 3)
2- The fixed blade knife has an ergonomic design
What we like about this knife is its geometric design. The ESEE 4 knife is a 0.188" thick full-tang one. The knife's total length is 9", the blade is 4.5" with a 4.1" cutting surface.
It has a flat-ground, drop point blade of 1095 high carbon steel (55-57rc). The knife has a large belly area that allows you to slice anything with ease.
If you think that the ESEE 4 knife's thickness is a disadvantage, then you're mistaken. It enhances its toughness hence improving cutting efficiency.
The drop point design of the blade makes it a great all-purpose knife. During cutting, the drop point dissipates energy as the cutting stroke approaches the end. That means you'll get superior control over the tip during skinning or any survival tasks.
The function of the drop point doesn't end here. It also empowers the tip of the blade. The thick, flat spine and the tip allow you to do batoning effortlessly.
One thing we noticed about the drop point is that it can't do the spear-point piercing. The drop point design disables the users from piercing spear-point, tanto, or any other similar techniques. If you're a fan of spear-piercing, we don't recommend this knife for you.
Check also, Best Bread Knife Review
3- ESEE 4P knife blade is razor-sharp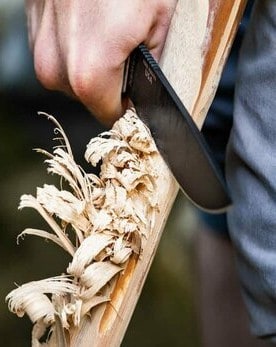 When it comes down to the knife's efficiency, we have to say this knife cuts through everything. We have put it to the test, and we were impressed. The ESEE 4 knife can rip easily through almost everything.
As we mentioned above, the blade material is of high carbon steel. This kind of steel is perfect for bushcraft/survival knives like this one.
We have to include that high carbon steel's metal composition is likely to rust if the user didn't properly care for it. However, The carbon material makes sharpening the blade an easy task.
Also, you don't have to care about the knife getting rusty. ESEE powder-coats it. So, you'll find the blade (especially the edge) dry. ESEE also lightly lubricates the knife with a rust inhibitor, so the blade's chances of getting rusty are low.
While testing the ESEE 4 knife, we found that it is not a good fire starter. The coat on the blade inhibits sparkling. Probably the company didn't figure out that some people like starting a fire with knives.
We tried several times to start a fire using a Ferro rod, and it didn't work. We had to take off the coat first then we were able to create fire. However, the knife is now prone to rust, but it's still a good hunting knife.
Also, we noticed that the steel of the blade is kind of soft. We don't see this as a disadvantage. The knife is a survival-oriented one that you can sharpen easily without breaking. So, if you want a strong blade that can withstand hard work, this knife is your best option.
We have to warn you that the knife is incredibly sharp on both sides. This is worth mentioning so that you don't use your finger on the knife blade topside and end up getting hurt.
The only downside you may encounter with this blade is that it may become blunt after some use. Yet, we don't find this a considerable problem since you can sharpen it easily.
Read more , How to shuck oysters without an oyster knife
4- You can sharpen the knife without a sharpener
When you're in the wilderness or any survival situation where your life is a priority, you won't have time to find a knife sharpener.
For that reason, you'll love this ESEE 4 knife. You can sharpen it on whatever hard, abrasive surface you may encounter.
5- ESEE provides you with a lifetime warranty
ESEE is so confident in their products that they give the buyers a lifetime warranty. That means if the knife broke after many years of continuous use, you'd get a new one for free.
ESEE design their knives with great care. They use their first-rate raw material when they manufacture their products. They care about every small detail. That's why they guarantee their customers a lifetime warranty.
But what if the knife broke and you want a new one? They will ship you a new one no matter where in the world you live. You don't have to keep the sales receipt or warranty registration because they will send you the new knife without them.
You may also like the best electric knife sharpeners review
6- The ESEE knife comes with a nice sheath.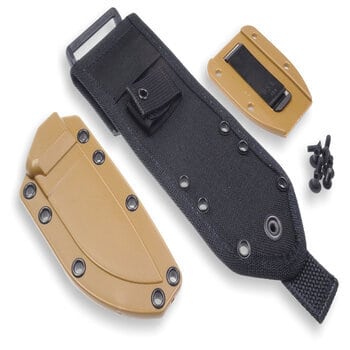 When you buy ESEE 4, you'll get a plastic, friction-fit molded sheath. The sheath keeps the blade secure as it has an attachment clip to seal the knife well in place. You can set up that clip on either side of the sheath.
The ESEE 4 knife used to come with a Kydex sheath. Now, they're replacing it with a plastic one. And we think this is a significant improvement; the plastic sheath can hold up more in hot temperatures than the Kydex one.
We don't say that Kydex is awful, but molded plastic is more reasonable and efficient. And this is an advantage; if you want to go to the southwest during summer, the knife will stay safe inside the sheath despite the burning temperature.
When we got the knife and tried to pull it from the sheath, it was kind of hard to do that. The sheath was tight. But we used the knife more than once, and each time the sheath starts to loosen up a bit. We had to mention this because buyers were annoyed at first and complained about the sheath material.
One more admirable thing we noticed is that the knife comes with a 220 cord and a cord lock. Why is this worth mentioning? Because you can use this cord as a lanyard, you can also use it to lash the sheath to the belt or pack.
You can seal the cord lock with the cord by doing a shoe-lace style lacing through the sheath's eyelets.
Last but not least, you can order MOLLE backing (ESEE sells them separately). You can wear it either as a drop leg sheath or attached to a MOLLE gear.
Pros and cons:
[proscons pros="Indestructible blade.,Great heat treat.,Long-lasting coating.,Incredibly sharp.,Lifetime warranty.,Lightweight.,Can be sharpened on any surface.,Efficient Micarta handle.,Comes with a cord and cord lock.,All-purpose knife." cons="Somewhat short handle,Can't start a fire.,Bulky sheath.,The sheath is tight at first.,Can't do the spear-point piercing.,Pricey."]
Read more , How to Care for Your Paring Knife?
Also check, What are the Benefits of Oysters?
Final Verdict:
The ESEE 4 knife is one of the best survival knives you'll ever come across. It has everything you need in a tactical knife. Its blade is razor-sharp, has an ergonomic design, and comes with a nice sheath.
It would suit anyone who spends most of their time in the wilderness. Those who will join a survival school will need this knife too. It's an all-purpose knife with a lifetime warranty.
Some people may complain about the handle as it's relatively small. Yet, you'll get used to it. But if you have small hands, you shouldn't be concerned about that.
It would be best to buy anything that can start a fire. But if you want to do that with this knife, you have to take off the coating. However, the blade will be prone to rust.
One of the most admirable features of this knife is that you can sharpen it with any abrasive surface. You don't have to buy a knife sharpener. For best results, we advise you to sharpen the knife before each use.
Although the knife coating is certified to be "food safe," the knife is treated with Tuff Glide before being packaged. That Tuff Glide is not licensed to be food safe. Also, the Micarta handle is porous and may keep bacteria. So, you have to take care of the knife and clean it after each use.
Also read , How to Hone Your Knife?
FAQs about ESEE 4P Fixed Blade Knife
1- Which one is better? A fixed blade or a folded one?
 A fixed blade suits those who spend most of their time outside. For example, if you're a hunter or outdoorsman, a knife with a fixed blade is a must-have.
Fixed knives don't tend to break (unlike folded knives). Usually, the knife blade is strong and large. Also, in tactical situations, they will be handy.
2- Are ESEE knives any good?
 ESEE is a good company that makes rigid knives. They produce incredibly sharp survival knives. The quality of their products will not disappoint you.
If you're a person who spends most of their time outdoors, you must have -at least- an ESEE knife.
3- What does ESEE stand for?
ES stands for "Escuela de Supervivencia." In English, it means "school of survival." While EE stands for "Escape and Evasion."
That name describes what the company's training was built about.
4- which is better? ESEE 4 or ESEE5?
Both of them are cool survival knives. Yet, there are some minor differences between them. The ESEE 4 knives are thinner and lighter than ESEE 5.
However, the 5 is for SERE training. The blade is thick to withstand all the abuse it takes. ESEE designed this knife to be the ultimate survival knife. It doesn't suit hiking/backpacking because it's thick and heavy.
The 4 is more of an "all-purpose" knife. It can perform as an excellent survival/tactical one.
So, if you need a sturdy knife for hiking, the ESEE 4 is your best option. Not only it's the ultimate survival knife, but also it has amazing features that will satisfy you.
You need to consider some essential features when buying a cheese knife set.