Best quality
Chef'sChoice Trizor XV EdgeSelect Electric Knife Sharpener
Best performance
Presto 08810 Professional Electric Knife Sharpener
Best overall
Presto 08800 EverSharp Electric Knife Sharpener

Do you have a drawer full of precious high quality, dull knives that you don't want to give up on them? It is time to sharpen your old dull and blunt knives blades and bring them back to life! Welcome to our best electric knife sharpener review.
We have made you a list of the best electric knives sharpener you will find on the market. All you need to do is pick up the electric knives sharpener that suits your needs and budget.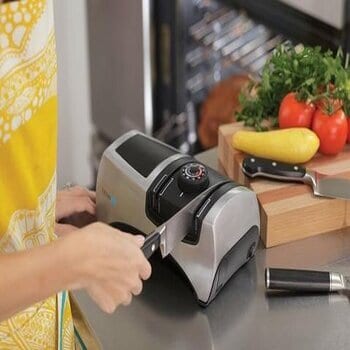 List of 10 Best Electric Knife Sharpener 2023
Best Electric Knife Sharpener

Presto 08800 Electric Knife Sharpener sharpens any non-serrated blades easily. and efficiently with its excellent two-stage sharpening system. offering you professional results from the comfort of your home
For a professional sharpening process and excellent results every time. the first stage has four precision blade guides position and holds your knife at the ideal sharpening angle.
At the same time, the second stage's sharpening system sharpens and polishes your blades in almost no time. Isn't that amazing?
What is my favorite part? It is lightweight and not huge or bulky and can easily fit over any countertop. Just put it near an electrical outlet socket.
You will love to know that this 120 Volts electric knife sharpener is built to North American electrical standards.
To get a sharpening process like the one you can get in the big shops, this electric sharpener uses a sapphirite grinding wheel. making it suitable for all materials of knives, as alloy, stainless steel, and carbon.
Before using, we recommend placing Presto 08800 sharpener on a flat surface. and cleaning your knives with warm water or a wet piece of cloth to remove any dirt or dust to get the best results.
We also don't recommend pressing on your blades while sharpening. Otherwise, the motor might stop.
Who can use Presto 08800 Sharpener?
It is not only perfect for professional chefs, but also great for and amateur home cooks.
Pros
User friendly and quick
Four blade guides
Quite and not at all noisy
Lightweight
Good value for money
High quality material
Versatile
Affordable
Compact and sleek design
Cons
Not suitable for deep edged Japanese knife sets
Do I recommend Presto 08800 Eversharp?
Ofc, I do! It's time to bring back life to your old knives and blades, just a few swipes, and the Sapphirite sharpening wheels will give you the razor-sharp edge you wish for in almost no time.

Chef'sChoice Trizor XV Electric knife sharpener is excellent for sharpening American-style, European-style, Asian knives, and serrated knives. So if you own these knives, this sharpener is the best for you.
Let me tell you that this electric knife sharpener will sharpen your blades and take them to a higher level than the standard one; it can smoothly sharpen your blade to 15°.
Not only this, but this electric knife sharpener can also sharpen the reprofile (the cutting edge itself) and make it way sharper than the time you first got the knife or even sharper than the factory model itself.
My favorite part? It can sharpen standard, gourmet knives fillet knives, sporting knives, butcher knives, survival knives, pocket knife, sporting knives, straight and serrated knives.
Unlike Presto 08800 Eversharp sharpener that comes with two sharpening stages, this electric knife sharpener comes with 3 sharpening stages. Let me tell you more about each stage.
Stage 1 is the "pre-sharpening stage," it can sharpen any dull or damaged knife. it can remove the most metal thanks to the coarsest of the 100% diamond coat discs it has, impressive, right?
Stage 2 this stage uses diamond coated discs as well but at a little bit different angle, creating another bevel for added durability.
Stage 3 provides the stropping and honing for your knives. It is also made for your needs of sharpening your serrated knives.
Chef's Choice 15 Trizor XV Sharpener can handle all your sharpening tasks quickly and efficiently.
For accurate control and automatic adjustment, the electric knife sharpener offers advanced, patented flexible spring guides of the sharpening angle along with a convenient on/off switch.
Enjoy the combination of durability and strength of the trizor edge and the ultra-sharp 15-degree XV technology. Which will offer you the perfect sharpening in one minute and the resharpening in 10 seconds.
Pros
Converts 20 degree knives to 15 degree edges
Suitable for both Asian knives and Western knives
Sharpens straight-edge and serrated knives
Durable and high quality ,100% diamond abrasives Patented Sharpening System
Super quickly
Equipped with flexible springs
Cons
Not easy to use on smaller knives
Read also , How-to-clean-a-food-chopper
Is Chef's Choice Knife Sharpener worth buying?
Yes! It offers three efficient sharpening stages to give durable and professional edges to your blades.
Enjoy an edge that will stay sharp in your kitchen so much longer than what a single stage knife sharpener does.

Presto 08810 Professional Sharpener is a step-up of the previous Presto 08800 EverSharp model, with 3-stages instead of 2-stages.
What makes this electric knife sharpener worthwhile buy? Its the super-efficient Sapphirite sharpening wheel. Let me go more in-depth in features.
You will be able to sharpen various blades with various thicknesses easily, and credits go to the interchangeable blade guides switch.
What is my favorite part? The special 'No Guess Sharpening' feature from presto allows you to adjust the blade selector according to your blades' thickness, and the blade angle adjuster will automatically optimize your cutting and offer you perfect results.
For light blades, as fillet knife blades and paring knives select thin, chef's knives and standard kitchen knives select medium, and for a hunting knife, select thick.
Sharpening European knives is never a problem with this electric knives sharpener. but to be honest sharpening Japanese knives or smaller knives might be a problem, due to the higher bevel angle it imparts on blades
You will fall in love with the hair-splitting sharpness, the third stage, or the honing one will offer.
Say bye-bye to the wobbling you had with low-quality sharpeners, as there are 5 suction cups on the bottom to hold Presto 08810 Sharpener in place while sharpening. And for easy metal disposal, the metal filings are collected in the red receptacles below.
Pros
Sapphirite sharpening wheel
Quick and efficient
Quiet operation
Works well on low or mid-level cutlery
Easy to use
The Angled slots stop the need for guessing
Highly versatile
Receptacle at the base for collecting metal fillings and easy disposal
Cons
Not suitable for Japanese knife style or fishing knives
Not suitable for a curved blade
What makes Presto 08810 Electric Knife Sharpener so special?
It is a versatile and affordable 3-stage sharpener with high quality, its Sapphirite grinding wheel, and interchangeable blade guides make this tool such a special choice.
So if you are looking for an electric knife sharpener at an affordable price, look no further than this sharpening tool.

Shenzhen Electric Diamond Knife Sharpener is your perfect choice for sharpening your ceramic blade and steel knives quickly, quietly, and efficiently.
The diamond abrasives of this electric knife's sharpener features are exactly what you have been searching for. they will precisely remove about 1mm chips from your ceramic blades.
For an efficient and easy knife sharpening process this tool comes with a cartridge with two sharpening wheels. and for easy replacement and cleaning, the cartridge is detachable
The cartridge has not one but two diamond grinding and sharpening stones. An 800 gritstone is designed for honing and more refined sharpening. while the 600 gritstone is for coarser sharpening.
One thing we really like about Shenzhen Electric Knife Sharpener is the slot's position is raised to solve the problem of sharpening near knives' handles that most sharpeners on the market have. By this, you will enjoy razor-sharp edges from the handle to the tip.
When it comes to design, this electric knife is so elegant and cute and will never ruin your kitchen décor or design. it will only make a good addition to it, and thanks to its lightweight size, it can perfectly fit over your countertop or on your kitchen cupboard.
when it comes to comfort, this sharpening tool is more comfortable to hold than Presto 08810 sharpener.
Price? this product is surprisingly affordable, and will definitely match your budget.
Restore your stainless steel and ceramic knives factory sharpness, but don't expect the tool to work well with your serrated knives, hunting, pocket knives, or scissors.
Pros
Affordable
A removable and replaceable diamond wheel cartridge for easy cleaning
Diamond abrasive sharpening stones
grits for fine and coarse sharpening
Two-stage sharpening process
sharpens difficult-to-reach blades near the handle
Cons
Does not work well with serrated blades, pocket knives, hunting knives, folding knives, outdoor knives, and kitchen scissors
Shall you give Shenzhen Electric Knife Sharpener a try?
If you are looking for a budget kitchen knife sharpener, then yes you should give it a try. Its diamond wheel will accommodate your different types of knives efficiently and will give them a long-lasting sharpness too.
Read more, Best Knives' Oil and Lubricant Review

Smith's 50005 Sharpener is one of the best electric knife sharpeners on the market right now. Let me tell you why.
Combining the manual knife sharpener and the electric elements is such a brilliant thing the single hybrid offers. And you can barely find something like that on the market.
You will love how durable Smith's 50005 sharpener is. It can stay in your kitchen for years to come without breaking or stopping.
For an absolutely safe knife sharpening process, the electric knife sharpener comes with an anti-slip rubber base to prevent accidents and slippage during the knife sharpening.
Not only does this Chinese knife sharpener offer Non-Slip rubber feet but a soft-grip rubber handle for a completely comfortable kitchen knife sharpening process.
Pros
Pre-set Sharpening angle
Non-Slip Rubber Feet
Ceramic Rods for Final Edge Honing
Sharpens Both Sides of the Blade
Soft-Grip Rubber Handle
Bottom line
Smith's 50005 Edge Pro Compact Electric Knife Sharpener will assure you have the sharpest knife with a serrated blade and standard blade. If you want to keep your light-duty kitchen tools are always razor-sharp, this sharpener is the right choice.

Chef'sChoice Professional Electric Knife Sharpener will give you the edges of your knives an excellent finish every single time you use it.
You will love how this sharpening machine won't give you a damaged knife or chip away too much steel from your knife.
Enjoy all the chef's choice 15 Trizor XV model features at a cheaper price, as 100% diamond abrasives for stages 1 and 2. a stropping disc for the last knife sharpening stage, and durable, flexible sharpening angle guides.
Get hairsplitting sharpness and razor-sharp edge from the comfort of your home, right after passing your tool through the unique stropping and polishing in the third stage
For a safe and comfortable knife sharpening process, this powerful electric knife sharpener comes with a resilient feet-hold to protect it from moving and slipping while using.
Unlike many other knife kitchen sharpeners that need learning to operate the piece of equipment, Chef'sChoice Professional Electric Knife Sharpener is super easy to use and user-friendly.
Durability? Don't even worry. you can be sure that this electric sharpener is durable enough to stay in your service for a very long time.
Sharpening your various types of knives, including the chef's knife, butcher knife, and hunting knife, serrated knife, or sporting knife, is no longer a hard process.
Pros
Highly effective
Offers razor-sharp edges
Easy to use
Compact unit
Gives long-lasting
sharp
edges in seconds
Cons
Not a portable option
Heavyweight
Bottom line
If you are looking for an easy electric sharpener that is simple and user-friendly and if you want to make sure that your family is always safe while using sharpening tools, look no further than Chef'sChoice EdgeSelect Electric Knife Sharpener.
Read more , The Best Ceramic Folding Knife /Pocket Knife Review

Work Sharp WSKTS-W Knife & Tool Sharpener is another of the best electric knives sharpener on our list. Wanna know why? Check out its awesome features.
Work sharp Sharpener is built to sharpen any and every tool in your kitchen and any type of blades you have and guess what? It can perfectly sharpen your scissors as well.
Well, if it is important for you to find an electric knife sharpener for your kitchen, garage or tools shed, this electric sharpener is the ideal choice.
It is also completely safe and easy to use in your kitchen, but the only drawback is that it will take up a large place on your countertop because it is a little bit bulky.
Sharpen the blades of your kitchen knives to a 40° angle, while the outdoor ones to a 50° angle.
While trying Work Sharp, I really loved the changeable abrasive belt and setup guides. They made me easily pick fine materials for the tools made from and harsher metals.
Never worry about getting damaged knives or burnt ones. The efficient Coarse (P80), Medium (P220), and Fine (6000) will never do that while sharpening. And you can easily replace the abrasive belt easily when wearing it down.
For added stability, this electric knives sharpener features a wide base to stay in place on any surface you put it on, so never worry about your sharpening machine sliding around while using.
Unlike Chef'sChoice Hone EdgeSelect sharpener that sharpens limited types of knives, this sharpener sharpens a wide variety of knives and tools.
For saving your time and effort, this electric sharpener comes with marked sections to make it easy for you to get where you should put your kitchen knives according to their shape and size.
Unlike the other regular sharpeners, this sharpener from Work Sharp doesn't provide a knife slot. It features a designated blade area, which makes it excellent for exotic knives.
Pros
sharpens any type of tool
Interchangeable guides and wide sharpening angle selection
A flexible abrasive belt that easily swaps out
Stable
Variable motor speed
Compact and portable
Cons
Large and heavy
The abrasive belt replacement can be expensive
Bottom line
This electric sharpener will offer you even and pro results every single time you use it. It will bring the sharpness of your blades back in seconds, without damaging them.

Kyocera Advanced Knife Sharpener is the easiest and most convenient electric sharpener you can find on the market.
If you have a drawer full of dull knives, especially ceramic knives and want to bring them back to life, check out these amazing features.
You will love how high quality and efficient this sharpener is, thanks to its diamond grinding wheel, which makes sharpening your ceramic knife and steel knife feel like a breeze.
The best part? Kyocera Advanced Knife can be used by literally anyone, even those with absolutely zero experience in knife sharpening. because the sharpener guides you through a light roller-assist system, which guarantees there are no mistakes while operating.
For a completely safe and comfortable sharpening process, the guide slots in place to keep your ceramic knife in place while sharpening. ensuring no damage to your blades and no harm to you.
One more notable feature is the sharpening slot hold all the waste materials and grinding dust, making cleaning the tool and wastes disposal feel like a breeze.
Keep in mind that the electric knife's sharpener will take off around 0.5mm from your ceramic knife or steel knife. and at the same time, let you control how many swipes your knives need.
It will also achieve a 35-degree sharpening angle on your blades, which is excellent for your small knives.
To be honest, this sharpening tool is not built to last in your kitchen, yes it can do its job perfectly till some point, but if you want an electric knives sharpener that is durable enough to stay in your for your years, Work Sharp WSKTS-W is a better option.
Pros
Easy to operate by anyone
Perfect for ceramic knives
Greenlight to guide the user
A replacement diamond grinding stone is available
Suitable for left and right-handed users
Safety Cover
Assist Roller
Bottom line
You don't need a drawer full of dull knives, right? This efficient electric knife sharpener machine will make your old knives sharp enough to stay in your service for years with no need for sharpening.
Check also, Best Oil For Cutting Boards |Buyer's Guide

Chef's Choice 250 Hybrid sharpener made the impossible happen. It made a model that combines both manual knife sharpener and electric one's functions together. isn't that just amazing? Let's check out how great this tool is.
You will love this affordable, compact 3- stage sharpener; it will easily and efficiently sharpen your straight knife and serrated knife in a fraction of a second.
Let me tell you more about the super-efficient sharpening stages. The electrical stage 1 and stage 2 will sharpen and hone your knives, while the third manual one's job is to refine the blades and give a sharp, arch-shaped.
For perfect final results, the grinding materials are coated with ultra-thin diamond abrasive, offering you well-polished and razor-sharp edges.
If you have a dull sports knife, hunting knife, butcher knife, ceramic knife, it is time to bring them back to shine in your kitchen. Simply center your blade within the sharpening slot and keep consistent swipes along with light downward pressure. Easy peasy, ha?
But keep in mind that Chef's Choice 250 Hybrid can only handle 20 degrees class knives. so if you have Japanese knife style or American/European knives with a 15-degree edge that needs to be sharpened, this tool won't be the right one for you.
When it comes to performance to price ratio, this electric knife sharpener is such a great investment. Don't let the plastic material on the outside deceive you! The tool is durable and will serve you for years to come.
One more notable feature is that this sharpening tool is lightweight. It is only 2.5 lbs., making it easy for you to remove it from one place to another and make it also suitable for outdoor knife sharpening.
Pros
100% diamond abrasive
suitable for straight edge and serrated blade
Has both electric and manual sharpening functions
Long lasting and durable
Easy to use
Durable and built to last
Advanced Hybrid technology
Affordable and budget friendly
Cons
Works only with knives of 20 degrees angle
Not suitable for knives with thick blades
Bottom line
The combination of electric and manual sharpening functions along with 100% diamond abrasive make the chef's choice 250 hybrid an ideal choice for you. It also comes at a great price for what the Chef's Choice offers in this model.

Chef'schoice 320 knife sharpener comes with 2 stage knife sharpening functions, leaving your knives sharpened and you satisfied.
Not everyone wants a huge sharpening tool in their kitchen, right? Especially if it is not for daily use, that's why this sharpening tool was designed to be lightweight and portable. It weighs only 1.25 pounds.
You don't need to worry about durability, as this model from Chef's Choice is built to last. It also takes only 110 volts to work efficiently and quickly.
Chef'schoice 320 comes with only two sharpening stages instead of three, but these two sharpening slots are the most important; let's talk about them in detail.
The first sharpening slot has 100% diamond abrasive, while the second one of stage 2 has the sharpening stropping materials for honing your knife blade, offering you a highly smoothed sharp knife blade and a razor-sharp edge.
You will love the versatility of this sharpener tool. You can use it to sharpen various kinds of knives as your kitchen knife, sporting knife, pocket knife, serrated knife or serrated blade, or a hunting knife.
For keeping the knife blade at a precise sharpening angle while sharpening, the precision guides on each sharpening slot feature Special built-in elastomeric springs, providing you with excellent flexibility and control.
If you want a portable sharpening tool from Chef's Choice that has all the right features, Chef'schoice compact electric knife sharpener is a great choice.
Pros
lightweight and can be carried around easily
Easy to use
Sharpening disc is 100% diamond abrasive
Highly versatile
Two-stage sharpening process
Built-in elastomeric springs in angle guides
Cons
Might not be suitable for delicate knives
Bottom line
Save your hard-earned money and don't spend it on buying new kitchen knives every couple of months, and invest your money in this affordable best electric knives sharpener.
Check our list of the best bread slicers.

EdgeKeeper Sharpener is the best electric knives sharpener when it comes to speed, no exaggeration! It will give you the best electric sharpening and bring your blade back to shine in record time!
The tool offers two sharpening stages that boast diamond-coated sharpening wheels, making the tool excellent for your precious straight edge blades.
Get the best results with this electric Sharpener thanks to its perfect blades guides that will position your stainless steel at the best adjustable sharpening angles.
Sharpening your American or European carbon steel or stainless steel kitchen knives is no longer a hard task, and credits go to the efficient diamond-coated sharpening wheels that will always give you optimal results.
But keep in mind that this electric knife sharpener does not work with serrated knives, sporting knives, ceramic knives, electric knives, scissors, or any dull blade that does not fit in the sharpening slot; don't risk your precious blades.
We really love the fact that EdgeKeeper Electric Knife Sharpener features a detachable magnet to easily collect the metal shavings of your dull blade. Just make sure you open the panel at the bottom and wipe the metal shavings.
By talking about clean-up, we recommend wiping your electric Sharpener with a damp cloth after each use, and never use abrasive cleansers or soak the tool in water or any liquid.
You will love the compact design of this electric knives sharpener; it is small and lightweight, making it easy for you to store it in any drawer.
One more notable feature is the non-slip silicone feet; it offers stability and safety while using the tool and will prevent it from moving around while using it to sharpen your dull blade.
[proscons pros="Removable magnet to catch metal shavings ,Non-slip Silicone Feet,Easy to use and clean,Compact and easy to store,Diamond-Coated Sharpening Wheels" cons="Only provides the basic functions"]
Bottom line
If you have the type of knife that goes well with EdgeKeeper Electric Knife Sharpener, don't hesitate to get it now and enjoy the fastest electric sharpening experience. Not only this! But the price is also surprisingly affordable!

Wusthof Electric Sharpener is one of the simplest electric knives to use in our List. let me tell you more about it.
If you never dealt with an electric knives sharpener before, and want to get one now. then you should give Wusthof Electric Sharpener a try first; why? Because it boasts pre-programmed control guides to sharpen your dull blade with a simple button's touch.
This three speed-sharpener works efficiently with a range of knives of straight edge blade and serrated blades. it will give you the razor edge you have always been dreaming of.
This versatile Sharpener comes with some outstanding features that will impress you. It is designed especially for home use to take care of your household knives. and uses precision edge technology to offer a unique sharpening process
Don't worry about the clean-up process since this electric knives sharpener features an internal vacuum system to catch all metal shavings and save your time and effort.
By talking about saving time, the intelligent timing system of the three belts P120, X30, and X4, will offer you a sharp kitchen in a really short time.
[proscons pros="It comes with three-speed settings,Built-in one-touch pre-programmed controls,Works with both straight edges and serrated knives,Easy to clean,Fast sharpening" cons="Might be over-programmed"]
Bottom line
Wusthof Electric Sharpener is the ideal choice for those never dealt with electric knife sharpeners before.
FAQs about Best Electric Knives Sharpener
How can I sharpen my blade without a sharpener?
Sharpening a knife blade has two processes. First, one is sharpening or grinding the edge, and the second one is honing, which is fine-tuning and polishing the knife edge to make it sharper.
Sharpening a knife blade has two processes. First, one is sharpening or grinding the edge, and the second one is honing, which is fine-tuning and polishing the knife edge to make it sharper.
But if you can't afford a manual or electrical sharpener, you still can have sharp blades, but don't expect this sharpness to last for a long time.
*The first method, Sharpening stone.
*The second method, Honing rod
*The third method, Ceramic mugs
Which to Choose – 2 or 3-Stage Sharpener?
Well, it depends on your usage and the knives you use. If your knives are cheap and you don't use them often, then we recommend a 2-stage knife sharpener.
But if you have expensive knife sets, we recommend buying the 3-stage sharpener get the best sharpening result every time.
You might find one-stage sharpeners, but most of them are not so efficient and will give you a rough-to-the-touch and blunt knife, so we usually don't recommend that type of sharpeners.
If you already have a one-stage knives sharpener, we don't recommend using it with a serrated knife, otherwise, it will give you a damaged knife beyond repair.
Final verdict
The best overall in our List is undisputedly Presto 08800 EverSharp Electric Knife Sharpener.
It is super easy to use and will give you the finest edges in almost no time. It is also so quiet, lightweight, and most of all made from high-quality materials.
Our premium choice is the one and only Chef'sChoice Trizor XV EdgeSelect Electric Knife Sharpener.
It works great with both Asian knives and Western knives, and can perfectly sharpen any straight-edge or serrated knife that has been dull in your drawer for long years, thanks to its 100% diamond abrasives Patented Sharpening System.
And the best performance in our list of " best electric knife sharpener" is Presto 08810 Professional Electric Knife Sharpener. Which will make your knife sharpening process feel like a breeze because of its Non-Slip rubber feet and soft-grip rubber handle