Have you ever bought an expensive kitchen knives set, that turned bent and dull in your kitchen drawer in less than a year? You aren't alone! In fact, when we get a pricey, high-end sharp knife set we think that it will serve us for long years no matter what.
But the truth is it won't serve us for long years if we don't care and maintain it properly. In this "knife care and maintenance tips" guide, we will tell you how to make your kitchen knives durable enough to stay razor-sharp for years to come.
How to Maintain A Ceramic Blade
Ceramic is a neutral compound (pH 7) that is corrosion resistant. And Zirconium dioxide is the mineral used for ceramic knife creation. That's why ceramic Knives made from zirconium dioxide material are very easy to clean.
All you need to do is to clean ceramic knives under running tap water then leave them to air dry.
How to Maintain A Stainless Steel Knife Blade
A stainless steel knife blade is chrome-rich, so it will not oxidize. making cleaning steel knives such an effortless task. Here is how to clean a steel blade perfectly.
Required Tools
Water
Dish soap
A cotton cloth
Steps
Wash the stainless steel blade using dish soap and hot water or any mild soap type.
Do not leave it to air dry. After washing it, start drying it using a cotton cloth.
How to Maintain and Clean Carbon Steel Knife
carbon steel knives need more maintenance. as the carbon steel lacks the elements that provide the blade with corrosion protection. But still, the carbon steel blade is very popular in the cuisine world. Here is how to get a perfectly maintained and clean knife.
Required Tools
Steps
Use a clean rag to wipe carbon blade steel knives after every use.
Or simply wash them under running tap water, then dry them thoroughly.
Mor tips for Maintaining Your Carbon Steel Blade
Do not soak your carbon steel knife blade in water.
Don't place it in the dishwasher.
Do not leave it to air dry.
Store it in the knife block or dust-free drawers.
Tips for Professional Knife Care
Here are some more tips for maintaining all your knives.
Skip the Dishwasher
If you have a wood handle knife, it is better to avoid cleaning it with the dishwasher or soaking it in the kitchen sink, as wetting the wooden handle will lead to cracking.
The best way to clean wooden knife handles is to wipe them using a soft, soapy rag then wash them with a running tap.
In fact, it is better not to use the dishwasher for all types of knives, even if they are dishwasher safe.
Clean Fastly
Some foods involve acids which will begin to stain fastly. To maintain your knives, you should clean them at once after you are done with them.
Keep Them Sharp
A knife-edge has too small saw teeth. These teeth allow the edge to go through soft ingredients easily, such as tomatoes. When the teeth are bent, your blade will become blunt.
When a kitchen knife edge becomes dull, you only need to scrub them on flat sharpening stone or sharpening steel (honing steel).
If you have a higher budget you can invest in an electric sharpener, manual knife sharpener, or high-quality whetstone set.
Choose the Right Cutting Board
When you cut over a hard surface like a glass cutting board, metal, or ceramic, your blade can blunt fastly.
So it would help if you chose a cutting board made from a soft material, for example, wood or plastic.
Cut Pepper from the Inside
The bell peppers have a waxy external, which will be stiffer on your blade than the soft, fleshy inside. Therefore when you slice peppers, first use the blade to open them, then start slicing them from the insides.
Keep Your Knives in Wooden Blocks
Store your knives in a wooden slotted block. This step will help keep them safe and protect your blade from having nicks, which will surely occur when keeping them in drawers.
It also will protect your hand from getting injured if you accidentally grap the knife from the blade.
Dry Your Knives Thoroughly
Before storing your knives, you have to make sure they are entirely dry. to prevent mold and bacteria formation within the wooden block slots.
Take Special Care with Your Ceramic Knives
Ceramic knives come with a lot of benefits. They are easy to clean. Food and its odors will not cling to them. And most of all they don't rust.
However, these knives are brittle, and they can not handle the pressure. It is not the ideal selection for tasks that require applying a lot of pressure, like bone a chicken. Moreover, they can easily crack if it falls accidentally.
Never Use Your Knife to Pry
If you want to open jars, do not use your blade for this task. It can damage the blade as it will become a bent and dull blade. Besides, you may end up hurting yourself.
Washing your pocket knife, Japanese knife, Chef's knife, or ceramic knives isn't the only factor that's gonna prolong their lives! In fact, the way you store them will also do.
Here are the best storage ways that will help your blades serve you for years to come.
The Best Ways to Store Your Kitchen Knife
A Magnetic Knife Rack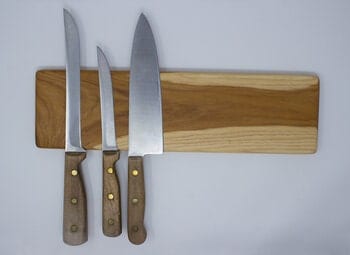 This method is ideal for you if you do not have a lot of space on the countertop. it will make it easy for you to reach your knives while cooking.
Magnetic knife racks come in multiple sizes to fit any part of the wall near your work area. what sets this rack apart is that you can add as many knives as you want.
Plus, the honed sharp edge will not touch any area on the magnet strip, decreasing the risks of having a dull knife.
It will also protect you from getting injured while searching for your tool. And you will clean it easily wipe it with a damp cloth.
Where To Mount Magnetic Knives Holders
These are a few suggestions on where to set up a magnetic holder.
Over the sink
At the wall behind the area, you work in.
Over the stove
To the stove side
Below the upper cabinet
On the cabinet side
Inside the door of the cabinet
Within the drawer
On the refrigerator
2-Knife Bags Or Cases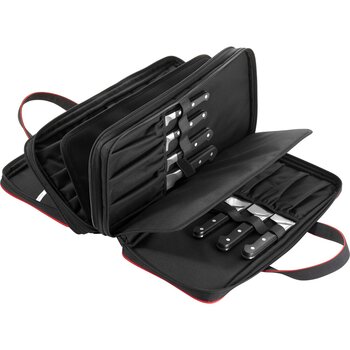 Knife Bags Or Cases is another method to store your knives. It is easy to carry and move around, that's why it is the best option for culinary students. This method is also ideal for kitchens with no spare drawer space.
People who have kids will need a more secure option than knife blocks or magnetic strips. You can take the kitchen knife from the bag or case and put it back when you are done.
A knives bag or case will gather all your knives in one place and maintain them honed and safe.
Knife Blocks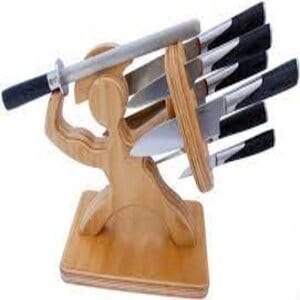 When you think of a knife storage solution, a knife block is what comes to your mind first. A storage block is a great option to store your knives. However, it will be restrictive when you own many knives. or when you have no countertop space.
Sheaths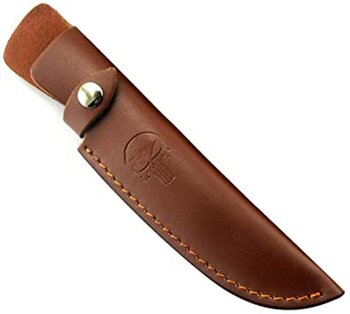 A Knife sheath is an excellent option if you have knives that don't accommodate your existing storage choices. it is also ideal when you only own a few knives.
The sheath slides over your blade. It will protect it from damage. Besides, it will protect you from any injury when you rummage around in the drawer to get them.
It will also be a great idea when you use bags or cases for more protection.