Solingen, Germany, is well known in many cutlery communities and industries as the top-rated knife manufacturer city in the world.
Many companies and manufacturers that are well-known for their kitchen cutlery products began their operations in this city, which has earned the moniker "Mother of All Kitchen Knives."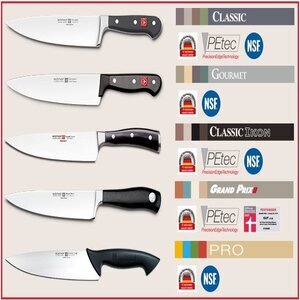 As we all know, Wusthof is one of those companies that began manufacturing their product lines in this city in 1814 and have managed to keep their business within their family generations until this day.
In this section, Wusthof product lines demonstrate a wide range of options, with approximately 30 alternatives. This allows you to select a cook's knife length of 6,8,9 or 10 inches.
In addition to two sizes of santoku knives ranging from 7 to 5 inches in length.
If you want a complete kitchen block set, you can choose from 7,8,10 or 22 pieces.
Wusthof top product line collections available on the market are these seven models, which can be purchased as complete kitchen knife sets or individual blades.
Classic
Classic Ikon
Epicure
Gourmet
Grand Prix II
Ikon
Pro
What are the parts of the Wusthof knife collections?
Blades
Wusthof blades are made from a single strong piece of stainless steel that runs all the way through the knife from the tip edge to the endcap of the handles.
These knives are commonly referred to as full tanged in structure.
The knives that are not fully tanged, on the other hand, are made from a separate piece of steel that has been molded onto the handles.
It is worth noting that most Wusthof blades are sharpened at a 14° angle, aside from specific types of Japanese knives, such as santoku knives sharpened to 10°.
One distinguishing feature of every Wusthof blade on the market is its 58 HRC hardness on the Rockwell scale.
Safety bolster
The bolster is the dense piece of metal that attaches the blade to the handle. It serves as a barrier between your hand and the blade, reducing the possibility of your fingers slipping onto the blades and injuring yourself.
When it comes to classic Wusthof chef's knives. They have a dense safety bolster that is obvious, whereas the more advanced versions have slimmer ones or none at all.
Handle
The first thing you should know is that the majority of Wusthof knife handles are made of polyoxymethylene synthetic material, which has the authentic look and feel of genuine wood.
Examples include the Wusthof classic knife and Wusthof ikon knife product lines.
It's worth noting that the Ikon product line includes genuine wood handles. In contrast to the Epicure collection, which uses recycled wood fibers to make their handles.
If you are looking for an affordable Wusthof collection, the Pro stamped line is the best option because it is made from various synthetic materials and has ergonomically designed handles.
You can also read our forged knife VS stamped knife comparison
Buyer's Guide of Wusthof knives
The key difference between any of these different versions is the handle structure. However, we will go over all the various options of each collection to get a complete overview of everything offered with each model to help you choose the one that will suit you best.
Wusthof Classic Forged knives
The Wusthof classic product line is entirely traditional in design. They are made with black triple-rivet polyoxymethylene handles that give them an authentic natural wood look and structure.
These knives have full tang bolsters to provide you with maximum protection and safety for your hands by reducing the possibility of your fingers sliding over the blades.
One of the most notable features of the Wusthof classic product line, and one that has contributed to its popularity, is that it has the most extensive collection of knives, making it ideal for experienced and culinary chefs.
Around 70 different knives are available in the classic line. The chef's knife, which comes in blade sizes of 8, 9, 10, 12, and 14 inches, is the most useful knife in the kitchen.
However, for most kitchen tasks, the 8-inch cook's knife model was the most recommended.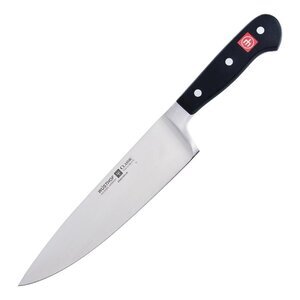 Wusthof did not forget about those who prefer Japanese styled knife blades when designing the classic collection since they launched a series of santoku knife sizes, such as the 7-inch santoku knife, a Nakiri, and Chai Dao.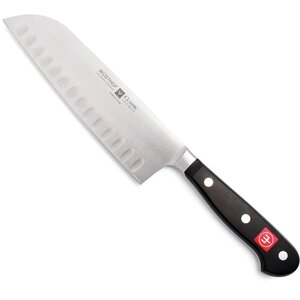 In addition, if you enjoy cheese, the classic collection includes a variety of cheese knives that allow you to slice cheese the way you want.
This Wusthof classic product line cheese knife set includes a 5-inch blade for soft cheese, an imprinted edge for hard cheese, and a sharp wedge blade for crumbling down hard cheeses like parmesan.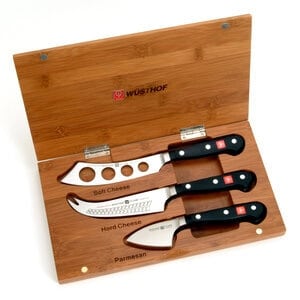 Also read , How to Hone Your Knife? | Easy Guide
Aside from the slicing, paring, and boning knives, the Wusthof classic collection includes extra-large cook's knives, such as the 8-inch cook's knife versions, that will allow you to break down significant cuts of meat.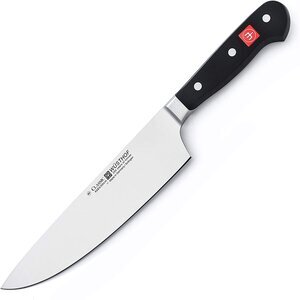 For added awesomeness, they include a 7.5-inch Wusthof classic cleaver for intense butchering tasks.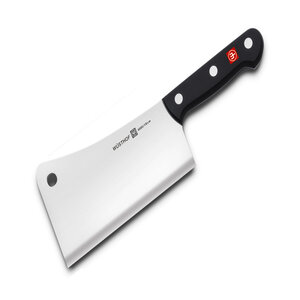 Now we will move on to another option provided by the classic collection for those looking to purchase a complete kitchen knife set.
There is a wide range of options in terms of adaptability. All of them include block sets with kitchen shears and, in most cases, 9-inch honing steel.
If you want the authentic look of acacia wood, I recommend the Wusthof classic 9-piece knife set.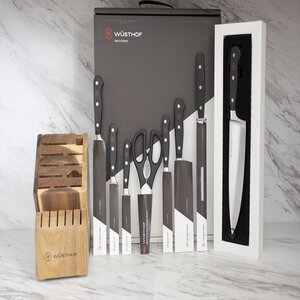 Read more , How to shuck oysters without an oyster knife
Let us say that you are still a newbie in the kitchen or a culinary student who is still building his kitchen utensils' basics. Then I think the simple 5 pieces knife set would be the best choice for you.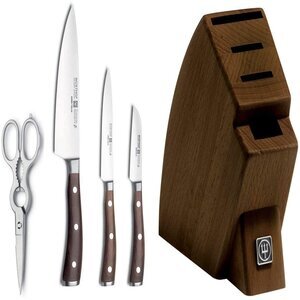 For larger sets that have more kitchen utensils. You can choose from 10,12,14,16,20 up to 36 pieces set.
Do you think it ends here?
The classic collection also produced something for those with limited kitchen space, and who do not have much counter space to spare, then the Wusthof classic 8677 9-pieces in drawer knife set would be the ideal choice.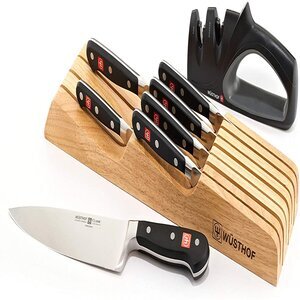 As you can see, the Wusthof classic collection has considered all your needs and requirements and designed this perfect collection to meet them.
Wusthof wanted to improve their production line by producing a more advanced collection, the Classic Ikon collection.
Wusthof Classic Ikon Forged Collection
This production line is considered an upgrade from the classic collection, but it was built with the same authentic synthetic handles as the classic line collection.
The main distinction is the double safety bolster structure, designed with a single bolster under the blade and another below the handle.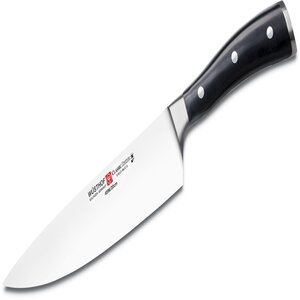 Read more , How to Care for Your Paring Knife?
It is worth noting that the section connecting both in the middle of the knife is only half a bolster, which keeps your hands from slipping from the blades while still allowing you to sharpen the edge all the way until the end.
In addition, a second bolster was added to the handle's endcap to improve balance and control, with a touch of symmetry thanks to the steel on end to fit in with the handle.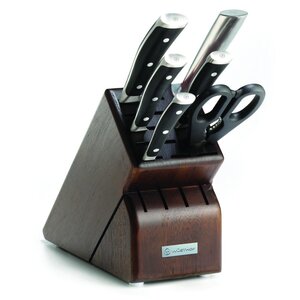 The classic ikon knife block set includes cream-colored handles made of the same synthetic materials but with a slightly different appearance for added versatility.
The Wusthof classic ikon collection is a medium-sized product line with 28 different designs and sizes.
Besides the 7-inch santoku knife, there are 6.8,9,10-inch sizes for the cook's knife available on the market with a wide variety of paring, boning, filleting, and serrated knives.
With a different two knife block styles of sets that offers from 5 to 26 pieces alternatives.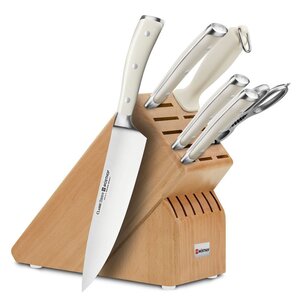 What is the difference between Wusthof Classic and Wusthof Classic Ikon?
The primary distinction among Classic and Ikon knives is that Classic handles are formed of sturdy synthetic material with a distinct curve at the endcap. In contrast, Ikon handles are made of African Blackwood with smoother curves. Wusthof Ikon kitchen knives
Wusthof Epicure Forged collection
The traditional appearance of these handles makes this collection so appealing and is considered an addition to your kitchen utensils, mainly if you are a fan of authentic looks.
This collection's distinguishing feature is that it is environmentally friendly, resulting in vibrant and cozy colours.
Since the handles of this product line are made from a richlite, which is a combination of plant-based materials and recycled wood fibers.
They differ from the other previously discussed lines in terms of shape. They are dense and slightly curved, which adds to the comfort factor because they fit perfectly in your grip.
Furthermore, they are slightly longer than other options, which adds comfort for large hands.
When it comes to the blade design, it is a bit different than the other collections as they are slightly curved outwards and do not have a straight tip. As well as them being a bit wider to enable you to handle significant cuts of meat better.
Check also, Best Bread Knife
Do you think it ends here? Wait for it.
This epicure collection has it all thanks to the unique ceramic coating that limits any food sticking.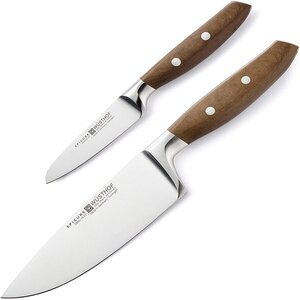 This epicure product line was mainly designed especially for the well-known cooking and dining retailer Sur La Table to support Epicurean cutting boards producers using the same environmentally friendly Richlite materials.
One disadvantage is that there are far fewer options in this category. The Epicure line of cook's knives comes in 6, 8, and 9-inch blade lengths.
There is a 7-inch santoku, a paring knife, a two-blade prep collection, and a serrated bread knife. They only sell one block set, which includes seven pieces and an acacia wood storage block.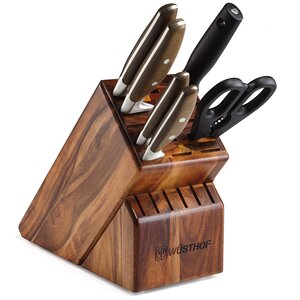 It would be a great alternative if you didn't need much variety in your cookery and if you like their style more than I do, either 1 or 2 of these blades or the block collection.
Wusthof Grand Prix II Forged Collection
If you are more interested in the Wusthof forged product line, this collection is the best option to purchase. Because the blades are identical to the classic line in terms of width and fully tanged safety bolsters.
Except for the handles, the synthetic feel and appearance lack an authentic wooden appearance.
In addition to the ergonomic structure, a slight curve adds more control and comfort, especially when holding the knives for long periods of time.
That distinct handle design is more like the classic ikon than the classic line. Still, the materials used in manufacturing the handles are lightweight and offer less balance than both product lines.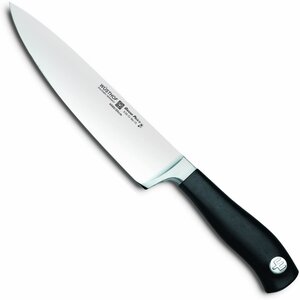 Grand Prix II is an excellent option if you want the reliability of the Wusthof forged manufacturing process at a cheaper cost – specifically if you do not care about having a natural wood handle or the authentic looks of wood.
This line, on the other hand, is a little more compact than the Classic series. Wusthof contains approximately 30 alternatives in this group.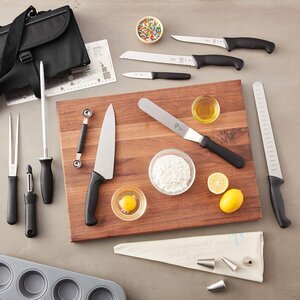 You can get a cook's knife that is 6, 8, 9, or 10 inches long. They have two santoku knives, one 7-inch, and one 5-inch, as well as bread, utility, and paring alternatives.
A 7-, 8-, 10-, or 22-piece block set is also available if you want a decent selection for your kitchen.
Read also , Things to Consider When Buying an Electric Knife Sharpener
Wusthof Ikon Forged collection
The Wusthof Ikon knives collection is what the French call "Crème de la Crème" since it is the only series that constructed the handles from pure and genuine wood.
It is worth mentioning that this wood is an organic African Blackwood featuring a dark brown color that enhances the beauty of your kitchen utensils.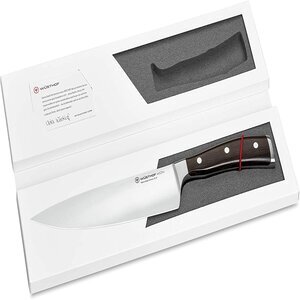 When comparing the Ikon and Classic ikon collections, they are identical in every way, including the half-tanged safety bolster under the blade and the fully tanged bolster at the knife's endcap.
The genuine wood materials used for the handle are the only distinguishing feature.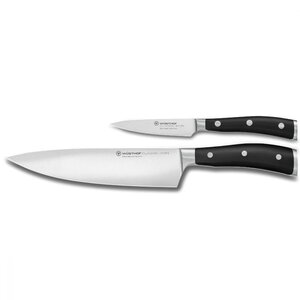 With only about 20 models available, the Wusthof Ikon series is considered a limited collection. However, if you are looking for basic kitchen knives, this is the product line for you. A 6,7,8-inch cook's knife, for example, or a 5, 7-inch Sankotu Knives.
For more advanced cooking tasks, The Ikon line includes fillet knife, paring, carving knife, and slicing bread knife.
For greater variety, a 5, 7, and 8-piece knife block set is available. The walnut block, which comes with all 3 of these sets, pairs splendidly with the blackwood handles.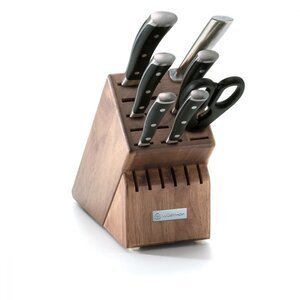 Wusthof Gourmet Knife Stamped Collection
The first thing you should know is that this Gourmet product line is Wusthof top-rated stamped collection. Because they are laser cut from specially heat tempered high carbon stainless steel.
It is worth noting that they are very similar to the Classic product line, except that they are stamped rather than forged structured.
Keep in mind that they are designed with the same full tang, and polypropylene handles as an authentic look like the Classic line.
If you want an affordable set of kitchen knives but do not need the high durability and stability that forged blades provide, this Gourmet line is the best choice for you.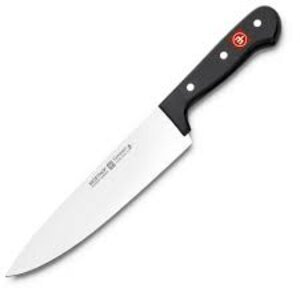 The Wusthof gourmet knife product line has the same number of options as the classic line, which has a wide range of versatile options for your kitchen utensils.
In terms of cook's knives, many options are ranging from 5,6,7,8,9, and 10 inches.
There are several types of cheese knives, numerous steak knives, a few Japanese blades, and various other advanced options, such as a 10-inch roast beef carver.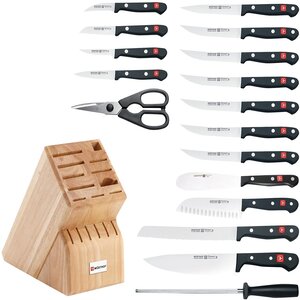 If you are looking for a block set, the Gourmet line has plenty to offer. They sell sets of 7, 10, 12, 14, 18, 23, and 36 pieces.
Wusthof Pro Stamped Collection
Aside from the forged blades made by the Wusthof company. Unfortunately, the pro-stamped collection is more affordable and is the only series of stamped knives available on the market today.
It is worth mentioning that This series' handles are made of textured non-slip polypropylene materials that are ergonomically designed to increase comfort and stability while holding them in your grip.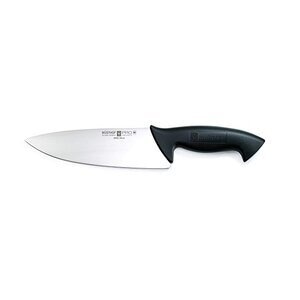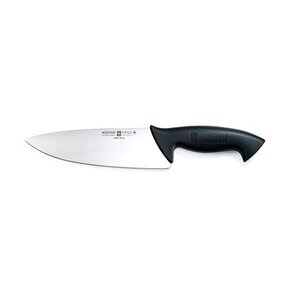 There is no better option if you want the dependability of Wusthof knives but at a lower price, especially if you do not require the high durability and performance that forged blades provide.
The only disadvantage of the Pro Series is that it is more limited than the Gourmet Stamped product line; however, it still offers a good selection of basic kitchen utensils.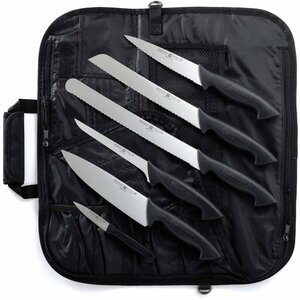 Noting that, you can also get a chef's knife that is 8, 9, 10, or 12 inches long. For Japanese-style lovers, the Pro is available in a 7-inch santoku. Filet knife, boning knife, paring, knife, and utility knife options are available.
One thing to keep in mind is that the Pro series does not include a block set.
But they are also selling a 5 starter set that includes 3 1/2″ paring, 9″ bread and 10″ cook knives, 9″ shaped steel, and 8-pocket knife roller bags for storage.
Which Wusthof line is the best?
To summarize things up, you may be confused by the numerous options available on the market. Still, I can help you simplify your search for the best line to choose by answering a few questions to narrow the number of possibilities.
The first thing to ask yourself is just how much you require is a strong and durable knife blade. Assume you will be cutting and preparing hard food with these knives regularly.
I recommend you select an option from the Wusthof forged collection.
What if you do not intend to use your blades intensively over time, or if you do not require the strength of forged blades?
I would advise you to select a more affordable option from the Wusthof Stamped Collection.
Assume you chose to purchase from the Wusthof Stamped Collection.
The tricky part here is that there are only two alternatives to choose from. So, if the appearance of the handle is not necessary to you, the Wusthof Pro Series is the most cost-effective option.
If, on the other hand, you must have a forged knife that can withstand the harsh conditions of preparing such complicated meals and you have the budget to spare, you should purchase one of the many alternatives from the Wusthof Forged Collection.
Without further ado, you cannot go wrong with the Classic Forged Collection. Starting with the traditional design and authentic appearance thanks to the slightly curved handles and wood-like materials.
I would confidently say that the Wusthof Classic series is the best option.
If you are more concerned with the authentic appearance of the wooden handles, the Ikon collection is the best option due to the fantastic African Backwoods material.
Those with large hands who are interested in purchasing environmentally friendly product lines should look no further than the Epicure series.
Last but not least, if you want an extra durable and stable Forged knife but do not have enough money to buy from the Ikon or Classic series, the Grand Prix II collection is an excellent choice.