Premium Choice
Ontario 705 Old Hickory Butcher Knife Set
Premium Choice
Outdoor Edge Game Processor Hunting Knife Set
Great Value
Victorinox Swiss Army Field Dressing Kit
The best butcher knife set is necessary when you wish to prepare the highest quality of meat cuts all around the year. Whether inside or outside your kitchen.
No doubt that the complete tools that you may use can cause some safety and sanity hazardous.
That is why we thought of evaluating several butcher knife sets and carefully considered the elements like purposes, durability, and safety to limit the alternatives you can choose from.
List of 7 best butcher knife sets 2021
Comparison Table
| | | | | |
| --- | --- | --- | --- | --- |
| Product name | material | Types of pieces included | Dimensions(inches) | |
| outdoor Edge game processor hunting knife set | High carbon stainless steel blades | 3″ caping knife, 5.5″ boning knife, 8″ butcher knife4″ skinning, bone saw, ribcage spreader, shears, carving fork, tungsten sharpener, cutting board, protecting gloves | 15.5 x 3.2 x 13 | Check Price |
| Ontario 705 Old Hickory butcher Knives Set | High carbon stainless steel blade | 4''/3.25″ paring knife, 8″ skinning knife, 7″ butcher knife, 6″ boning knife | 7.78 x 1.56 x 13.79 | Check Price |
| Victorinox Swiss Army Field Dressing Kit | High carbon stainless steel blade | 10″ cimeter knife, 6″ boning knife, 8″ breaking saw, 6″ filleting knife, 3.25″ paring knife, 10″ sharpening steel | 0.07 x 0.07 x 0.01 | Check Price |
| Jero P3 Butcher knives Set | High carbon stainless steel, alloy steel | 10″ cimeter knife, 8″ breaking knife, 6″ curved boning knife, sharpening steel | 4 x 18 x 4 inches | Check Price |
| Elk Ridge ER-190 butcher knives set | satin stainless steel blade | 12.5″ butcher knife, 12″ boning knife, 9″ skinning knife, 8″ caper knife, 12″ breaking saw, shears, cutting board, sharpening rod | 12.75 x 12.5 x 3 | Check Price |
| Mercer Culinary Ultimate white curved boning Knife | High carbon stainless steel, stain-free Japanese steel, Polypropylene | curved boning 6″ knife | 16 x 1 x 5 | Check Price |
| Victorinox Granton Edge Fibrox Pro Butcher knives | High carbon stainless steel | 10″ butcher knife | 17 x 1.5 x 3.75 | Check Price |
The best butcher knife sets
1-outdoor Edge game processor hunting knife set-Best overall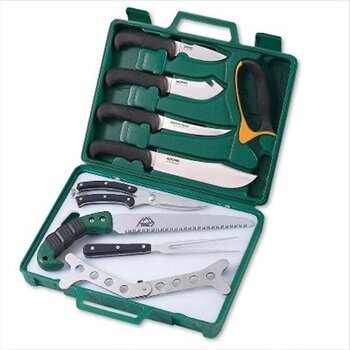 Outdoor edge is a brand that is well known for producing utensils that last for a long time. Suitable for beginner and professional chefs.
This set comes with 12 pieces, including a 3″ caping knife, 5.5″ boning knife, and an 8″ butcher knife. Besides a 4″ skinning, bone saw, ribcage spreader, shears, carving knife, and a tungsten sharpener with a cutting board and protecting gloves for more safety to your hands while handling large cuts of meat.
Outdoor blades are crafted with the perfect balance between a full tang 4012 stainless steel and an accurate heat treatment taper ground in addition to the hand-finishing for an outstanding shaved sharp edges retention and overall performance.
They designed the handle with an ergonomically TPR and nonslip rubber for a comfortable and firm grip. Ensuring the lessening of tiredness while holding that utensil for long periods.
The Outdoor brand ensured that all the pieces of this set are kept clean, organized, and sharp by securing them in the hard carry case.
However, many chefs has stated that the quality of the case is not made from the highest materials, and they are not the best choice for culinary students as they require more practicing to know how to use them professionally.
This set is extremely easy to clean properly by using warm water and soap then drying immediately after cleaning to limit any corrosion. It is best to apply some oil more frequently.
The game processor blades offer an exceptional lifetime warranty on its product, ensuring to keep their customer's interests in mind and the first place.
Pros And Cons
Pros
Affordable
High quality
Lifetime Warranty
Ergonomic design
Nonslip
Cons
Not for culinary students
The quality of the box is not durable.
Bottom line
Outdoor Edge processing game butcher knife set is the best collection of blades that you may need, especially if you a professional chef on the move and need a lot of cooking utensils, with an affordable price and dependable warranty.
2-Ontario 705 Old Hickory butcher Knife set-Best performance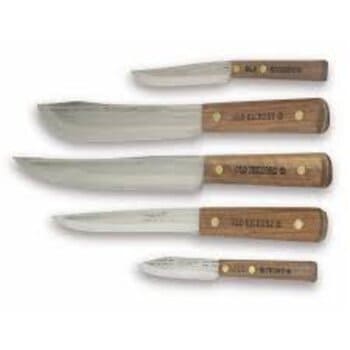 Ontario hickory has been the ultimately rated brand for knives for years, especially for collecting vintage utensils.
Keeping in mind the elegance and convenience of their design, which is suitable for culinary students and experienced chefs who deal with meat processing every day.
This knives set includes 5 pieces of a 4″ and 3.25″ paring knife, 8″ skinning knife, 7″ butcher knife, and 6″ boning knife, which is very handy to the popular butchers who need to deal with meat processing and handles big cuts on their daily jobs.
As for the construction, they are made from a fully heat-treated 1095 carbon steel, which went through a guaranteed sharpening process to meet the sharpened edge that serves best all your requirements.
Equipped with an appealing hardwood handle that perfectly fits the blade with brass compression rivets. To assure withstanding any tough usage and proving to be the best kitchen knives sold nowadays.
Besides, they are well known for its distinctive dark finish that forms on the carbon steel blade. Many would see that as a defect, but it is a normal result of frequent usage of that material.
However, these knives require special treatment for cleaning since it is not a dishwasher safe and can rust easily.
The most common technique to preserve this butcher knife set is applying some vinegar on the blade or cleaning it with some soapy water and drying it immediately to prevent rusting or cracking in the handle.
Pros And Cons
Pros
Good value of money
Nice gift
Durable
Vintage
Sharp
Cons
Not dishwasher friendly
Rust
Bottom line
Ontario 705 butcher knife set offers a strong and full tang blade with a perfect fit and long handle with vintage and buffed appeal. They can withstand years of frequent usage without any compromising of their sharpness.
3-Victorinox Swiss Army Field Dressing Kit-Best quality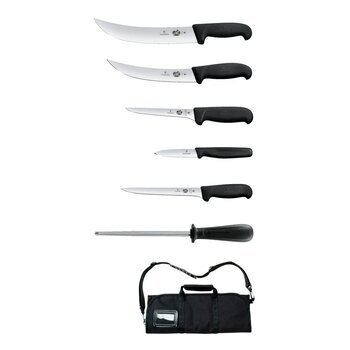 Victorinox swiss army dressing kit has a multi-functional and commercial design. They suit best in hunting, fishing, and butchering when hunters face a large cut, the needs breaking.
Swiss army brand has always been known for providing the most helpful utensils with the highest materials quality and the most affordable prices since 1884.
This butcher knife set includes a 10″ cimeter knife, 6″ boning knife, 8″ breaking knife, 6″ filleting knife, and 3.25″ paring knife. With a 10″ sharpening steel, all wrapped up in a sturdy custom fit knives roll bag that looks appealing and elegant especially for those chefs always on the move.
Moreover, They are crafted from high-quality forged and accurately heat-tempered high carbon steel. With an anti-corrosion hand finishing to provide premium longevity and hardness during cutting.
But, many have stated that they prefer the wood handle's asthenic feeling and require more time cleaning.
Bear in mind that they require exceptional treatment when it comes to cleaning since they are not dishwasher friendly. They can be cleaned either by soapy water or by applying some vinegar to preserve the knives for a longer time and maintain efficient performance.
Pros And Cons
Pros
Thick
High quality
Durable
Giftable
Discoloration resistant
Nonslip handle
Cons
Not dishwasher friendly
Some may prefer a wooden handle.
Requires frequent sharpening.
Bottom line
Victorinox swiss army field dressing kit is all you demand to prepare any meals indoors or outdoors. The high-quality materials and the perfect finishing of a razor-sharp blade are ready to cut through any piece of ingredients.
4-Jero P3 Butcher knife Set-German construction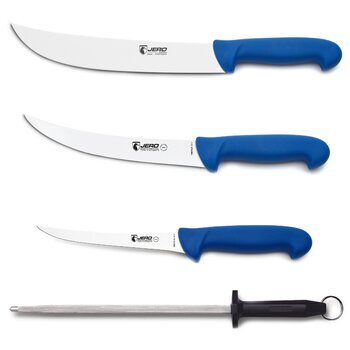 Jero Portugal industries have been the top leader in manufacturing commercial-grade kitchen knives worldwide for many years, and they won many awards for their high-quality material and finishing.
Jero P3 butcher knife set has an artistic and modern design, suitable for household cookers and professional chefs due to its straightforward and easy-to-use structure.
This set includes a 10″ cimeter knife, 8″ breaking knife, 6″ curved boning knife with sharpening steel to facilitate and maintain your knives sharp and at the fullest performance.
Besides, their construction is from German high carbon steel, which provides more strength and extent to your blade's longevity with frequent usage.
Featuring high-density polymers handles that are impact and temperature resistant, secure by molding on the full tang blade, creating a super sturdy, lightweight, and flawless bond.
Nevertheless, this set offers all these exceptional characteristics at an affordable price without compromising any sturdiness, sharpness, or longevity.
Yet, many butchers have complained that it requires more frequent sharpening in comparison to other alternatives.
This knives set requires minimal maintenance and easy to clean. A simple wet cloth and water will perfectly do the job. Since they are made of steel and cannot rust easily and better preserve, apply some oil on the blade edge.
Pros And Cons
Pros
Exceptional guarantee
Durable carbon steel
German constructions
Corrosion and rust resistance
Easy to use.
Cons
Require more frequent sharpening
Bottom line.
Jero P3 butcher knives set offers all professional butchers and hunters with a sharp edges tool that can cut any meat pieces and break any size of large bones. With a comfortable and secured handle that guarantees a firm and precise grip for more security and protection.
5-Elk Ridge ER-190 butcher knife set-Perfect outdoor kit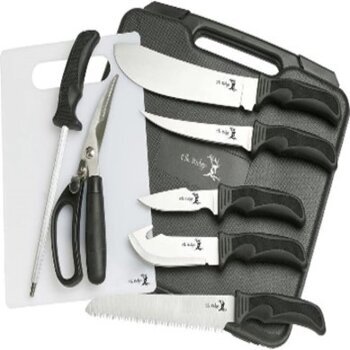 Elk Ridge ER-190 butcher knife set has a craftsman and high endurance design, suitable for hunters of outdoor activities like hunting, camping, and butchering a big catch.
This knives set include a 12.5″ butcher knife, 12″ boning knife, 9″ skinning knife, and an 8″ slicing knife. With a 12″ breaking saw besides a shear, cutting board, and a sharpening rod.
Elk Ridge set is manufactures from a razor-sharp 3CR13 satin stainless steel blade with exceptional edge retention, offering an outstanding balance of sturdiness and rust resistance.
Yet, many have stated that the knives get dull quickly and may require extra sharpening and maintenance. Besides, they contain chemicals that can cause cancer and birth deficiencies.
They are featuring a black nylon fiber handle in all the pieces INCLUDED, placed safely in a molded tough carrying storage case. To maintain them secured and protected.
Elk handle is designed in an ergonomic form that is easy to hold and use, delivering a comfortable and firm grip without tiring the hand when used for a long time.
Elk Ridge requires extra attention during cleaning by using only soapy water and hand washed. Ensuring that they are dried thoroughly after cleaning.
Pros And Cons
Pros
High-quality material
Suitable for outdoor activities
Reliable
Sharp
Ergonomic
Cons
Expensive
Requires frequent sharpening.
Contains chemicals.
Bottom line
Elk Ridge ER-190 butcher knives deliver extreme performance and functionality either for indoor tasks or hunters in outdoor purposes. Offering the satisfaction for your needs of versatility, strength, accuracy, and overall utility.
6-Mercer Culinary Ultimate white curved boning Knife-Easy deboning
Mercer Culinary industry has been in the market for producing the highest quality of kitchen knives for over 30 years. They have manufactured a brand name for their knives and made them accessible for all food enthusiasm levels, especially hunters.
Mercer Culinary ultimate white curved boning 6″ knife features a workhorse and innovative design that is suitable to be used by any culinary student or experienced chef.
They are crafted from a high carbon Japanese steel blade with sharp edges. Besides, they are rust and corrosion resistant, preventing any discoloration or stain on the blades.
Coming with ergonomic and stain-resistant Polypropylene handles within printed finger points. To limit any slippage, and are structured to broaden where the blade meets the handle. Resulting in making them more durable, offering a firm and comfortable grip.
The advantage of the Mercer Culinary is enjoying the NSF certification concerning safety, performance, and quality.
Regarding cleaning the Mercer Cutlery, this knife can last a lifetime if it is carried out properly. They are not made to be washed in the dishwasher.
Since they will get affected by the harsh heat and detergents, that may result in chipping the blade's handles and discoloration.
They should be hand washed carefully, without soaking in the water for a long time and drying thoroughly after cleaning. Taking more care with stainless steel and aluminum sinks as they may pit the blade.
Yet, they may require high maintenance to maintain their longevity. And due to their thick crafting, you may struggle for a while to get the hang of it to debone the meat with a simple move.
Pros And Cons
Pros
Razor-sharp
Corrosion and stain resistant
NSF certified.
Exceptional guarantee
Cons
Requires more sharpening.
Too thick blades
Bottom line
Mercer Culinary Ultimate white curved boning Knife has a strong and light construction. An easy sharpening due to the razor-sharp edges enables an advanced performance to slip close underneath and around the bone for a smooth deboning.
7-Victorinox Granton Edge Fibrox Pro Butcher Knife-NSF certified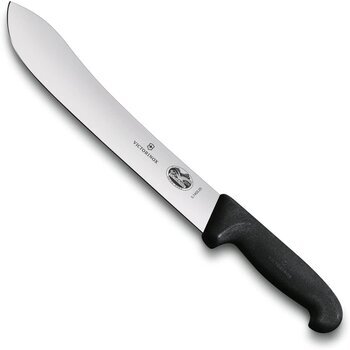 Victorinox Granton edge fibrox pro butcher knife has an exquisite and heavy meat processing design, suitable for both culinary students and experienced chefs when handling meat processing or slicing through a complete roast.
This 10″ butcher knife is made of high carbon steel Granton edge blade that provides an outstanding sharpness and edge retention for the premium sturdiness and lasting for a lifetime.
This knife was designed with a hollowed surface along the blade bolster less edge, with a tamp stainless heat and cold tempered limiting any sticking while cutting and enabling clean cutting every time.
The handle offers an ergonomic fibrox pro allowing a nonslip and firm grip with an outstanding balance between enabling the whole blade and simple sharpening.
All Victorinox products are NSF certified, meeting all health, safety, and quality standards of the national health protection.
Yet, it requires spending more time cleaning and maintaining its functionality and may feel heavy for newbies that need them to practice using it to get used to, with an exceptional lifetime warrantee that will never make you worry about your purchase.
Pros And Cons
Pros
Easy sharpening
Super Sharp
Non-slip
Ergonomic
Lifetime warranty
Cons
Expensive
Not dishwasher friendly
Heavy.
Bottom line
Victorinox Granton edge butcher knife enables trimming and slicing easily through the toughest cut of meat. It is constructed with a convenient handle, heavy-duty, and well balanced with a razor-sharp blade that requires minimal resharpening.
frequently asked questions about the best butcher knife set
What are the types of knives that are commonly included in the best butcher knife?
Suppose you are a novice in butchering. You can get overwhelmed with the large varieties of knives usually included in your butcher knife set. To calm you down, you must understand that every knife can make every step in butchering easier.
So, if you are going to practice a lot of butchering, knowing how to use all the types of knives that you have will offer you a better chance to complete your task easier and more successful to end up with the ultimate correct and proper cuts and do not end up wasting much meat through the entire meat processing.
Cleaver.
The cleaver is designed for tough slicing. It would help if you had a big and durable blade crafted from durable steel. It is recommended that this knife would include a curved blade edge to limit the hazards of chipping.
They are utilized in slicing big pieces of meat and occasionally breaking bones in one quick movement.
Butcher knife.
It is the prime knife constructed to cut your meat. Suppose you are dealing with an entire meat body. The butcher knives will be the first utensil you will be reaching to ease your task, especially if you are still a beginner.
Cimeter
Cimeter knives are distinctively curved on the top. That is what varies from a normal butchering knife that you see in the current butchering knife sets. The cimeter features extremely curved blade edges to make it easier for trimming and cutting meat into steaks.
Professional butchers who got the hang of the job now prefer this knife to the normal butcher knife.
Breaking knives
This type of knife is considered a substitute for butchering knives. Typically, they will be utilized to break large cuts into smaller pieces of meat cuts. For instance, they are employed to cut pork loins and the tri-tip.
Boning knives
The main known purpose of the boning knives is separating and slicing the bones out of an animal corpse. Yet, they can be used for other alternative purposes.
Various forms of boning knives are founded on their stiff, semi-flexible, and flexible structure.
For instance, if you are deboning a large cut of the animal, you would prefer a stiff boning knife to have a firm grip. While handling a small and fragile piece of meat, you would choose a more flexible one to slide under the bone and out.
Slicing knives
The structure of this knife is long and thin. It cuts the bread slicing knife, yet they have an additional rounded tip and super sharp feature. It will have a Granton edge employed in cutting slim pieces of cooked meat, making it the perfect knife for your cooked and prepared meal.
Butcher saw
This type of knife has numerous purposes. However, it is usually employed during the separation of parts lick very thick joints. It is not recommended to utilize a hacksaw or a wood saw for that purpose. It features a special shape with sharp teeth designed to cut bones and limit clogging up with fat.
Also, they will slice meat more evenly, facilitating the meat trimming and cooking.
What should you look for when buying the best butcher set?
Size
One of the prime critical factors is the knife's size. Since different cutting styles will require different knife sizes. A small-sized knife provides an adaptable function compared to a bigger-sized one that offers more cutting force.
Professional butchers will select big knives due to their sturdiness and strength. In contrast, small ones can be utilized in cutting, slicing, and trimming small pieces of meat. A big blade knife can easily cut through a huge piece of meat. However, it can also be used in cutting stubborn vegetables like potatoes and onions.
An efficient butcher knife would feature a sharp and wide range of flexible structures. Also, it should offer you a firm grip as big knives are more complicated to control and get the hang of since they are less flexible. In contrast, they offer an accurate cut of meats with a smaller butcher knife, but you need to apply more force and power.
Handle
There are three alternatives regarding the handle. There are 3 alternatives, including the wood handle, stainless steel handle, and plastic handle. The wooden handle is the most common version on the market.
However, there are many safety restrictions concerning wooden handles, so it requires more caution about this material since they are more comfortable using their firm grip and are an attractive addition to your kitchen knife set.
The stainless steel handle is the better selection as it does not require any maintenance. Besides, they are sturdy and easy to clean. That is a well-balanced handle, but it can be slippery in a wet event, preventing a firm and comfortable grip in the hands.
As for plastic handles, they recently became famous amongst households and experienced chefs. This handle offers a firm and comfortable grip, requiring minimal maintenance requirements, making it the premium choice for most butchers.
Blade
For the blades' design and shape, there are 4 excellent alternatives that you can choose from. Between straight, Granton, serrated, and hollow ground edge.
The most basic blade utilized is the straight-edge blade, commonly referred to as the flat ground blade.
The Granton edge blades are recommended for slicing ham and poultry due to the meat processing spaces.
As for the serrated blades known for the scalloped edge, they feature teeth along the edge. This provides an effective penetration to the fatty meat surface and the skin. It is also efficient in slicing fruits and bread.
The final choice is the hollow ground blades. They are featuring a fine, slim, and delicate edge. They may turn dull quickly over frequent use, making them unsuitable for heavy meat processing. However, they fit perfectly for peeling fruits and skinning.
Material
The VG-10 stainless steel is famous for manufacturing butcher knives worldwide since it has efficient edge retention and high longevity. That makes them the most desirable among butchers.
The 420HC and 440C German stainless steel offers great rust and discoloration resistance. Both have a durable and very sharp nature which is perfect for experienced chefs.
Price
Every type of butcher knife has its unique feature. You will not be able to locate a specific butcher knife with the same efficiency. Regarding the price, you either purchase the cheapest or the most expensive knife depending on which one best serves your needs best.
What are the benefits of having butcher knife sets?
Butcher knives facilitate meat processing with extreme accuracy and smoothness without damaging the integrity of a nice cut of meat. Since they are professional knives, they are employed to slice through the toughest bones and meat pieces to ease the cooking process. The most popular blade is usually 8'' long with a curved edge that gained many recommendations for slicing and trimming.
Final verdict.
Suppose you like collecting a vintage collection of kitchen knives, yet at the same time, you need a dependable set of butcher knife set that can be used at home or on your outdoor activities.
It is manufactured from the greatest durability of 1095 high carbon steel blades with a wooden handle fitted and secured perfectly with brass compressed rivets. Then the Ontario 705 Old hickory butcher knife set is the best butcher knife set for overall performance.
Suppose you are an experienced hunter, and your kitchen is the outdoor forests. In that case, you need a butcher knife set that includes all the utensils that you may demand to complete your task successfully. The Outdoor Edge game processor hunting knife set is the best butcher knife set as for the best overall.
Suppose you are still new to this knife industry, and you are looking for a brand name that is well trusted, with the first-class and premium material quality utilized in manufacturing all their culinary utensils and kitchen tools. Then the Victorinox swiss army dressing kit is the best butcher knife set for the quality.