Best Overall
SHARPAL 191H Pocket Kitchen Scissors Sharpener
Premium Choice
Work Sharp WSKTS-W Knife & Tool Sharpener
Great Value
AccuSharp ShearSharp Scissor Sharpener

Who doesn't have a drawer full of precious dull knives and scissors that he doesn't want to give up on them? Almost no one, right?
It is time to sharpen your old tools and bring them back to life. Welcome to our best scissor sharpener review and buyer's guide.
Scissor sharpeners vary in materials, stages, and prices. All you need to do is read the following lines carefully and pick up the scissor sharpener that suits your needs.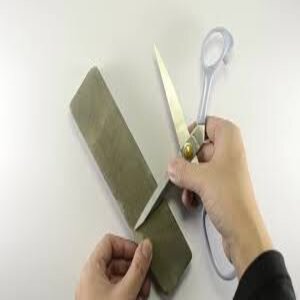 List of Best Scissor Sharpeners 2023
The Best Scissors Sharpeners

Sharpal 191H Scissors Sharpener is such a perfect tool for serrated and standard edges.
Want to restore your dull scissors blades in almost no time? This 3-stage sharpener's tungsten carbide blades, ceramic blades, and special tungsten carbide blades will perfectly get the job done.
This multi-function and sleek scissor sharpener offer you a fast edge setting ability.
What is my favorite part about this scissor sharpener? It has double the suction force other sharpeners have.
High-Quality materials
The High-Quality materials and stability make this kitchen shears Sharpener the most efficient scissor sharpener. place it on any surface, press the black switch, and watch the magic!
That button will make the sharpener suck strongly to the surface to offer you the most comfortable and stable sharpening experience.
Take into account these blades allow for one-handed operation.
You will love to hear that it offers great safety while sharpening.
Sharpening your scissors and knives will feel like a breeze thanks to the easy and convenient design. It is lightweight for easier usage and storage.
Make sure you clean your sharpener device using a damp cloth after each use. NEVER wash it with water.
Pros And Cons
Pros
Easy to use and comfortable
Preset sharpening angles
sharpen serrated and standard edges
Small design is easy to store
Inexpensive
Compact size
Offers great suction
Cons
Does not feature a built-in lanyard hole
Do I recommend SHARPAL 191H Scissors Sharpener?
Yes, I definitely do! it will assure you have the sharpest knives and scissors with serrated and standard blades. It is ideal for those who want to make sure their light-duty tools are always razor-sharp.
Read also , Things to Consider When Buying an Electric Knife Sharpener

Work Sharp Sharpener is the second-best scissor sharpener on our list. Want to know why? Check out these breathtaking features.
Work sharp Sharpener is built to sharpen any tool, including screwdrivers, Garden Pruners, Mower Blades, Shovels, Shears, Scrapers, knives, scissors, and anything in-between.
If you need to find a sharpener for your garage or tools shed, this Sharpener is the right choice.
Unlike SHARPAL 191H Pocket knife that is manual, this one is electrical. (take a look at the best manual kitchen knife sharpener)
It is also completely safe and easy to use in your kitchen but to be honest, it won't look so fine in the kitchen because of its bulky design.
Right sharpening angle
Sharpen your Kitchen Knives and scissors blades to a 40° angle and outdoor blades to a 50° angle.
Personally, while trying this electric Sharpener, I loved its changeable sanding belts and set-up guides; I was able to pick fine materials for the tools made from softer metals and harsher ones for screwdrivers.
Coarse (P80), Medium (P220), and Fine (6000). They won't burn or damage your blades while sharpening. You can replace these belts easily when they wear down.
For added stability, this scissors sharpener comes with a wide base to sit flat to any surface you put the machine on; you don't have to worry about it sliding around while using.
Marked sections
To save your time and effort. this scissor sharpening tool has marked sections to help you understand where the tools should be placed according to their shape and size.
Unlike the other electric sharpening machines, this one from Work Sharp doesn't have a knife slot. It has a designated blade area, making it ideal for exotic knives and scissors that won't fit in regular devices.
Pros And Cons
Pros
Sharpens any type of tool
Interchangeable guides
Flexible Belts
Stable
Suitable for both left and right-handed scissors
What is so special about Work Sharp WSKTS-W sharpener?
This runner-up in our best scissor sharpener list will offer you even, consistent, and professional-grade results every single time you use it. and bring you back the sharpness of your blades without overdoing them. impressive, right?

AccuSharp Scissor Sharpener is the easiest and most convenient scissor sharpener you can find on the market.
What makes this scissor sharpener one of the best scissor sharpeners?
It sharpens knives, scissors, hedge trimmer clippers, tin snips, and more, thanks to its efficient diamond-honed tungsten carbide.
It is perfect for your serrated blade or serrated knife. (here is how to sharpen a serrated knife)
Its ergonomic handle and full-length finger make it fit like a glove in both of your hands securely. You will feel no fatigue in your hands and arms even if you used it for a long time stretch. Bye, bye fatigue!
It is a safe, comfortable, and sturdy scissor sharpener.
For your safety, the complete finger guard will protect your finger while using.
Guess what? It is dishwasher safe, and its tungsten carbon sharpener blades are rust-resistant. Isn't this just amazing?
Just 10 seconds per blade, and welcome your razor edge scissors.
You will never regret buying this durable scissors sharpener.
Pros And Cons
Pros
Uses no stones or oils
Dishwasher safe
Rust resistant
Ergonomic handle fits both hands safely
Easy to use
Complete finger guard
Cheap
Dependable and long-lasting construction
Cons
The Carbide blade isn't reversible and replaceable
Bottom line
No matter what needs to be sharpened in your home, this Scissor Sharpener will handle the duty with absolute ease. If you want a manual sharpener at an affordable price, look no further than AccuSharp Scissor Sharpener.
its tungsten carbide diamond-honed sharpening blades ensure years of reliable use.
Check also, Best Bread Knife Review

Smith's Jiffy Pro Handheld Sharpener is a scissor sharpener you have most probably heard of. it is famous for its ceramic, carbide surfaces, fine and coarse sharpening.
First of all, this Sharpener is designed for both home and field use. And you can easily wear it attached to your backpack.
Functional carbide blade & ceramic rod
Second, it combines a crossed carbide blade and a crossed rod. The crossed carbide fixes the edge on your edges, while the ceramic rod takes the sharpness process to a whole new level.
This carbide blade also offers a smooth and consistent metal removal experience; simultaneously, the ceramic rod polishes the edge of your scissor blade and upgrades it to be razor-sharp.
Jiffy Handheld scissor sharpener is considered one of the best scissor sharpeners because it gives your scissors and knives the ultimate sharpness with the ultimate safety. Isn't that awesome?
knuckle guard
Talking about safety, it features a knuckle guard to make the longest sharpening time feel like a breeze.
For a comfortable sharpening process, the tool has a rubber handle attached to it.
Pros And Cons
Pros
User-friendly
Soft grip handle and knuckle guard
Suitable for home or field use
Premium abrasives for a sharper cutting edge
Lightweight and easy to carry
Ideal for both fine and coarse blades
Finger securing guard
Soft handle for handy grip
Efficient carbide blade and ceramic rods
Built for performance and durability
Cons
A bit pricey
Not very stable
Carbide blades can be too harsh
When should you get Smith's Jiffy-Pro Handheld Sharpener?
If you are looking for an easy scissors sharpener convenient and user-friendly, If you are always worried about your loved one's safety while using sharpening tools, look no further than this sharpening tool.
Read more , How to Care for Your Paring Knife?

Fiskars Scissors Sharpener is the best scissor sharpener when it comes to speed. It is so much faster than Smith's 50185 Jiffy-Pro Handheld sharpener. and can restore your scissor's sharpness in record time.
All you need to do is put your scissor on the slot opening facing up and slightly press on the blades while pulling them toward you to restore the sharp edge that lasts for years. So freaking easy, right?
While the plastic slots meet your sharpening needs and assure the perfect positioning for optimal sharpening
Although Fiskars Scissors Sharpener is just great for sewing scissors, it doesn't suit left-handed scissors, scissors with serrated blades, pinking shears, and razor edge scissors.
Compact design
One notable feature of this best-selling model is the compact design. you can wear your scissor sharpening tool in your back bag, belt, or sewing kit.
Pros And Cons
Pros
Compact and portable design
Easy to use
Affordable and budget-friendly Sharpener
The fastest performance in a limited time
Time and energy-saving ceramic rod
Most optimal sharpening experience
Needs minimum pressure
Cons
Not for left-handed scissors
Not ideal for serrated blades and razor-edge scissor
Bottom line
You don't need a drawer full of blunt scissors, right? This affordable scissor sharpener will make your old household scissors' sharpness last for years to come. But it is not designed for left-handed scissors.
So if you are right-handed and looking for a manual scissor sharpener that gives you a razor-sharp blade within seconds, this tool is a perfect choice.

Wamery 4-Stage Kitchen Knife and Scissor Sharpening system is another best scissor sharpener. It is one of the best on the market. it is durable and efficient enough for pros and perfect for complete beginners too. Let me tell you why.
This scissor sharpener comes with a maximum of four sharpening slots:
The first one from the left is designed for your pair of scissors only.
The second and third slots are made for both of your coarse and fine blades.
The fourth one has a rod of ceramic to give the perfect finish for the edge of any blade.
Diamond abrasive
Every sharpening slot has a diamond abrasive to sharpen your pair of scissors or the dull knife edge perfectly and quickly. It is going to take only 3-4 strokes to sharpen your blade to save your time. Amazing ha?
It comes with an ergonomic handle to offer you the most comfortable grip of all time for added comfort. And you don't have to worry about slippage as each foot has rubber to prevent slippage while using it.
You will love how it works for many types of knives (including ceramic knives, stainless steel, and butcher axes) and scissors, but I know you won't like that it isn't made to work with serrated blades.
Yes! This stainless steel sharpener is ideal for both left-handed scissors and right-handed scissors.
It is the best diamond scissor sharpener made of steel you can find on the market.
Pros And Cons
Pros
Safe and easy to use
Durable
Ideal for both left and right-handed users
Ergonomic design
Non-slip pads
Reliable
Compact and portable design
Diamond sharpener
Stable
Easily operated
Cons
It doesn't work with serrated blades
Bottom line
Tired of constantly replacing and supplying your kitchen with a new overpriced knife and scissor sharpener? Meet the lifesaving Wamery 4-Stage Kitchen Knife sharpener!
It was designed for those who don't wanna settle for low quality with high prices.

Fiskars Desktop Sharpener is the best scissor sharpener designed for desktops. I tried this Sharpener myself. and I will go more in-depth in features.
This sharpening tool restored my scissor blades to the ideal sharp edge in seconds, thanks to its two slots that provided an excellent positioning and optimal blade sharpening.
I loved many things about this scissor sharpener, the high quality, easy usage, and storage, and the that it is designed to suit both left and right-handed users.
Compact and portable
But my favorite part was the handiness of this tool and its compact and portable design, which made it so comfortable to use. Unlike Wamery Knife Sharpener that's gonna take up some of your countertop's space, this tool will take a small space.
Here is what I didn't really like about this scissor sharpener. Although it works perfectly with regular-sized scissors, it didn't work with smaller ones.
Pros And Cons
Pros
Offers proper positioning and optimal sharpening
Ideal for both right and left-handed users
Compact and lightweight design
Easy to use and store
Cons
Suitable for sharpening scissors only
Flimsy
Doesn't perform well with small scissors
Bottom line
Bring new life to your old pair of scissors and get this scissor sharpener from Fiskars. it is an excellent choice for those having dull scissors and don't want to throw them away.
it will offer you the best output of all time.
Read more , How to shuck oysters without an oyster knife?

Sharpal 104N Sharpener is a versatile professional-grade product. You can use it to sharpen the blades of your scissors at home easily and get the razor sharpness you have always been looking for.
This five-in-one sharpening equipment can perfectly sharpen your scissors, straight and serrated knives, Chef knives, and Asian-style knives, thanks to its durable tungsten carbide blade offer the perfect cutting edge.
The second ceramic slot hones fine and not so dull blades, while The first carbide slot is for such dull and damaged edges that need a new edge setting.
It is recommended to sharpen your expensive knives with the No. 2 ceramic slots firstly.
Preset sharpening options
You will love to know that it comes with two different preset sharpening options to suit your different types of scissors.
For a comfortable sharpening experience, it has a rubber over-molded plastic base to make it stable and ergonomic and to hold.
The best part? This piece of equipment passed the 10,000 times field use test, ensuring that it will last for years to come. Do I recommend it? I definitely do.
Pros And Cons
Pros
Two different preset optimal sharpening angles
Very comfortable and ergonomic to hold
Passed the 10
000 use field test
Safe to use
Non-slip base
Cons
Not wide enough for certain scissor types
Bottom line
If it is important for you to have an easy, comfortable, stable, safe, and guaranteed Knife and scissors sharpening experience, this Sharpener is highly recommended.

Zulay Sharpener is designed to sharpen your straight, serrated paring, pocket, electric knives, shears, and scissors with just a few swipes. Wait till you hear how cool it is.
Welcome your new sharp cutting edges, that are perfect for cutting poultry, beef, fish, sushi, fruits, and vegetables.
This 2 stage sharpening system (coarse and fine) features a rounded ceramic honing and sharpening system to repair any cutting edge with absolute ease.
Talking about ease of use, it comes with an ergonomic handle and anti-slip base to make the sharpening easier and more stable to save your time and effort.
You can store it comfortably in any drawer or countertop, and credits go to its intelligent and lightweight design.
Pros And Cons
Pros
Coarse and fine slots for varied sharpening needs
Ergonomic handle and anti-slip base
Total Time Save
Easy to store
Safe to use
Available in various colors
Cons
Doesn't work with ceramic knives
Bottom line
Say goodbye to dull edges. Just a few swipes and you will experience extremely sharpened knives. It is pretty simple. All you have to do is pull your blade through zulay's masterpiece to get the edge back!
Also check, What are the Benefits of Oysters?

Sync Living Sharpener has a 3-step knife and scissor sharpening function. leaving your scissors sharpened and you satisfied.
Welcome your life-saving 4 slots that offer impressive functionality. the first slot can is for repairing and straightening your damaged edges, the second one is for sharpening and restoring your knives.
The third slot is for polishing your knives, while the fourth one is the largest, designed specifically for scissors and shears.
My favorite part? Both left or right-handed users can use it.
Don't even worry about durability as it is made with durable silicone material and will live with you forever.
You don't have to worry about comfort as well, as it offers a non-slip base and a large, ergonomic handle that provides an excellent grip to apply whatever pressure you want, but trust me, and the slightest pressure will get the job done anyways.
Storage is never a problem since it comes with an attached ring attached for easy storage.
Pros And Cons
Pros
Has 4 slots for varied options
Almost no pressure required
Great for double-bladed shears
Easy to use
Non-slip rubber base
Easy to store
Ergonomic handle and rubber hanging ring
Incredibly durable
Crafted from solid ABS plastic
Cons
Doesn't work well with small scissors and shears
Bottom line
Save your money and don't spend it on constantly buying new kitchen knife sets and new sharp scissors. Invest your cents in this cheap and durable knife and scissor sharpener.
Comparison Table
| Product | Material | Type | Ideal for | |
| --- | --- | --- | --- | --- |
| SHARPAL191H Pocket Kitchen Chef knife Scissors Sharpener | Ceramic, Tungsten Carbide | Manual | Kitchen | Check Price |
| Work Sharp WSKTS-W Knife & Tool Sharpener | Steel | Electric, 110 Volts | Garage and outdoor activities | Check Price |
| AccuSharp ShearSharp Scissor Sharpener | Synthetic | Manual | Indoor and outdoor | Check Price |
| Smith's 50185 Jiffy-Pro Handheld Sharpener | Synthetic | Manual | home and field use | Check Price |
| Fiskars SewSharp (98547097) Scissors Sharpener | Plastic | Manual | home, office, or school | Check Price |
| Wamery Knife Sharpener and Scissor Sharpeners | Stainless steel | Manual | Kitchen | Check Price |
| Fiskars Desktop Universal (198620) Scissors Sharpener | Plastic | Manual | Kitchen, school, or office | Check Price |
| SHARPAL 104N Professional 5-in-1 Scissors Sharpener | Synthetic | Manual | Kitchen | Check Price |
| Zulay Kitchen Premium Quality Scissors Sharpener | High Carbon Tungsten Steel, Diamond Sharpness, Ceramic | Manual | Kitchen | Check Price |
| Sync Living Knife and Scissor Sharpeners | solid ABS plastic | Manual | Kitchen | Check Price |
Also read , How to Hone Your Knife?
FAQs about Best Scissor Sharpeners
How to choose the best scissor sharpener?
This buying guide includes some factors you have to keep an eye on to make sure you get the best scissor sharpener. (also check what to consider when buying electric knife sharpeners).
Multitasking
Buy the equipment that is compatible only with scissors; it should also work with knives and shears. It should also work with serrated and non-serrated edges, left and right-handed scissors.
Material quality
The tool lasts as long as its materials do. Keep in mind that thin plastic breaks down way faster than thick ABS plastic or stainless steel (luckily, many sharpeners come both of them).
Make sure the majority of your materials are durable to protect yourself from replacing them after a couple of years.
Maintenance
Electric sharpeners need care maintenance more than manual ones, as they have parts that cannot be washed with water.
You also have to keep an eye on the rust issue.
Handy Grip
Here is a ground rule, if the hand doesn't feel comfortable while holding it, DON'T BUY IT. And always make sure the handle is rubberized.
Finger Guide
These kinds of tools are safe, but there are chances of you getting hurt, so try to pick the one with a finger guide just in case.
Speed
You don't need to sharpen your blades after a lot of swipes, right?
Make sure you get an efficient device that can sharpen scissors fast, it isn't only about time matter in here, but it can also be straining.
Compact
A compact knife and scissor sharpener are easy to use, store, and carry around. Make sure that you buy a small but effective one.
What are the main four types of sharpeners?
1-Sharpening Steel
2-Sharpening stones
3-Manual Knife Sharpeners
4-Electric Knife Scissor Sharpener
How to sharpen scissors without a sharpener?
You can sharpen scissors with no sharpeners. Yes, it can work, but for a short time, not permanently. (check how to sharpen your knives without a sharpener).
Here are some helpful methods:
Use foil:
Fold a few layers of foil. Then cut the foil in a way that the whole cutting edge touches the foil. Repeat it 20 times, and then check the sharpness.
Use sandpaper:
Fold sandpaper in half in a way that rough sides are outside to make the blades touch these rough sides as you cut.
Use steel wool:
Cut through a pot cleaner, and It is gentle enough to sharpen the blades without damaging them.
Manual vs Electric Knife Sharpener – Which Should You Buy?
Each type has pros and cons, and here is a brief comparison:
Manual sharpeners 
1-They are slow since they need you to pass the blade through them many times to sharpen your scissors.
2-They provide more control over the edge's angle and shape.
3-Most of them are affordable are cheaper than electrical ones.
4-Smaller and easier to store.
Electric sharpeners
1-They need minimal effort by the user and give a clean edge and extremely sharp scissors or knives after only one pass.
2-It can damage the edge and how it looks.
3-Expensive.
4-It has more functions than manual ones.
Final verdict
The best overall on our list is undisputedly SHARPAL 191H Pocket Kitchen Scissors Sharpener.
it has the most efficient carbide blades a manual sharpener can ever have. plus it is so efficient, easy to use, easy to store, and most of all inexpensive
You will love how comfortable, compact, and lightweight it is.
Our premium choice is the one and only work Sharp WSKTS-W Knife & Tool Sharpener. It can sharpen all your tools no matter what their type is, and it is so stable and comfortable while using, and it is ideal for both left and right-handed scissors.
And the best budget in our list of " best scissor sharpener" is AccuSharp ShearSharp Scissor Sharpener. It is dishwasher safe, rust-resistant, safe, easy to use, and most of all, inexpensive.