Are you about to get a kitchen knife set from Henckels and wanna know are Henckels kitchen knives good or not first? We will help you out! in this guide, you will get the answers to every single question in your head about J.A. Henckels.
All you need to do is to sit pretty and pay attention to the next few lines and then make up your mind!
History of Zwilling J.A. Henckels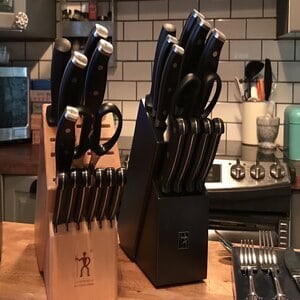 Many product lines are owned by Henckels brand, such as Henckels International and J.A. Henckels. All of them are well-known for producing various cutlery utensils.
Zwilling products are the most well-known of Henckels. And it includes six product lines.
Since 1713, Zwilling Ja Henckels knife company has been producing kitchen cutlery. And has been developed and registered as a trademark with its logo by Johann Peter Henckels in the German city of Blades.
J. A Henckels knives are trusted by experienced chefs, culinary experts, and devoted home cooks worldwide. credits go to their solid consistency that is based on decades of practice and inventions in knife manufacturing.
How Are J.A. Henckels Knives Made?
Here are the processes of producing this line.
1. Stamped & Forged Blades
Zwilling knives are distinguished by the use of their signature steel combination, which is forged. and then hardened using the Friodur ice-hardening technique for increased durability and strength.
Most of the Henckels kitchen knives series are made from stamped blades, but still, they produce several forged collections as well. such as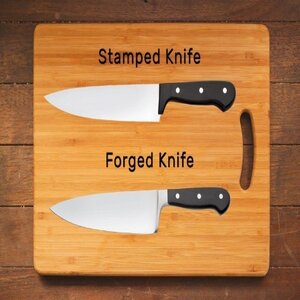 To determine which blades to get, you should first know in brief the difference between a forged blade knife and a stamped knife.
The stamped knife is carved from a sheet of stainless steel to allow to produce multiple knives at the same time.
While a forged knife is made from a single piece of stainless steel that has been heat-tempered and pressed several times to form the shape of a knife.
As you can see, the construction methods are quite different since the stamped knife blades need less effort in manufacturing than forged ones.
That's why Henckels stamped blades are slimmer and more adaptable, while their forged knives are denser, heavier, and stiffer, making them ideal for heavy cutting tasks as slicing through a tough cut of beef, or watermelon, or deboning poultry
On the other hand, stamped knives are ideal for slicing vegetables or delicate pieces of meat.
You can also read our forged knife VS stamped knife comparison to learn more about the differences between the two types of blades in detail.
Also read , How to Hone Your Knife? | Easy Guide
2. The Construction of the Blade and Handle
The quality of the elements used in the production of knives is critical. So, here is a brief overview of the construction process for Henckels blades and handles.
What kind of steel do Henckels use for their blades?
When looking at Henckels products on Amazon, you will notice some are made of steel, while others are made of high-quality stainless steel. But in fact, this is not true.
Because the material used in the production of all Henckels products is the same steel quality known as the high quality X50CrMoV15 German stainless steel.
This one-of-a-kind stainless steel is made by combining 5% carbon, 15% chromium, 5% vanadium, and 5% molybdenum.
The Zwilling knives are distinguished by their use of their signature steel combination, which is hardened using the Friodur ice-hardening technique for increased durability and strength.
It is worth noting that this kind of steel is used to produce most knives made in Germany. Due to its superior characteristics that suit both professional and home cooks in terms of edge retention, rust resistance, and long-lasting durability.
In terms of construction and material, the handles are made of premium robust, anti-moisture Plastic. Apart from some product lines such as Modernist and Graphite, they are all made of stainless steel.
Aside from the Synergy, the Fine Edge Synergy and the Everedge Plus handles are available. They are made by fusing steel and plastic.
Read more , How to shuck oysters without an oyster knife
3. Knives Safety Bolster
Henckels stamped collection knives are made without protective bolsters, which are the thick steel parts that attach the blades to the handles and serve as barriers between the fingertips and the edges.
The advantages of using a bolster on your knife are that it improves strength and stability when handling the knife. and decreases the possibility of cutting the fingers if they slip into the blades.
Many people like the solution product line because it has a subtle yet incremental layout between the knife blade and the knife handle. resulting in slim and smooth blades.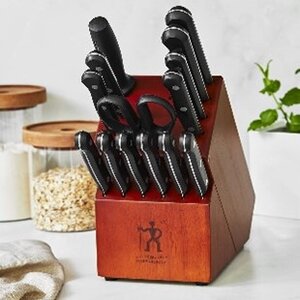 4. Full & Half Tang
What sets these knives apart is that these knives are fully tanged. ensuring that the steel runs across the knife to the handle's endcap.
It is worth noting that full tang knife handles are not as usual in stamped knives. since most of them are half-tanged. implying that the steel extends to a certain point across the handles or that the Blade is just fixed into the beginning of the knife handle.
The advantage of using a fully tang knife handle is that it improves the reliability and tight grasp when chopping or slicing. ensuring that the knife blade does not break from the knife handle.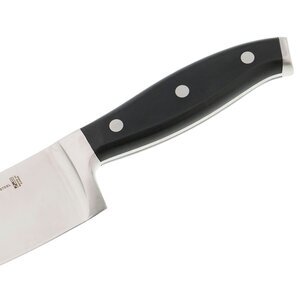 Unlike Henckels forged collections, which are all full tang knife handles, boosting the knife's balance. and limiting the odds of being injured by the sharp tip.
However, be aware that the full bolster structure has few drawbacks too. such as adding to the weight of the knife and making it heavier and highly tricky to carry.
Read more , How to Care for Your Paring Knife?
5. Handle
Most Henckel knives have an authentic western classic appearance. They have ergonomically crafted black single or double-riveted handles, a full tang, and large blades.
In fact, the knife handle layout and design elements of individual product lines vary slightly.
The Modernist and Graphite product lines, for example, are identical to a top-rated Japanese knife brand recognized as Global.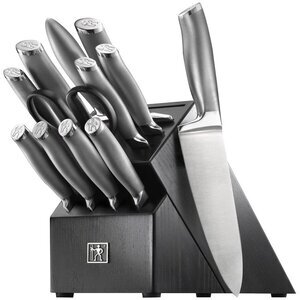 6. Price
One of the best features Henckels knives offer is their low cost.
Henckels knives are incredibly cheap as compared to other famous brands such as Zwilling and Miyabi.
It is that affordable because most of its blades are stamped and manufactured in China, Thailand, India, and Spain. where production prices are usually lower.
Which Henckel Kitchen Knife Set is Best?
Now that you have heard about the general design of Henckels blades, let us take a deeper look at the structure of one of its most successful collections, Henckels Solution, and tell you more about it in terms of the knife blade, handle, and performance.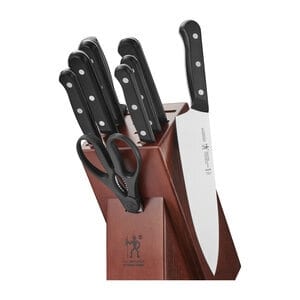 Blade
The blades are stamped with a direct laser cut and have a fully tanged handle.
Furthermore, they are lightweight yet maintaining edge retention. allowing you to cut with extreme accuracy and precision.
It is worth mentioning that the slightly rounded tip on the knife blade allows you to slice through soft and tough food with ease.
Last but not least, it offers various chopping types, including the rocking style and pushes slicing.
Check also, Best Bread Knife
Handle
In terms of the protective bolster, this product line loses the steel bond between the handle and the Blade.
And it has little effect on the blades' sleek appearance or efficiency.
The noticeable stainless rivets on the handles improve the beautiful and elegant looks of the handles due to their blending with the authentic black finish.
Finally, the fully tanged handles increase the stability and well balance of the knife. Because of the slight curve on the handle's endcap, you may use this knife with full ease and a tight grip.
Performance
The first thing to note is that the Henckels knife set is sharp right out of the package. with both sides sharpened to a 15-degree angle. Though not as sharp as other Japanese blades, this knife can easily cut through even the most fragile items.
Bear in mind that stamped knives do not maintain their edges and forged blades and need more regular sharpening.
When it comes to the efficiency of Henckels knives. remember that Henckels stamped blades are light. and more flexible than forged blade knives. However, they may not have the same long-lasting and robust durability.
When comparing Henckels' forged blade and stamped product lines, you can find the stamped blades are unbalanced since the weight is mainly focused on the edges.
The challenging part here is that adjusting the blades with your fingertips causes the sharp edge to tip sideways.
As a result of the equally distributed weight, the benefit of forged blade knives is that they enable you to feel more relaxed and secure.
With stamped knives, there is a high chance of slipping the fingers into the blades when they become slick, mainly because they lack the safety bolster, which acts as a shield and improves finger security.
Overall, the consistency of Henckels stamped and forged knife sets is excellent. They are sharp, have comfortable handles, and are built to last.
Read also , Things to Consider When Buying an Electric Knife Sharpener
What Are the Drawbacks of Henckels Products?
The blades can bend and seem to be poorly designed.
Under pressure, the handles can separate from the handle.
They lose their sharpness quickly and must be sharpened regularly.
They give you an unbalanced feeling.
Any of the forged lines' stainless steel blade sets will rust and alter color if not maintained properly.
The full protection bolster on the handles reduces the comfort when gripping the knife tightly.
Certain foods can cause the blades to stick.
The blade sharp edge turn very dull quite soon.
Final Thoughts
If you choose to invest in a premium quality knife that will provide you with high performance for a lifetime, you can purchase one of the Zwilling, Wusthof knife brand, or Miyabi forged knives.
Although the forged knives produced by Henckels are handy, their longevity cannot be compared to that of other brands.